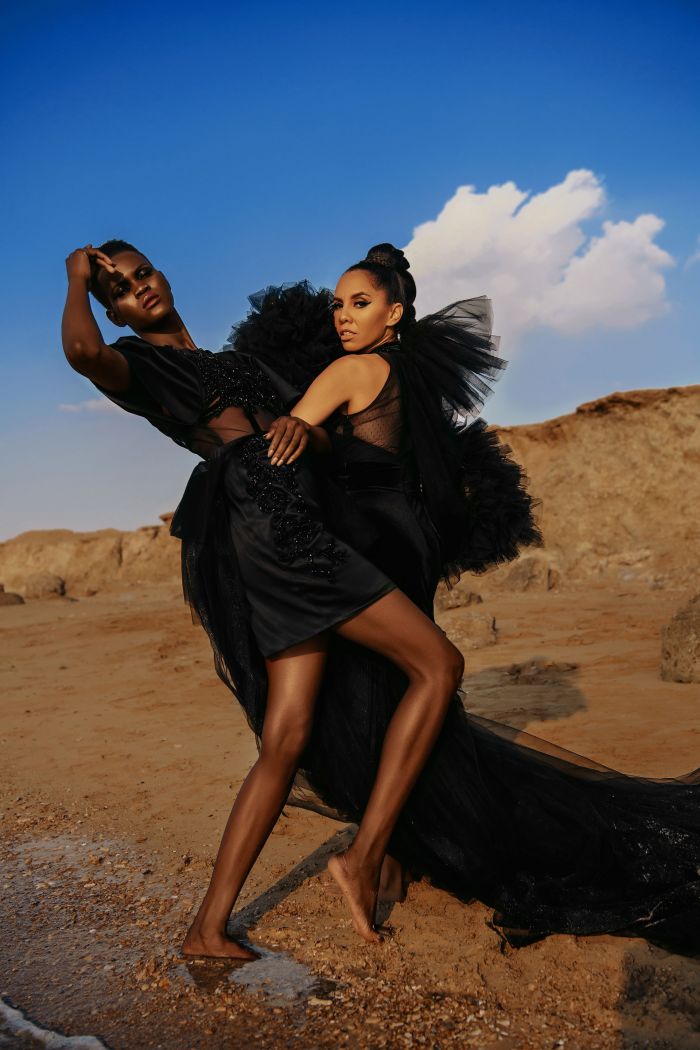 Unsplash
If you're getting ready to release a new product line, a photoshoot and fashion show is essential. While the first one can feel like a daunting endeavor, with the right prep, you can breeze through it like a pro.When you're ready for the planning stages of your first photoshoot, read here to learn about some of theessential beauty productsand day-of preparation you should know about.
Portable Lighting
One of the most important tools in your beauty arsenal is the portable lighting kit. While you can sometimes trust your photographer to bring their own, you should be responsible for bringing your essential makeup accessoryand salon-quality hair products for your makeup artists, hairstylists, and wardrobe people. Depending on how many models you have and how many people will be applying hair and makeup at once, you may want to consider stocking up with several kits.
Unsplash
Organizational Tools
Keeping your prep space organized is a key aspect of ensuring nothing gets lost and your entire team has access to everything they need.
Quality Makeup
While your makeup artist will probably have their preferred kit of essential beauty products, it's never a bad idea to have a little backup. Many women have unique skin tones or sensitive skin, so bringing your own set of organic, all-natural basics can save the day. Someessential makeup accessories should include BB creams, foundation, eyeliner, mascara, and lipstick. Since you're the one putting everything together, you'll know what colors and shades to bring with you.
When choosing the right makeup brands for youressential beauty products, you want to keep in mind a few things. Avoid harsh formulas with sodium lauryl sulfate, parabens, polyethylene, retinoic acid, and petroleum distillates. Most of these are found in mascara and foundation. You should also stay away from strong fragrances, as these are usually used to hide the scent of irritants.
Dry skin can be especially exacerbated by makeup ingredients, so search for base makeup that includes hyaluronic acid, glycerin, shea butter, and ceramides to help moisturize your models' skin.
Cleansing Wipes
No one likes to keep heavy makeup on for hours after a shoot. Help your girls refresh with natural cleansing wipes. These are also a great choice if you're using the same person for different styles throughout the day. It'll make removing makeup easier and quicker between shoots. Many people forget about what anessential beauty productwipes are and leave them behind before heading out to a shoot or fashion show.
If you're shopping for the perfect wipes, take the same care with these as you do with your makeup selection. Search for natural formulations and make sure to avoid ingredients like isopropyl myristate, propylene glycol, phenoxyethanol, alcohol, and imidazolidinyl urea. These ingredients often release formaldehyde — stripping the skin and making it more susceptible to absorbing environmental toxins.
Snacks and Water
Makeup and lighting aren't the onlyessential beauty productsyou need to bring! Nothing is more beautiful than keeping your models and behind the scenes team hydrated and fed. Depending on your shoot location, you'll have to take extra steps to ensure everyone has what they need. If you're shooting outside in extreme temperatures, make sure to pack the right drinks. Plenty of cold, ionized water for hot days and tons of thermoses with hot water and tea for cold environments. You may also want to throw a few fruit and workout drinks into the mix to provide a boost for team members who need extra caffeine, sugar, and vitamins B.
When it comes to food, you also want to pack healthy, high energy snacks to keep your team going all day long. Consider protein bars, nuts, vegetables, fruit, and beef jerky. You can also go the extra mile when you opt for snacks that are gluten and dairy-free.
Detailed Call Sheet
A call sheet may not be what you had in mind when gathering all youressential beauty productstogether, but it's one of the most important pieces of your fashion show and photoshoot. With everyone's contact information and the run of the day listed clearly, it's easy to stay on track or reach out if anyone is running late. Your call sheet should include:
When to show up for each individual
What they need to bring
When the day will be over
Where they can park
The schedule for the entire day
What will be happening in each location (if there are more than