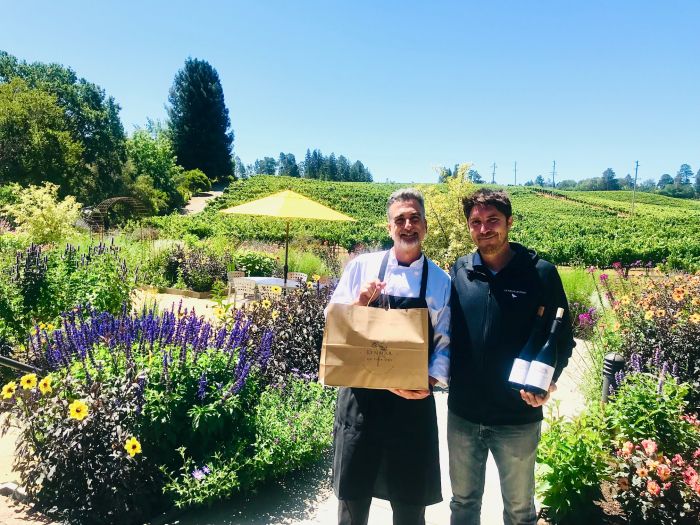 Jill Weinlein
For the ultimate Sonoma wine country lunch, make a reservation to experience the sights, smells, flavors and beauty of Lynmar Estate with Estate Chef David Frakes. Now that 'Life Opens Up' in Sonoma County, wineries are offering creative opportunities for visitors to taste their wines indoors and outdoors, and some offer food options to keep guests staying longer.
Lynmar Estate offers an 'On Your Own' lunch overlooking 100-acre rolling vineyards, organic vegetable gardens, redwood grove, seed barn, and the Bliss House. The owners Lyn and Anisya Fritz also enjoy meals prepared by Chef David now that they live full-time on the estate.
Every table has a Lynmar wine educator, and we were lucky to have Andrew "Drew" Lynch. Not only did he inform us about the two wines paired with the lunch, he also shared the history of the estate.
Lynn Fritz purchased Quail Hill Ranch back in 1980, as a retreat in the Russian River Valley for his family to enjoy. Their bucolic vineyard home was a peaceful respite for this busy global logistics CEO of Fritz Companies.
Since the original purchase, Lynn had added six contiguous pieces of land around Quail Hill, creating what is now the 100-acre Lynmar Estate property. In 2001, when UPS acquired Fritz Companies, Lynn founded Fritz Institute, a group dedicated to assisting humanitarian organizations with the complicated logistics of global disaster relief. He also devoted more time in Sonoma County and broke ground to build a state-of-the-art winery and welcoming tasting room.
"Once I really realized what we had here, the only logical choice was to push the boundaries of the estate to bring it to its full potential," Lynn stated on his website. "If you had a child who was a prodigy in music, you would devote everything you had to helping that child reach his or her full potential. That's how we feel about Quail Hill."
In 2008, Lynn and his wife Anisya made Lynmar Estate their permanent home, enjoying the fruits of their labor and crafting an entirely new model for artisan winemaking at Lynmar.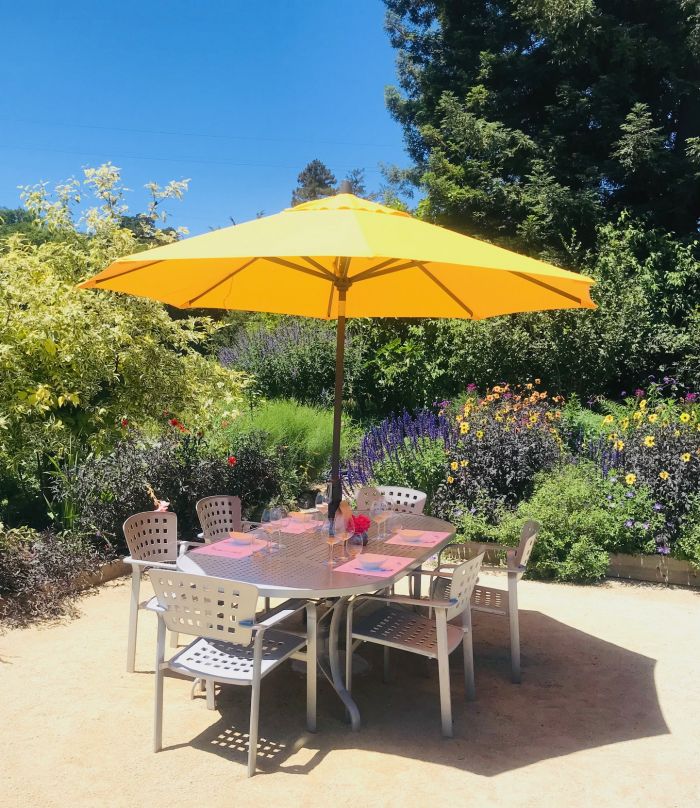 Jill Weinlein
Lunch guests receive a souvenir menu listing the estate ingredients used in preparing the multi-course food and wine pairing, plus plating instructions, and full description of the two wines poured. Drew said the lunch is to inspire Joy. He feels he is in the 'Joy Business' where guests get to taste wine, take photos in the vineyards, eat well, and relive the joyful memories when they open a bottle of Lymnar wine at home.
Each private table is beautifully set up exclusively for your party with a personalized table card under an umbrella. The gourmet lunch is delivered to you in a bag to be coursed out based on your own time. Chef David Frakes prepares each dish to showcase seasonal items from the gardens and other local purveyors. Each lunch is served with a half bottle of 2016 Sweeney Vineyard Chardonnay and 2018 Quail Hill Vineyard Pinot Noir to pair with the Summer Lunch menu.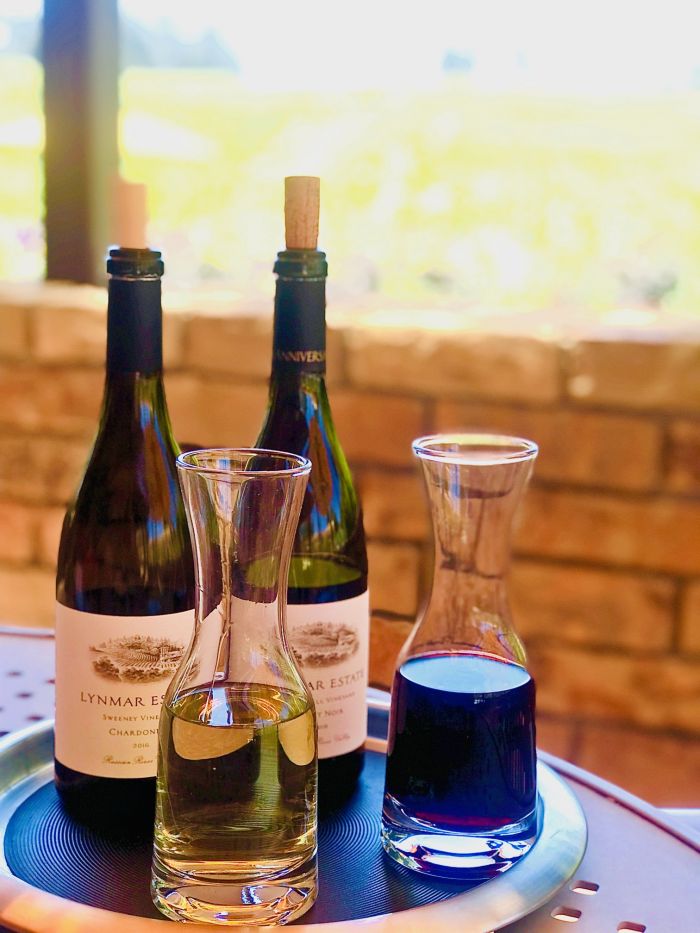 Jill Weinlein
Our amuse bouche was a bag of organic popcorn that was enhanced with Orchard Stone fruit and lavender salt and Estate extra-virgin olive oil.
Our Lynmar plating instructions recommended we pour the bottle of 2016 Sweeney Vineyard Chardonnay into a burgundy glass to enjoy with the Lynmar Garden Salad. We plated baby lettuce topped with slices of English cucumber, pickled spring onion, crumbled Verbena-infused cheese, watermelon and arugula with salad tongs, and poured the desired amount of Cambodian-spiced buttermilk dressing on top.
Drew informed us that the Russian River is a great spot to grow Chardonnay grapes. This Chardonnay is polished and offers an aromatic release. When poured, the appealing golden straw color offers hints of baked apple, orange blossom, citrus and spices emerge. The elegant flavors of brioche, apricot and melon pair nicely with the fresh salad enhancing a long and vibrant finish.
The main course was a grilled Niman Ranch flank steak that had been marinated in black onyx cocoa, dusted in Tasmanian pepper berry, and enhanced with espresso and rosemary. It was complemented with pan-roasted Bliss heirloom potatoes, colorful summer succotash and a drizzle of garden herb sauce.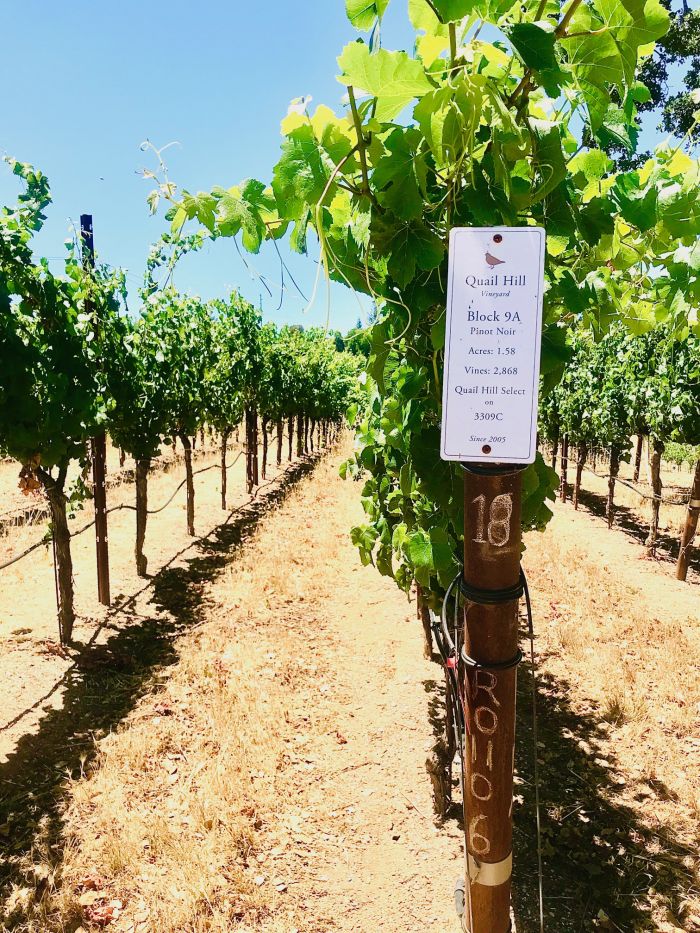 Jill Weinlein
The steak was perfectly cooked and paired with the signature estate blend - 2018 Quail Hill Vineyard Pinot Noir. On 45-acres of the Lynmar Estate there are 14 distinguished Pinot Noir clones. This wine is blended to bring out a deep crimson color offering notes of elderberry, blackberry pie and cocoa powder. With one sip, it's soft on the palate and a pleasing layer of berry and black tea flavors on the finish.
We sipped this with the last course a lightly toasted butter mochi cake with a fresh bing cherry compote, and star thistle honey anglaise. There were a variety of berries, an olallieberry coulis and almond crisp on top.
Reservations are required for lunch offered Thursday through Sunday from 11 a.m. to 2 p.m. The price is $110 per person, however for Advocates Club Members lunch is $85 per person.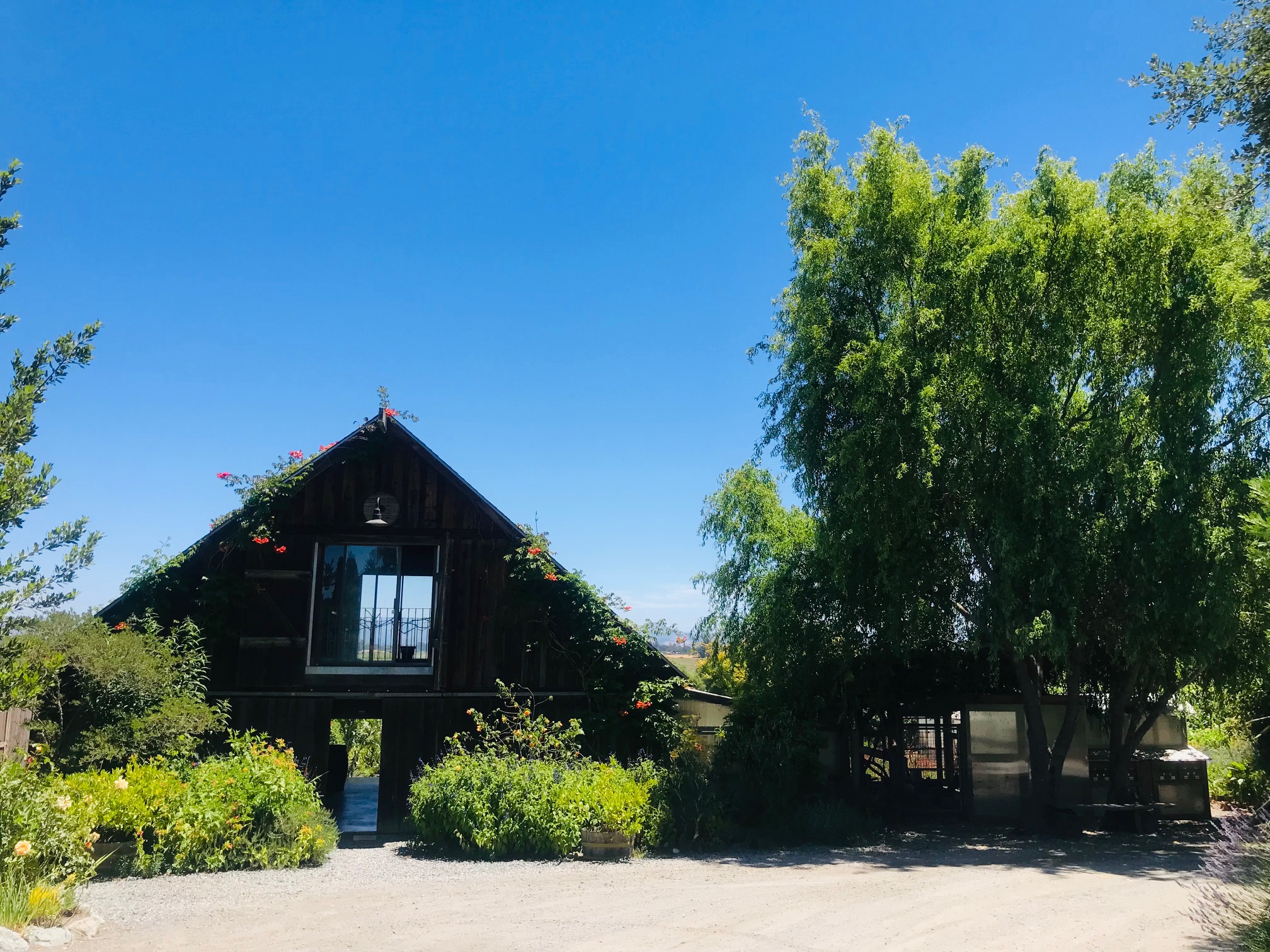 Jill Weinlein
After lunch Drew encouraged us to walk around the grounds and visit the chickens up at the seed barn above the redwood grove. This is a sanctuary for the Lynmar Gardners housing seeds, balsamic vinegar, olive oil, greenhouses, trial plantings and the estate chickens. The chicken coop had hens laying blue, green pink and tan eggs.
Above is the spacious Bliss House that is available as a perk for wine club members to rent for two nights or longer. The wood and glasshouse accommodate up to six guests, with each couple having their own comfortable ensuite with plush linens. There are two kitchens, a dining room, wireless internet and mini business work area. The floor-to-ceiling windows offer panoramic wine country and Laguna de Santa Rosa views. Outdoors is a deck, gardens and outdoor grill with a seating area. Pricing ranges from $750 for 10-year Advocate List Members to $1500 for Lynmar List members. Best of all, Estate Chef David Frakes can prepare a meal or two for Bliss House guests.