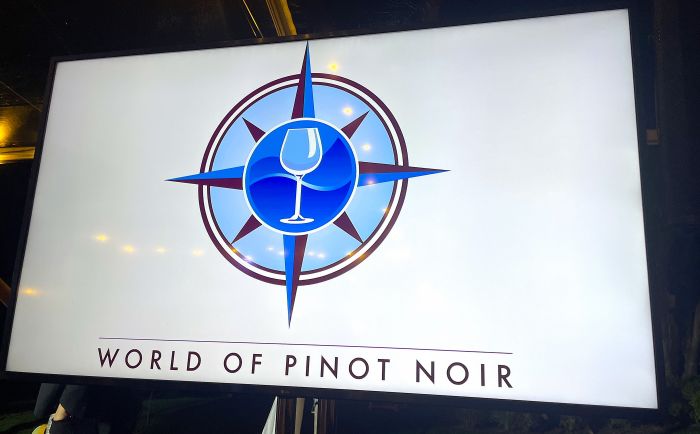 Photo by Michael Reiss
If exploring your world includes savoring every sip, then the World of Pinot Noir weekend, held annually on the first weekend of March at the Ritz Carlton Baccara in Santa Barbara, will surely quench your thirst.
This expertly curated set of events is designed to introduce the neophyte and deepen the knowledge of seasoned sippers to the endless expressions of this noble varietal, Pinot Noir.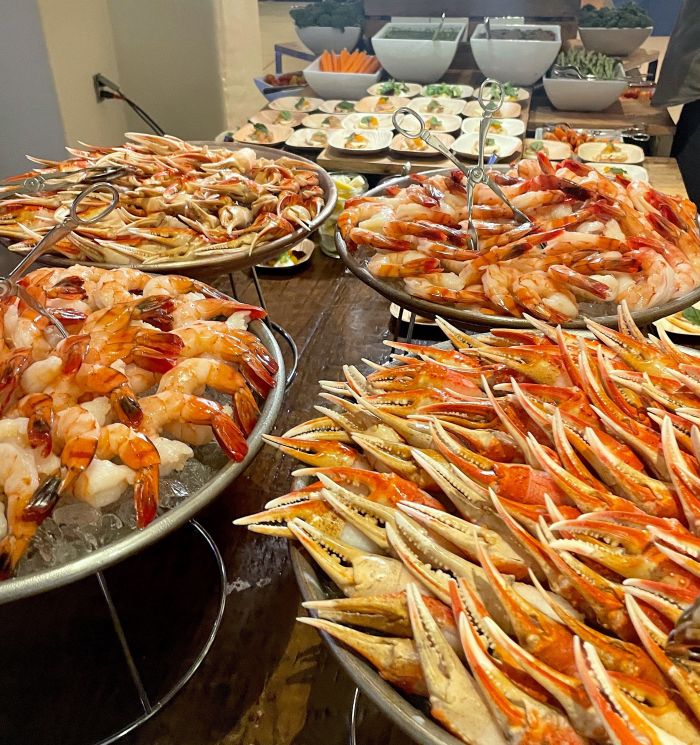 Photo by Michael Reiss
The weekend began with a Thursday evening Gala Reunion Gathering featuring Pinot and sparkling wines from vineyards near and far. Nosh-able nibbles including a seafood station brimming with crab claws and shrimp from the Ritz Carlton kitchen crafted to accompany each pour, as music filled the air of the spacious Ballroom Foyer and Terrace. The night was heady with the expertise of notable somms and winemakers who mingled with the guests and served their sips of sheer genius in the bottle. This was a perfect start to a weekend full of the anticipation of the events to come.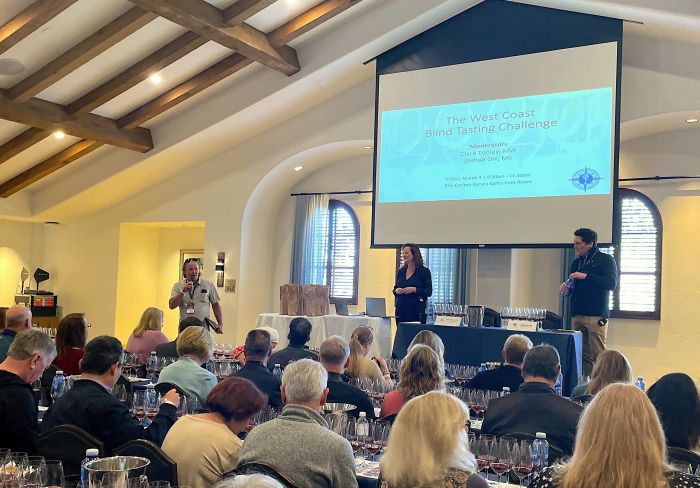 Photo by Michael Reiss
First thing on Friday morning, seminar participants were challenged with a blind tasting of the major 12 West Coast AVA's of Pinot Noir extending from Oregon to Santa Barbara. A panel of experts discussed the finer points of blind tasting as well as the factors that differentiate each of the styles. At this seminar the guest responses ranged from a revelation for some newbies to a confirmation for the wine savvy. What a challenging way to wake up the palate and prepare for a wine-centric lunch overlooking the ocean.
At the curated luncheon that followed this seminar two esteemed California producers, Patz and Hall from the Russian River and Sonoma and The Fess Parker producers from Santa Barbara showcased their diverse expressions of terroir, as the Ritz Carlton team prepared Mediterranean-inspired luncheon selections to pair with the pouring. What a way to salute the splendor of the Pacific Ocean as a main influencer in the varietal expressions of the grape.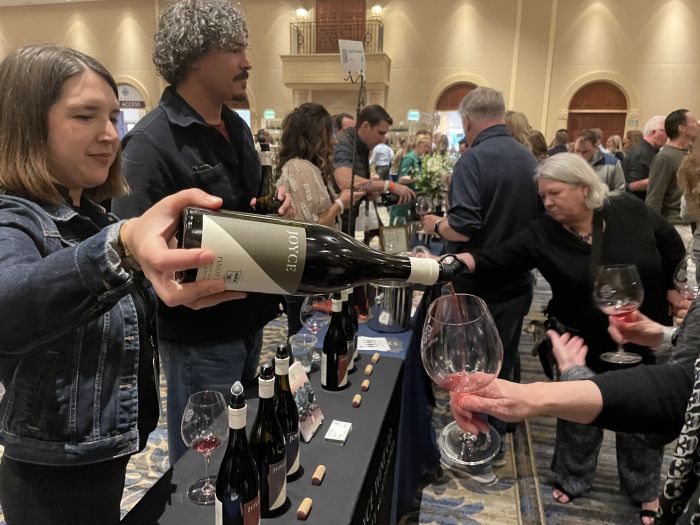 Photo by Michael Reiss
From midafternoon to early evening on Friday and Saturday, the spacious Grand Ballroom at the Ritz Carlton Baccara played host to the "Grand Tasting" event. There is no better way to compare as well as refine your own preferences from the 100 Pinot Noir producers present than by sipping and discussing your discoveries with the knowledgeable winemakers and sommeliers.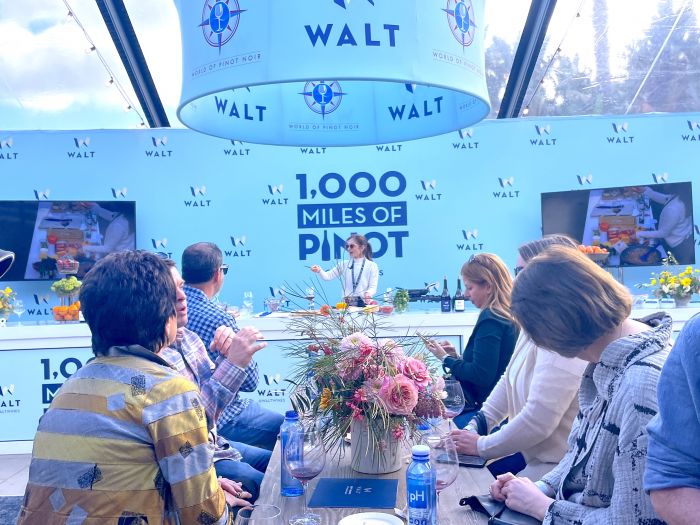 Photo by Michael Reiss
VIP ticket holders had early access and guided tours led by the World of Pinot Noir staff to help navigate the vast array of samples on offer. In addition, a private patio lounge and separate private experiences-- including music, chef demonstrations, and vertical library tastings--were part of the VIP Package.
This year, chef, author and NBC's TODAY Show Chef, Joy Bauer, prepared recipes from her best-selling book, Joy Bauer's Super Food!, to the delight of guests who were able to sample three dishes and pair with various Pinot Noirs.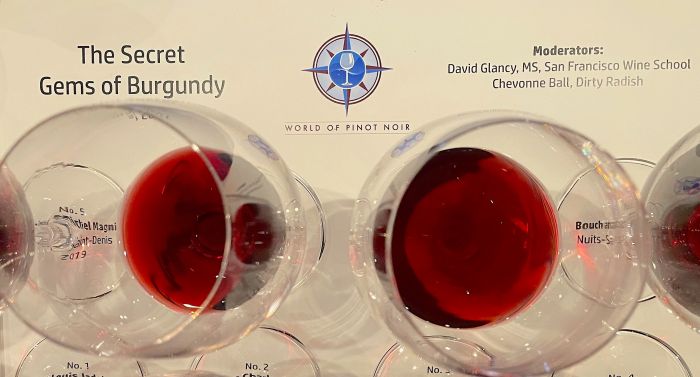 Photo by Michael Reiss
Saturday's seminar unveiled the "Secret Gems of Burgundy." Representative samplings of Village Burgundies from the Côte de Nuits revealed how the imperfect classification of these wines often neglects producers who vie for quality with their pricier, more prestigious Premier and Grands Crus wine classifications.
Saturday's three-course luncheon was hosted by Winemaker Sarah Wuethrich of Anderson Valley's coastal climate winery, Maggy Hawk. Their estate flagship winery sits close to the coast in a redwood grove and exudes a characteristic provenance and terroir. Memorable expressions of these vineyards enhanced the Ritz Carlton's culinary offerings of baked brie, pork tenderloin and strawberry cheesecake.
The weekend was capped off by a stellar 5 course dinner including pate, crab, filet mignon and artisanal cheeses paired with 10 examples of the newly announced SLO AVA. The winemakers joined guests at dinner and each one highlighted the nuances of this new growing region with its proximity to the Pacific offering unique opportunities and challenges.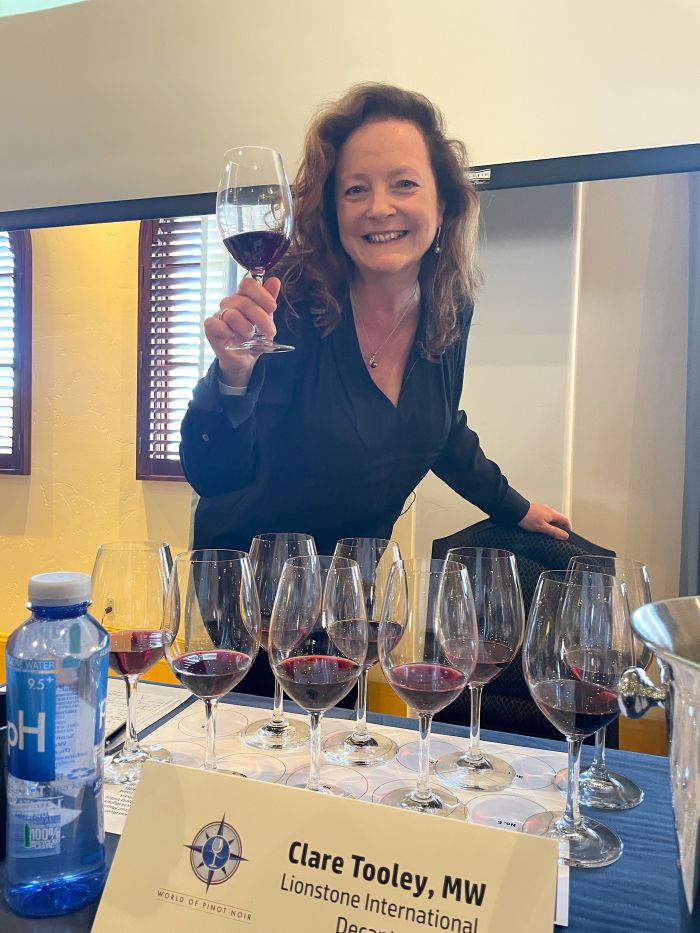 Photo by Michael Reiss
Goodbyes were punctuated with promises to keep in touch and reconnect for next year's not-to-be-missed series of events all in celebration of Pinot Noir. If you want to pursue your passion and up your understanding of this varietal, plan your weekend now at the World of Pinot Noir .