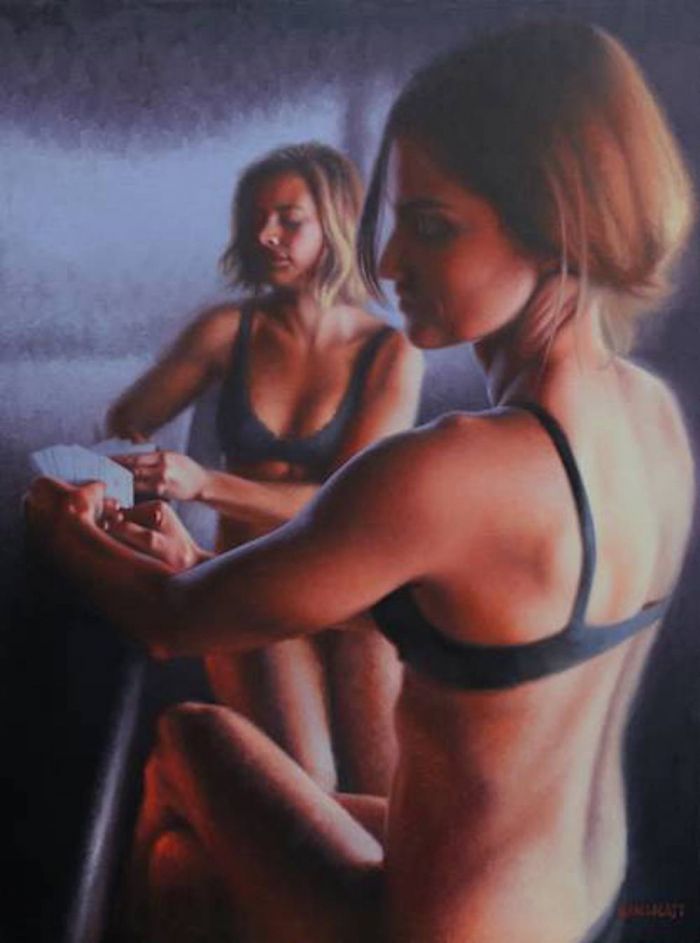 Adam Wexelblatt
Adam Wexelblatt's path to becoming a fine artist involved years of following his dream of working as an artist. It was a circuitous route that led from real estate to small business ownership as a partner in a small art supply store with an adjacent art studio.
His style has been described as classical realism with a modern twist. He refers to it as expressional realism. Elements of his paintings range from photorealistic to total abstraction. Color, edges, lines, and overall refinement are all driven by compositional desires rather than a literal interpretation of reality.
Although his paintings are imbued with hyper-realism, there are enough fantastical elements to separate them from photographs. As someone who has excelled in mathematics and has a strong connection to architecture and engineering, Wexelblatt brings a unique perspective to the art world. He spoke with Just Luxe about his vivid painting techniques and the magic of finding that perfect painting.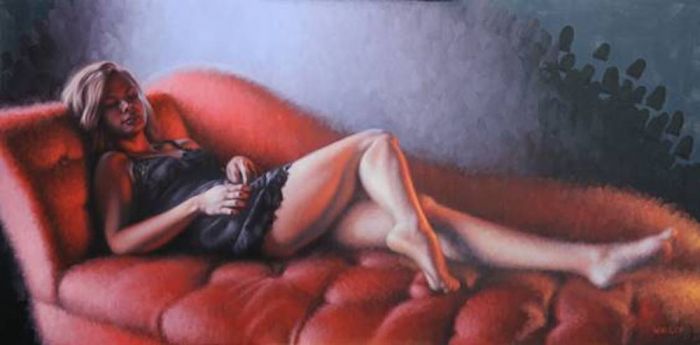 You're best known for your realistic figure and landscape paintings. What drew you to that type of painting?
Ultimately, what I want to explore in my art is the human condition, so I find figure paintings and landscapes with figures in them to be the most logical product of that. I also find that on the most basic of levels, I'm just intrigued with the human body. It appears simplistic at a glance, but with a closer look, there is so much complexity and expression. I consider it to be the most challenging, rewarding, and relatable of subjects.
What do you think the primary difference is between a realistic painting and a fine art photograph?
I think there are a couple of big differences between my type of realism and fine art photography. The first is that in my work, I intentionally juxtapose photorealism at focal points with a very painterly and ultimately abstract style emanating out from them. The second is that the colors, values and edges in my paintings are seldom exactly what I see in subjects. Unlike in reality, in my paintings these elements all bend to my artistic will. I can change and organize them as I desire to show viewers exactly what I want them to see: the illusion, the process and the materials used-- all driven by a carefully orchestrated composition. Ultimately, I strive to create a look that can only be achieved with paint.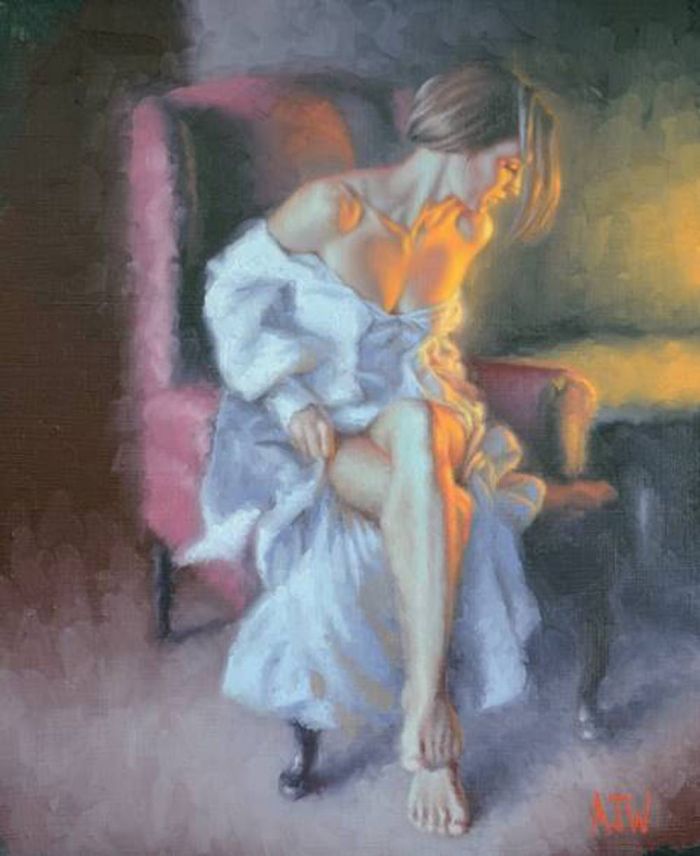 When did you begin working as an artist?
I started painting with oil when I was fifteen, but I have been an artist all my life. I've ended up doing a great many things for a variety of reasons, but being an artist is all I've ever wanted to do. It's a long, winding story--the sordid details of which are in biography-- but I quit my job to become a full-time professional artist in 2013.
Which artists have most influenced you?
I have always loved the High Renaissance. I have a tattoo of da Vinci's "Vitruvian Man" on my right shoulder. To me, he represents the intersection of the science and art. I relate much more to that than the image most people have of an "artist", which seems to be almost exclusively the image of Van Gogh with a bandage wrapped around his head after cutting off his ear. I think in another life I would have been much happier designing buildings, cars, bridges, etc. than going on absinth benders.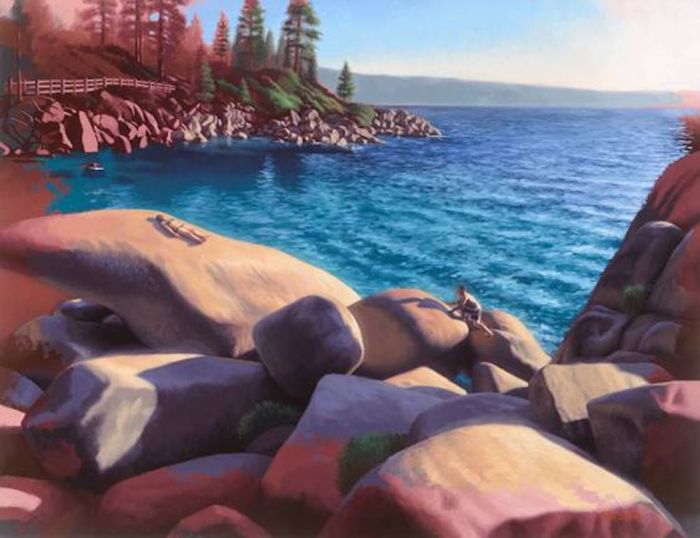 How would you define your style?
I like to describe my style as classical realism with a modern twist. My famous quote is "As a painter I love to create illusions, as an artist I love to break them." That is to say my inner technician, the painter who spent the proverbial 10,000 hours perfecting his craft, loves to make things flawlessly realistic, as you might see in a photograph. My inner artist, the wild bohemian who wants to do something risky and exciting, would like to throw out the illusion and play with paint. My artistic style is making peace between the two.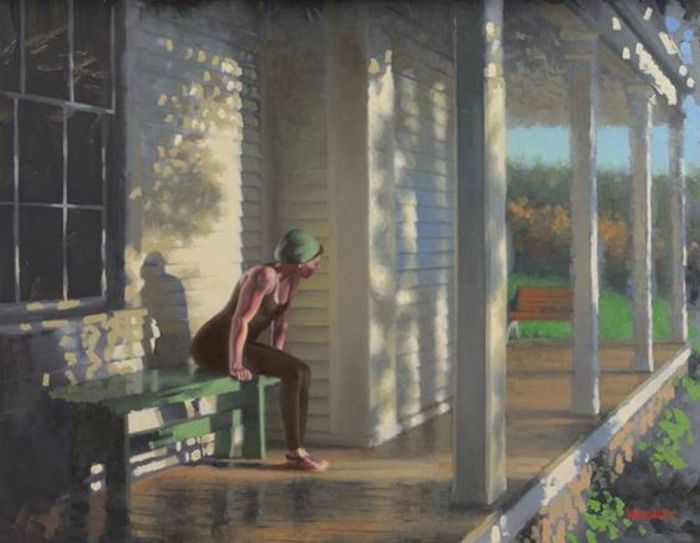 You've described your art as a type of storytelling. Can you elaborate a bit on that?
Yeah, my work is really a celebration of people and their stories. The landscapes and cityscapes I paint are typically more a story of the people than the terrain. In my figure work, I like to manipulate the story with the subtlety and complexity of expression. A person's face or posture can tell us so much while also leaving such a wonderful sense of mystery. I like to show scenes that suggest to viewers what might be going on rather than telling them explicitly. My goal is to show enough to spark the imagination. The "story" ends up being a kind of collaboration between myself and the viewer.
Do you have a particular philosophy or approach to art?
I want to show viewers the beauty of humanity rather than the darkness of it that we seem to be constantly inundated with. I hope that cynicism and political propaganda are conspicuously absent from my work. I guess those things have their place, but I am more interested in the human experience. It's so easy to watch the news and forget that we have so much more in common than we do separating us, and that there is so much more splendor in the world than doom.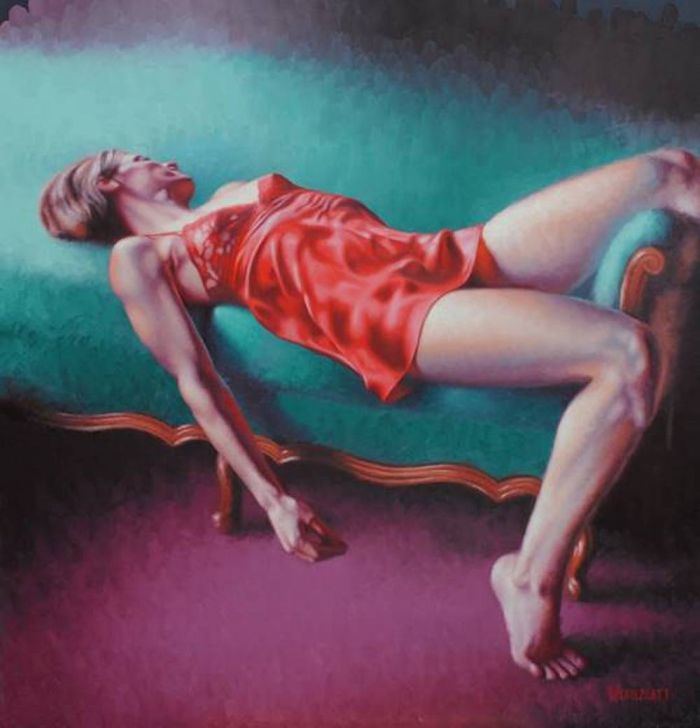 How do you feel the internet has changed the art world?
Everything feels more direct now. When I started painting, I had to wait for a show for more than a few people to see my new work. Now thousands of people see the painting I just finished with the push of a button. When I tell people I'm an artist, most people ask "What kind of art do you do?" That interaction used to end after I would give the best brief description of my work I could and tell them to come check out my upcoming show if they're interested. Now I pull out my phone, show them images and text them my website address.
I also think with the proliferation of the internet, collectors are learning to enjoy and expect direct interaction with artists. In a traditional gallery, you might get a glimpse of an artist at an opening event. On my website or Instagram, you can contact me directly any time you like. People are increasingly comfortable with buying premium goods, like original art, online never having seen them in person. I try to bridge the gap even further by providing free shipping and free returns for all original paintings on my website. I've never had a customer return a painting, and it would be a substantial cost for me if they did, but I think it's an important first step in building a trusting relationship.
What are you currently working on?
Right now, I'm working on a series of paintings from the grounds of the Esalen Institute, which is near Big Sur on the central California Coast. It's one of the most beautiful and unique places on earth. I got to visit quite often when I was growing up because my aunt and uncle worked there. I don't get to go much anymore, but I'm excited to explore it via paint for the first time. After that, I'm planning to work more on my series of women in lingerie with vintage furniture, and possibly some bathtub scenes.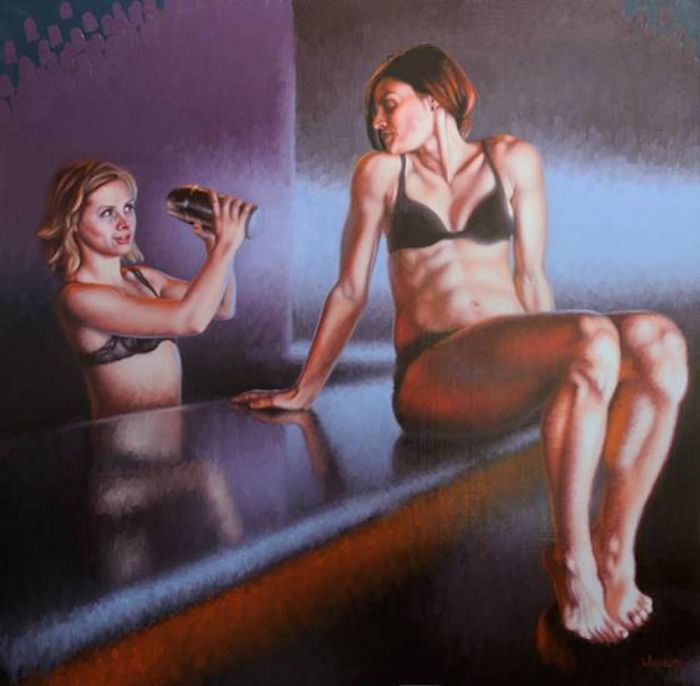 Where can people see your work?
The best place to see my work is always on my website www.WexelblattArt.com. I've gone to considerable lengths to make it comprehensive and user-friendly. All paintings on my site have a preview of what they will look like in a frame, on a wall so you can get a good sense of scale and how it will look in your home or office. Most paintings have time-lapse videos of their creation, I call them "The Evolution of a Painting". Fans seem to really like them-- I actually love going back and watching them too. You can also buy prints of all kinds and sign up for news on upcoming shows and new paintings.
My best form of social media is Instagram @WexelblattArt, but I try to keep my Facebook.com/WexelblattArt page up-to-date as well.