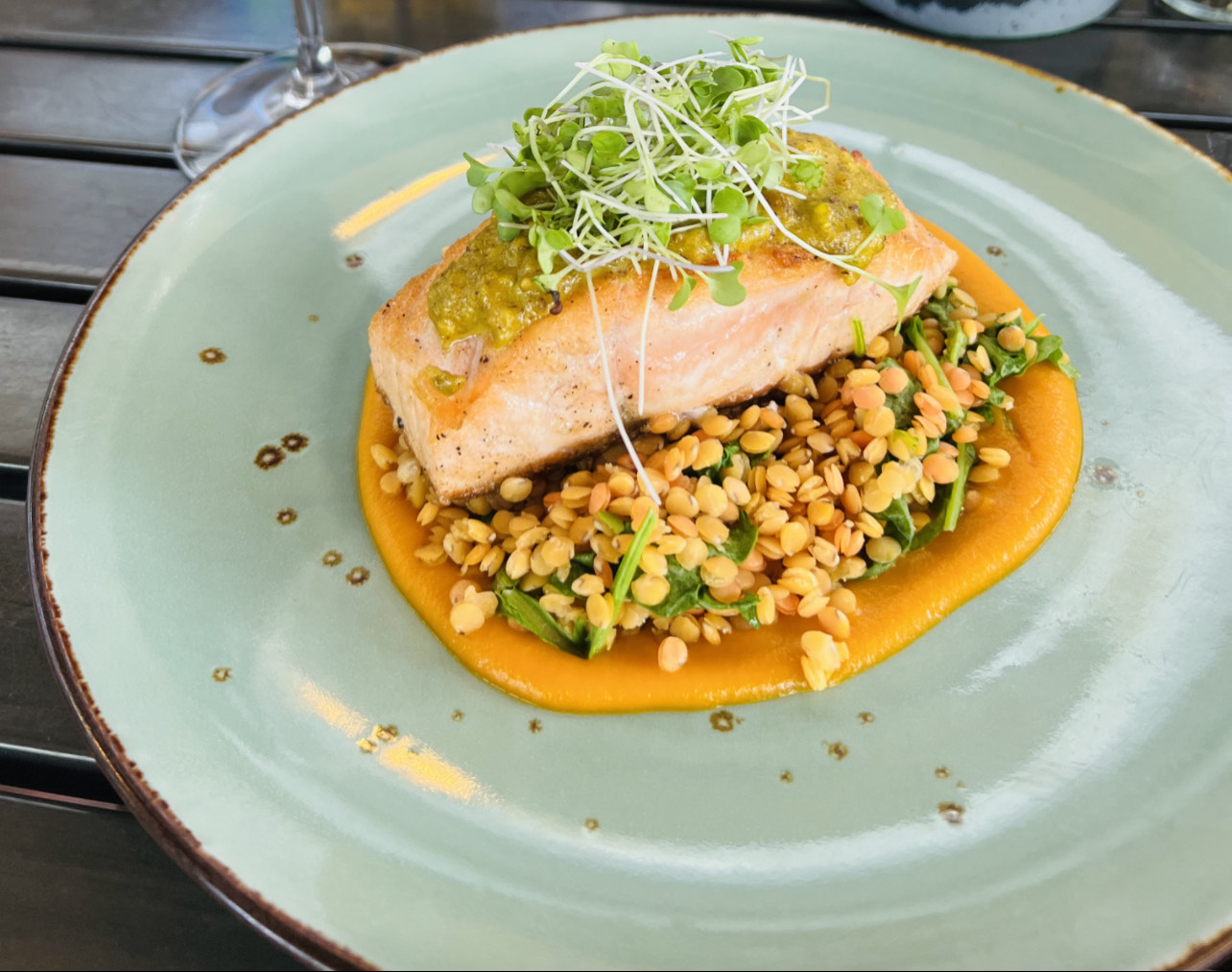 Photo courtesy of Fredericksburg Fitness Studio
Thousands of years ago, Hippocrates, considered the father of modern medicine, said to let food be thy medicine. He knew how important nutrition was to our overall health. Today, it's equally important, but we often overlook it or don't prioritize eating healthy. With March being National Nutrition Month, it's a great time to look at some essential foods for health.
"We have to eat to live, but what we eat impacts how well and how long we may live," explains Jennifer Scherer, medical exercise specialist, certified personal trainer, and owner of Fredericksburg Fitness Studio. "We must make healthy food choices most of the time to feel good and get the most out of our efforts."
According to the Centers for Disease Control and Prevention (CDC), good nutrition is essential in keeping current and future generations healthy across their lifespan. They report that those who eat healthily live longer and are at lower risk for serious health problems, including heart disease, type 2 diabetes, and obesity. Healthy eating can also help people with chronic diseases to manage the conditions and help prevent complications.
The CDC reports that only 1 in 10 adults eat the recommended amount of vegetables per day, and only 1 in 7 adults eat the recommended amount of fruit per day. Not getting good nutrition contributes to the high costs of diseases, including some cancers, obesity, and heart disease. The good news is that people can make some easy changes to improve their nutritional intake. Focusing on some powerhouse items can help give one's diet a healthy boost.
Here are 5 powerful foods to keep in mind this National Nutrition Month:
Chia seeds. According to the Mayo Clinic, chia seeds are an excellent source of fiber, which can improve heart health, reduce cholesterol levels and promote intestinal health. They can be added to smoothies, salads, oatmeal, or your bottle of water. Fiber takes longer to digest, which will help keep you satisfied longer.
Salmon. A good source of omega-3 fatty acids, it also offers a good amount of vitamin B12. The omega-3 fatty acids in salmon have been shown to reduce inflammation, lower blood pressure, and reduce risk factors for disease. For those who don't eat salmon, opt for walnuts, flaxseeds, or chia seeds, which are also excellent sources of omega-3 fatty acids.
Dark leafy greens and vegetables. They provide an excellent source of fiber, folate, and carotenoids. Dark leafy greens and vegetables also act as antioxidants in the body. Load up on several varieties per day.
Almonds. These little nuts offer healthy fats, fiber, protein, magnesium, and vitamin E. The health benefits of almonds include lower blood sugar levels, reduced blood pressure, and lower cholesterol levels.
Dark chocolate. Dark chocolate is a powerful source of antioxidants that improves blood flow and blood pressure and may reduce heart disease risk. According to the Harvard School of Public Health, dark chocolate contains iron, copper, magnesium, zinc, and flavonols, which help to improve blood flow and reduce the risk of type 2 diabetes.
"Making simple swaps and additions to your diet can have a big impact," added Scherer. "We don't have to make drastic changes overnight. Focus on making one small change at first and then go from there. The results will motivate you to make other small changes, and they all add up."
The team of professionals at Fredericksburg Fitness Studio, where they offer private personal training, have degrees and certifications. They are trained to help people improve health and wellness, including medical exercise, personal training, in-home medical training, virtual personal training, nutrition coaching, and a Pilates reformer program. The Pilates Reformer program features a versatile machine designed to provide resistance. It can be used when standing, sitting, or lying down. All workouts on it are custom-tailored for the individual to address their physical fitness concerns.
Fredericksburg Fitness Studio doesn't offer memberships as other gyms do. They offer private customized fitness programs that are available by appointment. Many people who go to the studio are referrals from physical therapists and doctors. The wellness professionals at the studio communicate with the medical teams to keep them up to date on patient progress. To learn more about Fredericksburg Fitness Studio, visit the site: https://www.fburgfitness.com.
Photo courtesy of Fredericksburg Fitness Studio