Photo courtesy of Fredericksburg Fitness Studio
Most people plan family trips in the summer. Only this summer is a little different because people are also mindful of the rising costs associated with travel and are making some adjustments accordingly. In fact, Bankrate reports that 80% of Americans are changing travel plans due to inflation. Those on the go are looking for ways to make their traveling more affordable, and one way they can do it is when it comes to snacking.
"One way you can save money this summer while traveling is when it comes to food," explains Jennifer Scherer, a registered dietitian nutritionist, medical exercise specialist, certified personal trainer, and owner of Fredericksburg Fitness Studio. "Not only are there things you can buy that are easy and healthy, but that will help keep the costs down."
Dining out has become increasingly burdensome on most families' pocketbooks, making easy and healthy snacking and meals on the go a great option. Whether preparing your healthy snacks or stopping at grocery stores along the way to purchase the items needed, money will be saved compared to heading to a restaurant for each meal.
Here are some tips for keeping summer snacking on the go easy, healthy, and affordable:
Keep easy, healthy snacks available at all times. These include fresh-cut veggies, fruit, dips, unsweetened applesauce cups, watermelon slices, and hummus. Also, have wraps available so that a quick wrap can be made, adding hummus and veggies.
Have a dry snack bin that will not need to be refrigerated. These items can be taken along and consumed whenever needed. Things to add to the bin include small containers of trail mix, nuts, pumpkin seeds, dried fruit, healthy granola bars, and jerky.
Save money on drinks on the go by keeping refillable drink containers that can be used. Opt for water or unsweetened teas to keep them healthy and affordable.
When it's time to stop to get items when traveling, opt for going to a grocery store rather than a convenience store. The grocery store will have a more comprehensive selection of healthy items and will likely be more affordable.
Remember that eating healthier during the day, including meals and snacks, will help keep everyone from being so hungry. Healthy food contains more fiber and nutrients, so it's more likely to satiate everyone, which will help keep the costs down.
"It's a good idea to eat healthy all year long, not just when traveling," added Scherer. "But making a goal this summer to incorporate these things will go a long way toward helping to make it more affordable, healthier, and fill you with energy."
As a registered dietitian nutritionist, Scherer helps people improve their diet, plan for sustainable weight loss, and offer ways to incorporate healthier food choices. She and her team offer nutrition coaching services, wellness, personal training, in-home medical training, virtual personal training, and a Pilates reformer program, which features a versatile machine designed to provide resistance. It can be used when standing, sitting, or lying down. All workouts on it are custom-tailored for the individual to address their physical fitness concerns.
Fredericksburg Fitness Studio doesn't offer memberships as other gyms do. They offer private customized fitness programs that are available by appointment. Many people who go to the studio are referrals from physical therapists and doctors. The wellness professionals at the studio communicate with the medical teams to keep them up to date on patient progress. To learn more about Fredericksburg Fitness Studio, visit the site: https://www.fburgfitness.com.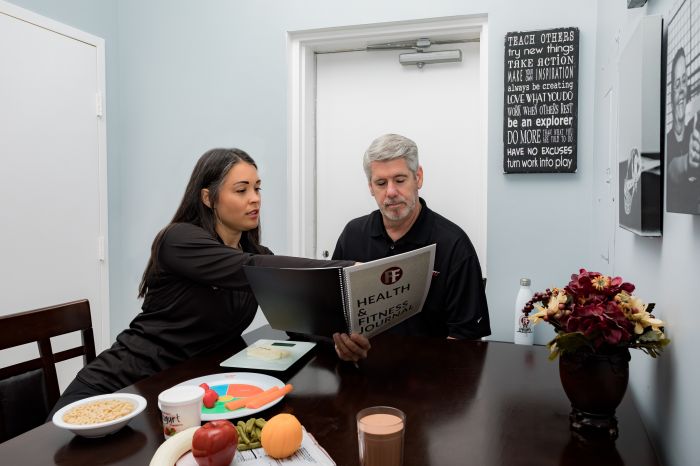 Photo courtesy of Fredericksburg Fitness Studio