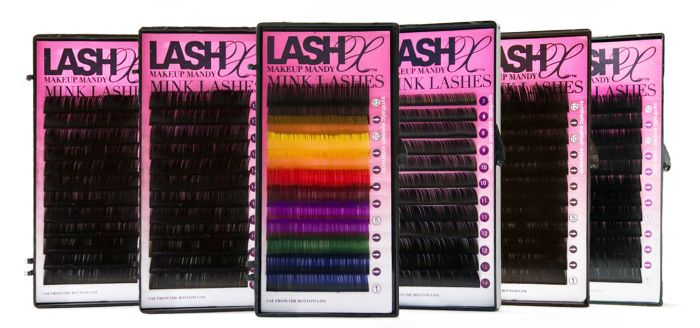 Photo Credit: LAshX
If you've ever been jealous of Emilia Clarke's gorgeous eyelashes and eyebrows, fret no more. We found the secret to her looking flawless even when she's barely wearing any make-up. Mandy Jacobellis, owner of Makeup Mandy Salon, Eyelash Bar to the Stars and Creator of the LAshX Method, a lash extension system that improves lash health, is the secret weapon to a lot of flawless eyelashes and eyebrows in Hollywood.
According to Mandy, the first step in getting a flawless look is to choose a quality product and a well trained professional.Not all lash extensions are created equal! Results will always vary, much like the difference between going to a high-quality hair salon and getting a beauty school haircut. Training differs greatly between artists, as there is no regulation on what a certification should entail and licensing by state boards change from state to state. Sanitation is also extremely important, as well as how the lashes are applied. If done improperly, lash damage will occur and cause possible eye damage. In addition to choosing an artist with proper technique, it's also important to make sure they are using high-end products since they will be working near the eye area. Adhesive ingredients can vary greatly as well, as the cheaper adhesives can burn the eyes and also cause red eye or allergic reactions.
Today, many professionals recommend using baby shampoo to wash lash extensions, but Mandy doesn't believe it's a good choice, as it is not lash extension safe. Baby shampoo contains numbing agents as well as additional ingredients that are harmful to the eyes.
Alongside the eyelash extension trend, beauty gurus and celebrities are also hopping on the eyebrow extension train. Eyebrow extensions have been around as long as lash extensions, but have recently become popular with emerging social media and celebrity trends. The brows get a more natural look and provide more texture than microblading or permanent makeup does, which have also become extremely popular. Choosing to get eyebrow extensions is a great way to fix holes, even out brows and also lift the face.The eyebrow extensions application is very similar to classic eyelash application, as tiny little hairs are bonded to each brow hair. Even if you have shorter brow hairs, there's no need to worry because extensions can also be bonded to baby brow hair or fuzz!
Brow extensions typically last 2-3 weeks, as they tend to be more in contact with skin care products and natural sweat, therefore causing them to fall out more quickly. In order to get brow extensions, you must have at least light peach fuzz in order for it to work. Anything bonded to the skin will not last, as they will shed with the dead skin.
Mandy's pro tip: "If you decide to take the plunge and get brow extensions, make sure you stay clear of oil and any glycol based products. Clean your face with a lash and brow safe cleanser like LAshX Lash Cleanse to maintain healthy and clean brows. Also try to avoid makeup and sweat from getting on them as well to maintain the best looking brows!"