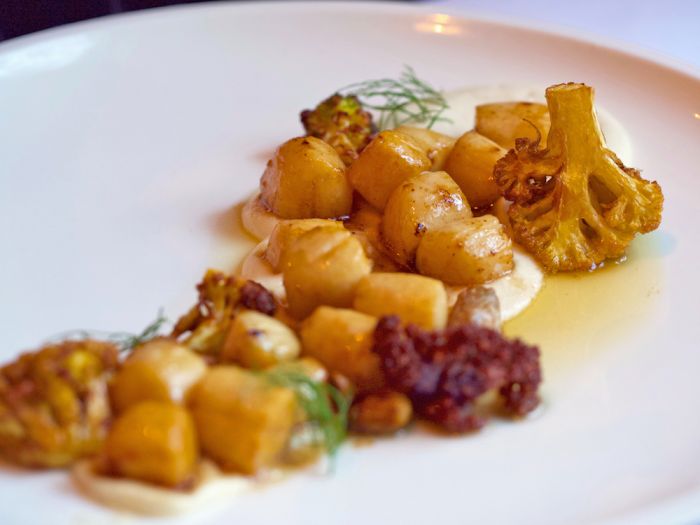 Columbia Hillen
People seeking gourmet dining experiences in California often target well-known cities such as San Francisco, San Diego or Los Angeles, or places between, but delightful culinary surprises await those willing to explore lesser-known Mendocino county in the northern part of the Golden State.
Here are a few choices to whet your appetite as we journeyed throughout the county, courtesy of Holiday Autos.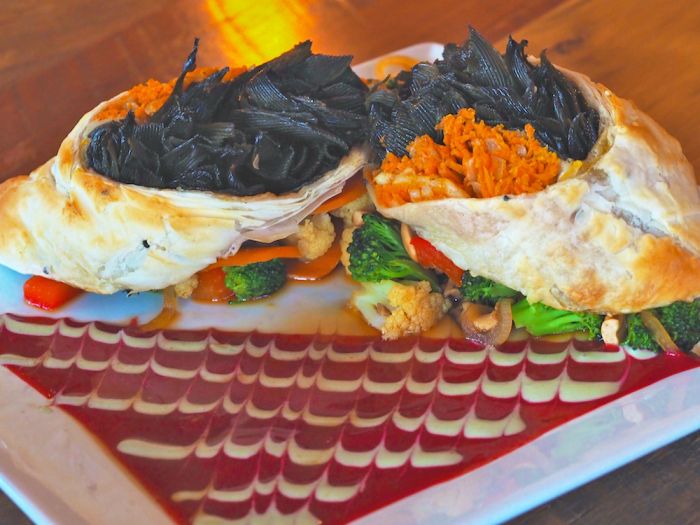 Columbia Hillen
Ravens restaurant, Stanford Inn
Sea palm and root vegetable strudel.
This impressive signature dish at Ravens restaurant in the 10-acre Stanford Inn resort overlooking Mendocino Bay gives some idea of the culinary inventiveness at work under the direction of long-time vegan Sid Garza-Hillman.
Culinary creations here are inspired by Stanford's extensive certified organic gardens where French bio-intensive organic methods raise a wide variety of lettuces, cabbages, spinach, radishes and gourmet vegetables such as radicchio, mizuna, arugula, and tah tsai.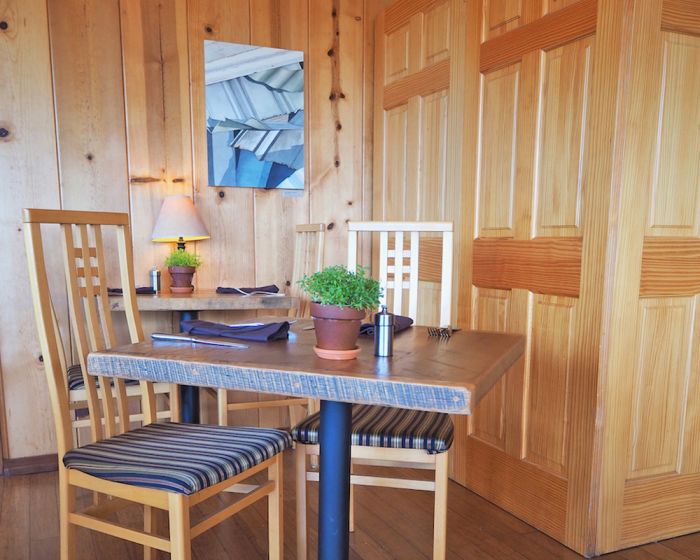 Columbia Hillen
The result: a rainbow (also meant visually) of diverse dishes. Consider for example, 'small plates' ranging from fresh spring rolls of bell peppers, cucumber, carrot, mint, cilantro, marinated tofu, chili sauce, rice wraps, served with peanut sauce, tamari-maple glazed tofu with wasabi emulsion and sesame seed; and rustic flatbread topped with peppers, cauliflower and curry sauce. For those with larger appetites, such as my companion and I, there is also the more substantial 'large plates' of seared trumpet mushroom scallops with homemade fettuccine and cauliflower garlic Alfredo sauce and Thai red curry of mixed vegetables and tofu in a red curry sauce with brown Jasmine rice.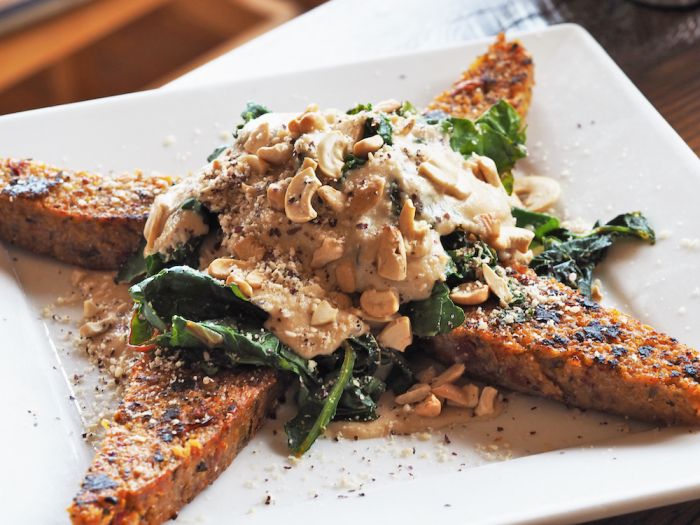 Columbia Hillen
Not forgetting, of course, the sea palm and root vegetable strudel comprising local sea palm, carrots, onions in sesame phyllo, accompanied by a stir-fry of broccoli, shiitake, bell pepper and cashews, all served with umeboshi plum (a misnomer, as it's actually a pickled apricot) and wasabi sauce.
So enamored were we of the Stanford Inn's attractive and relaxed ambience, staff friendliness and innovative dishes, we returned next morning for breakfast (the first vegan breakfast I've ever experienced). Triangles of moist polenta with sundried tomatoes, chard, cashew cream and nuts; eggs Florentine with tofu and a touch of curry flavoring and delectable French toast created – to my mind - miraculously without animal products of any kind, left our bellies so plump we had to take a hike along the rugged coast and let gravity take its course.
A word about the Stanford Inn. Moving to Mendocino in 1980, owners Joan and Jeff Stanford developed their ideas of healthy living step-by-step over time, not only through the tasty, nutritional meals at Ravens, but also through other activities such as counseling and meditation, Chinese medicine, creative playshops (check out Joan's book, 'The Art of Play'), yoga and tai chi, as well as cooking and gardening classes.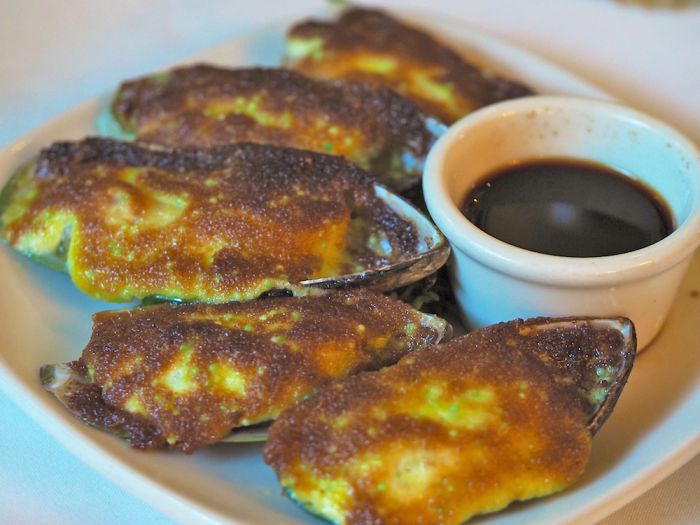 Columbia Hillen
No better time to arrive for dinner at this popular restaurant overlooking the Pacific Ocean than as the sun slips sensuously below the horizon opposite the front door, with bouquets of perfume arising from clusters of camellias and wisteria wrapped around a wooden fence at the walkway entrance.
Built on the original 1863 home of the present owners' great-great-grandparents, Little River Inn is 75-years-old and was bee-lively with happy clients early on a recent Spring evening. The restaurant is an integral part of the property's 225-acre wooded estate which encompasses 65 ocean view rooms, a day spa and a 9-hole golf course.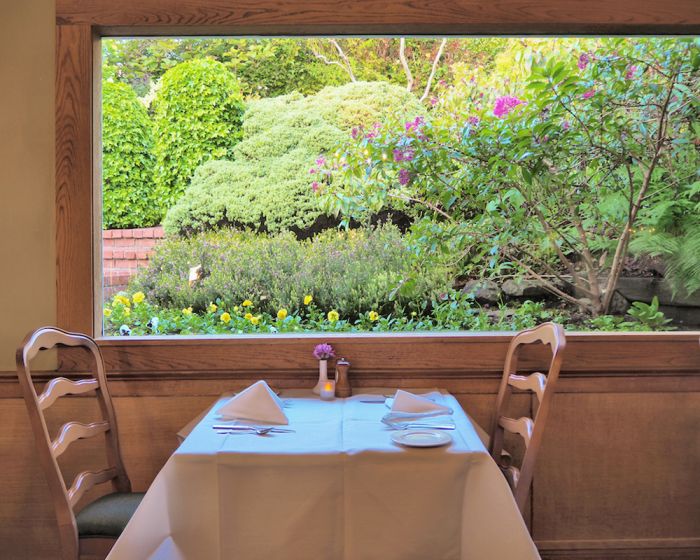 Columbia Hillen
Just inside its doors beyond the aptly named 'Ole's Whale Watch Bar,' is a carpeted, classic-style dining room where executive chef Marc Dym has created a balanced menu comprising an array of seafood and hefty meats dishes.
Try the innovative starter of green-lipped mussels broiled with wasabi tobiko mayonnaise and ponzu sauce over sesame seaweed salad, or the crispy fried calamari with rice flour and a light sprinkling of honey mustard sauce.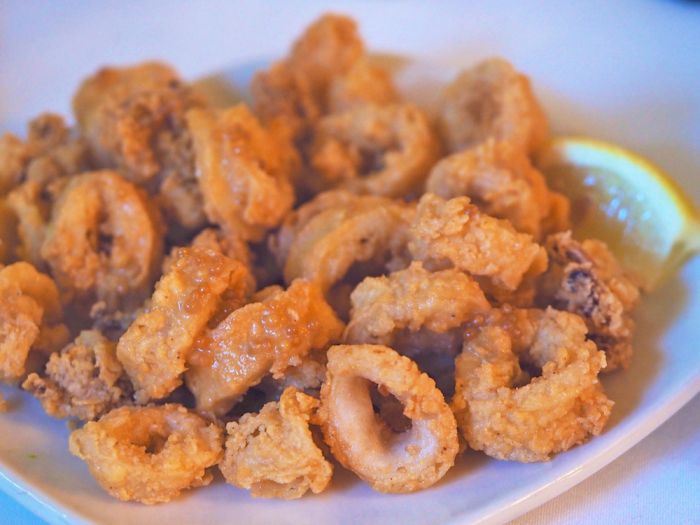 Columbia Hillen
With the mighty Pacific a mere stone's throw away, we committed a culinary sin by not selecting fresh fish such as sole or salmon or the house 'cioppino,' a San Francisco fish stew of scallops, shrimp, clams and other seafoods in a light tomato vegetable broth. But having skipped lunch and after an arduous hike through majestic redwoods of nearby Montgomery Woods State Park, we felt in need of something a little heftier. Thus the wholesome steaks took our fancy. 'Flat Iron' steak Diane with green peppercorn sauce, crispy red onions, smashed red potatoes and green beans almondine and charbroiled peppered New York steak with mushroom brandy au jus and herb butter left us suitably satiated.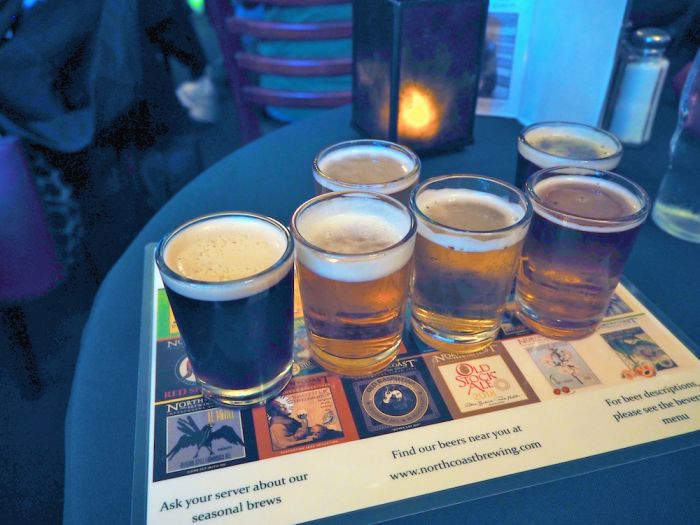 Columbia Hillen
If you fancy a venue where you can combine a lively concert with dinner, the North Coast Brewing Co. on Fort Bragg's main drag is your choice.
Established in 1988 by brewmaster Mark Ruedrich, this spacious, multi-room restaurant-cum-bar hosts jazz evenings in a large backspace known as the Sequoia Room. On one particular evening, my companion and I enjoyed 'Tenor Madness,' an entertaining quartet, including a double sax, playing old classics, including Thelonius Monk compositions. Though the backspace accommodates 60 people, so popular is the venue, two shows are held every weekend evening.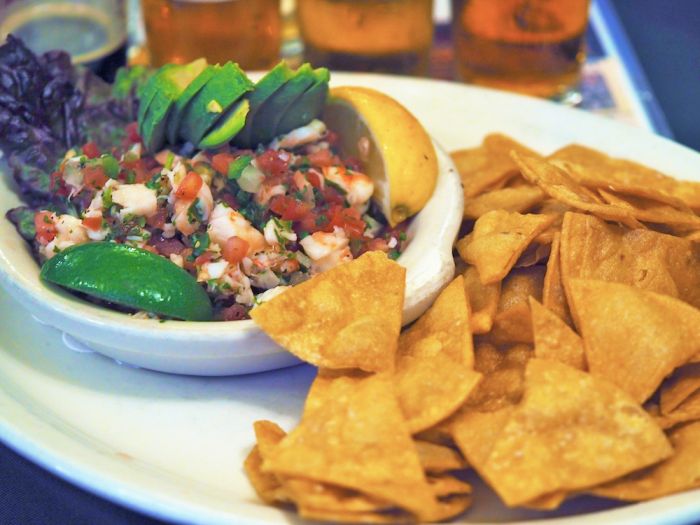 Columbia Hillen
Proud of its brewing reputation, North Coast Brewing Co. produces 13 year-round beers plus special seasonal ones. Among them are ones based on quince, tart cherry, passion fruit, peach and cranberry and another with a powerful 12 percent alcohol content. It's probably best to order the 'Beer Tasting' menu, a tray sampling of wheat, hearty ales and toasty-tasting stouts.
Ten different appetizers range from a ceviche of shrimp marinated in lime juice with tomato, onion, cilantro, and jalapeño, served with sliced avocado and house-made tortilla chips to an heirloom beet plate consisting of goat cheese, a drizzle of honey, balsamic vinegar, extra virgin olive oil, almonds and fried shallots, all on a bed of organic baby greens.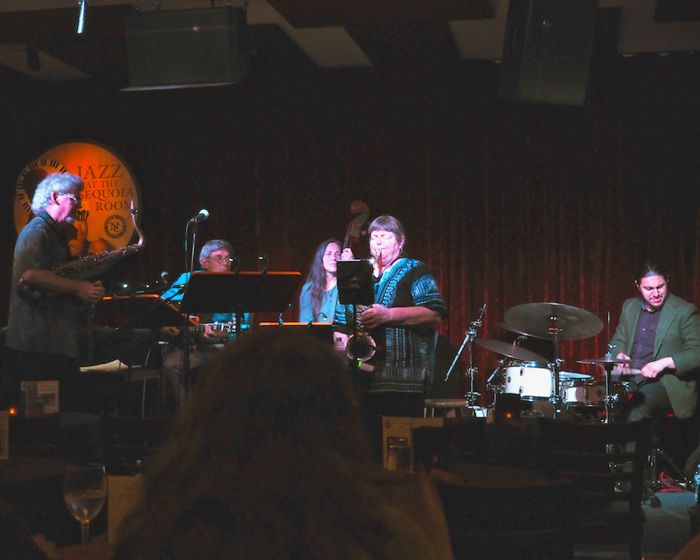 Columbia Hillen
If that isn't enough to satisfy, the seven-entrée menu most certainly will, comprising Carolina BBQ pork, brewhouse burgers, shrimp and fish with chips, rosemary free range organic chicken and linguini with a medley of seafood including prawns, sautéed clams and scallops tossed in a light herb butter with garlic and capers. Even one of the desserts involves beer: vanilla ice-cream and peanut brittle made with ale.
Interestingly, North Coast Brewing Co. has raised well over one million dollars through a fundraising project launched in 2006 from proceeds of its Thelonius Monk beverage brand to support jazz education through the Thelonious Monk Foundation. Another reason to enjoy a hearty dinner and some excellent musicians.
Columbia Hillen
In the seaside town of Mendocino, a 15-minute drive from Fort Bragg, in an 1893 Victorian farmhouse in a quiet, leafy neighborhood stands the elegant 'Café Beaujolais' where the talented 25-year old chef, Julian Lopez, creates classic Mediterranean dishes.
The cozy dining room, comprising around 20 small tables, reflects a pristine setting with varnished wood floors, crisp white tablecloths and gleaming cutlery. The sense of intimacy is accentuated by the garden ambience outside, with foliage curling across the window panes. Black and white images by local photographer John Birchard of local farmers and fisherfolk adorn the walls emphasizing Julian's pride in using fresh local produce.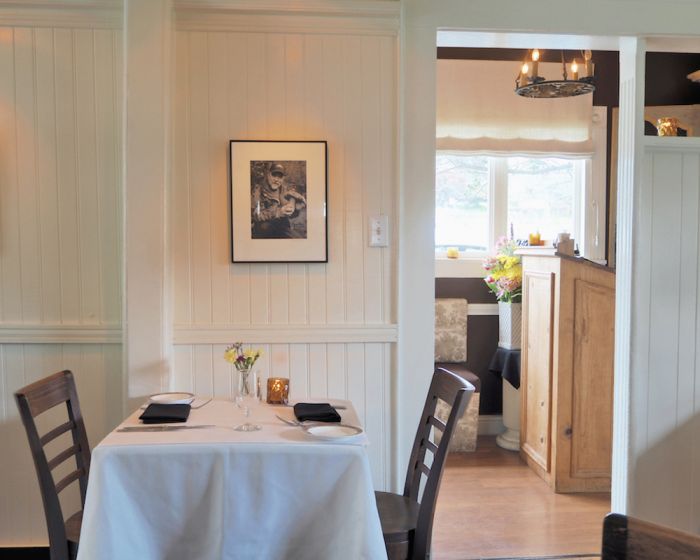 Columbia Hillen
Highlights of the menu are many. My companion and I started with delicate crumbles of local goat cheese and homemade charcuterie including a delicious fennel-infused salami, cured chorizo and spiced coppa with persimmon jam and grilled country bread.
Homemade mustard incorporating local ale makes dishes fairly 'hop' to attention. Not only are the dressings homemade, so are the breads, from a renovated 'brickerie' adjacent to the restaurant.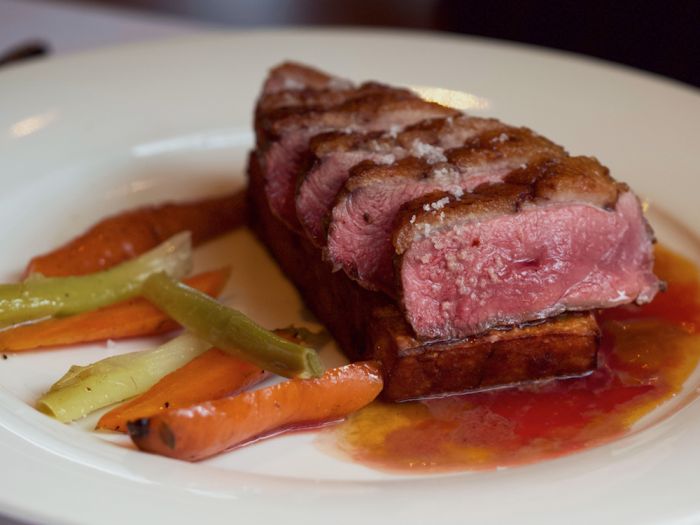 Columbia Hillen
Testing the scope of the cellar, we requested wine pairings with each course and were not disappointed. An innovative dish of grilled scallops with pistachio came with a crisp, medium bodied chardonnay from the Keenan Winery in the Napa Valley and risotto with wild mushrooms was complemented by an enticing fruit and spice flavored Blue Oasis pinot noir from Docker Hill Vineyard in Mendocino's Anderson Valley.
A cast-iron seared filet mignon tasted even better with an elegant Cabernet from Napa's Leto Cellars. All wines were served in Reidel stemware.
Desserts make for a challenging choice, ranging from a fluffy slice of coconut cream pie on a chocolate macaroon crust and a squiggle of caramel sauce to Belgian chocolate pot de crème with a homemade sugar cookie and toasted hazelnuts.