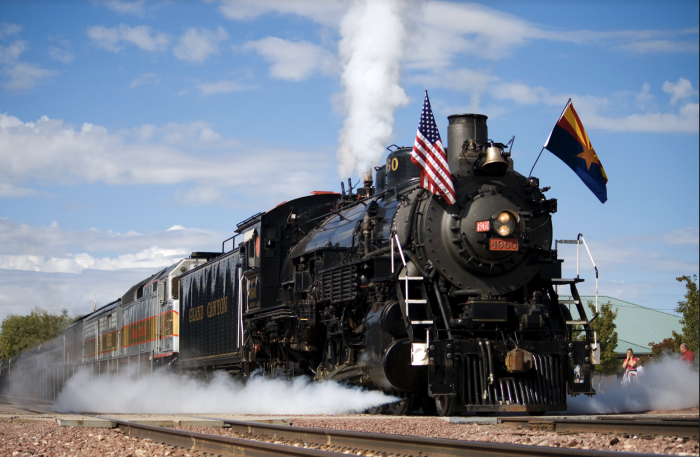 The Grand Canyon Railway
Train fans, first-time train riders, families and solo-travelers can experience one of the great wonders of the world starting on June 15, 2020. The Grand Canyon Railway will begin running daily from the small town of Williams, AZ, along the historic Route 66 to the Grand Canyon South Rim, the Hopihouse and El Tovar.
Known as "The Train," it departs at 9:30 a.m. and returns back to Williams at 5:45 p.m. The journey offers a 2.5-hour layover at South Rim of Grand Canyon to walk along the rim, explore the Hopihouse and iconic El Tovar Hotel. Assigned seating now enables safe social distancing, and the luxury dome cars, open platform observation car and railcars from the 1930s, 1940s, and 1950s offer opening windows for fresh air.

The Grand Canyon Hotel
Next to the train depot in Williams is the 298-room Grand Canyon Hotel. Stay overnight to easily make the 9:30 a.m., departure to the Grand Canyon. Amenities at the hotel include complimentary wi-fi, an indoor pool and hot tub, and two dining options at the Fred Harvey Restaurant and Spenser's Pub.
With the reopening, the health and safety team have set protocols with appropriate sanitizing measures prescribed by the CDC, local authorities, County Health Departments and the National Park Service. They continually will monitor the situation.
Ongoing efforts include increased bathroom and common area cleaning and disinfecting frequency to every (2) two hours. Disinfect all door handles, surfaces and equipment every hour in all guest areas. Employees shall thoroughly wash their hands after each cleaning, and social distancing structures are in place to ensure guests are six feet apart. Groups of fewer than 10 people all allowed in the guest registration area, gift shop, and food-to-go areas. Laundry and housekeeping staff have been trained on procedures for handling linens based on guidance from the Association for Linen Management (ALM).
All employees are required to wear washable face coverings while working and while on the property in communal areas. N95 masks/particulate respirators are available for employees with high-risk responsibilities. Guests are encouraged to wear face coverings while in interior public spaces. Register shields have been installed in point-of-sale areas including the front desk, gift shop, and restaurants.
Employees will have their temperature checked upon arrival to work using a thermal forehead thermometer. Those registering a temperature of 100.4 degrees Fahrenheit or higher will be denied entry to the area and instructed to contact the local clinic for evaluation.
No-touch solutions have been arranged for guest transactions. These precautions include Front Desk credit card and room charge transactions, the gift shop, and restaurants.
Hand sanitizer stations have been placed at the lobby, gift shop, hotel, restaurant entrances, and point-of-sale areas. Limited guest capacity usage will be encouraged for the elevator and staff will be encouraged to use stairwells when applicable.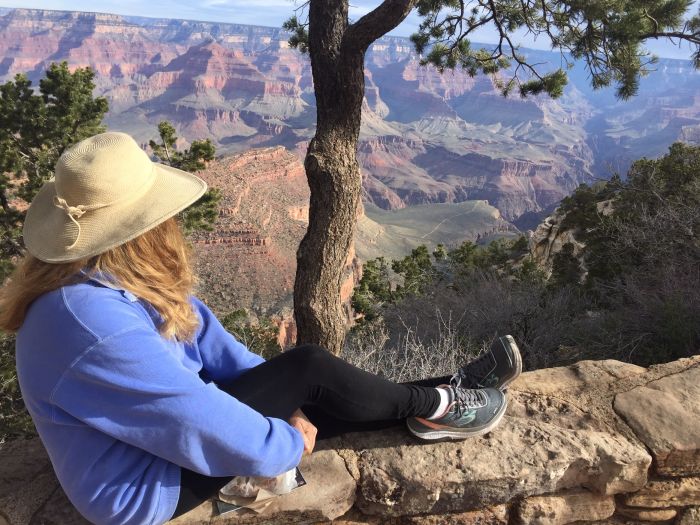 Rick Weinlein
Once you arrive to the South Rim, there are plenty of open spaces to appreciate the beauty of the Grand Canyon National Park. Designated as a national park in 1919 by President Woodrow Wilson, this park is steeped with American heritage and Western legacy.
Encompassing 277 miles of the Colorado River, Pinyon and Ponderosa Pine and Utah Juniper are interspersed with shrubby cliff rose, blackbrush, and sagebrush. Wildlife that live in the area includes squirrels, mule deer and the silver-gray coyote, known as the Song Dog of the West.
While walking along a paved trail along the rim, hawks, California condors, ravens and eagles soar majestically above.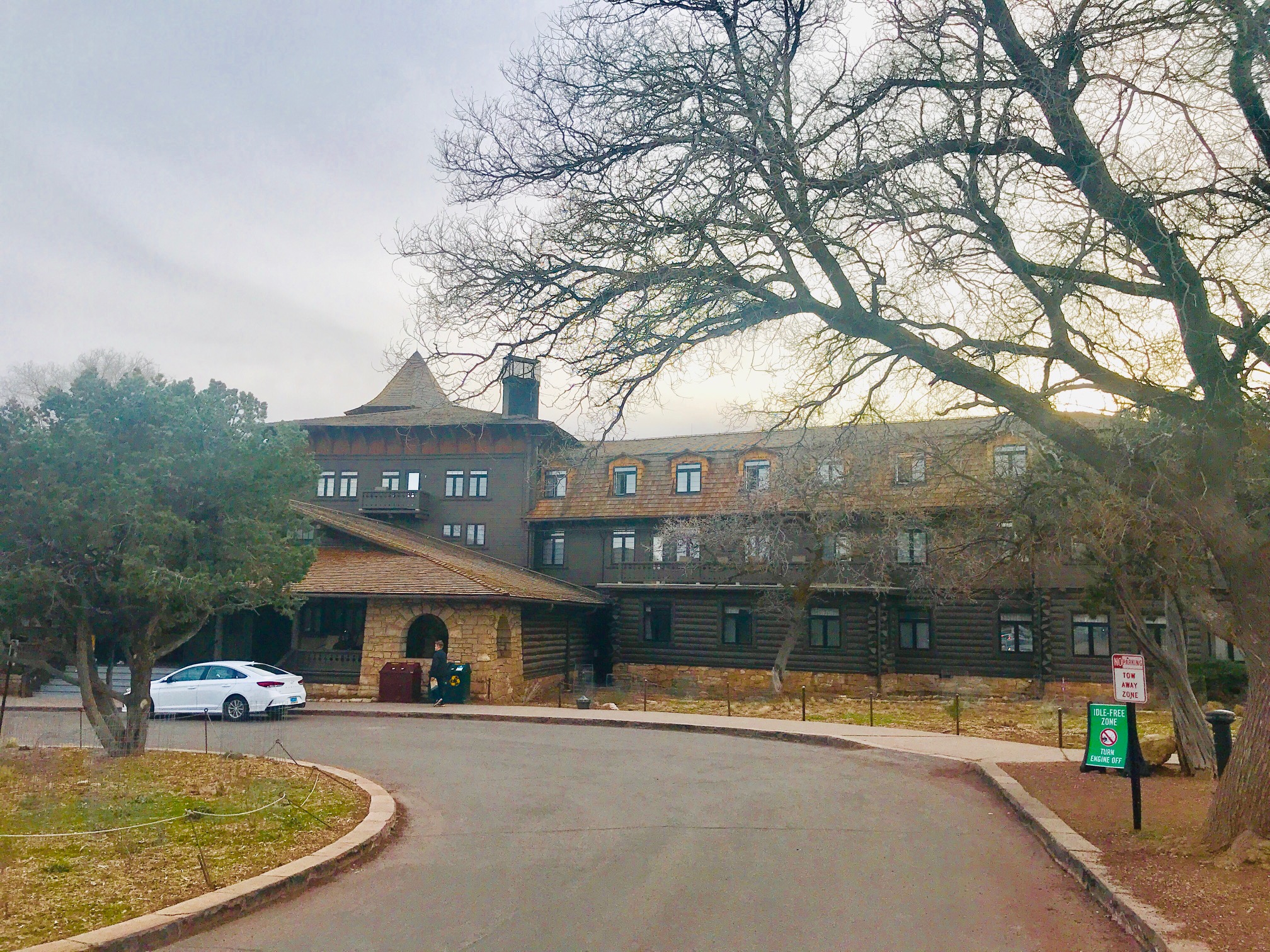 Jill Weinlein
Be sure to visit the Norwegian villa designed El Tovar Hotel. After months of being closed due to the coronavirus, this grand 78-room hotel reopened on June 5, 2020. Located directly on the rim of the Grand Canyon, inside is a dining room for a snack or lunch, lounge for a drink, gift shop, and newsstand.
First opening its doors in 1905, the hotel was designed by Charles Whittlesey, the chief architect for the Atchison, Topeka and Santa Fe Railway. Owned and operated by the Fred Harvey Company in conjunction with the Santa Fe Railway, El Tovar was considered the most elegant hotel west of the Mississippi River. In 1987, El Tovar was designated a National Historic Landmark.
The guest list includes Theodore Roosevelt, Albert Einstein, Western author Zane Grey, President Bill Clinton, Sir Paul McCartney, and Oprah Winfrey.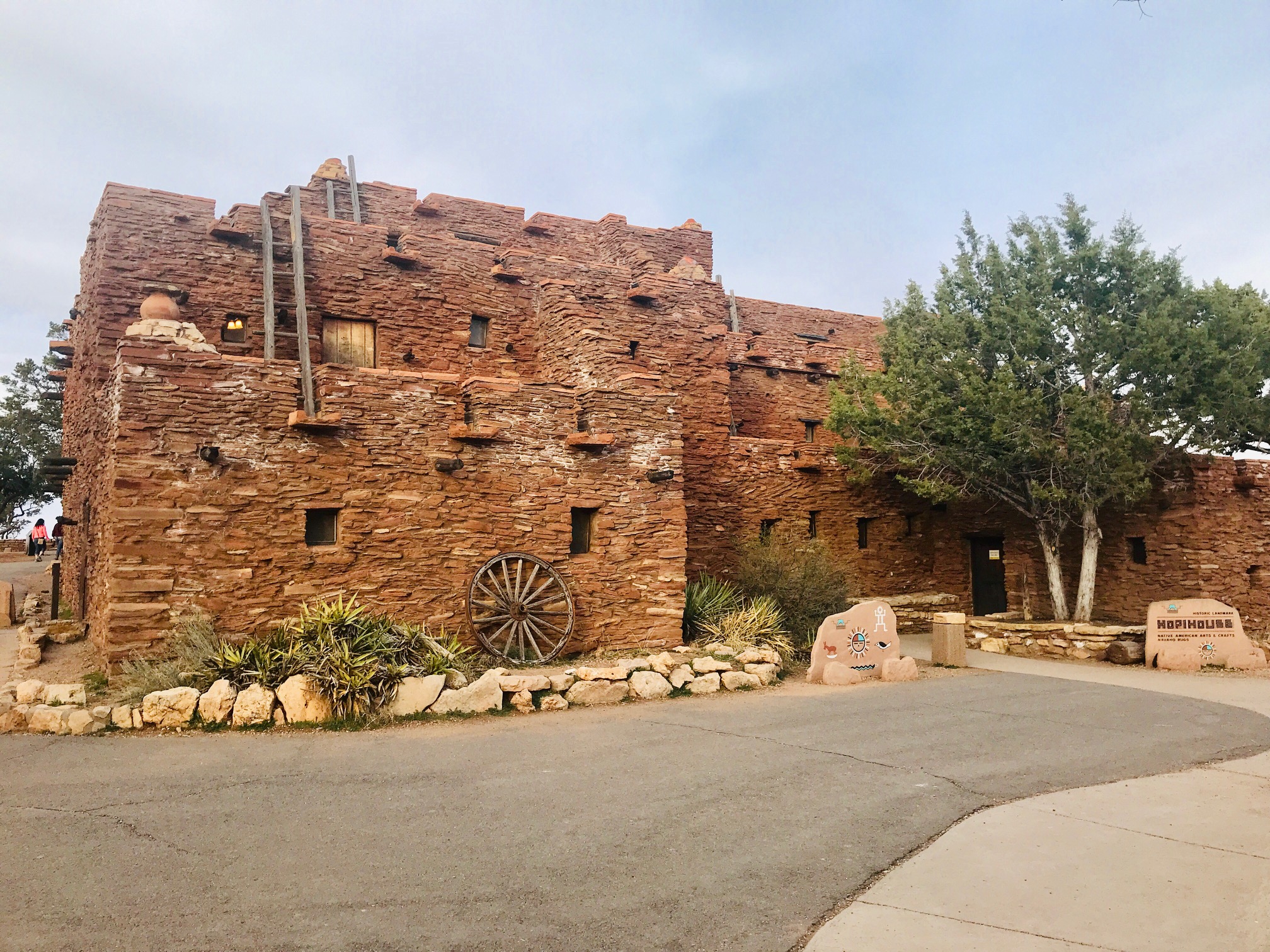 Jill Weinlein
Next to El Tovar is the historic village and Hopihouse. Built in 1905, the same time as the hotel was being built, the Native American design was inspired by a typical adobe pueblo lived in by Hopi Indians of Old Oraibi. Inside the two story building are museum-quality Native American arts and crafts to admire, and items to purchase before boarding the train back to Williams, AZ.
Jill Weinlein
With the reopening, there is are two special deals: Arizona residents can save 30 percent on all train fares when they enter 'Arizona' in the booking code field of the train ticket or hotel only reservation form. Also, the Summer Getaway Package offers one to three-night deals that include accommodations at Grand Canyon Railway and Hotel in Williams, dinner, breakfast, a Wild West Show, and roundtrip on the train to South Rim, Grand Canyon.
All guests staying between June 15 and September 30, 2020 can reap the rewards of a long weekend stay at the Grand Canyon Railway Hotel. For a one-night stay, guests will receive 10 percent off the rack rate with promo code STAY1. A two-night stay equals a 20 percent savings with promo code STAY2 and three or more nights will result in a 30 percent discount with code STAY3. All rates are per room for one or two people and you must input the promo code when making your reservation.
Groups may charter an entire luxury private railroad car or even an entire private train with luxury railroad cars complete with chefs, bartenders, and staff. These are ideal for "milestone" moments such as graduations, family reunions, anniversaries, weddings, birthdays, etc. For charters visit www.thetrain.com/charters.