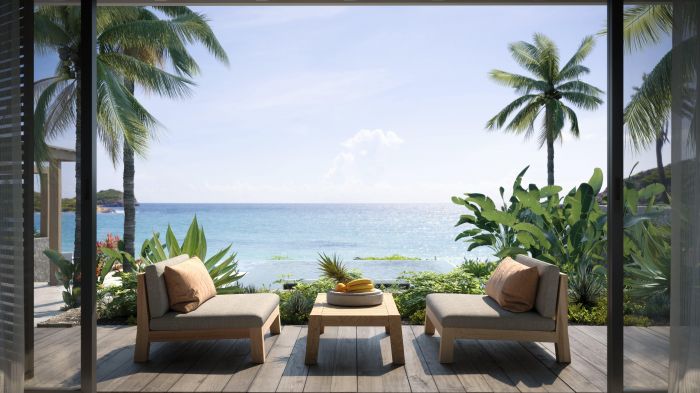 Replay Destinations, a fully integrated destination development company, has officially unveiled the design vision for Rosewood Residences at Rosewood Half Moon Bay, a collection of 25 private homes to be developed at Half Moon Bay Antigua, an ultra-private luxury enclave. Renowned for exceptional craftsmanship and eco-contemporary aesthetic, Studio Piet Boon, in partnership with landscape studio VITA, has led the design efforts across the entire community, celebrating the traditional Caribbean architecture with a refined contemporary approach.
"Half Moon Bay Antigua will launch a new standard of Caribbean living through its self-sustaining luxury and undiscovered beauty," said William Anderson, CEO of Half Moon Bay Antigua. "From the thoughtfully designed residences set squarely on the beachfront or hillside, each home offers an exclusive opportunity to own a private sanctuary."
Nestled among 132 pristine acres and white-sand beaches, Rosewood Residences at Rosewood Half Moon Bay offer stunning views of the bay with 2-,3-, or 5-bedroom hillside residences, as well as an intimate 4-bedroom design, set just 50 feet back from the sea. The 4- and 5-bedroom floorplans also offer easily customizable spaces and multipurpose rooms, ideal for everything from a private yoga or in-home art studio to an additional guest bedroom suite or walk-in closet. The design and architecture of the residences reflect a modern take on the Caribbean vernacular, with color palettes inspired from the depths of the sea to the enlivened spirit of the sun. Taking full advantage of the natural surroundings, each residence is imbued with meandering floorplans that imperceptibly blend the indoor and outdoor spaces with extended veranda overhangs that welcome cool breezes, private courtyards, sliding glass walls and crystalline freshwater plunge pools.
"When designing Half Moon Bay Antigua, we were compelled to create an experience that connected with the location," said Piet Boon of Studio Piet Boon. "Each Rosewood Residence blends modestly into the topography connecting the exterior with the interior as they move down the hillside to the bay."
The Real Estate Offerings
Rosewood Residences at Rosewood Half Moon Bay offer unobstructed ocean views, private infinity pools, hammocks and open-air shower gardens with live orchid walls that invite the outdoors inside.In addition to the opportunity to own a Rosewood Residence, for the first time in over half a century, Half Moon Bay Antigua's acclaimed Mellon Estate, previously owned by philanthropist and art collector Bunny Mellon, is on the market as one of the 14 exclusive Estate Parcels offered at Half Moon Bay. The Estate Parcels are comprised of the Rosewood Estate, Sea Cliff Estates and Half Moon Bay Estates. Buyers have the opportunity to tap Half Moon Bay Antigua's internationally-acclaimed design partner Studio Piet Boon or collaborate with the design team of their choice to conceptualize their custom home.
The New Caribbean
Frequented by notable names including Audrey Hepburn, Elton John and the British Royal Family, Half Moon Bay Antigua is built on a rich history as an established global celebrity hideaway. In recent years, Antigua and Barbuda have become one of the Caribbean's hottest getaways, led by a wave of new airlift and a pervasive focus on tourism development that includes an impressive pipeline of new experiences unique to the island. According to the latest data from the twin-island country's tourism authority, it is one of the most talked-about destinations in the Caribbean currently with a tourism increase of 10 percent in stayover visitor arrivals through September. The surge has pointed to a broader trend of Antigua becoming a full-fledged year-round destination.
Luxury, Active and Evolved
Owners and guests will have exclusive access to the highest-caliber amenities and services, masterfully executed by the forthcoming ultra-luxury resort, Rosewood Half Moon Bay. Designed in collaboration by Rosewood and architecture and design firms OBMI, Vita and Studio Piet Boon, the intimate and immersive resort comprised of 47 all pavilion-style suites will offer customary luxuries such as a full-service concierge, world-class dining and spa, an array of water sports and activities, along with an iconic cliffside cocktail lounge.
Sustainability on A New Level
To pay homage to the extraordinary landscape, Half Moon Bay Antigua will implement pioneering sustainability measures, including a fully functioning two-acre Biodynamic-certified farm, solar energy and water conservation systems. The Biodynamic farm will not only inform the culinary and spa experience but will also serve as a hub for cooking classes and culinary explorations.
Half Moon Bay Antigua is set to break ground in 2020, with the Rosewood Half Moon Bay slated for completion in 2022. For more information, please visit www.halfmoonbayantigua.com.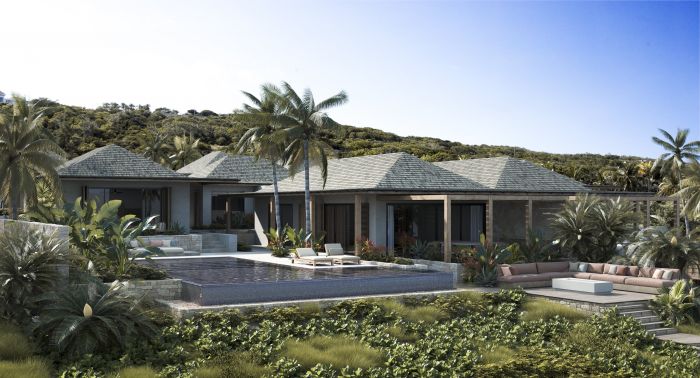 Half Moon Bay Antigua
Half Moon Bay Antigua Beach Villa