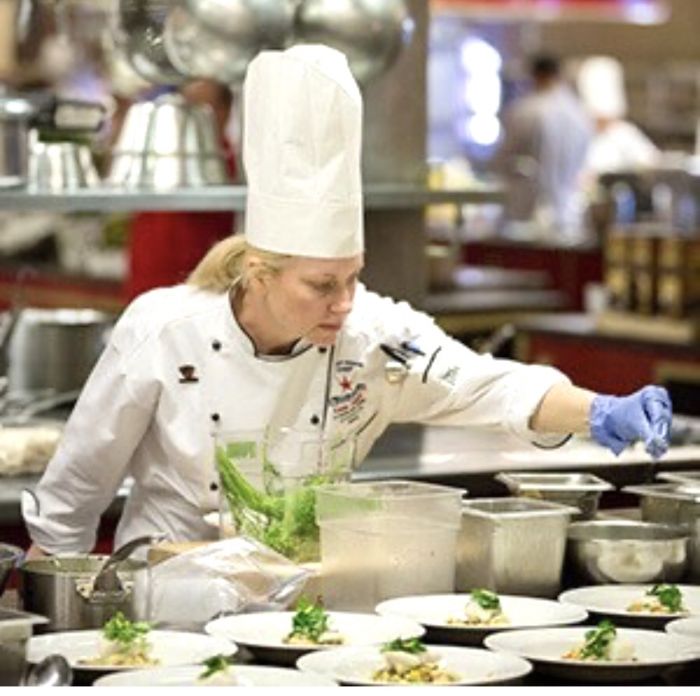 Courtesy of Nybll Eat to Win
Seeking comfort while staying at home due to the coronavirus pandemic, many are turning to baking and cooking at home. But what if you don't like to cook? Or what if the ingredients you need to make your favorite comfort food is not available in the grocery store? What if you have decided you don't want to venture out and wait in line to buy groceries?
Nybll Eat To Win is a personal chef meal plan that prepares healthy and flavorful food delivered to your front door. Executive Chef and Co-Founder Kristen Thibeault has been preparing and providing lunch and dinner meal plans with delivery services to Fortune 500 companies and championship sports teams in California.
Now with millions staying at home to help flatten the coronavirus pandemic, Nybll is the next generation of plant-forward farm-to-fork fresh prepared food for healthy eating consumers.
It's ideal for those of us who have to work and study at home and may not have the time or want to cook healthy and nurtitious meals three times a day. "Health is wealth. Clean proteins – especially sourced from plant-focused foods – are the key to achieving this wealth," says Kristen Thibeault. Her new Oakland location, allows Nybll to deliver meals at a higher capacity than ever before to Northern and Southern California residents.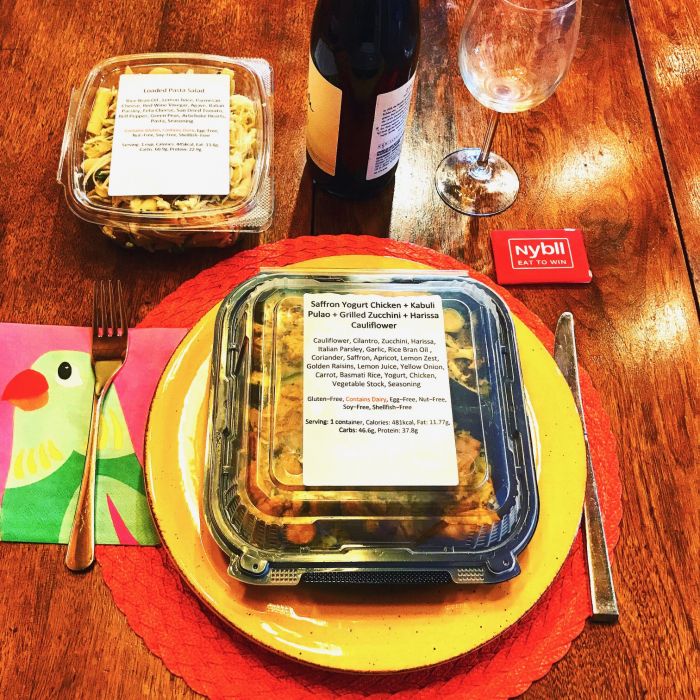 Jill Weinlein
The menus designed by Executive Chef Kristen Thibeault, reflects Ayurvedic, paleo, and macrobiotic regimens, and accommodates vegan and gluten-free diets.
As a stage-3, double cancer survivor, Chef Kristen credits her plant-forward fusion "Stealth Health" cuisine for her speedy recovery. This experience reinvigorated her culinary interests, and inspired her to prepare and heal others with her healthy fare.
She studied Nutritional Science at Stanford University and holds a culinary degree from Le Cordon Bleu. This talented chef later became a nationally recognized vegan chef in 2012, and is a certified sports nutritionist.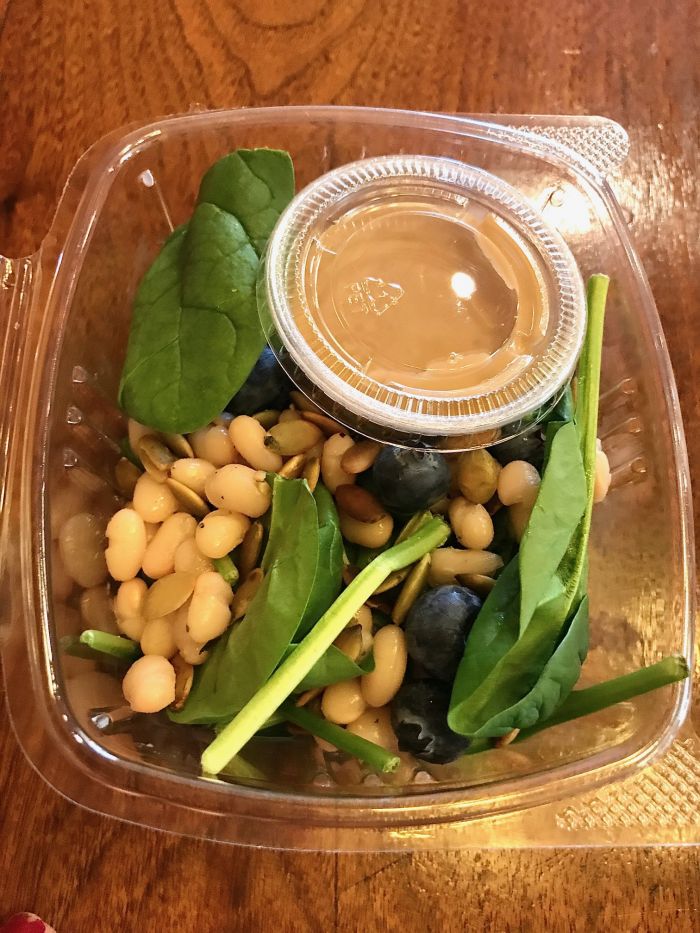 Jill Weinlein
This epicurean company is dedicated to sustainability and produces 0 pounds of waste. Produce is sourced locally (when possible) in partnership with San Francisco-based distributor Stanley Produce.
To order, first select from one of the four different healthy meals plan subscriptions that meet your or your family's health and wellness needs. I chose the 5 meals plan that starts at $59 per week. Other plans include 10 meals per week starting at $99, and a Family Pack for $129 a week. This plan includes two 32oz soups, two 32oz chili, two 32oz mac and cheese, two 32oz chicken broccoli rice, two extra large vegetable dishes, four large salads with dressing and one family dessert. They also prepare a 20 meal plan crafted with proteins, grains/pasta, and vegetables for $189 per week.
For Meal Options, I chose Mediterrabean/Flexitarian and standard portioning. They can also craft Vegan, Vegetarian, Pescatarian and Keto/Grain Free. There is an add-on section too for families who have kids with a la carte items found in the Family Pack. Other add-ons include some fun comforting side dishes, such as mashed potatoes; brown or basmati rice, vegetables or a seasonal fresh fruit basket. Add a little extra muscle proteins such as salmon, chicken, vegan protein or shrimp. They also offer four sweet tooth add-on treats that include four double chocolate or blondie brownies, french macarons, and chocolate chip cookie.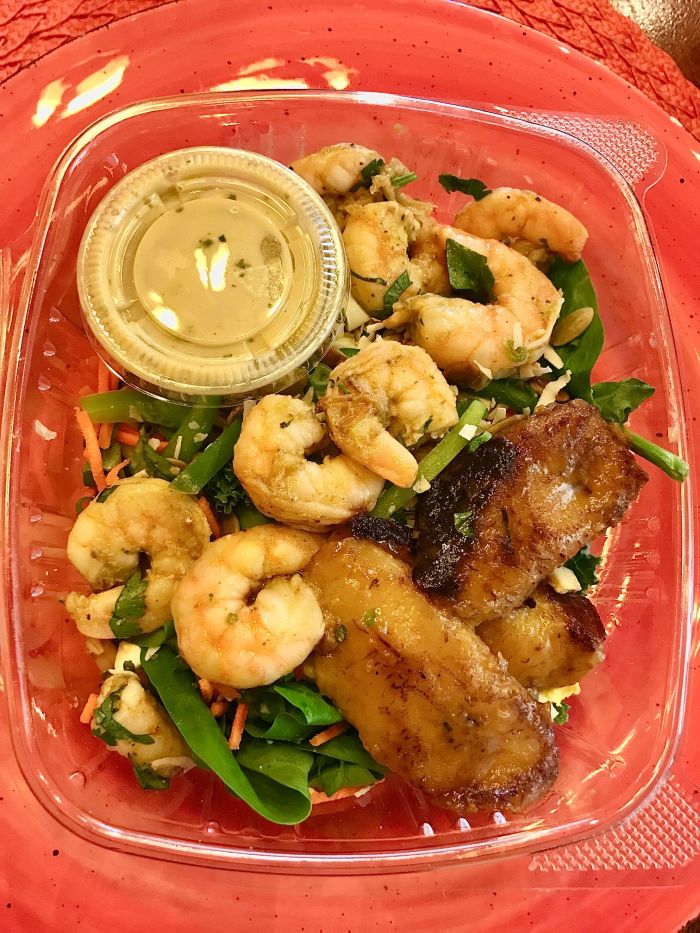 Jill Weinlein
On Tuesday at 3:15 p.m., a delivery person rang my doorbell, and with gloves on his hands, handed me a bag filled with my Nybll Eat To Win meals. Each portion was conveniently labeled with the name of the item, the ingredients and nutritional information.
Inside the bag were three entrees, one large soup (three servings) and four different salads.
The first evening I poured myself a bowl of the creamy tomato bisque, before enjoying a Caribbean Superfood salad with Jerk shrimp. Every ingredient is listed on the label. The coconut flakes, plantains, kale, carrots, and orange juice marinated shrimp was a nice balance of earthiness and sweetness. This was one of the many delicious, healthy and comforting meals I enjoyed for a week.
The entire container had 433 calories, 16.9 grams of fat, 27.4 grams of carbs and 25.6 grams of protein.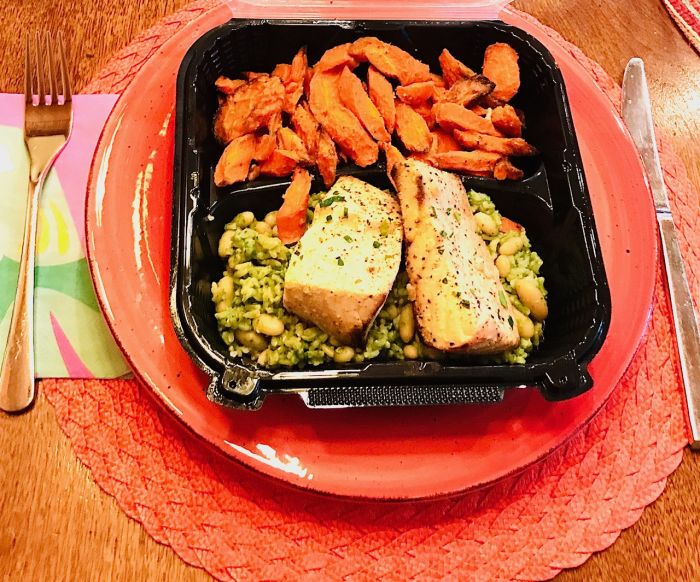 Jill Weinlein
The next day I opened the citrus roasted salmon with brown rice and navy beans and roasted carrots container. On the label it describes how this dish is gluten-free, dairy-free, egg -free, nut-free, soy-free and shellfish-free. The container of food offered 528 calories; 12.9 grams of fat; 60.9 grams of carbs and 37.5 grams of protein.
The salmon was cooked perfectly and had a pleasing lemon zest topping. The carrots offered a hint of sweetness due to their freshness and agave and orange juice. Herbs used to make this meal have a zing included basil, Italian parsley and mint.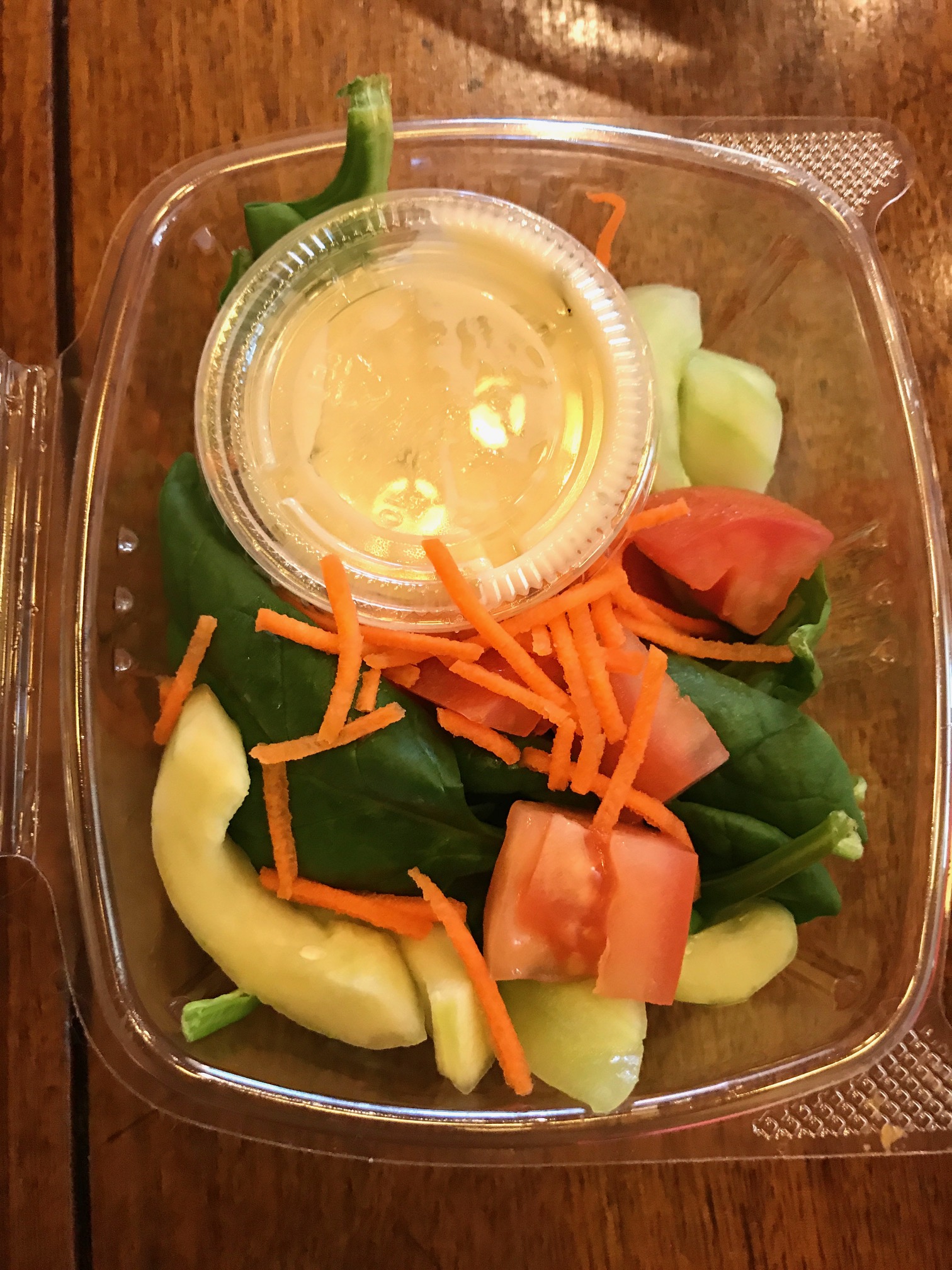 Jill Weinlein
For lunch the next day, I chose the spinach, carrots, cucumber and grape tomato salad as a starter, and half of the container of rosemary roasted chicken with confetti quinoa and garlic sauteed kale. All of the ingredients were listed on the label including kale, agave, olive oil, quinoa, carrot, garlic, fresh rosemary, green onions, shallots, lemon zest, rice bran oil, chicken, Italian parsley, Dijon mustard, vegetable stock, bell pepper, lemon juice, white wine vinegar, safflower oil, orange juice and seasoning. You know exactly what you are eating.
This entree offered 439 calories, 15.8 grams of fat, 38.4 grams of carbs and 37.7 grams of protein.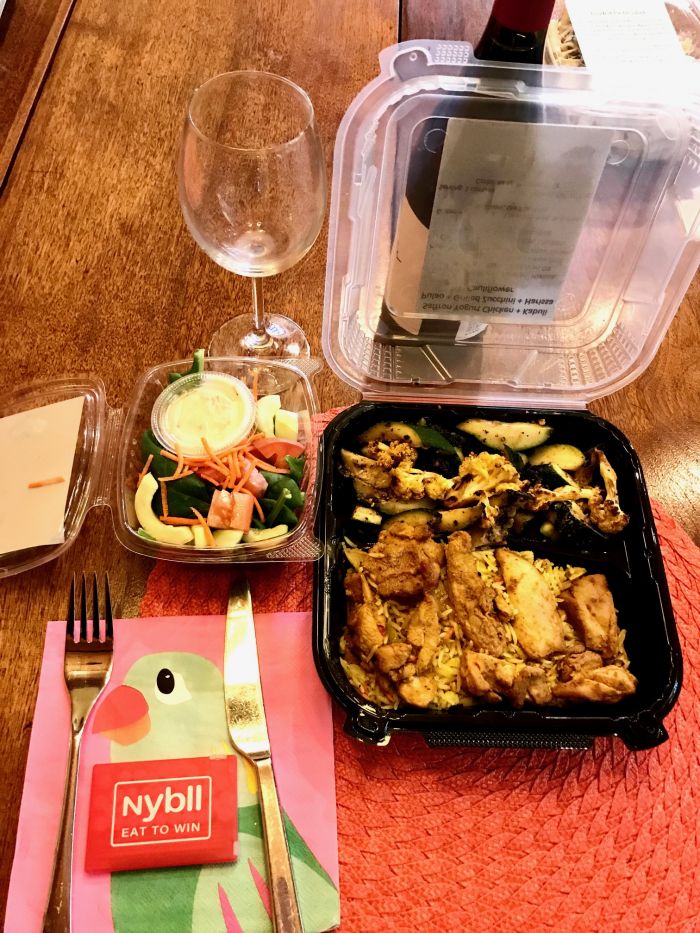 Jill Weinlein
For dinner I finished the loaded pasta salad and the rest of the spinach, carrot, tomato, cucumber salad. Next I opened the saffron yogurt chicken entree, that was deliciously complemented with kabuli pulao (steamed rice mixed with raisins and carrots), grilled zucchini and harissa cauliflower. This entree is gluten-free, egg -free, nut-free, soy-free, shellfish-free, and did contain a little dairy. It offers 481 calories, 11.7 grams of fat, 46.6 grams of carbohydrates and 37.8 grams of protein.
Chef Kristen is creatively producing approximately 5,000 meals daily, and over 150+ menu themes. Theme night meals to look forward to include German Biergarten, Vegan DIY nacho bar and Jamaican meals.
Nybll Eat To Win weekly orders can be made online or calling (415) 617-9691. Order deadlines are on Thursday at 10 p.m. Orders are delivered every Tuesday between 12 to 5 p.m.