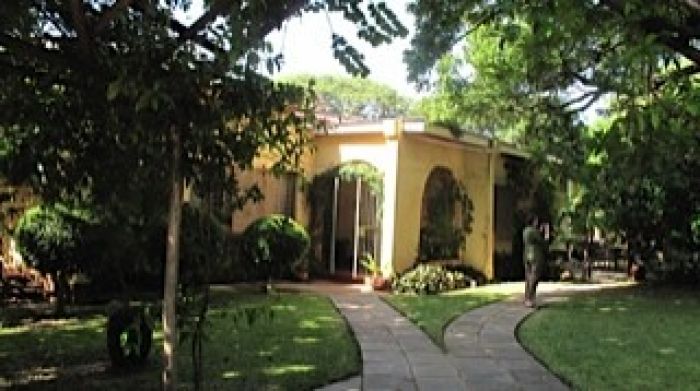 JH
I stumbled into the dining room for breakfast just after 07:00, somewhat bleary-eyed as I'd already been awake for three hours. When I asked Fiona about it she replied, "Yes, at Heuglin's it is all about the birds and they start just after four."
Later I learned that the symphony of chirps I'd been listening to included chinspot batis in the violin section, black-collared barbets for the wind instruments, with barn owls bringing up the bass. The drum rolls were provided by the bearded woodpeckers.
Heuglin's Lodge is a proverbial aviary tucked away in an upmarket suburb in Lilongwe, Malawi. The lawns, shrubs and trees provide a natural space for the feathered creatures who flock there. If you don't have your own binoculars, grab the ones from the lounge to spot some of the tiny birds, like the iridescent green-topped and yellow-bottomed sunbird. Other birds you can see and hear include the paradise flycatcher Meyer's parrot, tropical boubos and the tawny-flanked prinia.
According to Nomalah Kankhwende, Heuglin's Lodge is not a holiday destination in itself. Rather, it is a stopover point for people headed out on safari or on a tour. The other client base is expats or project workers who might stay there for months at a time, coming and going. She explains that "Heuglin's is good value for the money. The lodge offers good quality accommodation and meals are available. It is also an ideal place to just relax after you come in from an international flight."
Situated in a converted rambling house, there are six spacious rooms for up to 12 guests. And there is lounge space scattered throughout the lodge with lots of outdoor areas, including a small play space for children. The staff are exceptionally friendly and helpful and smiles abound
Pick your spot, inhale the fresh air and enjoy the bird music around you. If you want to go and explore the city center – which is really more like a big small town – a car and driver can be arranged.
Or if you would rather stay at the lodge and read up on the flora and fauna, there are books in each room, as well as a library in the central lounge. So while you won't find any party animals at Heuglin's, you will find tranquillity and more birds than you can point your binoculars at.
Contact details:
Email: M1@wilderness.mw
Telephone:+265-177-6771
Off Blantyre Road, Area 43, Lilongwe, Malawi
JH
JH
JH
JH
JH