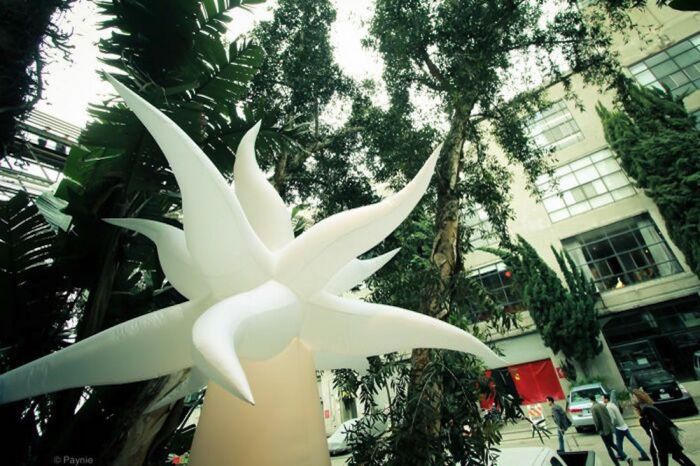 Steve Payne
Built in the 1890s, The Brewery draws its name from its origin as aPabst Blue Ribbon Brewery. Since, then it has been through various incarnations, most recently as an artistic enclave. The Brewery is a live/work space that is currently filled with the creative prowess of over 500 artists. Thanks to the biannual Brewery Artwalk, coming in October, the public can now check out the artistic endeavors of the resident artists. JustLuxe talked about The Brewery's artistic past, present and future with Mitzella, one of The Brewery's artists in the community and President of The Brewery Artwalk Association, which puts on the event.
When did the Brewery Arts Complex begin?
The Brewery Arts Complex opened in 1982. Before that it functioned for 82 years as the Eastside and then the Pabst Blue Ribbon Brewery from 1897 to 1979. It was originally the site of the Pabst Blue Ribbon Brewery, how did ittransform from that into an in-residence art complex?
Carlson Industries purchased the site in 1980. They took advantage of the Artist-In-Residence code, which allowed individuals to inhabit live/work spaces in industrially zoned buildings. In the years that followed, the complex has expanded into what's been deemed the world's largest artist-in-residence community. The campus encompasses 23 acres and 14 buildings including the historical California Edison Los Angeles #3 Steam Power Plant (affectionately known as the Smokestack Building by residents.) The plant was designed by John Parkinson – the architect responsible for many of LA's most iconic structures including City Hall and Union Station.
Foto Matt
The Brewery has been described as the world's largest artist-in-residencecommunity. How many artists live and work at the Brewery?
There are more than 500 artists living and working in the Brewery complex. We're a true community in every sense of the word. Artists need to be around other artists to draw inspiration, seek advice and get feedback. The Brewery is an amazing resource for all of those things. Tell me a bit about The Brewery Artwalk Association.
The Brewery Artwalk Association (BAA) is a not-for-profit 501(c)3 Organization. Our mission is to produce, organize and facilitate the recurring biannual event known as the Brewery Artwalk. The BAA's goal has been to keep the artwalk a free, educational, public arts event, designed to create an alternative venue for art exposure. It also allows the artists here at the Brewery the opportunity to open their studios and connect with the general public, the art industry, other working artists and the community.
Foto Matt
You're the current President, how did you become involved with the Brewery?
I've grown so much as an artist since I've moved here and made so many wonderful friends who are almost like family to me. I decided to join the BAA two years ago because I wanted to give something back to the community that's given me so much.
Before moving to the Brewery, I had an apartment in Hollywood. I was working out of my dining room where I had to cover the parquet floors with cardboard because I tend to work with power tools and a lot of other messy stuff like foam, fiberglass and polyurethane. My art was getting bigger and bigger and it was becoming really difficult to do the kind of work I wanted to do in the space I had available. Looking back at it, I'm sure some of my neighbors thought I was crazy.
Steve Payne
I first heard about the Brewery from a friend of a friend who was living here and I thought, "That's for me!" Where else would I have found the room to build my own version of the Haunted Mansion complete with a gothic throne room to house my life sized Pepper's Ghost illusion?
I've lived at the Brewery for 8 years now and just love it here. That's really how it is for most people. Either you come here and love it and never want to leave or you move in and think, "What did I get myself into?" Loft living isn't for everyone, especially when you consider these are true industrial spaces. When you move in, it's like being given a blank canvas. Most of the lofts are just big open spaces with concrete floors and no central air or heating. It's up to the artist to carve out the space and make it unique to them. Some people would see that as a challenge, other people see it as an opportunity.
Steve Payne
How and when did the Brewery Artwalk begin?
The initial artwalk came about shortly after the Brewery Arts Complex's debut in 1982. It's my understanding that for the first couple years the artwalk was only held annually. This year marks our 32nd anniversary.
Steve Payne
Is it the oldest art walk in Los Angeles?
It's certainly one of the first. Thirty years ago, the idea of opening up a group of artists studios (and in many cases their homes) to the general public would have seemed borderline radical. Even today, it takes a special kind of person to allow hundreds of strangers access to your personal space. I recently heard one of our residents describe living at the Brewery as, "a lifestyle choice that requires a deeper and more public commitment to being an artist." I think that's spot on and it's that willingness to expose ourselves and our artistic processes to the community that makes this such a unique event.
Steve Payne
How many artists show their work at the Artwalk?
It varies from walk to walk but generally anywhere from 120 and 150 artists choose to open up their studios to the public. You'll find a variety of works including paintings, ceramics, video and multimedia, sculptures, installations and performance art. If you don't like what you see in one loft just move on to the next. There's something for practically everyone.
Steve Payne
How would you describe the experience? How do you feel it differs fromother art walks?
I think one of the things that sets us apart from other artwalks is the ability to view art within the artist's own studio. Creating art is an intensely personal process and one that usually occurs behind closed doors. For many collectors, being able to talk directly to the artist about their work, to actually see their creative process and hear their story is a big draw. In a sense, it makes the art more valuable when you're able to form a personal relationship with the artist and learn the story behind a particular piece.
It also offers an opportunity to see work that normally wouldn't make it into a conventional gallery because of its size, weight or other limitations. We have artists here who've turned their entire lofts into a piece of art. In those cases, the only way to experience it is here at the Brewery.
Steve Payne
What are a few surprises that people could find at the Artwalk?
There are many things people find surprising about the Brewery. There's always new artwork to be discovered as well as 23 acres of campus to explore with a park and several hidden gardens. There's something oddly beautiful about the juxtaposition of so much greenery within an industrial complex. The campus is also home to The Stronghold Climbing Gym and Barbara's (the local bar and grill).
This Artwalk, the BAA is particularly excited to be working on a partnership with the LA Philharmonic that would bring in an interactive exhibit using the new virtual reality technology by Oculus to transport viewers to a concert at the Disney Concert Hall.
Steve Payne
When is the next Brewery Artwalk?
The Brewery Artwalk happens twice a year in the Fall and Spring (typically October and April respectively.) The next artwalk is scheduled for Saturday and Sunday October 3rd and 4thfrom 11am – 6pm
AsMitzella explained, the Brewery Artwalk is not only a great experience, it is also an opportunity for the public to purchase world class art from leading Brewery artists, at studio prices. It offers a rare glimpse not only for the general public but for collectors, gallerists, curators to see the wide range of art the Los Angeles has to offer. The event and parking are free. For anyone wishing to attend, we're located at 2100 North Main St. in downtown Los Angeles. For more information check out the BAA's website at www.breweryartwalk.com