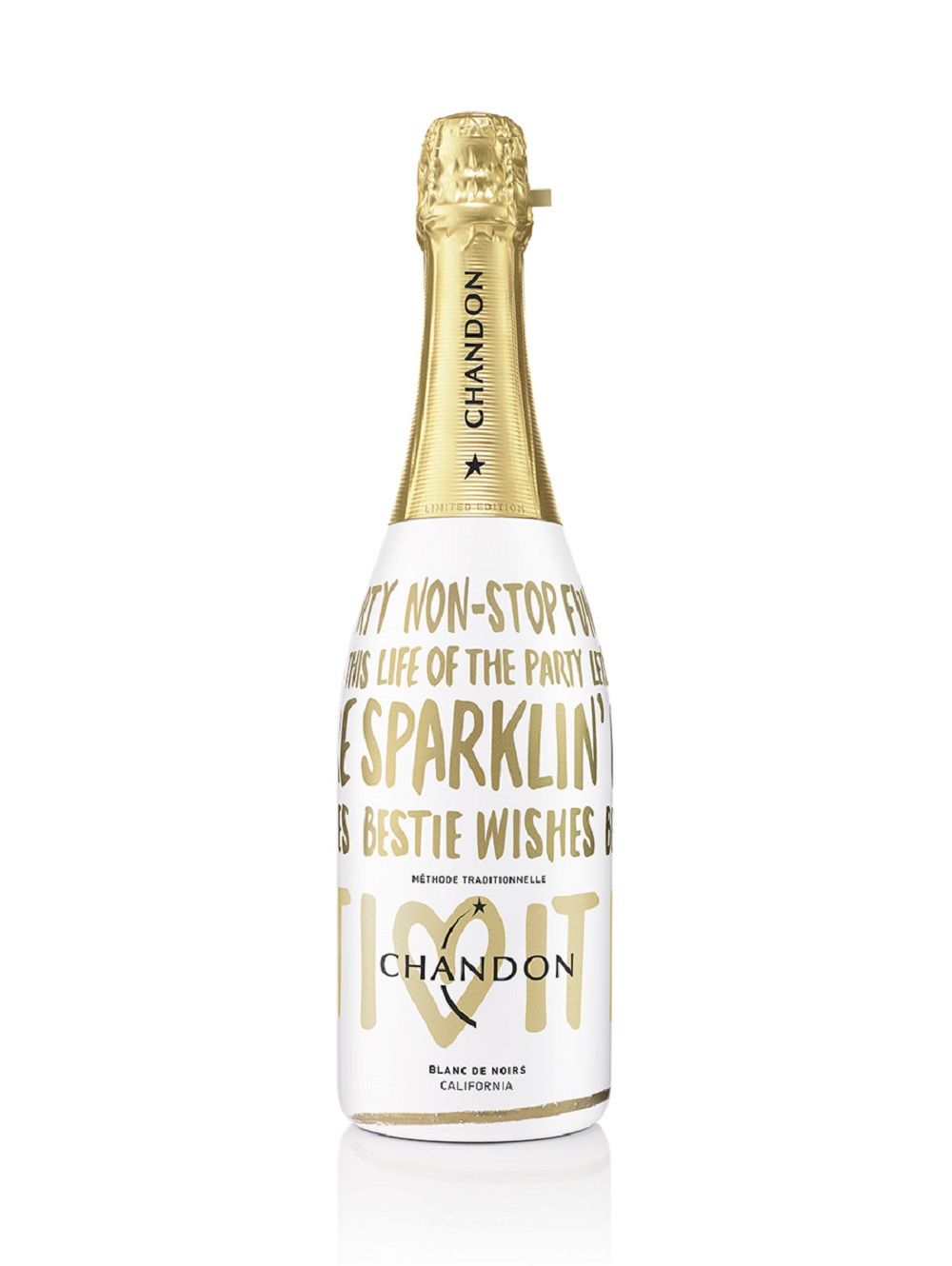 Photo Credit: Chandon
Anyone can show up to a holiday party with a so-so bottle of Chardonnay, but you should make your mark as a great guest by honoring the host and hostess with a stylish, thoughtful and practical gift that's a little indulgent…or maybe a lot. Don't hesitate to spend generously, because no recipient really means it when they say, "Oh, you shouldn't have!" You definitely should, so choose a hostess gift that's personal and memorable, and you'll be guaranteed a return invitation—next time with preferable seating-chart placement.
CHANDON LIMITED-EDITION: It's not a party without sparking wine, so set the stage by bringing a bottle of bubbly as a festive hostess gift (and if you're lucky, she'll share it with you). The Chandon Blanc de Noirs is a perfect choice—with tasty notes of cherry, currant and strawberry—and the special limited-edition comes wrapped in its own gold-and-white bottle. 750mL for $24.
Photo Credit: Erickson
L. ERICKSON CRYSTAL ADORNED BROOCH: Put a sparkle in the hostess' eye with this glittering new jeweled design made from 17 Swarovski crystals. Choose her favorite color from Light Turquoise, Topaz, Tanzanite, Rose and Chrysolite Opal. $145.
LA FLUTE CORKSCREW: To make your gift stand out from all those bottles of wine that most guests bring, give your host/hostess a great corkscrew. Shaped like a wine glass and presented in a polished wooden box, The La Flute Corkscrew ($50) is memorable and unique. Instead of breaking the cork, it's designed to neatly cut the foil and extract the cork in one step, and without leaving behind any debris to fall inside the bottle. Pair it with a beautiful bottle like Malibu Rock Oaks Estate Reserve Rose (that'll make her blush). $50.
Photo Credit: Urban Decay
URBAN DECAY BY GWEN STEFANI: The beauty collaboration of the year is brand new from edgy Urban Decay cosmetics and iconic diva Gwen Stefani who helped design this eyeshadow collection. The 15 shades—including 12 brand new colors named after the diva's songs—fill the case with neutrals and jewel tones, metallics and mattes, for day or night looks. $58
Photo Credit: France Luxe
FRANCE LUXE STAR STRUCK TIGE BOULE BARRETTE: Handcrafted in France, this luxe hair barrette will remind everyone who the star of party is. The petite accent piece shines with an array of Swarovski crystals and a pearl center. $256.
HONEYCAT BATH GOODIES: Make her purr with a pampering gift set to help her relax with an at-home spa day. Gift a few bath and body products like Honeycat Cosmetics' Cat-Bernet Sauvignon shower gel ($16) loaded with antioxidants (but without the hangover); Meow Mojo Magic bath soak ($20) made of pink Bolivian sea salt infused with almond, macadamia and grapeseed oils; and Frisky Kitty Bath Time Fizzy ($10) super rich bath bombs with skin-softening almond oil, cocoa butter, Shea butter, and aloe vera.
Photo Credit: Voluspa
VOLUSPA: Had the Three Wise Men been born in the modern era, they'd have been wise to trade their gifts of frankincense and myrrh for Voluspa's 2015 holiday fragrances: Incognito (amber and patchouli), Makassar Ebony and Peach, Aurantia and Blackberry, Bourbon Vanille, Branche Vermiel and Prosecco Rose. The whole line is heavenly, but two options make especially nice hostess gifts: the Fragrant Oil Diffuser ($35), and the lidded Grande Maison Candle ($65) housed in mirrored, pressed-glass jars.
Photo Credit: Jorg Gray
JORG GRAY WATCH: Let your Democrat host-with-the-most know that you'd vote for him every time with Jorg Gray's Commemorative Edition JG 6500 watch ($695), complete with a Presidential inscription on the back. The chronograph with Swiss Ronda quartz movement and Sapphire crystal has been Obama's favorite ever since 2007 when his secret service detail gave him one for his birthday. To sneak one by your Republican pals, the 6500 is also available without the inscription in six additional models ($395-450).