Terranea Resort
Terranea Resort is offering the ultimate So Cal holiday experience with Skating by the Sea, in partnership with the City of Rancho Palos Verdes. Complimentary transportation takes guests to the nearby RPV Civic Center every Friday - Sunday throughout December. Additional themed skate nights and weekday dates are available available. Advance reservations are required. For more information visit
Other Terranea holiday traditions include Breakfast with Santa, Gourmet Feasts To-Go, Postcards to the North Pole, Gingerbread House Decorating, Mandala Ornament Painting, Winter Solstice Hike, and Stories by the Fire.
Now through Dec. 24, guests can purchase an edible Gingerbread House decorating kit at pointe discovery. The kit comes with frosting, candies, and all materials to decorate for $80. Another fun craft is a Mandala Ornament Painting experience on Dec. 12, 18 and 19.. Guided by a wellness coach, guests will learn the art of mandala and have their very own ornament to take home. This experience is $60 per person.
Have a holly jolly celebration with a holiday festival around the tree. Lively carol singers, postcards to the North Pole, unique photo opportunities, and special holiday shopping deals take place on Dec. 11 and Dec. 18 from 5 to 8 p.m. Bring an unwrapped gift to donate for Toys for Tots.
Each day in December guests can go on a festive search for Terra, the Elf on the Shelf. Every day there is a new holiday jingle that hints at Terra's location. Visit pointe discovery for daily clues.
Those who stay at the resort can gather by the fire to listen to a special rendition of "'Twas the Night before Christmas" in Terranea's Lobby Living Room on Dec. 24 at 5 p.m.
Have Breakfast with Santa on Dec. 18 with seatings starting at 9 a.m., 9:30 a.m., 10 a.m, 10:30 a.m. Breakfast includes journeys from the North Pole including Mrs. Claus' egg kitchen and the "Red Nose Fueling Station" filled with favorite holiday drinks. The "Little Elf's Decorating Bend" includes festive crafts and pictures with Santa. Adults: $65, Children 5-12: $25 and Children: 2-4: $15.
Terranea Front Drive is delivering Holiday meals and feasts to-go for those who don't feel like cooking. Terranea's chefs are preparing the main entrée choice of herb-roasted prime rib, and candied ginger spiral ham, or a vegetarian wild mushroom and radicchio tart. Sides include caramelized shallot mashed potato, sage, and walnut brioche stuffing, buttered green beans, oven-roasted apple and yams with spiced pecan crumble, cranberry kumquat compote, wild mushroom and chestnut soup, winter salad, and Parker House rolls. The dessert selection includes a choice of pumpkin or apple pie or slices of vegan lemon cheesecake. Meals for four range from $175 to $315. Online ordering deadline is Wednesday, December 15 at 5pm.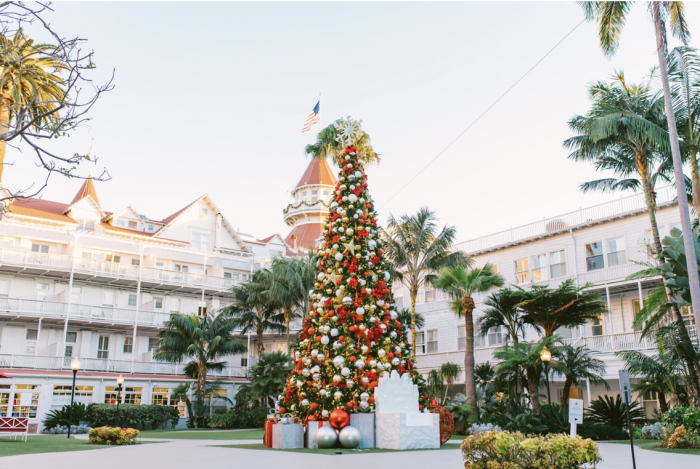 Hotel del Coronado
Hotel del Coronado on the beach in San Diego is transformed into a classic "Home for the Holidays" experience now through January 2, 2022. EPIC Entertainment Group is credited for creating the 11-minute holiday light show spectacular called "At First Light", highlighting the world's first lit outdoor Christmas tree, as well as designing festive holiday garlands, shimmering illuminations, and an ice skating rink.
"In 1904, Hotel del Coronado – already considered a technological marvel – made history when it unveiled the world's first electrically-lighted, outdoor, living Christmas tree," said Steve Sheldon, EPIC Entertainment Group. "To help continue the tradition of lighting the historic 140-foot tree is an honor. We can't think of a better way to kick off the season."
Besides the outdoor decorated tree, there are over 20 themed Christmas trees ranging in size from 8ft to the towering 23-foot Christmas tree inside the legendary hotel lobby. It dazzles in nearly ten thousand amber lights and over two thousand ornaments. Guests can purchase many of these ornaments in the gift shops on property, including the 2021 custom Hotel del Coronado collectable ornament
"As a leader in storytelling through creative experiences, it only makes sense for us to dream up new delights for Hotel del Coronado guests to immerse themselves in, like the debut of a holiday light show showcasing the more than 100-year-old trees" shared Charity Hill, EPIC Entertainment group. "We are grateful for the opportunity to expand our creative expertise and magnify theme curation and guest immersion through design and décor."
Co-founded in 2016 by Charity Hill and Steve Sheldon, EPIC Entertainment Group is known for creating America's first Ice Adventure Park and producing CHILL, Southern California's premier holiday attraction.