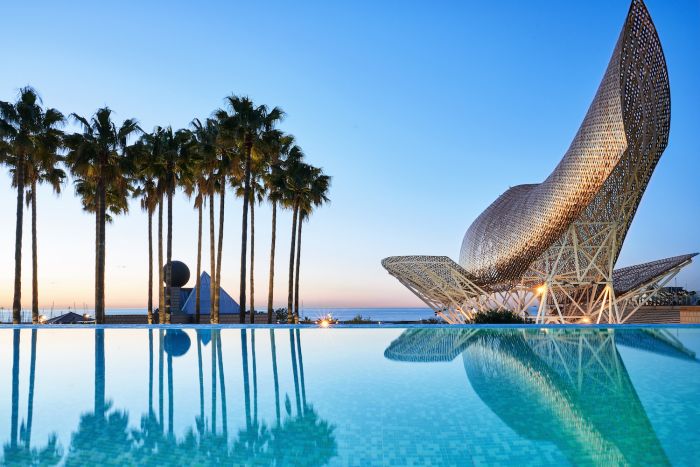 Hotel Arts Barcelona
Just in time for summer, Hotel Arts Barcelona has unveiled their brand-new infinity pool. Located on the terraces of the hotel's second floor, the infinity pool looks out onto the sparkling Mediterranean Sea, while also offering a view of Frank Gehry's iconic fish sculpture over its vanishing edges.
The new addition was built to complement the existing pool in a distinctive area of the property. The space surrounding the pool is a new, versatile area that acts as a relaxing, urban oasis during the day where guests can soak up the Mediterranean sun and then transforms into a vibrant hot spot lounge at night. The lounge is designed for both guests and locals alike to mingle while enjoying refreshing cocktails and tasting small bites underneath the stars.
"We are excited about the launch of these new facilities and are ready to embark on a vibrant summer full of interesting events. We want to share this experience not only with our guests but with the whole city of Barcelona," said Raúl Salcido, general director of Hotel Arts.
Hotel Arts Barcelona will celebrate the pool and summer season with their series, Noventa Lunas. Noventa Lunas or Ninety Moons, represents the 90 nights of summer where the hotel will offer entertainment, including weekly local DJs, live music and sponsoring local and international liquor brands at various onsite venues.