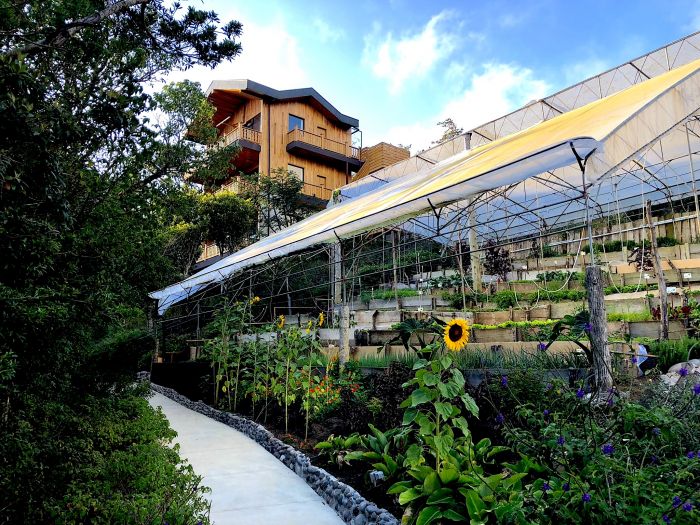 New Nicoya Suites overlook Biotensive garden-JRN
Although the family-run Hotel Belmar was one of the very first hotels to open in Monteverde back in 1985, the property is anything but tired and run-down. Like J. Lo it just keeps improving with age.
Two-thirds of the hotel's verdant nine-acres is unspoiled cloud forest, home to many endangered species, a waterfall and natural spring lake. The rest makes up Belmar's two Swiss-style chalets with an impressive vegetable and herb garden, making it easy for guests to experience what the family refers to as "The Art of Nature".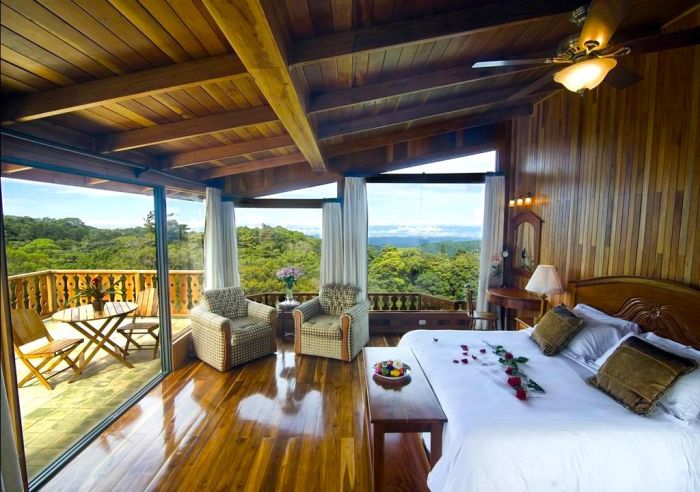 Incredible views from bed-Belmar
Last year they unveiled their new luxury offering, the appealing Nicoya Suites. I was lucky enough to stay there and, trust me they really had to drag me out of this glorious mountain retreat. Designed by Diego van der Laat, a rising star in Central American architecture, I was enthralled by the open, king-sized bedroom surrounded by floor to ceiling windows showcasing dramatic views (on a clear day) all the way to the Gulf of Nicoya.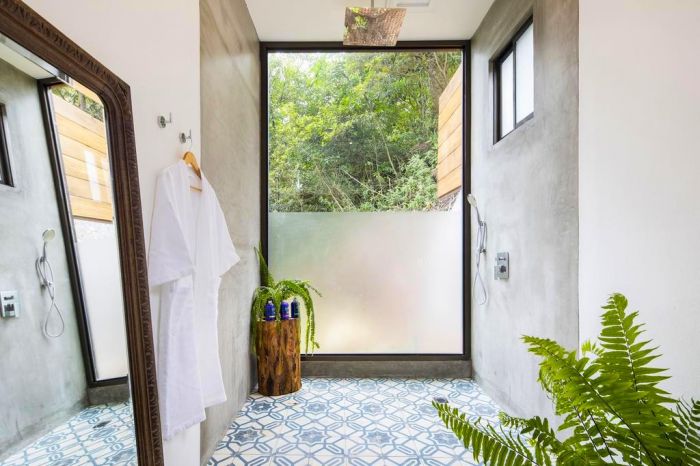 Art of Nature shower-Belmar
It was hard not to hole up here since with room service I could order breakfast in bed or dinner on my wooden deck, or hell, I could even dine in the buff soaking in my outdoor Jacuzzi while watching the sunset. Bonus points for the spa-style bathroom, with its immersive cloud forest shower, petite indoor garden, and the generous amenities including plush duvets, robe, slippers, coffee maker and handmade organic soap.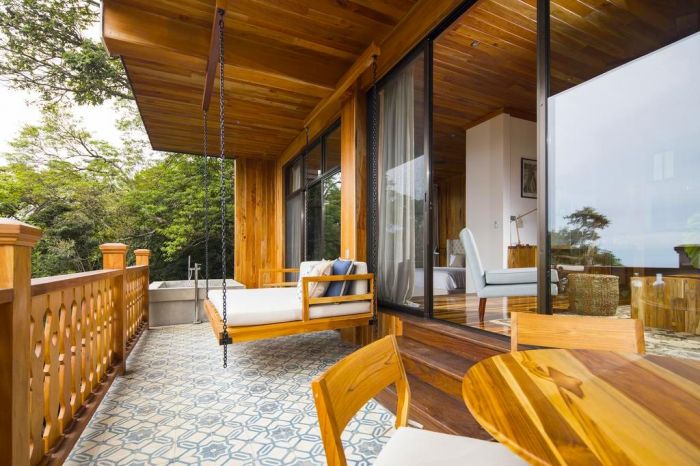 Check out my hot tub in the corner-Belmar
The new chalet is right behind the organic restaurant garden, based on the Biointensive method, which consists of growing as much organic food as possible in a reduced amount of space creating an environment that naturally protects plants from pests and moisture and nutrient loss. It must work because the garden was bursting with kale, arugula, radish, lettuce, green pepper, tomato, herbs, lavender, sunflower seeds, etc.
Smoothy from the juice bar-Belmar
At the original chalet next door, aka The Wellness Center, you'll find a juice bar, where they whip up healthy smoothies made from freshly squeezed fruit and veggie juices, a tearoom with house blended chai and fair trade organic coffee, a boutique, yoga studio, and spa services.
Another recent addition is Cervezas Artesanales Belmar, the hotel's microbrewery, a pet project of the son, Pedro. Pop in for a mini-tour and tasting of their citrusy Aurorae Pale Ale, an American-style Dos Mares IPA and the Nubosa Stout, with a hint of molasses, all made from pure cloud forest spring water.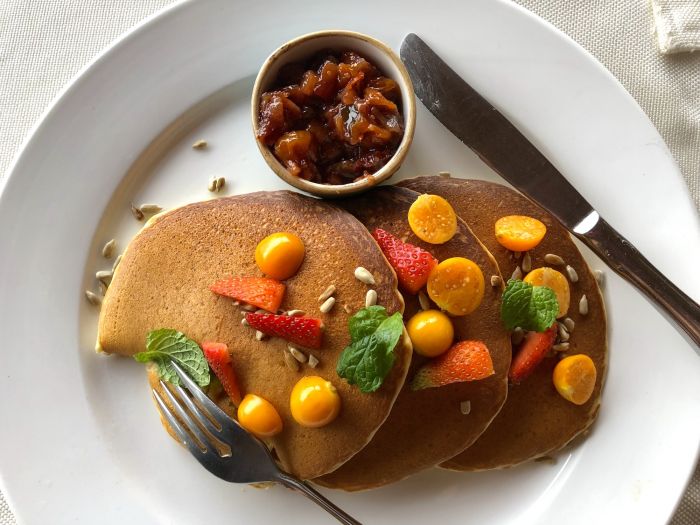 Best tropical banana pancakes-JRN
Since the majority of food served at Hotel Belmar's Celajes (sunset clouds) Restaurant and Bar comes from either their garden or nearby organic working ranch and coffee farm, you'll be dining on some of the tastiest and freshest farm to table food in the region. The healthy inventive menu is a refined ode to the regional food. The lively Happy Hour features craft cocktails, made with from house-infused liquors, artistically garnished with just-picked flowers and herbs, with eco-friendly stalks of bamboo replacing plastic straws,
High marks for the flavorful beef carpaccio, shrimp ceviche, grilled fish, house-baked bread and seasonal garden salads. If you normally skip breakfast, rethink that since you'd miss out on their organic coffee, homemade cheese, free-range eggs and bacon, all straight from their ranch.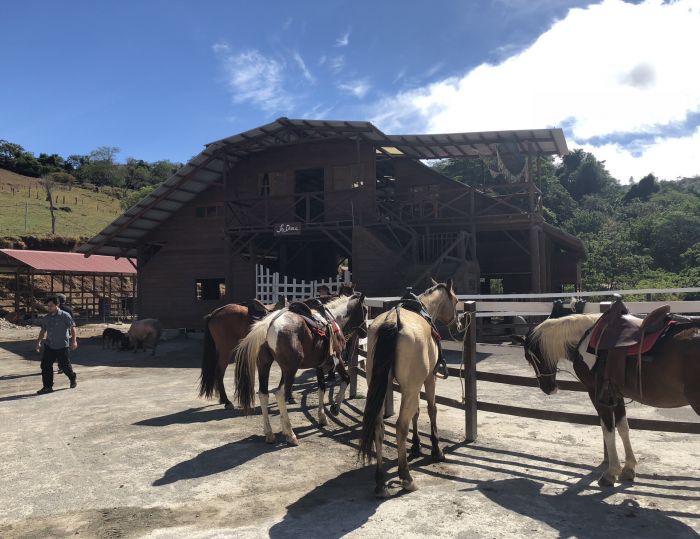 Farm tours by horseback-JRN
After breakfast ask the friendly concierge to arrange a visit to the Belmar farm, Finca Madre Tierra, the first carbon neutral farm in the country. It's just one of the many reasons that the Belmar Hotel has achieved a Level 5 Certificate for Sustainable Tourism-the maximum level granted by the Costa Rica tourist board! The tour, which you can do on foot or by horseback, was absolutely fascinating, providing an up-close, intimate look at where your breakfast comes from.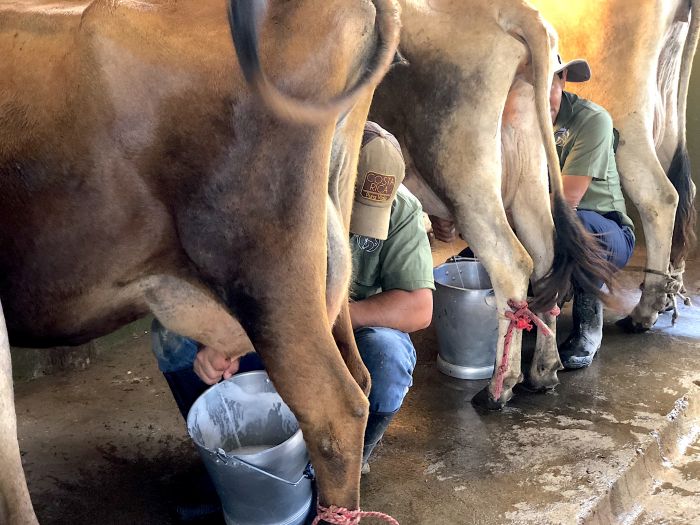 Milking a cow by hand is hard!-JRN
Freicer Vindas, our fab guide who is passionate about sustainability, patiently answered all my questions while squiring us around the property so we could watch the workers (or try our hand at) hand-milking the cows, feeding the animals: cows, pigs, goats, chickens and one huge pet pig who makes good use of the restaurant leftovers.
Lots of free sampling at the farm-JRN
We saw where the coffee is harvested and visited the cheese house where they smoke the cheese and bacon in a recycled molasses container using rice husks for fuel. This was a truly intimate look at just where our food comes from.
Hotel Belmar is a member of Small Distinctive Hotels, a collection of eight upscale, boutique hotels in Costa Rica's most beautiful & exclusive locations.