Unsplash
An outdoor party can be a great way to host friends and family, especially when the weather is beautiful. Outdoor get-togethers are often put together at the last minute or without a great deal of planning. But if you want to take your outdoor celebration to the next level, here are some great tips on hosting a classy and fun outdoor celebration.
With a bit of planning, you can turn what would be a typical outdoor barbecue into a party that your friends and family will be talking about for a while.
Pick a Theme
Themed celebrations are creative, festive, and fun. You could select a theme around a holiday like Independence Day or Halloween and ask your guests to wear patriotic colors or unique costumes. Choosing a theme could also be as simple as coordinating it with what's on your menu. For example, Mexican night, Hawaiian Luau, Texas BBQ, and other food themes are enticing options.
Knowing your theme upfront makes it easier for you to plan the decor and menu.
Decide on the Decor
Once you've decided on your theme, plan your decor accordingly. If you're planning a Memorial Day or 4th of July theme, you might want to keep things laid-back with American flags, red, white, and blue cups, plates, and other supplies.
You can get party supplies like plastic cups, plates, silverware, and table cloths that coordinate with your theme. Plastic party supplies will make clean-up so much easier, especially for large gatherings with kids.
If your theme is a Halloween bash or Texas BBQ, think of other decorations that will engage your guests. Balloons, distinctive coasters, or glasses may be the trick. If it's a smaller gathering, you might want to get special glasses and other barware to impress and delight your guests. High-end glasses, decanters, and barware add flair to the gathering and make people feel immersed in the theme.
You could also get special signage customized for your home and outdoor space. A reclaimed wood customized sign can give an outdoorsy feel to your area.
Your decor can be as wild or as subtle as you want. Just remember to stay on theme, flex your creativity, and have fun with it.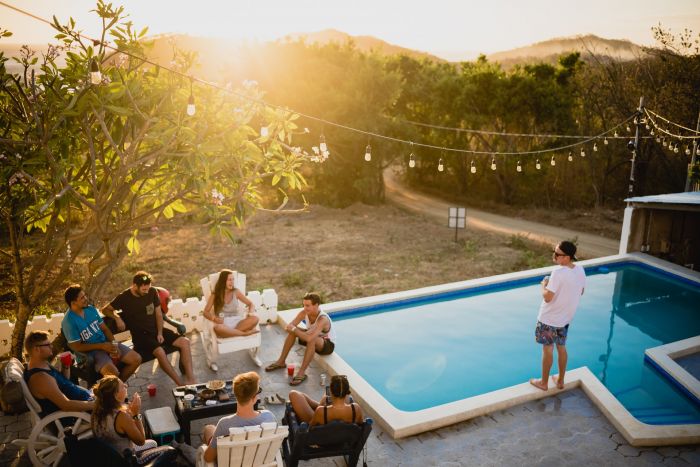 Unsplash
Plan Your Menu
With your theme and decor in place, it's time to plan the essential part of the party- the menu.
If you have an outdoor barbecue or an outdoor kitchen, it's helpful to think about your equipment and how you can use it. With so many options for BBQ grill island components, you can prepare a truly scrumptious feast.
For a Texas BBQ, consider using your smoker and other built-in grill accessories to do most of your cooking outside. Plan your shopping and ingredients ahead of time to ensure you have what you need for the big day.
To make things easier, consider hiring a caterer who specializes in creating elegant menus based on themes. And you can order special foods to accompany your menu and add additional flair.
Create a Special Cocktail or Drink for the Event
Creating a signature cocktail (or mocktail) for the event adds another fun touch for your guests. Cocktails can be signature staples or brand new creations that complement your theme. Or you can make a large pitcher of rum punch or sangria that your guests will love.
Ensure You Have Enough Seats
Having enough seats may seem obvious, but we've all been to someone's barbecue where there wasn't enough seating. It's best to have seating for everyone invited, even if they don't show up. It's better to have extra seats and make your guests feel welcome than not enough.
Organize a Few Activities or Games
Activities and games are great to keep kids occupied. Simple games like cornhole, horseshoes, badminton, and croquet are easy to set up, and adults can join in for quality family fun.
Whatever the special occasion or event is, with a little planning, you can transform your ordinary outdoor barbecue into a fun and classy celebration. Our tips will help you make it a memorable experience for everyone.