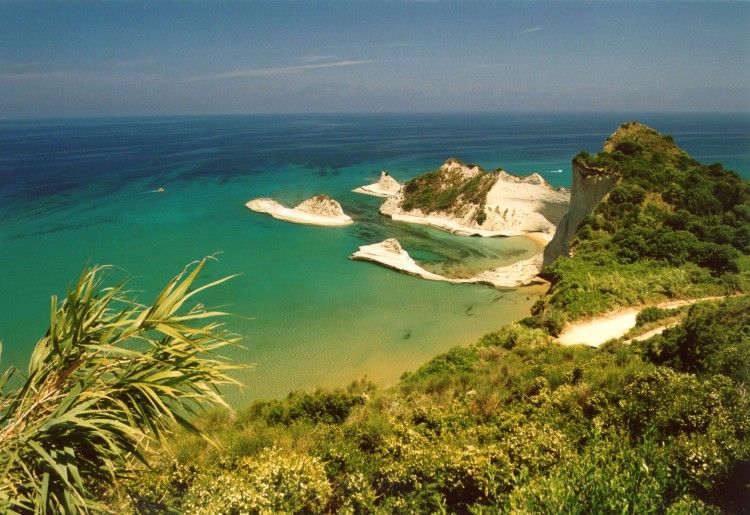 The beautiful Greek island of Corfu is a peaceful paradise for holiday makers, with stunning stretches of azure coastline, cosmopolitan towns, delicious food and eye-catching scenery. However you prefer to spend your holiday, whether it's strolling quietly on the beach, dancing into the night at a local nightclub or picking up souvenirs at the shops, there's something here for everyone.
Jo Simmons lived and worked in Corfu for 10 years and is a true expert on all that this beautiful island has to offer. She now works for luxury villa specialist CV Travel, providing her expert advice on villas in Corfu. From local delicacies to the best spot to see the sunrise, here's her insider's guide to Corfu, complete with some top tips, off-the-beaten-track ideas and recommendations for some luxurious accommodation options.
 Which are the best beaches and why?
There are so many beautiful beaches on the island that it's hard to choose, but I spend a lot of time on Barbati Beach. It's about a mile long, so it's one of the longest beaches in Corfu, meaning you can always find a nice spot. You can also walk a long way into the sea before it gets deep.
 Best family friendly activity?
I'd highly recommend escaping the crowds and hiring a boat to explore the hidden beaches of the north east coast, such as Agios Spyridon with its beautiful lake and quiet beaches. The whole family will be able to enjoy fishing, swimming in the gorgeous waters, picnics on the beach or meals in some of the harbourside tavernas.
 Where offers the best shopping experience?
Corfu Town has a fantastic selection of shops, from jewellery stores to clothes shops and local craftsmen making items out of olive wood. The criss-crossing pathways in the old part of town are great fun for exploring and enjoying the beautiful shops and stores.
 What are your top tips for great nightlife?
Kassiopi on the north east coast is a firm favourite with the teenagers, as it's not too loud or raucous, but still offers plenty of great bars around the harbour. Corfu Town also has lots of great bars and clubs and is popular with locals, whilst visitors will be spoilt for choice in St. Stephano, with its four restaurants and inviting bars.
 What events would you recommend?
Corfu is the most amazing place at Greek Easter, with so much going on during this four day celebration, so I'd highly recommend visiting during this time.
 Good Friday is the sombre day - light bulbs in Corfu Town are turned purple and bands march through the town. On Saturday morning at 11am, the town comes alive once again, whilst many people gather to watch the traditional pot smashing. On Saturday night everyone gathers in the town centres to light candles and watch fireworks displays, whilst on Sunday everyone enjoys gathering together and dining on delicious spit roast lamb.
 What are your favourite things about Corfu?
1.      The views - wherever you go in Corfu the views are fantastic! They are completely unforgettable especially on the north east coast
2.      The local people – they are incredibly friendly and really make the island such a wonderful place to be
3.      The weather – it's sunny and warm in Corfu, and each year it feels as if there are two Springs! The second Spring comes in September with a stunning range of beautiful flora and fauna to enjoy
 What is your favourite town or village?
I would sayKaminaki– it has locals living with tourists, and it looks so beautiful with its pink and yellow houses all mixed together in a small horse shoe bay.
 Which local dishes would you recommend?
Grilled octopus would be my favourite, especially with a squeeze of fresh lemon; I would definitely recommend people give it a try. All the local dishes are so delicious, but you really shouldn't miss the stuffed peppers or stifado, or the traditional family-made pies. 
 What restaurants would you recommend?
For special occasions I always recommend Etrusco in Kato Korakiana. It's a great restaurant with delicious food and an impressive reputation – many people consider it to be one of the best restaurants in Greece. 
 Vitamins Nissaki in the village of Nissaki is a more traditional, family run restaurant, with a warm and friendly atmosphere and good local dishes.
 Piedra del Mar is located right on the beach in Barbati and has built up a great reputation over the last few years. It's a lovely spot for relaxing with a frappe in the day or enjoying a mouthwatering evening supper by the beach.
 What 'hidden gems' would you recommend? 
Take a drive to the top of Mount Pantercrator, Corfu's highest mountain. This is a beautiful spot for watching the sun rise. You can see other islands from here and sometimes you can even spot Southern Italy.
 I'd also highly recommend a trip to beautiful Old Perithia, a deserted village high up in the mountains. Only a tiny number of people live here and visitors can enjoy exploring the empty buildings and houses. There are, however, five lovely tavernas here, so you can enjoy a delicious bite to eat surrounded by this peaceful village.
 Where would you recommend to stay on the island?
For couples, Bijou Studio is a charming little property that sleeps two and it's located right on the beach in Kaminaki. If you're travelling as a family, Lithari is a beautiful house that sleeps six, with its own private pool, just a short walk from the bars and restaurants of Kassiopi. For larger groups I would definitely recommend Allegra, which is also near Kassiopi. This property sleeps up to 12 and boasts a huge infinity-edge pool overlooking the sea – absolutely gorgeous.
 A specialist in luxury villas and holiday houses worldwide, CV Travel proudly presents an award-winning collection of villas in some of the most sought-after locations in the world. CV Travel is currently celebrating 40 "fabulous years" in 2012, having started originally as Corfu Villas in 1972.