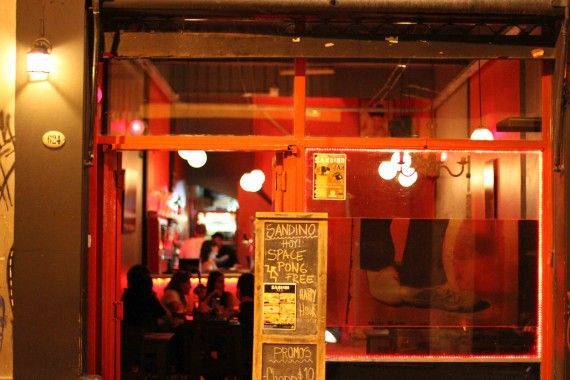 Sandino Staff
Introducing the Sandino Bar: Anarchistic attitude, aesthetic ambience
San Telmo, Buenos Aires, Argentina
Mierda! What do you do when you find a delight place you want to keep to yourself while researching the "Dedicated Drinker's Guide to Buenos" (soon available at unanchored.com)? Such is the contraction of a travel writer. The Sandino – only opened two months – is a few blocks from my apartment and destined to become my "local." So, is it better to keep it to myself so the hoards don't find it or to broadcast the information to the world? After careful consideration – and another glass of wine that may have lowered my defences – I generously decided to opt for the latter. And you will be glad I did.
The Sandino, at Bolivar 624 in San Telmo, is a bar with an anarchistic attitude and an aesthetic ambience. The venture is a collaborative project by four 20-something friends. They invested the money they gleamed from their somewhat infamous Club Serverino, a Monday night party club – www.clubseverino.com.ar – to buy and renovate this space to their liking.
High ceilings, minimalist decorations, warm tones and modern furniture combine to produce an underlying energy. A place you know you will have fun.
Be that as it may, it is the people factor – the bartenders and waiters –who count. And this is where Felipe comes in, "We have three audiences. The first is the cross-section of people who come in from 19:00 to 22:00 to have a drink and something to eat. They may be young, in-between with kids or older. Our chef is from Belgium – he fell in love with one of our friends – and we offer a well-developed menu that will appeal to a wide variety of tastes. After 23:00 it is young people who want to party on into the wee hours."
"Right," I interject, remembering that I've been there, done that and don't have the memories, "the type who want to drink copious amounts of alcohol and then go off and have bad sex." Felipe glances sideways and grins.
"And the third group," he continues, "are the people who book the space for special events such as birthday parties or celebrations for one reason or another."
Okay, so when I wake up tomorrow morning I may regret that the place becomes so popular that I can't get a stool at the bar. But, never mind, I'll get over it by going there early and escaping before the pub crawl crowd rolls in.
Additional Information
The Sandino is open Thursday, Friday and Saturday from 18:00 to whenever. Happy hour is from 18:00 to 22:00. There is a ping-pong table and a projector upstairs so they can show movies – some of which they make themselves, as they are film students. So give them your email address to get put on the mailing list for upcoming events or follow them on Facebook.
Why the recommendation? Jamison's for happy hour (but only if you mention that you read it here); cold beer; great selection of spirits; reasonable prices. Personable people on the premises.