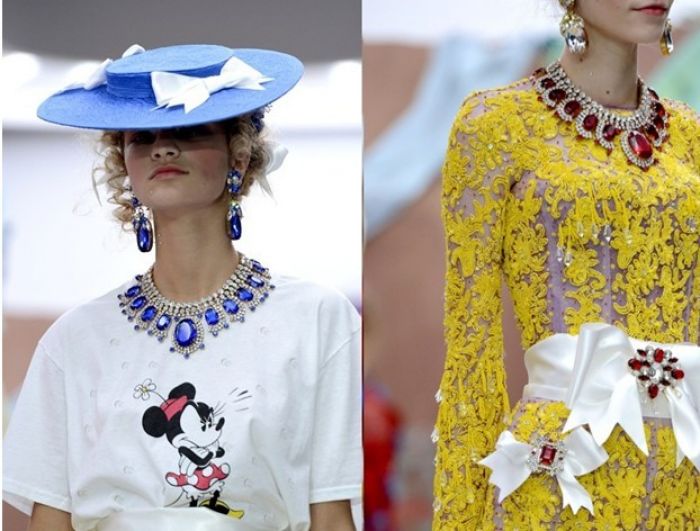 Meadham Kirchhoff Ready-to-Wea
The start of a new year inevitably means the emergence of fresh and exciting fashion trends. Not limited to apparel, new trends also emerge for both accessories and jewelry to complement the season's new ready-to-wear lines. For 2013, there is a resurgence of the vintage jewelry trend, with a distinct focus on all things Victorian: think cameos, ornate necklaces, heirloom brooches and clip on earrings.
An update on the Art Deco style that dominated the jewelry trends of last year, the jewelled decadence of 'Vintage Victoriana' was seen all over the Spring/Summer 2013 catwalks, but this didn't mean that the stuffiness of the era had also returned. Oh no, it is all about clashing the old with the new, to create quirky and contemporary looks. A trend with plenty of staying power – sure to resurface year after year in many different guises - so a few quality pieces of vintage jewelry will be good investment buys for your wardrobe.
British fashion house,Meadham Kirchhoff teamed embellished collar necklaces and matching drop earrings, with cartoon tees and bustled skirts for Spring/Summer 2013 critically acclaimed collection, entitled 'Cautionary Tale'. Jewel colours were bright and bold - with rich ruby and royal blue heavily featured – and clashed dramatically, yet stylishly with the ready-to-wear garments. Take things in a new direction and wear your favourite vintage costume jewellery over a graphic tee , and don't be afraid to wear contrasting colours together for an eye-catching look.
For Spring/Summer 2013, iconic French fashion house,Chaneltook the classic vintage pearls and amplified them into super-sized pearl necklaces, cluster pearl bracelets and bangles with statement giant pearls. The over-sized pearls on the jewelry were mirrored in the chic pearl embellished clothing. To ensure that the look wasn't too over-the-top, head designer Karl Lagerfeld kept the colour palette to an elegant monochrome. So this season take inspiration from Chanel and be daring, following the motto: 'Bigger is Better'.
Eccentric British fashion designer, Vivienne Westwood took the vintage jewelry trend to a whole new level, adding a regal touch with tarnished pewter crowns and tiaras to her Gold Label collection for the Spring/Summer 2013. To further complement her collection of bustiers, basques and ball dresses, Westwood raided the jewelry box for bold brooches and delicate Victorian-style filigree necklaces, all worn together in the designer's signature over-the-top aesthetic. Such eccentricity is only for the bravest of fashionistas, those a little less daring may want to keep it simple with a single statement piece of filigree jewelry.
Although popular on the catwalks of the high end fashion labels, it isn't necessary to pay the designer price tag for the vintage jewelry trend. Check out your local vintage clothing boutique for imitation vintage jewelry, since the retro clothing boutiques are a valuable resource for period-style jewelry. It is also worth checking out the local thrift and charity shops for bargain finds and one-loved gems.