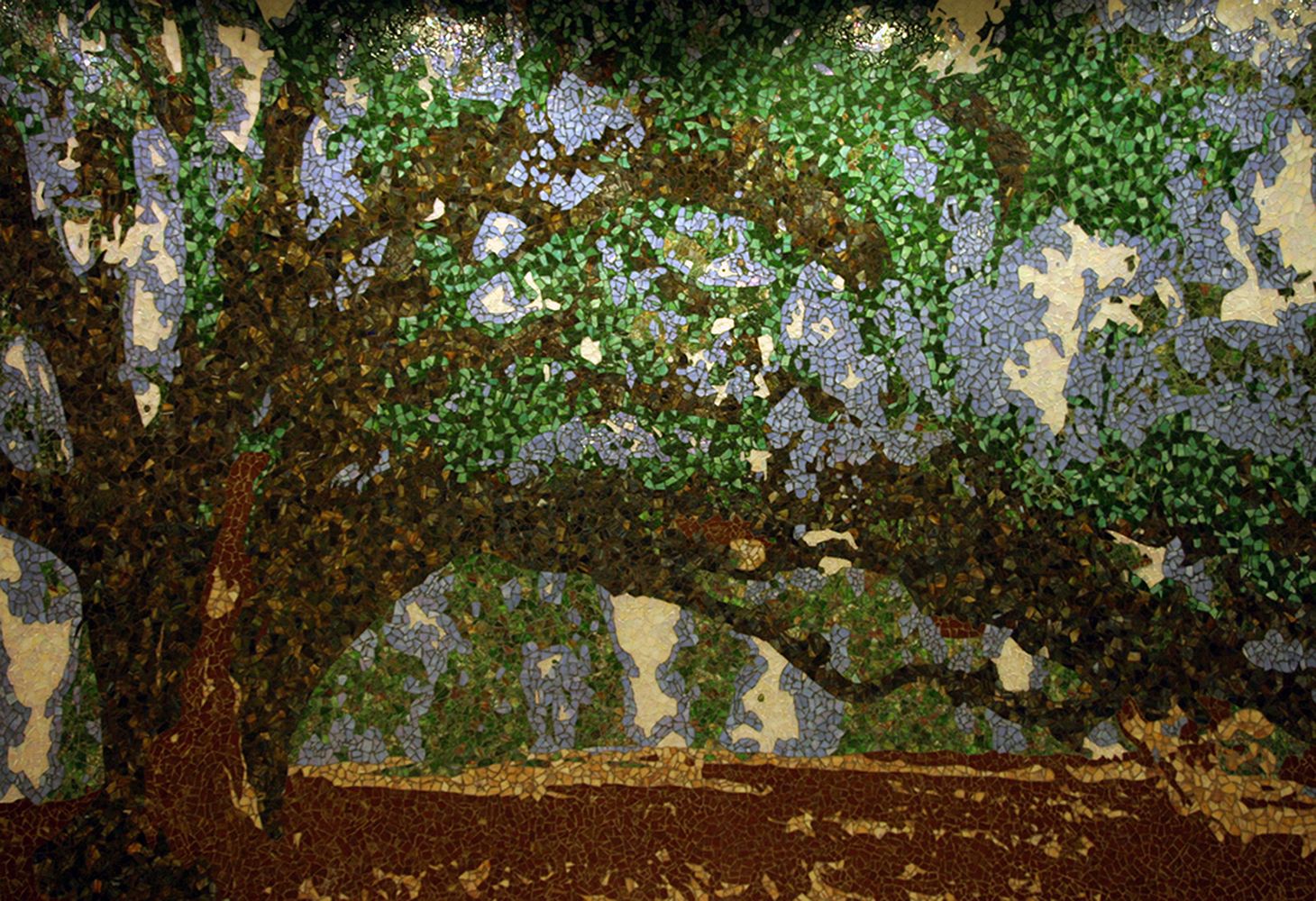 Jonathan Brown
Houston-based artist Jonathan Brown finds inspiration in broken pieces. A creative thinker from an early age, Jonathan has become a renowned mosaic artist. From wall décor to swimming pools to incredible installations in public spaces, Jonathan creates custom artworks that are stunningly unique and modern, working a mosaic in wherever he sees it fitting in. Jonathan explains his love of mosaic and his visionary creations to JustLuxe:
When did you start working as an artist?
Technically I started being an artist when I was a child. My mother could see that I was an artist from the start. I was always drawing and explaining to everyone I met that, "I'm going to be an architect." I remember when I was around five my mother wouldn't allow me to go out and play until I had handed in a drawing to her. But I got smart, stayed up nights with a flashlight under the covers doing multiple drawings every night and just shoving them under my bed. That way when I wanted to go out and play and she'd say, "Where's your drawing little man?" I would just run and grab something from under my bed; it became routine. Even now at 43 I still find random sketches kicked under my bed. Subconsciously I still want to go out and play.
Jonathan Brown
What initially interested you in mosaics?
You know how you look at something under a microscope or press your face up against a static TV screen? Everything breaks down to the little square pixels or little round organisms. That's why I fell in love with mosaics as a medium. A million broken little pieces up close, [but] take a couple steps back and, wow a full composition, a picture.
That and the very first time I actually sat down to create a mosaic the sound of the glass breaking under my hammer was just fantastic.
Tell me a bit about your company.
Modern Mosaics Inc. is run out of a large studio in Midtown Houston, Texas. We have a killer team of artists run by a long time friend, Troy Winscott. In 2016 we're releasing a new series of Queen Ann tables. Our goal is to take a nod from New York's Tiffany's Studio they left us hanging since 1933. Our intention is to create the same feel and attention to detail, but Modern. As always I'll always keep pushing the large public projects. The sky's the limit when you have a team like Modern Mosaics. Check out a prototype of the new table series.
Jonathan Brown
Do you work exclusively in mosaics?
No, not at all. For the last 25 years everything I created does gravitate back to mosaics though. Large sculptures for hospitals, water fountains. Crazy big installations but somewhere in every one of them I've added mosaics in some way. It's my thing.
How would you define your artwork?
I think I'm too close to it I don't have a real way of defining my work. I am constantly searching for something harder, more technical, more detailed. I'm never happy I always think I can do better. Highly detail oriented, the more hidden details the better. I tend to do mosaics within mosaics. I hide personally imagery in everything I create.
How do you feel your approach has changed over the years?
With years comes wisdom. As to the approach of projects nowadays, A lot more planning, a lot more budgeting, as you can imagine. When I look back at the projects I did just 10 years ago, the notes, the drawings and sketches. Maybe like 20 items in the folder for that particular hospital lobby gig. You look at a current project folder I have now and it is just less than 1,000 items. Like I said, planning and budgeting. That and my Photoshop drawings are hundreds of layers each now. Silly enough back in the day I used to flatten my images. Ha, still makes me giggle.
What have been some of your most challenging projects?
They're all challenging in some way, I'm always pushing the limit, finding new ways to do something, looking for a new angle to skew off of.
What are some of the newest projects you're working on?
I'm hours away from finishing a landscaped cobblestone mosaic with a glass driveway inlay here in Houston, Texas. Below are a couple of images of us finishing the project.
Jonathan Brown
I have a large project happening right now to be installed Madison, Wisconsin; the contracts and funding just hit a couple weeks back. To try to explain that project would take a 17-page packet. It is a painted static mural of a flowing waterfall, 121 foot tall by 19 foot wide. Using many lighting effects I'm rippling the water down the huge waterfall on to the awning (Glass arched colorful awning that I making custom) The lights will flow off the tip of the awning, then the whole building will go black for 1.2 seconds and the lighting splashes onto the ground using LED ground pavers and trickles out to the street. This particular building used to be the AT&T building there in Madison. The client, Eric Hovde (2012 senate elect), is transforming the building into the super hip technological space for the city, two blocks down from the capitol. Actually it was Eric's idea to make it a waterfall. At the time I was pitching some really cool ideas. But, when I heard the word waterfall... The shape of the building just fit perfectly. Below is my concept drawing.
Jonathan Brown
Do you have an ultimate art challenge you're looking for?
That changes for me monthly. For a long time my ultimate challenge was creating a complete glass swimming pool. But then, I made one. Turned out fantastic, like swimming through a glass painting.
Honestly, I have been under the impression for the last couple months that I want to create a colorful glass umbrella to hover over my city (Houston), give the city some pretty colors, and make everyone recognize just how beautiful it can be. I will find a way to make that happen. I'm thinking I can start with a park though)
Visit www.mosaicart.us to see more of Jonathan's mosaic works and learn more about his ever-growing bespoke projects.