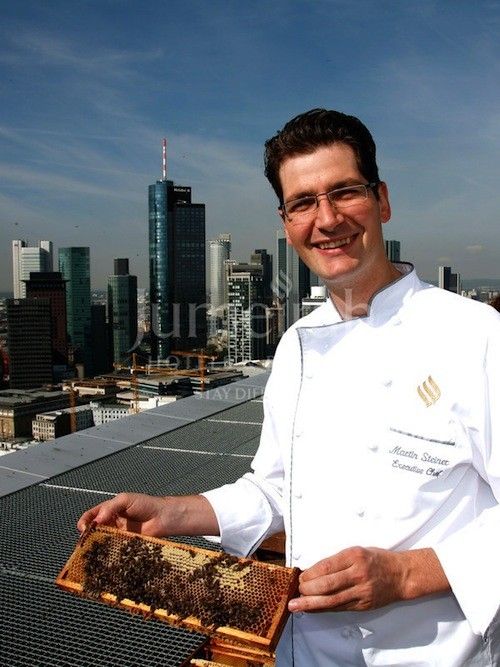 Jumeriah
Q: What do you call a person from Hamburg and a Person from Frankfurt?
A: A person from Hamburg is called a Hamburger and a person from Frankfurt is called a Frankfurter.
This is just one of the many interesting tidbits I found out about Frankfurt when I was doing some research before my recent trip there. I also found out that there is a new Jumeirah, right downtown. A friend of mine stayed at the Jumeriah in Dubai and still hasn't stopped raving about it so I thought I'd give it a try and see what all the hub bub was about. Very smart move on my part! Here's me review:
Five Star luxury hotel shines bright in the heart of Frankfurt
A welcome new addition to Frankfurt's towering skyline is Jumeirah, the Dubai-based luxury hospitality group's first foray into mainland Europe.
It's located right in the sweet-spot next to the popular 'Zeil' shopping street. Be sure and pack your sneakers for walkable access to just about all the major sites, although after the long flight from the states, you'll be sorely tempted to do some serious cocooning.
Superb Service
Check in was a breeze. I was graciously handed a welcome drink and oshibori (moist towel) and from then on the good-looking, friendly, efficient, well-trained staff unfailing greeted me by name as they jumped to fulfill my every need: whether it was changing my bedding to hypoallergenic alternatives, or patiently mapping out directions every time I left the hotel, or sweetly delivering my scarf to my room which I didn't even realize I had left it in the dining room. Every one of their employees seems to genuinely like their job and the hotel--which unfortunately has become all too rare, even in the so-called hospitality industry.
Kudos to Stefan Hoerchner, Head Concierge, whom I almost pestered to death with my list of questions on sightseeing, restaurant choices, etc. After finding out I was a foodie, he quickly put together a perfect one-day itinerary for me, clearly marking it all on the map (with all sorts of helpful notes such as "if you see the Burger King, you've gone too far" as well as handing me his business card so I could call him if I got lost or had any more questions). Stefan included must-see highlights as well as some fun, less-touristy choices, including lots of fabulous food stops along the way. He also filled me in on Chef Martin Steiner's unique pet project, which consists of four beehives housed on the 28th floor roof terrace. The approx. 60,0000 bees work hard to produce fresh honeycomb for the breakfast buffet, special honey elixirs for cocktails and even honey-based treatments in the spa. The honey is particularly sweet due to the fact that the bees feast on nectar from flowers in the botanical garden nearby.
Side note: Stefan was still smiling even after I brought down both my iPad and iPhone for him to connect for me, which he accomplished in a nanosecond.
Absolutely no complaints (a first) about the room
My tastefully decorated room utilized a neutral palette of subdued whites and beige tones to set off the vivid colors in Hartwig Ebersbach paintings (a local artist) which can be found throughout the hotel. My sound-proof room had a fabulous, high tech temperature system (none of that annoying clicking on and off air-con noise allowed here) an uber- comfy bed, complete with a soft, cozy throw to curl up under, which provided the perfect napping conditions to shake off my jet-lag. I was also tempted to take advantage of the hotel's tranquil Talise spa, which offered a wide range of holistic facials, massages and beauty therapies, two saunas, and seven treatment rooms. Fitness buffs can work out at the neighboring Premium Fitness First Health Club (with pool) next door, which is complimentary for hotel guests.
Other room amenities include complimentary Wi-Fi, a Bose iPod/iPhone docking station, deep soaking tub, rainfall shower, plush robe and slippers, a Nespresso coffee maker and a generous supply of bottled water.
Palate pleasers
Executive Chef Martin Steiner is no stranger to cooking at renowned luxury properties. He could name-drop with the best of them starting with Relais & Château, Savoy and Kempinski. He recently headed up the team at the Michelin starred gourmet restaurant Val D'Or, before settling in at Jumeirah , which offers three dining options.
For a light bite or drink in front of the crackling fireplace head to the cozy Ember Lounge and Bar. If you're in the mood for something different you'll want to try the authentic Lebanese cuisine at El Rayyan. Under no circumstances should you forgo a meal at their signature restaurant, Max on One (in honor of Emperor Maximilian) which showcases a huge open kitchen (ask for a table where you can watch the chefs work their magic) two walk-in wine cabinets (one for reds and the other for whites) and lots of warm wood and sparkling glass. This sophisticated stunner features Chef Steiner's lighter renditions of local German faves using farm-fresh ingredients as well as his imaginative reinterpretations of Austrian dishes from his homeland. A few tasty examples of his creativity can be seen in his "apple wine-risotto" with poached char and horseradish foam or grilled zander in pepper sauce and roasted gnocchi, "ahle wurscht" and caraway foam.
The plentiful buffet breakfast offers a wide assortment of fresh squeezed juices (I was a big fan of the kiwi) organic yogurts, muesli, assorted cheese and meats (including a superb pastrami, made in-house) and fresh baked breads and pastries.
Be sure to check the website to take advantage of one of their exciting food and wine events hosted by Max on One. Next time I'm going to try and time my trip to coincide with one of their exclusive "kitchen parties" where Michelin starred guest chefs join forces with award-winning winemakers (part of the fun is that you get to peek over their shoulders and pick up all sorts of insider tips) to produce an unforgettable culinary evening.
Stefan Says:
Below are some of the highlights from my itinerary that Stefan created for me:
Café Wackers-the city's oldest coffee house filled with the delectable aroma of freshly ground coffee.
Klosterhof Frankfurt-for humongous portions of traditional (do not confuse with health food) German food washed down by copious amounts of beer or wine. Try the affordable weinerschnitzel, potatoes in green sauce, salad and black bread.
Urban Kitchen Multilounge-trendy spot offers everything from pizza to ramen to chicken wings to miso soup. Try and nab a table outside.
Restaurant Druckwasserwerk- repurposed old waterstation offers amazing architecture (you dine in the 'turbine hall') and great views of The Main. Try the deer loin and spaetzle and save room for dessert.
Kleinmarkthalle- famous food hall frequented by the locals, originally opened in the 1890's. A variety of stalls offering top quality cheese, spices, meat, fish, pastries, gorgeous produce, exotic game, most of which provide copious samples. You can find everything from quail eggs, to giant white asparagus, fresh truffles, and wild boar. Join the queue in front of Schreiber's for the best sausage sandwich for about $3. (Fabulous indoor market. I could have spent all day here!)
*Exclusive designer boutiques: can be found along Goethestraße
For live music:
Jimmy´s Bar (Hotel Hessischer Hof) Straight out of Mad Men with leather chairs and wood paneling, good cocktails and live piano.
Jazzkeller- this intimate underground club has hosted many of the world's greatest jazz musicians for almost 50 years.
Don't leave town without seeing:
Römersquare- Historical Part of Town
Maintower- head to the platform on the top of the building for stunning views.
Goethehaus-Tour Johann Wolfgang Goethe family home.
Palmengarten-botanical garden filled with with tropical and subtropical plants
For more information visit Frankfurt Tourism.
To make reservations at Jumeirah Frankfurt visit their website.
Jumirah
Note the honeycomb on breakfast buffet
Jumeirah
Sweet suite
Jumeirah
Frankfurt
JRN
Gorgeous market
JRN
Steiner
Jumeirah
Welcoming Spa