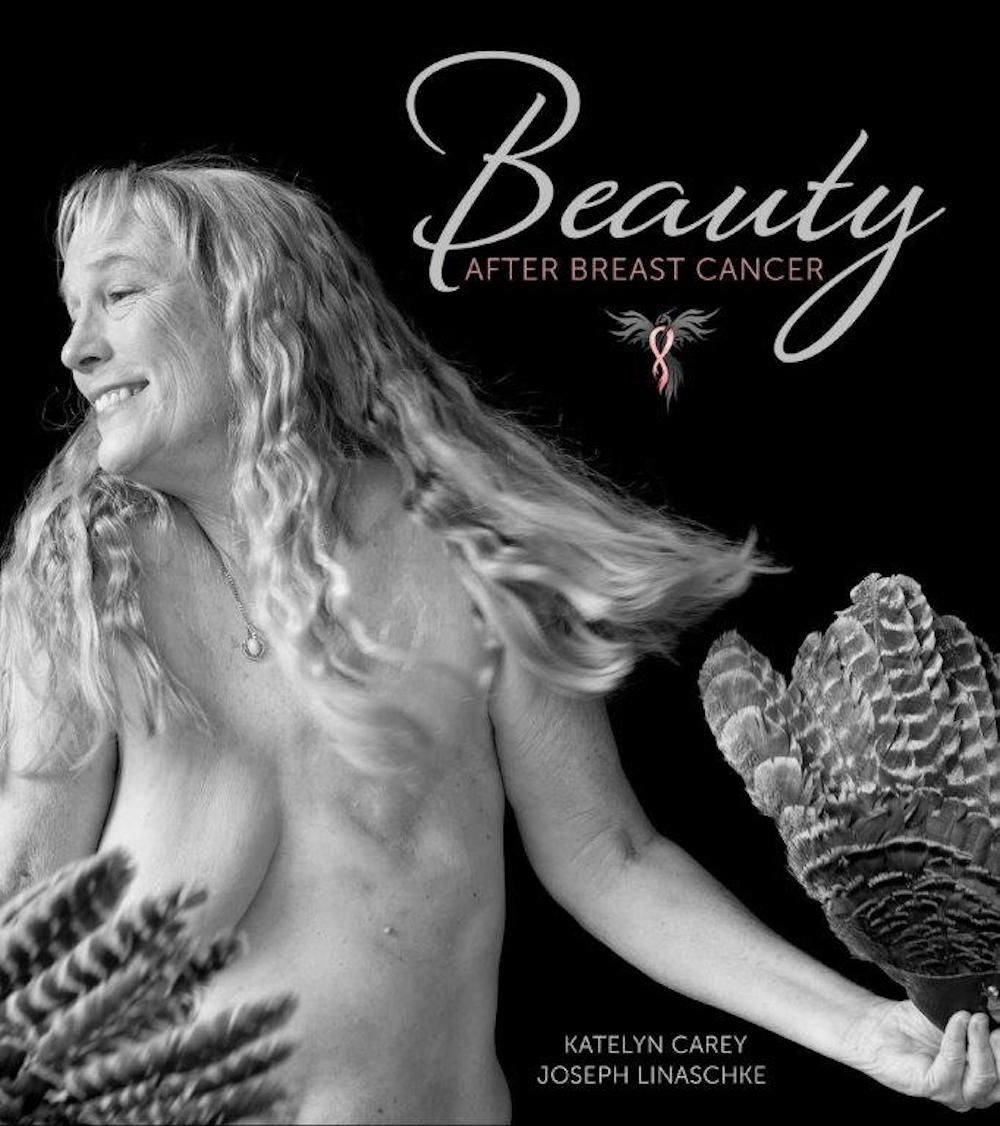 Katelyn Carey
Katelyn Carey has had a distinct vantage point of cancer. As a nurse and a woman with a family history of breast cancer, Katelyn has experienced cancer from both sides. So it surprised her that, following her owndecision to have a preventative mastectomy, she still had questions. As she found answers, from both connecting with others that had experienced breast cancer, and her own mastectomy, Katelyn created a unique book that is designed to provide medical answers in an elegant coffee table book. JustLuxe takes a peek behind the pages.
What was the impetus behind your book Beauty After Breast Cancer?
This project was initially created because of my own surgical experiences. When I got my mastectomy at the age of 29, (much like the other 90% of women studied) I wanted and needed to know "What will this make me look like? Will I still feel like a whole and beautiful woman afterwards"? Finding the answers was much harder than I thought it would be. And I was really surprised that there weren't better resources out there to help me with my decisions and recovery.
To find answers I looked at thumbnail pictures of other patients who were photographed from neck to waist in the surgeon's office after their surgeries, but this felt clinical and impersonal. Then my surgeon connected me with another woman who had undergone a mastectomy and reconstruction. We met at a coffee shop and talked for a few minutes before going into the bathroom and waiting for it to empty out before she raised her shirt and showed me what my own body would soon…maybe…look like. Quite frankly it felt awkward at best, at worst it seemed a little seedy.
I was a nurse at the time, had a strong sense of self, and had time to make my decisions. So if I couldn't find answers, and was struggling in unexpected and significant ways with body image (wondering desperately if I was still as desirable with my breasts gone/altered), then how were other women handling it? Not well, as it turns out. I started this project as a trifold brochure that offered surgical information. And then I realized how much need there was for better information. In responding to that need, the trifold brochure became a 178-page, coffee-table style medical resource book (oops).
How would you describe the book?
A book by breast cancer patients, for breast cancer patients.
Beauty After Breast Cancer provides all of the information that we as patients wish we'd had. Along with simple but comprehensive medical information, we also share inspiring, bare-chested portraits of thirty-eight patients age 27-82, who are demonstrating all of the different surgical options available to new patients...on real people. These 37 women, and 1 man are also sharing the stories of how they hung onto themselves through their battles with breast cancer. Within these stories we share additional information and tips, and hundreds of different coping strategies.
This is the book we wish we'd had. And so we have created it for those that follow us.
Beauty after Breast Cancer is a coffee table-style book that sits on Medical Center's waiting room table, or is loaned out to newly diagnosed patients. This amazing book gives necessary information to patients, while simultaneously relaying the message that there is life beyond breast cancer. I wrote and coordinated Beauty After Breast Cancer while walking the line as both a mastectomy patient and nurse; and together with other patients and medical practitioners we have designed a resource that provides patients and their loved ones with a sense of hope, an unintimidating way to gain information, and a format to discuss their options.
What differentiates it from other resources?
Everything. :}
I keep saying I didn't do this book because I wanted to, I did it because I needed to. There are a few other photo projects that focus on breast cancer (see below), but none of them provide medical information. Currently, according to the American Society of Plastic Surgeons, whereas 89% of women feel it is very important to see what breast reconstruction results look like before making a treatment decision, only 30% are shown any information on reconstruction options. Of the 30% who are given information, most of the images currently available are far from ideal. Seeing post-op photos of other patients taken in the doctor's office is very self-limiting, and shows intimidatingly faceless patients (and only ideal outcomes). Most new patients end up searching the internet, which rattles them with some truly traumatizing images.
I believe that great medical care should address the total needs of a patient in a competent and compassionate way. But patients facing a new diagnosis of breast cancer are typically in crisis, and do not process information well. Over 230,000 women and 2,000 men in the US will receive a diagnosis of breast cancer this year. They deserve a simple resource that provides a way to explore and understand their options. But there is not a consistent resource that provides this. They deserve a resource that helps them feel less alone, less overwhelmed, and perhaps even hopeful about their future. That resource does not exist in an easily accessible format. And so we have created the book we all wish we'd had, filled with the information we wish we'd been given.
There is theGrace Project, which does sexy nude portraits for women after their mastectomies.
There isThe Scar Project, which shares post-mastectomy (and other surgeries/scars) photos. But the photographer is a New York fashion photographer- the photos are meant to be impactful, not reassuring. It is not designed for newly diagnosed patients (who would find it more upsetting than helpful).
There isMyself, Together Again, which is a small medical resource book that walks the reader through one person's mastectomy surgery and recovery…but it's only one person's experience. It is a different type of book, with just a few black and white photos, (though it is a good partner resource).
Why did you decide to have preventative surgery?
My great-grandmother died at 27 from breast cancer. My aunt and my mother died at age 34, and at age 50. My mom by then had become a hospital chaplain in response to her twin sister's death, and died under the care of her own hospice team. I was 21, and handled this about as well as you would expect...meaning not very well. Not many 21-year olds run away from home, but I did. I disappeared in a handmade gypsy wagon for a year. I spent the next several years thinking breast cancer would be my death as well. In my mid-twenties I decided that if I didn't have children imminently on the horizon by the time I was 30, I would look into getting a preventative mastectomy. At 29 I dumped my boyfriend and moved ahead with surgery after consulting with a Genetic Counselor and an Oncologist. Both told me my decision was completely justified.
What was your journey like without this type of resource?
I woke up after surgery to a relief so profound it was unbelievable. But my confidence and self-image were shaken. I struggled to keep from crying every time I taught a new mother to breastfeed her newborn in the hospital where I worked. I wondered how on earth one was supposed to have this conversation with new boyfriends, and how would they really feel? I continued to do things to boost my self-confidence, including going to New Orleans a few months after my mastectomy- my partially reconstructed breasts and scars covered with a corset and strings of beads. These things helped to keep me strong, but I still felt immensely self-conscious. I still wondered if others would see me as "damaged". And I still spend 3 years calling my new breasts "them," because they felt neither like breasts, nor like part of me.
Meeting my husband was incredibly healing. He was accepting, asked intelligent questions, and took pictures of me (once in an unbuttoned shirt, another time stepping out of the shower). He showed me my beauty through his eyes, which did not hold my lens/filter of embarrassment or fear. I saw my beauty again through his eyes, and began to consider on a bigger level the healing aspect of seeing real, well-done photography of post-mastectomy beauty. More people needed to benefit from this kind of healing...a better resource would help so many...so I took a piece of my mother's advice and wisdom to heart. "Do something that will leave the world a better place behind you."
How many people are diagnosed with breast cancer every year?
Approximately234,000people are diagnosed in the US every year, (1.7 million worldwide). In the United States, 1 in 8 women will get a diagnosis of breast cancer in their lifetime. That ratio is 1 in 1000 for men in the U.S. diagnosed with breast cancer.
What are the typical struggles people face before and after surgery?
"Am I going to die?" "Am I going to lose myself?"
"What am I going to look like after this?"
"What am I going to feel like after this?"
And then, how to process the information being given, how to ask questions, what to expect, how to decide on different surgical options, and how to recover afterword. No one is really told how long the emotional recovery time can be (longer than the physical recovery, certainly). No one is told what the most essential resources for that recovery really are. No one is told how to talk to their family and friends, and how to find their way back to feeling beautiful again...and to finding the beauty in life again. One of my participants (Kitty) simply said, "I wish that someone would have told me that life would go back to being a pleasure...that I would laugh again."
A diagnosis of breast cancer can be overwhelming. How does the book help one to explore and understand options?
How to make the ideal breast cancer resource book:
a. Understand that people in crisis do not process information well. Information therefore has to be presented simply, and not in "Medicalese," (which is Latin). :}
b. Ask other breast cancer patients what the things are they most wish they'd been told. These range from, "I wish I would have known I could freeze my eggs, before I went into early menopause at age 27", to "why didn't anyone tell me what my surgery would really be like?" to "Holy cow, my new boobs feel cold all the time!"
c. Walk a fine line between the medical perspective and the patient perspective.
d. Share photos of "real people", not just neck-to-waist post-op shots that are both clinical and intimidating...and look a bit like a Barbie doll.
e. Don't just show new patients the perfect outcomes, which they may or may not get. Also show the range of possible outcomes, but don't scare them out of their wits like their Google search just did.
f. The medical appointment does not end when the patient walks out the door...they are going to take this information home with them and talk it through with friends or family. Give them something that provides information and a format to do this.
g. Be compassionate. A person who has just heard a diagnosis of breast cancer is terrified. Give them something that helps them feel less isolated, and less overwhelmed.
h. Provide a sense of undeniable hope that there is Life Beyond Cancer.
Beauty After Breast Cancer is being created to share information and coping strategies with newly diagnosed breast cancer patients around the world. The information being shared is extensive, but also simple and easy to read, even by someone feeling overwhelmed and panicked by their diagnosis. The beautiful portraits represent "life beyond cancer," while simultaneously showing what different surgical results really look like. The thirty-eight patients in Beauty After Breast Cancer range in age from twenty-seven to eighty-two, and show lumpectomies, single and bilateral mastectomies, no reconstruction, partial reconstruction and full reconstruction (of differing types).
We represent everyperson who has faced breast cancer. Our stories offer a wide range of experiences. From Linda, who "knew cancer wouldn't be the end of me," to Kitty who "felt like I'd received my death sentence," breast cancer survivors in the book Beauty After Breast Cancer build a community of support for newly diagnosed breast cancer patients. There are many "book-end" stories, as I like to call them, within Beauty After Breast Cancer. We share radically different reactions to cancer, and completely opposite experiences with it. Some people had no complications at all, others it seemed had every complication one can get. The stories and the participants who share them are all so different, there are many opportunities to have a story resonate with new individuals who are reading through this resource. Likewise, there are hundreds of different coping techniques shared within the book. There is something here for everyone.
Can you describe the range of photos included in the book, what they cover and why?
We share bilateral and unilateral mastectomies (both partial and complete), with and without reconstruction, on ages 27-83. Truly we worked to show every option available to newly diagnosed patients who are struggling to make life-altering surgical decisions very quickly.
There are two incredibly unique things we offer in our photos. One is that we are sharing the personalities of these people as well as the surgical results. This makes sharing these photos more personal, less intimidating, and easier to internalize as something one is considering for oneself. The other unique thing we are doing with our photos is sharing the full range of surgical results...from perfect surgical outcomes to those that had a lot of complications and less-than-ideal outcomes. Your surgeon can't show this to you (who would ever show poor outcomes from their work?), but unless patients have a realistic idea of the range of possible outcomes, their satisfaction levels with their surgeries will really suffer (even with great outcomes). And their self-image will suffer along with that.
You work as a nurse. How do you think that impacted your approach to this project?
This project grew and developed with every new person who entered into it. As a nurse I listen to people. I try to identify their needs and the deficits in the education that they've been given. And then I try to meet those educational and personal needs. That's my job. And so, every person who came in and said "I wish I'd been told..." contributed a new piece to the book. I didn't want this to be the book I needed. I wanted this to be the book that every new patient needs, the book every one of the participants says would have changed their experience for the better (in some cases quite profoundly, many have broken into tears as they have picked up the book for the first time).
Being a nurse has also helped me to walk the line of giving medical advice in very detailed and specific ways that will benefit patients, and yet not step into the role of their personal healthcare team. There are times that my advice is simply, "here are the questions you can ask your doctor, in order to make decisions that are right for you". But that outline is immensely helpful when you're feeling too overwhelmed to ask questions. As another participant, Nancy, said, "I was like a desert animal thrown into the water, still just struggling to understand "wet". Asking about details was beyond me." Another participant compared it to walking into a professional golf store, having never even watched the sport before, and being asked what you need. Answer- "I have absolutely no idea". There is no ability to even know what questions to ask...
Beauty After Breast Cancer helps establish expectations, helps define what is happening and shows how to navigate the unpredictable path of cancer, teaches how to begin the immediate steps that will result in better care and participation in treatment decisions, and also shows patients how to hang onto themselves and recover more completely when everything is over.
Where can people buy your book?
The books are available now on our website, www.beautyafterbreastcancer.com. The website also contains additional information about the project, including a preview of 21 pages from the book. The books are shipping now.
Learn more about Beauty After Cancer, and Katelyn's journey, at http://beautyafterbreastcancer.com.