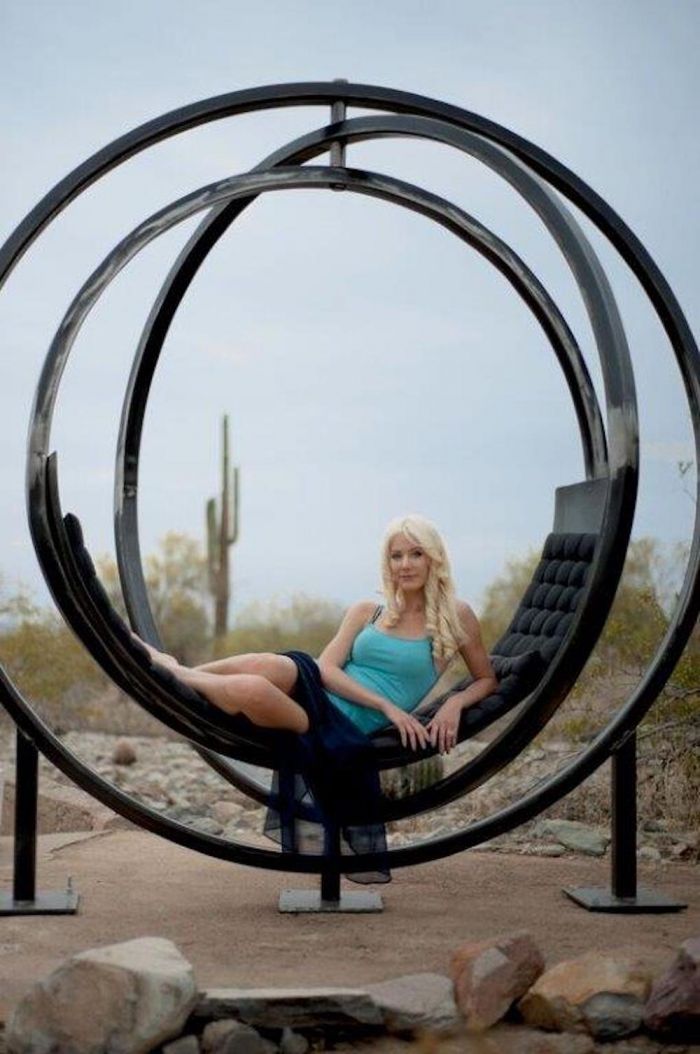 Photos Credit: Kathleen Werner
Kathleen Werner is a fine artist with a true entrepreneurial streak. At only 20 years old, she designed and opened a boutique called Zen, which featured Asian art, meditation pieces and teas from all over the world. After establishing her retail space, she went on to design and open a gallery for large-scale modern art in Scottsdale, Arizona. While completing a program at the Frank Lloyd Wright School of Architecture at Taliesin West in Scottsdale, she became interested in the idea of creating interactive art, particularly, "large pieces that could be both beautiful and useful. Concepts that could be an enhancement to landscaping or living areas while embracing true function."
Kathleen's initial project design is called Etazin, an interactive outdoor lounge chair and sculpture piece, which is now a permanent installation at Taliesin West. The Etazin Square is now also on display as a part of the art collection at the Hyatt Regency Scottsdale Resort and Spa in Gainey Village. More recently, she has immersed herself in painting and creating unique, large-scale pieces that capture an organic aesthetic with her one-of-a-kind aerial scapes. JustLuxe recently spoke to Kathleen about her passions, her art and her life.
When did you begin painting?
I only started painting in late 2015. The look of these paintings were born somewhat organically through various medium experimentations. I knew what I wanted the result to be, but it took me months to produce the desired effect and the better part of the year to perfect the process on such a large scale. The idea of these paintings had been forming in my mind for many years, but it wasn't until I moved to New York that I finally decided to get a studio and turn conception into creation.
Who do you consider your major influences?
I am influenced more by nature than I am by other people. Though I can have a deep appreciation for how a brilliant artist like James Turrell can manipulate light or how Frank Lloyd Wright brought us organic architecture, my true influence could be better attributed to something closer to NASA's landsat photography. It is this aerial scape, the world as viewed from above—or a geode sliced right through the center—that brings me the greatest joy and inspiration.
You attended the Frank Lloyd Wright School of Architecture at Taliesin West in Scottsdale, Arizona. How do you feel that impacted your approach to art?
I have always tried to incorporate nature into my work, but I believe the time spent at Taliesin truly honed my eye for geometry and composition. I find such a parallel between architecture and fine art. My work won't feel right to me if it doesn't have a strong statement or presence to it, sometimes in its simplicity and other times in the ordered chaos we find so often in nature. Taliesin is such an amazing place for artists of all kinds, my time spent there was one of the most impactful and unforgettable experiences of my life. Immersing oneself in such an environment, sleeping in the lush desert with coyotes and rattlesnakes, attending class with some of the most gifted architects and being pushed every day to the limits of your imagination and potential leaves a rare and lasting impression on your soul. I believe it gave me a very discerning eye, many times I have completely scrapped paintings, asking myself whether it is good enough, or better than my best. The latter being the only ones who make the cut in the end, and that has been a very valuable process in keeping a high standard to the work.
While there you designed what you call the Etazin, an interactive outdoor lounge chair and sculpture. How did that come about?
The Etazin chair was an unexpected creation. I knew right away I wanted to leave my mark in some way on Taliesin, many students during their time there choose to build a shelter in the desert, a kind of small, minimal living environment that really shows their personal design style and also serves as housing for many future students. I would often sit in Frank Lloyd Wright's private garden because just being in that space was very inspiring to me. In the middle of his garden there is a Japanese "moon gate", a circular doorway leading from one section to the other. I went and sat inside of this doorway, noticing how the curve of the circle hugged my back and felt so comfortable, almost like a hammock. The diameter of his moon gate is a little on the small side, so I imagined a chair that was bigger so you could really relax and lounge in it. The design was worked with for a few weeks. I have always been in love with the look of natural steel so the material was an obvious choice for me. The decision to make it be able to turn 360 degrees was really a product of the beautiful environment that surrounded us there in the desert; I wanted the lounger to be able to enjoy it from every angle. After finalizing the design, I received approval to have the chair remain a permanent fixture at the school. It is placed amongst the student shelters in the desert, anyone can see it on one of the tours of the grounds they offer daily.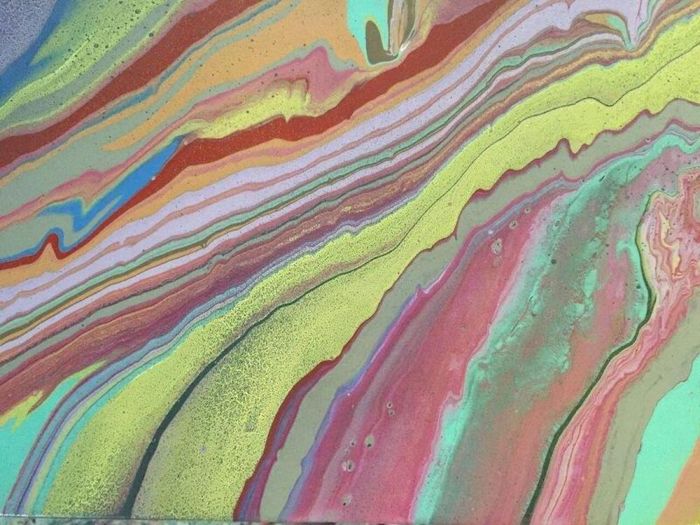 What does the name mean?
The name is a made up word, comprised of two parts. Only myself and one other person knows the true meaning, it is always good to leave a little mystery in the world.
It's a permanent installation at Taliesin West. Is there only one?
The Etazin at Taliesin was the first ever made. There have been many made since then. People enjoyed the design so much after seeing it that there was a huge demand to make others that could be enjoyed for personal use. I now sell them through the website at www.etazin.com. In its second incantation, I designed a square version of the chair, the first of its kind can be seen on the beautiful back lawn at the Hyatt Regency Scottsdale Resort and Spa. It is also there as a permanent art piece that guests love relaxing and taking pictures in.
At age 20 you designed and opened a boutique called Zen, and you also designed and owned a gallery for large scale modern art. Where do you get your entrepreneurial streak?
I have never been content doing anything the usual way or in any kind of predetermined timeline or fashion. I am a woman who tends to follow her whims, and I have been lucky enough to not only have a "go big or go home" attitude but also family and friends who encourage such a mindset. It has not always been easy, but it is the struggle, the fails and the wins, the constant forward momentum that breathes excitement into life.
Tell me a bit about your current series of paintings?
These paintings—I am searching for the right term for them and am circling around "geotic art"—were considered for a long time before I began to make them. My father was a pilot and we traveled a lot growing up. I am most at peace high up in a plane, staring down at the earth and the breathtaking formations that can be seen from above. Every time I go into my studio to work on a piece I feel like I am creating new worlds, new galaxies—it's like I get to play God for a short time. There is no feeling quite like making a painting I just can't seem to stop staring at, recapturing that same feeling of flying through the clouds while looking down on the earth. I choose to make these paintings quite large, the smallest of which is 48" x 48", I have never been content with anything small. I started this current series about a year ago, and have since been hermitting away making this large body of work and only showing a few teaser shots on social media to gain a bit a feedback. Very soon I will be doing a show in Manhattan to introduce them properly into the world. It has been important to me to create a sizable collection, each one chosen thoughtfully and intentionally and judged worthy of being a representation of the whole.
Do you feel your style has changed much throughout the years?
My style has always felt the same, but what has changed has been the medium and the precision. From owning my own store, to interior design, to architectural design, to sculpture and paintings, I have always been very influenced by nature and geometry. Even though I have worked in many different fields, it has always been a very elemental style I am drawn to.
Have the new paintings been shown? If not, is there an upcoming exhibit planned?
The paintings have to yet been shown other than to a handful of friends in the city. I am eager to present them at a show we are planning in the new year.