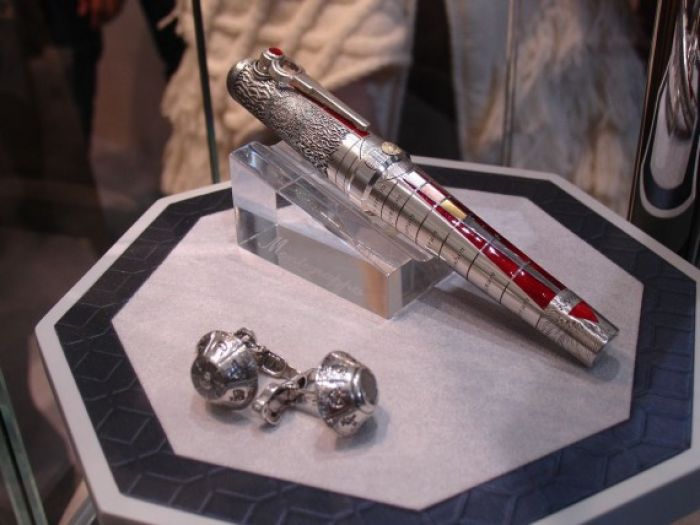 Keith Parkins
To mark their centenary, 1912-2012, Montegrappa launched The Alchemist pen in Bassano del Grappa on St Joseph's Day.
Inspired by The Alchemist, the pen is a collaboration between Montegrappa and Paulo Coelho.
The Alchemist is the story of Santiago, a shepherd boy who follows his dreams.
The Alchemist pen is a limited edition of only 1.987 pens, representing the year The Alchemist was published.
Destined to be a much desired and sought after pen, The Alchemist is a work of art. It cleverly incorporates many of the symbols of alchemy.
The Alchemist pen is slow fashion, not fast fashion. A pen one would keep for a lifetime, and maybe hand down. 
It was in this part of Italy that slow food arose as a reaction to fast food. Slow fashion, style, has evolved as part of the slow movement which values craftmanship.
Fearing he would not be able to resist the temptation to show to others, Paulo Coelho had not seen the pen until the launch. On receiving the pen he was clearly moved.
Following the launch, Montegrappa arranged a tour of their factory. An interesting mix of high tech and craftmanship.
Many of the employees had brought in their Paulo Coelho books. These Paulo Coelho signed.
In the evening to mark St Joseph's Day, a party was held at a medieval Venetian castle.
Paulo Coelho celebrates St Joseph's Day every year with his friends. This year was a special year as not only did it mark 25 years of holding the celebrations, but also 25 years of the publication of The Pilgrimage, an account of walking El Camino de Santiago.
Keith Parkins
The Alchemist
Keith Parkins
The Alchemist
Keith Parkins
The Alchemist
Keith Parkins
The Alchemist component parts
Keith Parkins
lo Zahir signed by Paulo Coelho