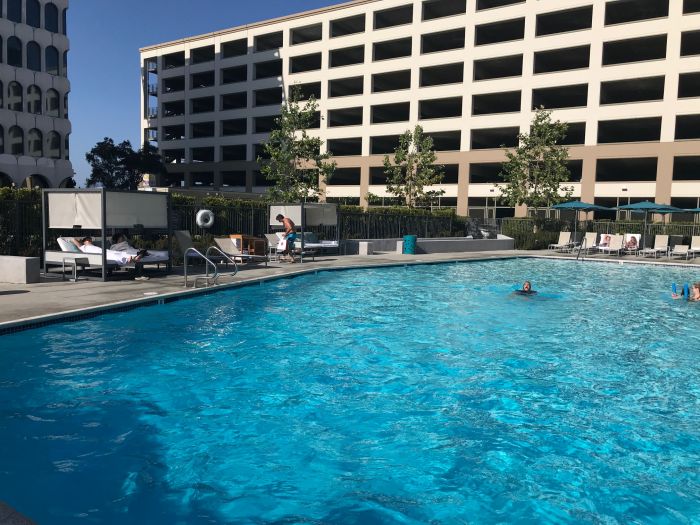 Jill Weinlein
The Hyatt Regency at Los Angeles International Airport is part of a growing trend of airport hotels renovating to become upscale properties. This appeals to travelers and families wanting to be close to the airport so they don't miss their flight due to traffic, long lines at security or delays.
The Hyatt Regency LAX is now a luxury hotel for locals and visitors to enjoy before or after a flight to extend their vacation. Just steps from LAX Terminal 1, the Hyatt Regency reception area has bowls of apples. Guests who take an apple and donate $1, the money goes directly to JDRF, a charitable organization dedicated to funding Type 1 Diabetes research.
Also in the lobby is Sir Hyatt of Regency, an adorable rescue dog that is a welcome ambassador at this hotel. As a certified therapy dog, Sir Hyatt's tail wags with everyone he greets, especially to travelers who need a little pick-me-up after a long flight or are nervous about an upcoming flight.
All of the 580 rooms and suites are designed with soundproof windows for a quiet sleeping environment. There are 20 ADA accessible rooms and 23 suites with up to two bedrooms offering a more residential feel with a work and dining area. Each room offers neutral tones and a pop of color, premium wi-fi, 55" HD flat-screen television, Hyatt Grand Beds and turndown service. There is an electronic safe, and full bath amenities with bathrobes on request.
Up at the top of the Hyatt Regency is the private Hyatt Regency Club offering a quiet and relaxed setting. There is concierge service, a business center, breakfast, early evening tapas and light meals and desserts. There is a nominal fee per night.
For active travelers there is a gym offering yoga mats, weight machines, free weights, treadmills, StairMasters and cycles. This space offers a wall of glass for guests to overlook the airport runways and the Pacific Ocean in the distance. Down on the ground floor is the largest heated swimming pool in the area. The deck area offers fire pits, comfortable lounge chairs and semi-private cabanas.
Dining options include an International sit down restaurant unity LA, offering a melting pot of International flavors with menus inspired by the recipes from Latin and Asian communities in Los Angeles. There are Drunken Noodles from Thai Town; Sticky Pork Ribs from Koreatown; and Carne Asada from Boyle Heights. For those wanting something quick, The Open Market offers fresh hot soups, ramen and Pho. They also provide LA-based products like Randy's Doughnuts, and Deluscious cookies for travelers to enjoy before or take on their flight for later.
There is also a bar area offering televisions, light fare and comfortable seating before catching a shuttle to your terminal. The Hyatt Regency Los Angeles offers 24-hour complimentary shuttle service that runs every 15 minutes to every airport terminal. Guests can park $45 per night for valet and $17.50 for self-parking in a covered garage.
The Hyatt Regency LAX is located at 6225 West Century Boulevard,Los Angeles, California, USA, 90045
(424) 702 1234.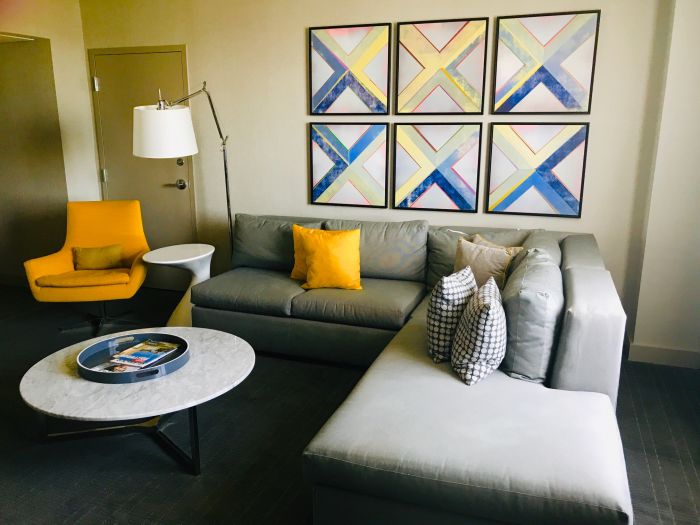 Jill Weinlein
The luxury suites offer neutral tones in their decor with a pop of color.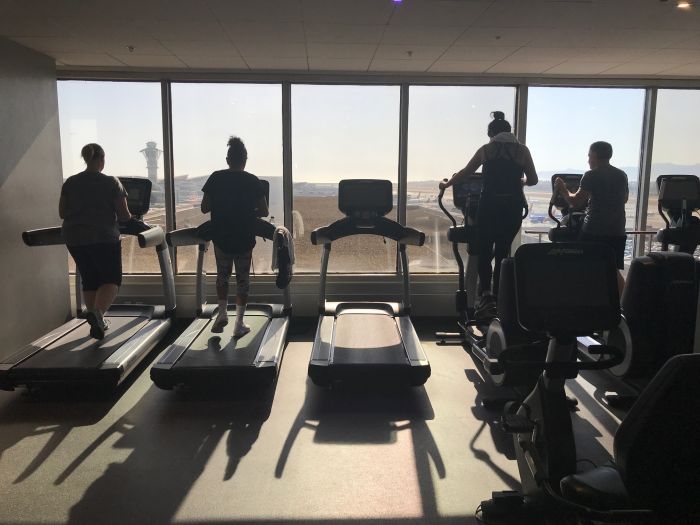 Jill Weinlein
Guests can work out while overlooking the LAX runways out to the Pacific Ocean.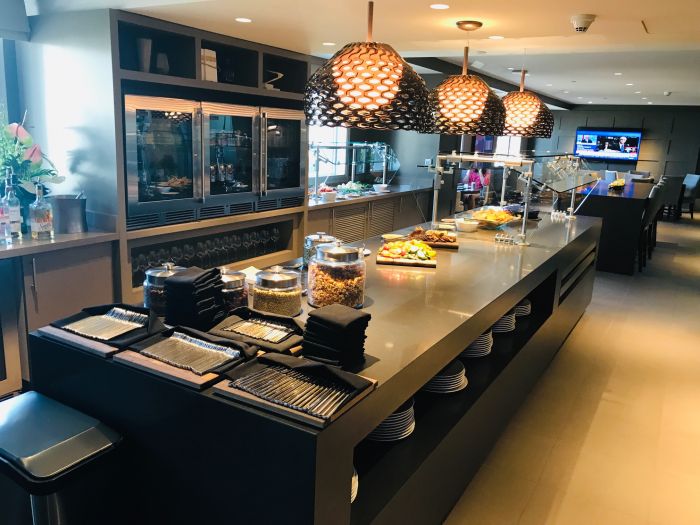 Jill Weinlein
The Regency Club offers a quiet and relaxed lounge for guests to dine and get some work done before a flight.