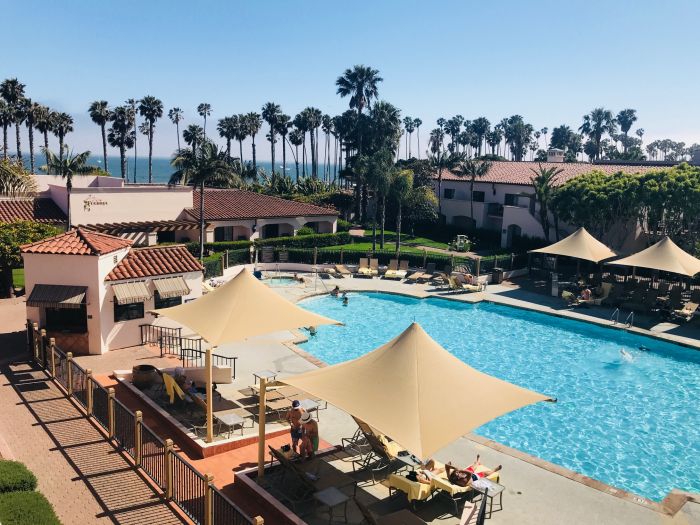 Photo by Jill Weinlein
Driving up to the Mission-style Hilton Santa Barbara, I noticed a refillable water and dog treat container by the front door. Located along the American Riviera with swaying palm trees, miles of sandy beaches, a lively wharf and glorious mountain views, this pet-friendly resort offers modern elegance among a leisure beach town vibe.
While walking into the lobby, the colossal lounge offers calming, coastal blue, gray and green colors. After a multi-million dollar renovation, the former Fess Parker Hotel - A DoubleTree by Hilton has been rebranded to the Hilton Santa Barbara Beachfront Resort.
The long-standing partnership with Hilton and the Fess Parker family remains. Eli and Ashley Parker, son and daughter of Fess Parker said, "The resort may have a new look and a new name, but will continue to provide the same first-class visitor experience that has made both locals and travelers feel at home for several decades."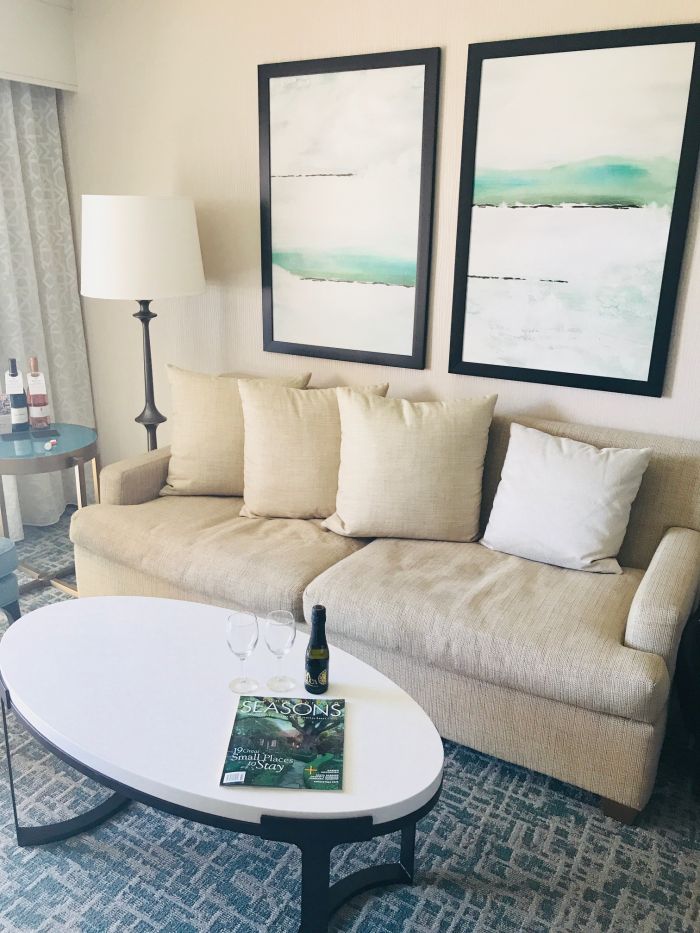 Photo by Jill Weinlein
Each of the 360 newly-renovated guest rooms are redesigned with sky-blue ocean hues and driftwood inspired interiors. Every room has either a private balcony or patio. Clustered among 8 buildings around the spacious and floral grounds, the ABC rooms are named after flowers including Azalea, Bougainvillea, Camellia, Fuchsia and Hibiscus.
Upon checking in at the reception, we received a welcome bag with two bottles of Prosecco and two waters. Walking into room #334 in the Gardenia building, we were pleased with the swimming pool to Pacific Ocean views from our balcony. There were two chairs and a table to sit at to sip our sparkling wine and coffee the next morning. Inside our spacious room was a king size bed, sitting area with a sofa bed, mini refrigerator, safe, and bathroom with two sinks and full shower.
We donned our swimsuits and swam in the heated swimming pool and relaxed in the hot tub, before meeting a friend for dinner at the onsite Rodney's Grill. The new Executive Sous Chef Patrick Clark uses sustainable seafood and naturally raised meats with the freshest local seasonal ingredients. The wine list offers an array of Fess Parker Wines, plus an array of California varieties to pair with his dishes.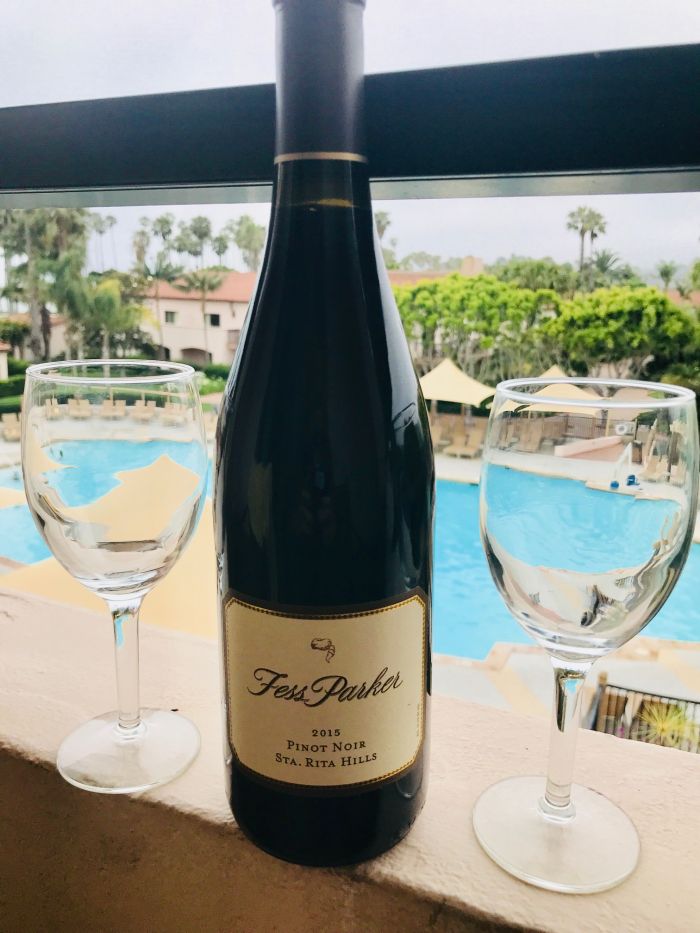 Photo by Jill Weinlein
Before or after dinner, guests can do a little wine tasting at the iconic Fess Parker Wine Tasting Room off the lobby. It offers a self-service wine dispensing system for guests to discover a favorite wine
Another lively spot, especially at sunset to enjoy ocean breezes, is the bistro-style lounge - The Set. Guests gather around the flickering fire pits drinking cocktails and wine with eating bites from chef Patrick Clark's bistro menu.
Since the resort charges a Daily Resort Charge, we took advantage of the perks. We enjoyed the guest internet access; two-hour bicycle rental; glass of house wine (up to 2 adults); in-room bottled water; and 20% discount at the Spa and tennis courts.
In the morning we walked by the Spa del Mar offering a variety of massages, facial treatments and salon services, before using our two bicycles voucher for a two-hour ride around Santa Barbara. We rode on designated bike lanes along the beach to the Santa Barbara Harbor, Bird Sanctuary, Zoo and Funk Zone.
What also makes this resort so special is it's semi-enclosed rotunda Plaza Del Sol. This flexible space boasts 180-degree lawn and beach views. It's a premier event and meeting destination offering indoor and outdoor space for beach weddings, conferences and parties.
For guests who fly into the Santa Barbara Airport or take the train to the nearby Santa Barbara Amtrak Station, the resort offers complimentary shuttle service to the Hilton Santa Barbara Beachfront Hotel.