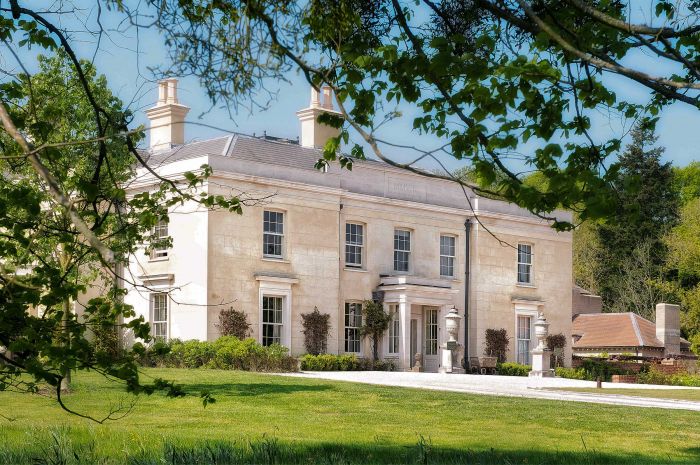 Lime Wood Hotel & Herb House Spa
Lime Wood Hotel & Herb House Spa
Set in neatly manicured grounds on the outskirts of the New Forest, near to Lyndhurst, Lime Wood Hotel & Herb House Spa is an immaculate example of a refined country spa hotel devoid of any pretension. The hotel has a long and distinguished history, having originally served as a medieval hunting lodge in the thirteenth century, before being reclaimed for royalty by the Duke of Clarence in the 1740s. Since then, Lime Wood has undergone an extravagant £30 million makeover, imbuing the hotel with an air of understated perfection, with stylishly landscaped grounds, cozily chic interiors, a superlative spa and a really excellent restaurant.
Upon our arrival we are greeted warmly by Ross, snappily dressed in a tweed jacket and jeans, and our luggage is stowed away on a large wicker trolley. The country chic attire of the reception team is emblematic of the design ethos and character of the hotel – it is intensely relaxed yet at the same time, effortlessly smart and luxurious. The combination is intoxicating, and, I should add, hard to achieve without any appearance of contrition. We are ushered into a hip urbanista's visualization of the ideal country house, the sort of place where a generously appointed drawing rooms melts into a snug library, which overlooks a perfectly manicured lawn.
We are given a tour of the main house, which houses the restaurants (more on which momentarily), bar, library of books and DVDs, boot room (replete with wellies for guests of all ages), and billiards room. En route to our room, we are shown the Herb House Spa, which is located in a separate building just beside the main house.
Our room, Pavilion 2, is perfection. There are four Pavilion rooms, set in charmingly designed little detached abodes to the rear of the main house, and afford perfect privacy, without the inconvenience of having to traipse a long distance to the main hotel facilities. Our room features a dramatic black vaulted ceiling, four-poster bed and a roll-top bath lined with Bamford products in an alcove overlooking the forest outside. It is redolent of being in a tree house, which is most agreeable. The bedrooms in the main house are also high on romance, thanks mainly to the elegant Italian marble bathrooms in soft grey and white; Rooms 1 and 2 offer bath tubs beneath wide sash windows, and Room 11 has a particularly majestic bathroom. For those who prefer a quirky attic habitat, an Eaves room is the one to go for.
A stay at Lime Wood would not be complete without a visit to its award-winning Herb House Spa, and after settling into our room, I trotted off to enjoy my much-anticipated treatments; the Herb House Pregnancy Massage (£100) followed by the Herb House Bespoke Pregnancy Facial (£115). I was given a tour of the Spa, which sprawls over three stories, and includes a state-of-the art gym, curated shop, three pools and a divine rooftop herb garden, which supplies the hotel's various restaurants with many of the herbs and vegetable produce. There is also a café at the Spa –Raw & Cured, which serves an assortment of healthy, yet delectable dishes.
Having explored the Spa, I am met by Paula, a delightful therapist, who has worked at the hotel since it first opened in 2009. I am often wary of pregnancy massage, as I am a fan of deep tissue manipulation (read 'pulverization') and tend to find that therapists are reluctant to administer a firm pressure to pregnant ladies. Fortunately, Paula, upon learning of my preference, was able to oblige with my request for a strong touch. I was also helpfully provided with a hollowed out foam insert that was placed on the table to contain my bump, which enabled me to lie on my front; a real perk at eight months pregnant! Following my sublime massage, I enjoyed a multi-stage Bamford facial that left my skin looking plump, glowing and totally rejuvenated. The treatment room itself was thoughtfully designed, with a generously sized, heated bed and an ensuite bathroom.
Following my treatment, I was handed a menu featuring an assortment of herbal teas and infused waters, as well as some light spa snacks. Moments later I found myself in a private booth in a heavenly, dimly lit and aptly named Recovery Room, drinking delicious hibiscus tea and munching on frozen black grapes.
I was unable to enjoy the hydrotherapy pool or the sauna and steam room on account of being pregnant, but I did have a wonderful swim in the 15 m pool, which is on the first floor of the Spa and benefits from an abundance of natural light. Swimming there first thing in the morning was a most uplifting experience. I also appreciated the close attention to detail in the spotless changing rooms. For instance, three different sizes of complimentary flip-flops are provided (in addition to various sizes for children), and there is a liberal assortment of toiletries, from tampons to toothbrushes, which, along with the squidgy sofas and downy robes, coalesced to offer a great sense of comfort and hospitality that is not always possible to achieve in spas, which can sometimes feel somewhat sterile.
After my treatments, it was time for dinner at the justly lauded Holder Hartnett & Co restaurant. The menu is sensitively seasonal, and every dish is something you'd like to eat. Hartnett's pasta is legendary, and the risotto Milanese was a particular triumph. The coup of the evening, though, was the legume stew that my husband ordered, which was served with great panache from a large Le Creuset dish on a trolley. The flavors were nuanced and perfectly balanced – my fussy husband was in raptures. Aesthetically, the dining space fuses aristocratic eccentricity with trattoria bric-a-brac, juxtaposing an espresso machine, oak bar, velvet corner sofas with Tracy Emin artwork. After dinner, we sank into the deliciously squashy sofas in the airy Courtyard Bar for coffee.
Breakfast is yet another highlight of the stay. Served in the Scullery between 7am and 11am, there is a menu that will appeal to everyone – from spicy avocado on sourdough to a full English, including, crucially, the best black pudding I can remember tasting.
The hotel, in keeping with its unassuming attitude, is all-embracing when it comes to children and pets. We brought our two-year-old daughter along, and she had a fabulous time – there are vintage ride-on toys and trikes for toddlers, and my daughter enjoyed the children's swim time (which is between 8.30am and 10am; 8.30am to 11am on weekends and Bank Holidays). Cots are £10, extra beds are £30, and babysitting with a local nanny is £60 for an evening (48 hours' notice required). Dogs are also given a warm welcome; they are welcome to stay in the outside rooms (the Coach House Crescent and Pavilions), for £30 a stay. Beds and bowls are provided, as well as a Bonio wrapped up in ribbon. Among its myriad charms, it is hard to pick a standout feature of this hotel; the cuisine, Spa, rooms, staff and general ambiance are all on an even, extremely lofty, par. There is no question that Lime Wood is a hotel prepared to go to any length to ensure its guests, whatever their age, get what they want. The hotel delivers on its promise of luxury, with artless friendliness. For a truly spoiling experience, I wholeheartedly recommend it. Nouve https://www.limewoodhotel.co.uk/T: +44 23 8028 7177 Lime Wood Beaulieu Road, LyndhurstHampshireSO43 7FZUnited Kingdom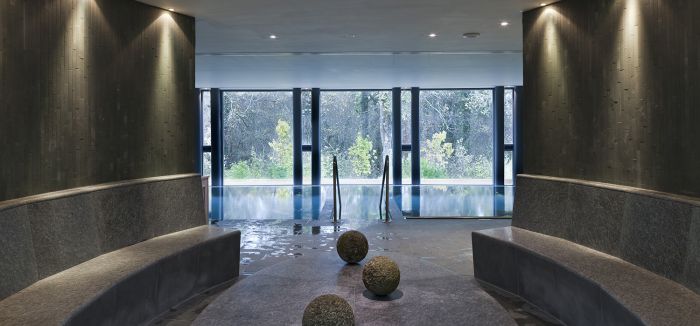 Lime Wood Hotel & Spa
Hydrotherapy Pool at Herb House Spa