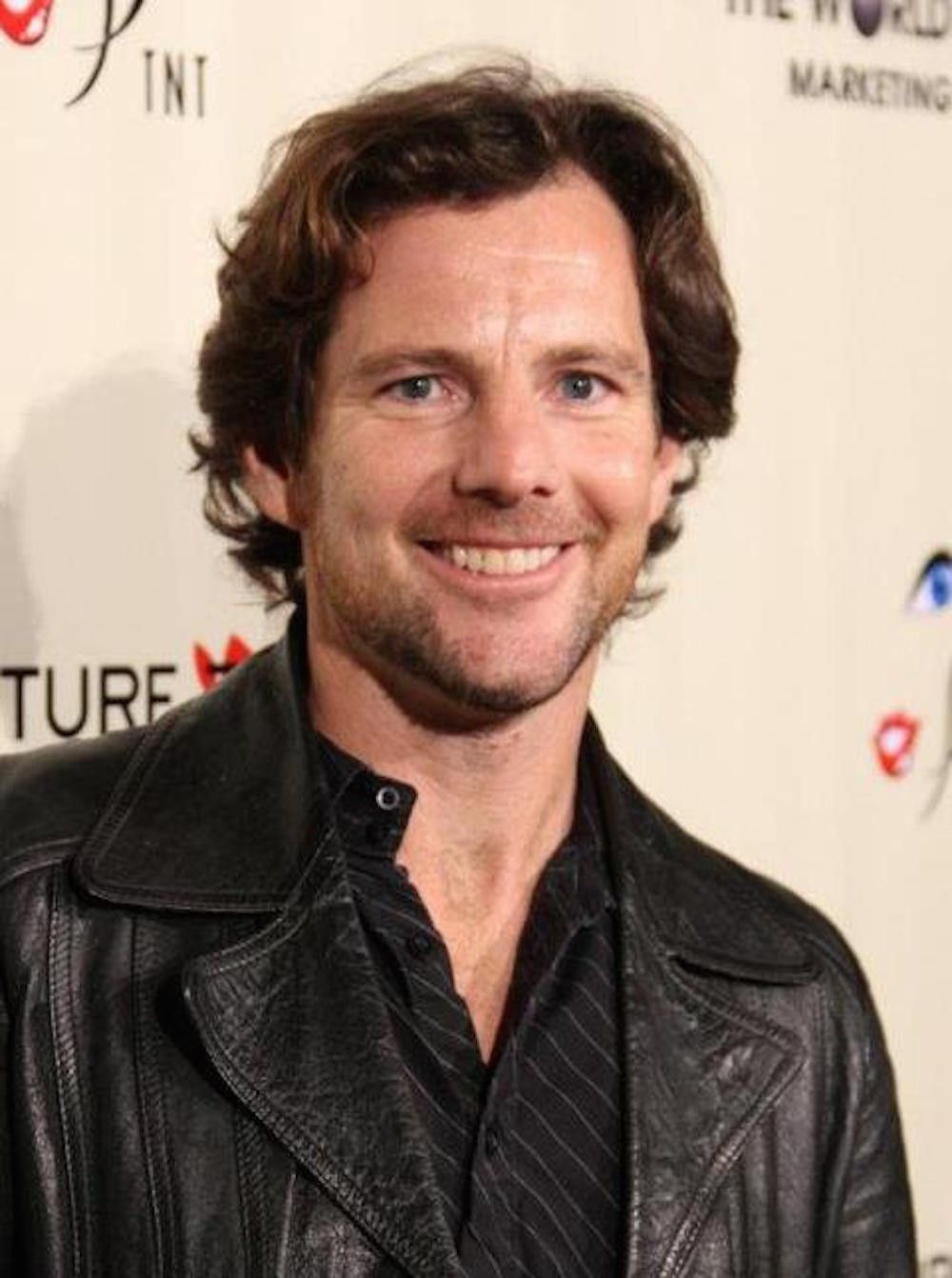 David Lockhart
Every family has a story but the Lockhart family is a little different. After digging a bit into his unique family history, actor/writer/producer, David Lockhart found the genesis for not only a feature film, but for a trilogy. Based on true events, Lockhart includes a mystical crystal heart that can help save the world both literally and figuratively. David Lockhart shares some of his fascinating family history with JustLuxe and tells us more about Lockhart, the film, the first in a trilogy.
Tell me a bit about Lockhart, the film.
The Lockhart film is a fantastic feature length, action, adventure, spiritual thriller based on true events.
It's about a man named Jon Lockhart who finds an ancient healing stone buried in his dead grandfather's golf course. The artifact was given to him by his ancestor Robert the Bruce, who was the King of Scotland during the Crusades. On the crystal heart there is a code that can give the world free, unlimited power. This artifact and the mission to share this stone with the world has been passed down through the generations of Lockharts up until now.
The Lockhart family has been tasked with the mission to protect the healing stone from the High Cabal, who want to prevent it from being shared with the world. The High Cabal have been using and manipulating power to enslave the world population for centuries and they do not want this information to get out.
This film is actually the first film of a trilogy. This first installment is called "Lockhart: Unleashing the Talisman." It combines science, religion, and love. The story is so epic it cannot be told in just one film.
How did the film end up being named Lockhart?
It was actually the director's idea (Rocky Collins). I was skeptical at first, but calling it Lockhart made the most sense. It is based on true stories from the Lockhart family history. The main theme is a healing stone aka the "Crystal Heart" that unlocks our untapped potential. We all have unlimited power, but it is blocked. We have forgotten how to access it. It needs to be unlocked.
It's based on a legend, what did you discover about your past doing research on the project?
I found some incredible true stories about my family history. For example, I discovered that the Lockhart name came from the Crusades era from an epic journey started by Robert the Bruce, the King of Scotland when he was lying on his deathbed.
And that the Lockharts have been in possession of a healing stone called the Lee Penny which was passed down from generation to generation. You can even look up the court documents of James Lockhart who was tried for witchcraft in the 1700s for being in possession of the healing stone. The only reason he wasn't convicted is because to be convicted of witchcraft, you have to be guilty of speaking spells and he wasn't using words when he had the stone with him.
I also uncovered secrets about my recent family history. My Grandfather was a pro golfer who helped create one of the first golf courses in the Central Valley of California. I also found out that prior to his life as a pro golfer in the 1930's he was a teenage bootlegger and got into a serious car accident while evading the police down a country road at night.
I was simply amazed with the Lockhart history. I was also amazed it hadn't been made into a film yet. So I felt like it was my duty to do it. It is such an epic adventure, spanning many generations. The more research that I did, the more excited I got. But I also began to have more questions about who we all are and the reality of our perception about who we think we are.
How do you describe the film?
I describe it as an action, adventure, spiritual, epic thriller based on true events.
Do you see it as being a pure fantasy/adventure film?
It has fantasy elements in it, but they're based on true stories from the past and true current events. It's definitely an adventure film though. And there's some martial arts and sword fighting thrown in for the kids.
What are some films you would compare it to?
It has elements from all my favorite films. Some people compare it to The Da Vinci Code and Raiders of the Lost Ark, but I would also add in The Matrix and even Star Wars. It's definitely a hero's journey.
Also people who are into conspiracy theories will like the film. The Thrive Movement documentary was a big inspiration, along with the Spirit Science films.
You produced, wrote and star in the project, what was it like wearing so many hats?
The good thing was I wore a lot of hats, but really didn't have to do them all at the same time. I wrote most of the film up at a cabin in the redwoods when I was by myself.
And then when I was ready to shoot, I had an amazing team throughout. I hired an awesome director Rocky Collins and producer KT Kent and an amazing crew to run the shoot while we were filming, so on set I could just concentrate on acting. I let them run the show. So many people stepped up to make the film happen including half the city of Jamestown. I was a little humbled by the experience. After the shoot, it's all about the post production. Which I admit was the most challenging for me. I don't like to wait. I'm a man of action.
David Lockhart
How did you get started in the industry?
Really as a little kid in theater. All I've ever wanted was to be an actor and a filmmaker. My friends and I made films with the 15mm in middle and high school. We made spoofs of all the films of the era: Sidewalk Warriors (spoof of Road Warriors), Salt Lake City Vice (Miami Vice), Arizona Smith and the Temple of Fools (Indiana Jones and the Temple of Doom).
My first paid acting gig was in eighth grade. I got a little validation when I was hired as the model for the illustrations in the latest publication of the Treasure Island book.
I majored in Media Arts and Theater in college at CSU, Chico, and trained at the American Conservatory Theater in San Francisco. I performed the lead in productions of "Spring Storm", "Misalliance", and "Bodies and Hearts in the Face of the Monster."
My first professional "industry" job as an adult was right out of college as the Lighting Director for CNET studio shows. Ryan Seacrest was one of the hosts. I didn't know what I was doing, but luckily there was an old lighting veteran who whispered in my ear what to do until I eventually figured it out.
From there I went to the cable channel TechTV, where I was a writer, segment producer, and sports correspondent and a segment producer for Internet Tonight hosted by Scott Herriot and Michaela Pereira. I covered and participated in sports that had a big following online, but that were not covered on TV. Everything from mountain unicyling to national arm wrestling championships, kayak polo, air hockey and ping pong. Our show won a Regional Emmy two years in a row for "Best Entertainment Program" and "Best Educational Special."
Then TechTV was bought by Comcast and changed to G4. I was put on a show called X-Play about video games with host Adam Sandler and Morgan Webb and it became a big hit with gamers worldwide.
G4 was moved from SF to LA and so I followed. I ended up going freelance and producing corporate videos and commercials for Dell, Seagate and Lexus. I got an acting agent and did a bunch of commercials and print ads for companies like Apple, Sandisk, and Tinactin, but my love has always been doing independent films, so created Legacy Films to that.
Is acting your primary passion, or are you looking to continue writing and producing?
Acting is the primary passion, but I do love to write and direct as well. I get a different high from helping people come up with the ideas; brainstorming and collaborating with other people, coming up with cool camera angles and lighting schemes. It's all so fun.
It all goes back to my high school days, when my friends and I made films. All of us took turns doing everything for every film, the acting, operating the camera, directing. It was very fluid and easy. I don't remember how we decided who was going to do what for each movie. It just all sort of fell into place very naturally. I don't remember any arguments. It had nothing to do with career or money. It was all for fun; pure enjoyment from collaborating and creating something, than watching it at the end of the day. It also wasn't to be cool because I think people thought we were dorks for doing it.
David Lockhart
Lockhart is the first film of a trilogy, where does it go from here?
The first installment is called "Lockhart: Unleashing the Talisman." The second film will be called "Through the Dark Pastly" and will dive more into the back story of where the healing stone or "Heart Crystal" originally comes from, which is before the Crusades and dating back thousands of years to ancient times.
There is a little back story in the first installment, but it mostly takes place in modern day.
Most trilogies are linear part one, then part two, and part three. But this trilogy is more like the rings of a tree or the ripples when you throw a pebble into water. They expand around each other.
It really is an epic story interweaving between five different time eras and will have people question reality, time, space and the truth of our existence in general. It will really blow a lot of people's minds.
This first film was really just an intro to the characters and touching on concepts. But the whole thing is like peeling away the layers of an onion.
Lockhart seems to be keeping you busy, but are there other projects you're working on?
I also recently produced and acted in a film called Playing with Dolls starring myself, Natasha Blasick and Richard Tyson. It was directed by Rene Perez We shot up near Mt. Shasta and Lassen in the winter. Very physically draining project, and very cold but looks great.
I have a few other scripts that I am proud of and working on getting funding for. One is Pure about fighting human trafficking. We already shot the documentary for it on the Thailand/Burma border and it premiered at the Burbank International Film Festival. Summer of 89 is a comedy about some high school friends who get framed for senior prank and have to creatively come up with 50K or they won't graduate.
Most recently I wrote a script about a rock n roll band that has with a secret twist. I think it's my most marketable script yet. (I am also in a rock and roll band called Johnny Lighting and the Apocalypse, but that is probably for a different interview)
I also created a 501©3 non-profit for musicians, actors, filmmakers, painters and every other artist called Artistspalooza (www.artistspalooza.org). The mission is to empower artists to inspire the world.
For more information visit: http://www.thelockhartfilm.com/