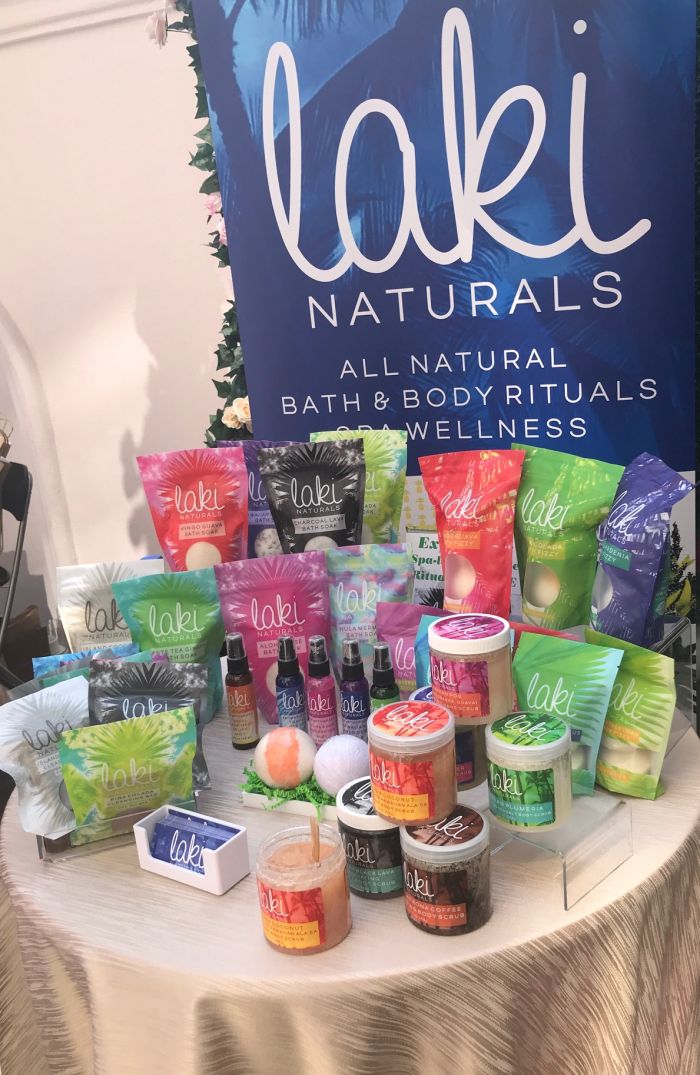 Jill Weinlein
At a recent Wellness Month event at the Beverly Wilshire, a Four Seasons Resort in Beverly Hills, I noticed a brightly colored Laki Naturals display. The entrepreneur and designer Tiffany Lerman informed me that Laki means "Lucky" in Hawaiian. She shared with me that all of her natural Hawaiian based bath and body skin care products capture the essence of Aloha. They are made without parabens, artificial additives, micro beads, sodium laurel sulfate, phtalates, synthetic dyes, gmo, petrochemicals, animal testing.
One of the most popular products are the Laki Natural Shower Fizzies. They turn your shower into a soothing and therapeutic spa-like experience. Activated by the stream and water droplets in your shower, it creates a calming cloud of essential oil aromas that rejuvenate your mind and body. There are 6 different scents: Rainbow Eucalyptus, Sea Breeze Grapefruit, Hawaiian Lavender, Lemongrass Luau, Orange Hibiscus and Peppermint Falls.
Next she showed me all of her Laki body scrubs made with only the purest and cleanest ingredients. The sea-salt exfoliation can be used twice a week to cleanse skin, promote circulation and stimulate the body's energy flow. This exclusively vegan scrub will leave your skin refreshed, relaxed and revived. There are 6 different scrubs that include Hawaiian Kona Coffee Energizing, Hawaiian Black Lava Exfoliating Sea Salt Foot Scrub, Hawaiian Lavender Relaxing Sugar Scrub, Hawaiian POG (Passion, Orange and Guava) Refreshing Hand Scrub, Hawaiian Plumeria Revitalizing Sea Salt Scrub, Mango and Coconut Detoxifying Hawaiian Ala' Ea Salt Scrub.
Now soaking in a bath can be even a more mindful and relaxing experience with Laki's healing benefits from detoxifying epsom salts and healing sea salts. Not felling well? They offer a Sinus Soother bath soak. Soaking in warm water, your skin gets nourished, hydrated and clean. The company makes 10 different bath soaks that includes Island Coconut, Pina Colada, Island Gardenia, Hawaiian Lavender, Aloha Rose, Charcoal Lava, Hula Mermaid, Mango Guava and White Tea Ginger.
Bath fizzles spheres are interactive fun in the tub. Place a fizzy ball into warm water and watch it bubble and decrease in size. These products are made with coconut oil, grape seed oil and offer pleasing aromatherapy. Laki makes 6 different Bath fizzy balls that include Hawaiian Lavender, Island Gardenia and White Tea Ginger.
Besides shower and bath products, Laki makes cleansing bars. There are an assortment of cleansing and moisturizing bars that are made in small batches and contain no GMOs, parabens, sodium sulfate, unnatural preservatives or petroleum products. These vegan bars are made with olive oil and palm oil to moisturize skin.
Last they offer aroma therapy mists that can be sprayed on your face and body to relieve stress, and improve your sleep quality. The 6 different sprays include Tension & Headache Relief Mist, Jet Lag Relief Mist, Travel Queasiness Relief Mist, Travel Stress Relief Mist, Aloha Rose Refreshing Mist and Hawaiian Lavender Ho' Ola Mist.
To learn more and punchase Laki Naturals, go to www.Lakinaturals.com or www.anthropology.com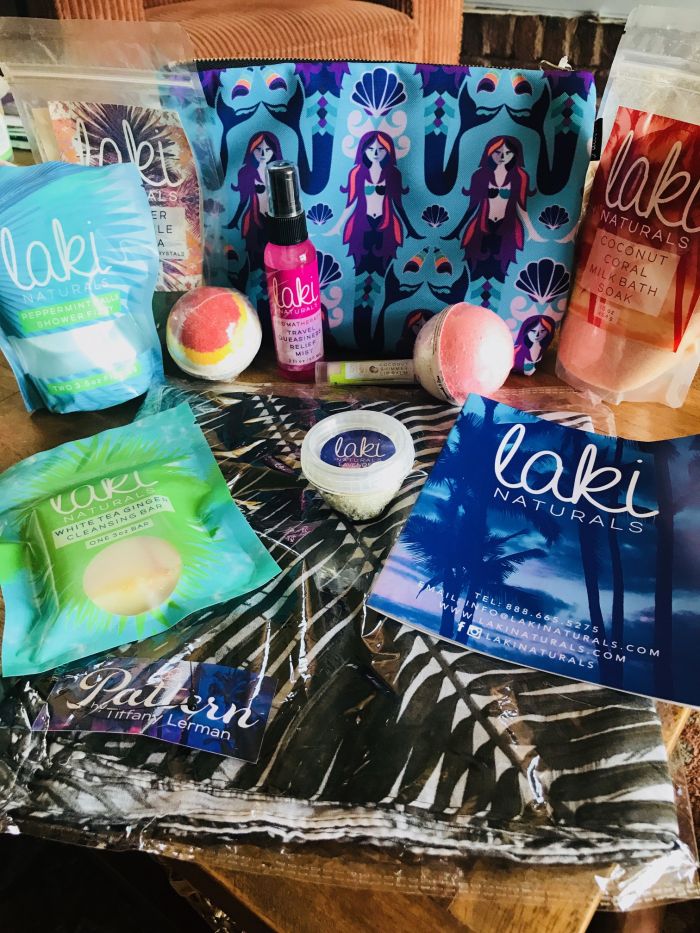 Jill Weinlein
Laki Naturals bath time rituals are not only fun, but rewarding to you skin and soul.