magnum ice cream
Magnum ice cream and luxury jewelry designer Stephanie Gottlieb have joined together to launch The More is More Jewelry Collection, a limited edition jewelry line inspired by the ice cream brand's iconic layered bars.
I chatted with Gottlieb to find out more about The More and the latest trends in jewelry.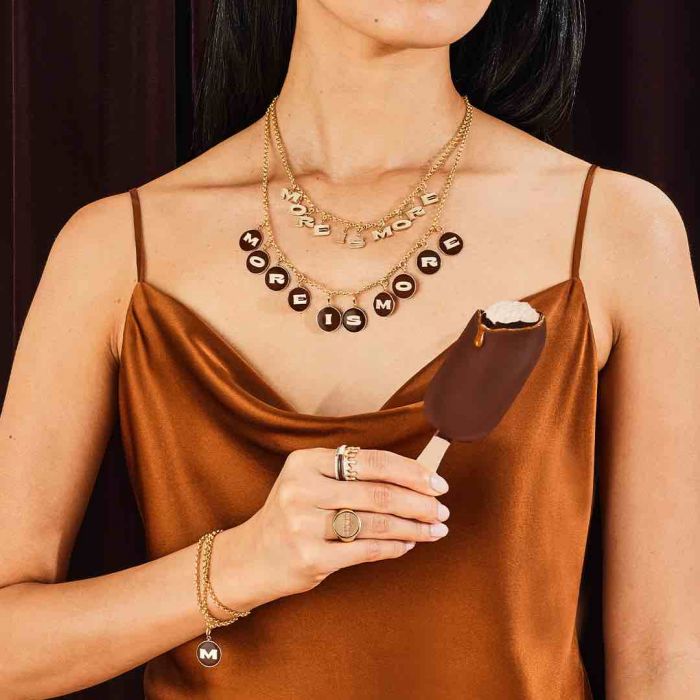 Magnum Ice Cream
What inspired you to create the More is More Collection?
The More is More Jewelry Collection was inspired by the layers of Magnum ice cream's iconic Bars. The pieces are designed to be layered so you can unapologetically indulge. Because when it comes to ice cream and jewelry – More is More.
Tell us a little about the pieces - and are they also available in silver or just gold?
The full collection includes: The Chocolate & Vanilla Enamel Ring ($495) is a take on the classic Magnum ice cream Bar – featuring brown & cream colors of enamel, this ring is perfect to show your layers in a sweet accessory. The Caramel & Vanilla Pave Ring ($1,250) brings Magnum ice cream's sweet ingredients to the next level allowing you to indulge in more with a decadent display of caramel and white diamonds. Inspired by iconic Magnum ice cream Bars, the Melt Ring ($1,690) brings ice cream to life with a half 14K gold and half pavé design and is designed to stack. The More is More Gold Letter Charm & Chain (Charm Only $495, Charm + Chain $1,695) is a beautiful 14K gold layered necklace that can be fashioned as a triple wrap bracelet and customized with gold letter charms. The More is More Enamel Letter Disc Charm & Chain (Charm Only $495, Charm + Chain $1,695) is a beautiful 14K gold layered necklace that can be fashioned as a triple wrap bracelet and customized with enamel letter discs. The More is More Flip Ring ($7,560) allows you to choose how you want to express yourself, by showcasing a collection of Magnum ice cream-inspired pavé diamonds or showing "MORE" as a reminder to always unapologetically express yourself. The collection is only available in gold since it is one of Magnum ice cream's signature colors and exudes the "More is More" indulgence factor. My favorite piece is The Flip Ring because it is so much fun! We wanted to capture the essence of 'More is More' by incorporating a flip-design, allowing the wearer to change how they style their piece. The combination of chocolate, champagne, and white diamonds echo the Magnum brand colors, and the 'MORE' mantra is the perfect daily reminder that we all deserve 'more"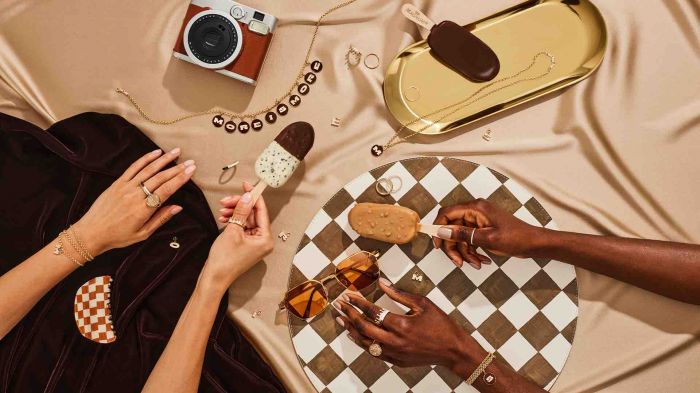 Magnum Ice Cream
How did you come to team with Magnum Ice Cream for the Collection?
Magnum Ice Cream approached me knowing that my jewelry pieces are unique and like the layers of cracking chocolate, velvety ice cream, and sauces of Magnum Ice Cream's iconic Bars, are made to be layered too. The brand allowed me to take creative freedom in finding new ways to bring indulgence to life in this jewelry collection.
Do you have tips on how to successfully 'layer' jewelry? Can you mix items that are different materials - silver and gold?
Layering is really about finding your unique individual style. Two people may have the same pieces, but it's how they wear them that brings those pieces to life and adds personality to a styled look. There are no real 'rules', but I tend to style mixed metals by making sure that I always have two pieces that tie into one another-- so if I'm wearing white and yellow gold bangles, I may have a gold earring and white gold necklace on. Having that one other anchor piece makes your mixed metals feel intentional.
The pieces are bold in size, is that a new trend - bolder jewelry?
Bold gold jewelry is definitely trending! Particularly when it came to the More is More Jewelry Collection, we wanted to make sure that the jewelry really stood out when someone is wearing it. The layering concept allows you to pull back and wear individual pieces on their own for a daintier look, or to stack and layer for a bolder look.
When wearing the pieces, any advice on clothing to pair with the jewelry - simple tops/one color as jewelry is bold?
I always like to tie my enamel pieces back to the outfit I'm wearing-- this collection features browns, caramel, gold, and cream tones, so I would suggest pairing with more neutral outfits.
What is next for you? Are you designing any new collections now?
I'm always thinking of the next collection or piece that I want to design, and we have a lot of exciting new things coming this summer, so stay tuned! But right now, I'm excited for everyone to get a sweet taste of the More is More jewelry collection and show us how they indulge in the layers.
How can we purchase some of the More is More Collection?
The More is More Collection can be purchased in store at Stephanie Gottlieb Fine Jewelry or online at stephaniegottlieb.com/collections/the-more-is-more-jewelry-collection through December 31, 2023.