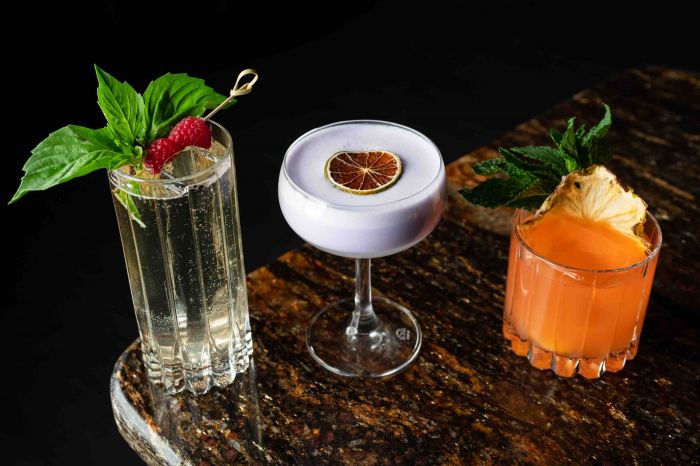 Shaena Engle
Here's what's happening this month in Los Angeles.
TAO Celebrates Women's History Month with Special Cocktails
TAO Los Angeles will be celebrating Women's History Month with specialty cocktails inspired by some of history's most remarkable women. Beginning March 8, and through the end of March, the cocktails will be offered throughout the country. One dollar from each cocktail will go to local charities supporting women.
BOA Burger+ Launches New Menu Items
BOA Burger+, from BOA Steakhouse, has launched new menu items including their Nashville Hot Chicken, Wagyu Hickory Smash Burger, Dry Aged Truffle Burger and BBQ Salmon Burger, as well as delicious Parm Tots, , all available on Postmates, Doordash and Uber Eats from their locations in Midcity, West Hollywood and Santa Monica.
Good Eggs Pop Up in Santa Monica
Good Eggs is hosting a pop up on Santa Monica's Main Street at the California Heritage Museum on March 4 from 11am to 6pm. The event will feature free bites from local organic food producers and fun activities.
Wallis Presents Bedtime Stories
The Wallis Annenberg Center for the Performing Arts is presenting the URLAND production of Bedtime Stories from March 24 through March 26. Taking its inspiration through radio plays, the production celebrates the art of the voice, with tickets $40 and up.
U Street Pizza Offers New Lunch and Happy Hour Menu
Available Tuesday through Sunday from noon to 3pm, U Street Pizza in Pasadena is offering square slices of their famous pizzas. They are also offering an Old Town Happy Hour from Tuesday to Thursday from 4 to 5pm with $10 cocktails, $8 glasses of wine and $5 local beers.
Corner Bakery Offering Vegetarian Dishes
Lent is quickly approaching and Corner Bakery is offering a variety of vegetarian dishes to satisfy every appetite. Choose their yummy Tuscan Grilled Cheese or Avocado and Spinach Breakfast Wrap, all at Corner Bakery locations.
Slab Offers March Madness BBQ Package
Slab is offering a March Madness package, orders starting March 11 for March 15 through 27, including smoked chicken wings, tacos, sliders and more. Order at exploretock.com/slabbarbecue.
Thistle and Outdoor Yoga SF Host Community Yoga Event in Santa Monica
Thistle and Outdoor Yoga SF will host a community outdoor yoga event on March 17 from 5:15 to 6:45 at Tower 15 at Will Rogers Beach. Appropriate for all levels.
SodaStream Releases New PepsiCo Flavors
SodaStream has released new PepsiCo flavors including Pepsi, Pepsi Zero Sugar, Diet Pepsi, Sierra Mist and Sierra Mist Zero Sugar. All available now for $6.99 at retailers across California and on www.sodastream.com.
El Torito and Acapulco Offer Pi-Day and St.Patrick's Day Specials
El Torito is offering house margaritas for $3.14 on Pi-Day, March 14 and, along with Acaapulco restaurants, will be offering a special Shamrock-a-rita, a Cadillac margarita with Midori liqueur for $12 between March 14 and 20.
Black Tap Offers St. Patrick's Day Specials
Black Tap will be offering a Reuben Burger wiith prime beef, Swiss cheese and sauerkraut ($24) and a Lucky Charms shake (12) for St. Patrick's Day
Dunkin' Offers Spring Menu
Dunkin' has launched a new Spring menu including a salted caramel cream cold brew, latte and Shamrock Macchato. Guests can purchase a special $3 Salted Caramel Cream Cold Brew or Latte through March 22.
Del Taco Introduces New Menu Items
Del Taco has launched a few new menu items including a new stuffed quesadilla jumbo shrimp taco and is also bringing back their crispy jumbo shrimp taco and crispy jumbo shrimp burrito.
Piccalilli and Paradis Offer Vietnamese Coffee Toffee Date Cake Ice Cream
Culver City Cali-Asian restaurant Piccallili has teamed with Paradis Ice Cream for a new ice cream flavor, Vietnamese Coffee Toffee Date Cake, which will be available at Piccalilli and all Southern California Paradis locations from march 14 through March 25.
Peninsula Beverly Hills Appoints New Chef
The Peninsula Beverly Hills has appointed Ralf Schlegel as new executive chef for The Belvedere and Roof Garden restaurants.
Celebrate National Riesling Day
National Riesling Day is March 13 and you can celebrate with Clean Slate Riesling, a German Riesling with fresh peach flavors, at $12.
R6 Distillery Teams with Bottle Logic Brewing for Beer Whiskey
R6 Distillery has teamed with Bottle Logic Brewing to produce a Bourbon-influenced beer that was sued to make whiskey, aging it in New American Charred Oak & Rye barrels. The Bottle Logic team also created a mocha-inspired sweet stout. The special release whiskey is available for purchase, $65 at R6 Distillery in El Segundo.
Bindi Offers Cubist Styled Desserts
Bindi, the Italian frozen dessert company, has launched double chocolate cube, almond twirl and geometric chocolate and pear cubist designed desserts.