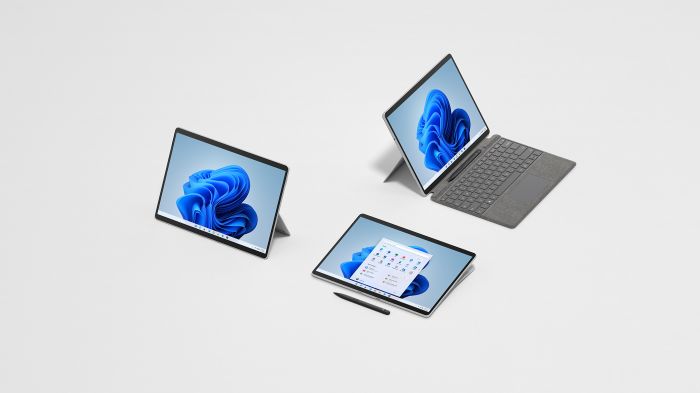 Microsoft
The 2021 release of Microsoft's Surface Pro 8 represents the biggest upgrade to the category-defining tablet since 2014. The sleek chassis designhas been revamped to match the more modern-looking Surface Pro X, with rounded corners, slimmer bezels and a shift from magnesium to aluminium for the body. It is 116g heavier and 0.8mm thicker than the Surface Pro 7, but looks and feels great. The best-in-class detachable 2-in-1 design remains unchanged, and when paired with the improved 11thGeneration Core i7 'Tiger Lake' processor (and the advantages of Windows 11), this tablet can serve as a true laptop replacement.
Performance
The Pro 8 contains new 11th-generation Intel Core i5 or i7 chips, which are 10%-15% faster than previous models in benchmarks and equivalent in performance to the Surface Laptop 4.
Microsoft have upgraded the cooling system, which requires the fans far less frequently than previous versions, which keeps the machine silent for most of the time – a welcome improvement.
In terms of connectivity, Microsoft has furnished the Pro 8 with two USB/Thunderbolt 4 ports, which is a big, modern upgrade for connecting to displays, high-speed drives and docks, as well as charging.
A useful feature of theSurface Pro 8 is that it is equipped with a removable SSD hidden under a flap at the back of the machine, which means you can upgrade the storage after purchase, although Microsoft states it should only be replaced by technicians.
Battery life remains comparable to earlier models with about seven hours of work between charges. Charging time is swift: the tablet charges fully in just over 90 minutes, reaching 50% in around half an hour using the included Surface Connect power adaptor. It can also charge from the Thunderbolt ports.
Design
The past few iterations of the Surface Pro hadn't seen much physical design change, but some noteworthy alterations appear with the Pro 8. In terms of size, the device is comparable in its overall footprint to the Pro 7, and both are exceedingly compact and portable machines. The built-in kickstand is the benchmark for these types of devices, and that remains true here. The hinge can be stopped at any point along its sway range (which is not new here, but was a big improvement over the fixed-point hinge in the original Pro), while the kickstand is stable and wide enough to make the system sturdy, at least on a desk or surface.
The key difference is that the chassis in the Pro 8 is made of recycled anodized aluminium as opposed to magnesium alloy – an example of Microsoft employing more environmental design. The Pro 8 has a more modern, rounded appearance than its predecessor, and feels sturdy and premium. Combined with the larger display, the Pro 8 is a more aesthetically pleasing machine overall. Besides the shape, Microsoft has made several upgrades.
First, the Pro 8 comes in two colourways: the traditional Platinum, but also a new Graphite scheme, which looks black in certain lights, but it's more of a distinguished grey.
Second, the new display bezels make a big visual impact. Those familiar If with previous Surface Pro devices, will notice instantly how much thinner the bezels are on the Pro 8: there is significantly more screen real estate on the Pro 8. A foretaste of this update was provided in the guise of the slim Surface Pro X, a Qualcomm-silicon-based device that offered a more modern design, which the Pro 8 emulates, and surpasses in terms of performance and software. Just as on the Pro X, the thinner bezels make a bigger difference than you may expect. Thick bezels have rapidly become synonymous with older tech—nearly every smartphone, monitor, and laptop has adopted minimal (or no) screen borders. The Pro 8 therefore looks much more modern than the Pro 7, in addition to the resultant larger display. Speaking of the display, it is a huge boon on this device: a sharp and pixel-dense screen (dubbed "PixelSense" in Microsoft parlance). The slimmer bezels allow for the screen itself to be larger than the Pro 7's (despite the similar overall size), measuring 13 inches against the previous 12.3 inches. On a small device, that much additional screen area is significant, and makes working with multiple windows easier.
The third improvement is a boost to a peak 120Hz display refresh rate versus the standard 60Hz. Refresh rates above 60Hz are generally reserved for gaming laptops, but other devices (including many smartphones) have also adopted higher refresh rates. Scrolling, web browsing, and digital drawing all look smoother when the screen is refreshing more frequently, so this is a big plus for a tablet with a roomy touch screen and a compatible pen. It should be noted that 60Hz is the default setting (for battery-saving purposes), but it can be changed to 120Hz in the Windows 11 display options. In summation: the display is bright, looks impeccably crisp, and features 10-point touch. The screen of the Surface Pro 8 makes use of Windows' GPU ink acceleration for drawing and is compatible with the new Surface Slim Pen 2, which is helpful for professional-grade creative work.
Finally, the connectivity is significantly better than in previous models. The Surface Pro formerly featured no USB-C ports, but one USB-C was finally added with the Pro 7. The Pro 8 includes two USB-C ports, both boasting Thunderbolt 4 support for faster throughput.
Carmera upgrade
The Pro 8 features upgraded webcams: a 5-megapixel front-facing 1080p camera (with 1080p video support), and a rear-facing 1080p camera (with 4K video support). Microsoft asserts camera improvements for picture and video-meeting quality, such as dynamic color adjustment based on room lighting, better low-light performance, and improved face focus in the case of a strong background light source. As the pandemic era of increased remote work and Zoom calls has made abundantly clear, most laptops have unremarkable 720p webcams. The Pro 8's enhanced camera quality stands out: the image is very sharp, and is a genuine benefit. The front-facing camera also includes Windows Hello support for fingers-free logins. There is also a good 1080p standalone USB webcam, which focuses smartly on the face, maintaining consistently high detail, performing well in low lighting, and doesn't get blown out by a bright background source like a ceiling light.
Keyboard and Pen
The Pro 8 tablet is only half the equation, and a new detachable keyboard launches with the Pro 8, namely the Surface Pro Signature Keyboard, which is firmer and flexes less when you type than its predecessor. The trackpad is enlarged, and the keyboard is still excellent. It should be noted that previous keyboards are not compatible with the Pro 8: only the Signature Keyboard and the Pro X's keyboard are cited as compatible keyboards for the Surface Pro 8 on its product page.
The new Slim Pen 2 is one of the best in its class: precise, with a very low latency, and a great feel when used alongside Window 11. The stylus has a small vibrating motor in it, which activates when you drag it across the screen to mimic the sensation of pen-on-paper. It won't miraculously confer artistic talent, but it really adds to the experience of drawing or writing on glass. Some apps can make the pen feel like it is clicking, too, when you activate certain functions or menus.
The Slim Pen 2's haptics only work in apps that support it, such as Microsoft's Word, Journal, Whiteboard and PowerPoint, Adobe Fresco and a small handful of others so far.
There is a nifty new design feature in the Signature keyboard: pull it away from the tablet to reveal a concealed magnetic charging and storage slot for the Slim Pen 2. It's a neat solution to the perennial problem of where to store a stylus when not in use.
Windows 11
The Pro 8 runs the new Windows 11, which is the same as the Go 3 tablet, but is much snappier because of the faster chips. Windows 11 provides synergistic benefits, and is a better fit for a tablet, with a more touch-friendly interface and significantly improved touchscreen keyboard and pen combability.
Those transitioning from Windows 10 will find it mostly works the same with a few design changes such as the central Start menu.
Price
The Surface Pro 8 starts at £999.00 ($949.99) with an Intel Core i5, 8GB of RAM and 128GB of storage and is available in a variety of memory and storage combinations. Versions with the Core i7 chip start at £1,445.00 ($1,399.99).
The Surface Pro Signature Keyboard costs £159.99 ($179.99) by itself, or £259.99 ($279.99) with the Slim Pen 2.
Specifications
Screen: 13in LCD 2880x1920 (267 PPI) 120Hz Processor: Intel Core i5 or i7 (11th generation) RAM: 8, 16 or 32GB Storage: 128, 256, 512GB or 1TB Graphics: Intel Iris Xe Operating system: Windows 11 Home Camera: 10MP rear, 5MP front with Windows Hello Connectivity: Wifi 6, Bluetooth 5.1, 2x Thunderbolt 4/USB-4, headphones, Surface Connect Dimensions: 287 x 208x 9.3 mm Weight: 891g (without keyboard)
Conclusion
The Surface Pro 8 is Microsoft's best tablet PC to date, adding some innovative and meaningful upgrades to an already winning formula.
The sleeker, more solid design both looks and feels fantastic. Beyond aesthetics, on a practical level the larger, superior screen with smaller bezels enhances productivity. The device contains the latest Intel chips, runs much more quietly, and features Thunderbolt connectivity for docks, drives, displays, and much more.
Battery life is sufficient for a day of work, and the removable SSD and 120Hz display are excellent enhancements.
For those in the market for a versatile and compact Windows 11 device that can transform from a laptop substitute to a creative tablet in a moment, the Surface Pro 8 is unsurpassed.
To purchase, please visit Microsoft.com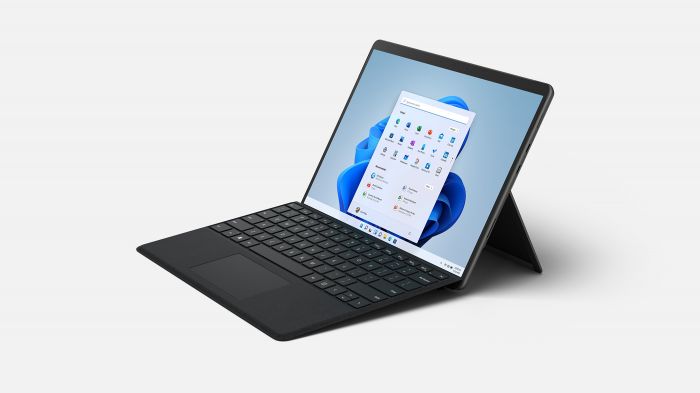 Microsoft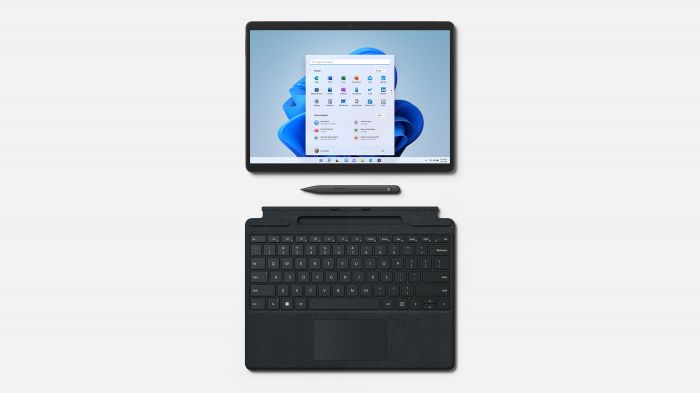 Microsoft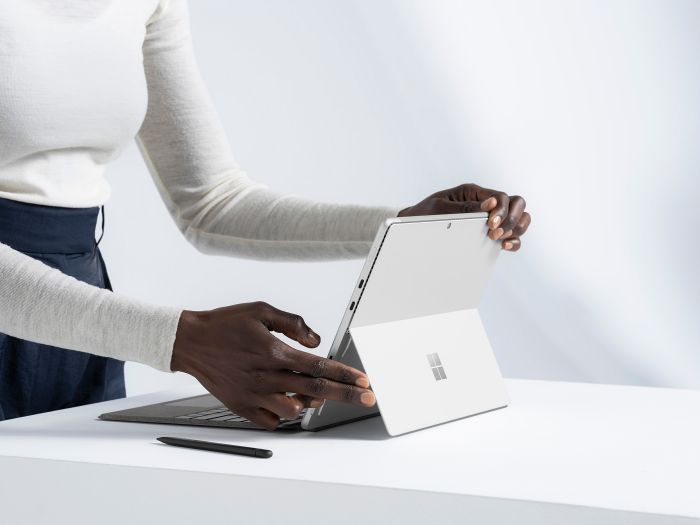 Microsoft