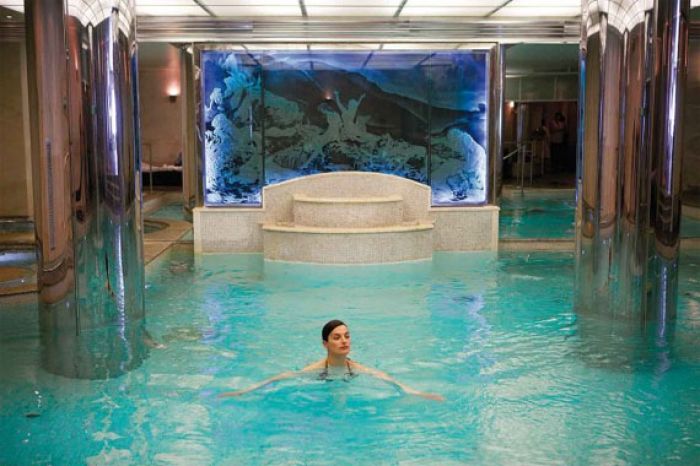 Picture lying on a chaise lounge atop a terrace overlooking the Mediterranean. To the right is the Principality's palace. The nearby marina teems with sparkling white yachts as a fleet of boats with fuchsia sails crisscrosses the harbor. Muted city sounds are the only reminders that life exists beyond these pampered confines.
Is it paradise? No, it's much more. It's Monaco. The establishment is Les Thermes Marins de Monte-Carlo – a seawater spa situated in the center of this exclusive enclave tucked between the sea and the Alps. 
At 60,000 square feet, it's one of Europe's largest spa facilities. Composed of pink marble and clear glass, it's light filled – many of its rooms overlook the sea. Spread over four floors, it features wet and dry treatment areas, two seawater swimming pools, spa restaurant, a fitness center and beauty center. 
If you consider its location, you expect the best. It's in the midst of a fairytale landscape and is only steps from the Casino de Monte-Carlo – a longtime haunt of high rollers. Expectedly, the spa is accustomed to discriminating and sometimes demanding clientele. This credential translates to a jet set experience for any spa-goer.
The spa's mantra is, "Care for someone you have long neglected: yourself." This is reflective of European logic – one that counters many a North American's conviction that a spa visit is an extravagant indulgence. 
"In Les Thermes Marins de Monte-Carlo, the physique, physiology and psyche are not treated separately. In the same spirit, we do not simply 'sell' massages or hot baths," explains the philosophy. The spa team includes a cardiologist, physiatrist, chef, dietician and a team of marine therapy specialists (capitalizing on the therapeutic value of Mediterranean seawater).
"It's as essential as a doctor's visit," I tell myself as I slip into my robe and slippers. My treatment is the Maxi Mineral and my technician is a friendly, French-speaking specialist. She escorts me to a tiled room and we easily communicate through her minimal English, my minimal French and our mutual charade tactics.
The treatment begins with a rigorous body scrub consisting of coarse Dead Sea salt crystals mixed with essential oils. The technician quickly and efficiently presses and rubs these crystals into my skin in the direction of "energetic circulation". It's invigorating. 
A lather of Dead Sea mud (heated to skin temperature) follows. I'm then swaddled in a heated wrap. Its purpose is to discharge my body's toxins. 
After rinsing the mud from my body in the in-room shower, I return to the dry and comfy table for a massage with a rich body lotion. They call it re-mineralizing milk but the consequent results are the same – soothing, satisfying, soul-replinishing. 
My assessment of the Maxi Mineral? While stimulating, it has substantial benefits. Among them, I'm told, are anti-tiredness, anti-aging, elimination of dead cells and improvement of skin texture.
In further exploration of the spa, I enter the fitness center. Its floor-to-ceiling windows frame the Mediterranean – making a workout look especially appealing. A tall, tan, athletic fitness expert approaches me, "We specialize in weight loss." His tips: moderate aerobic activity (speed walking opposed to jogging) and exercise on an empty stomach. I make note of this advice – for my home workout routine
Decisions, decisions . . . Monte Carlo Star Massage, Lymph Draining, Bodysculptor? But after weighing an additional spa treatment versus the sightseeing option, I walk through the front door onto the streets of Monaco. My dilemma: I want to experience it all.   
The Principality's additional lures:
~ Casino de Monte-Carlo – An international favorite of high-stakes gamblers, evidence of its clientele's net worth is parked at its front door – Rolls-Royces, Ferraris, Mercedes-Benz limousines. There's a dress code and an admission fee to visit this casino, which is as known for its belle époque architecture and bejeweled patrons as it is gaming.
~  Le Louis XV – Located in the historic Hotel de Paris, a dining experience at chef Alain Ducasse's restaurant is a must for the bon vivant.  But should a meal at this three-star Michelin rated eatery not be in the budget, cross the hotel lobby for a cocktail at the American Bar – it's purported to be the hottest bar scene in town.
~ Musee de l'Oceanographie – Found near the palace (across from Princesses Caroline and Stephanie's homes) this museum/aquarium, featuring some of the world's rarest fish, was once headed by Jacques Cousteau.
~ Palais du Prince - Perched atop the Rock of Monaco and overlooking the sea is the homeFor information on Les Thermes Marins, go to www.montecarloresort.com.  For general Monaco information, visit www.visitmonaco.com.