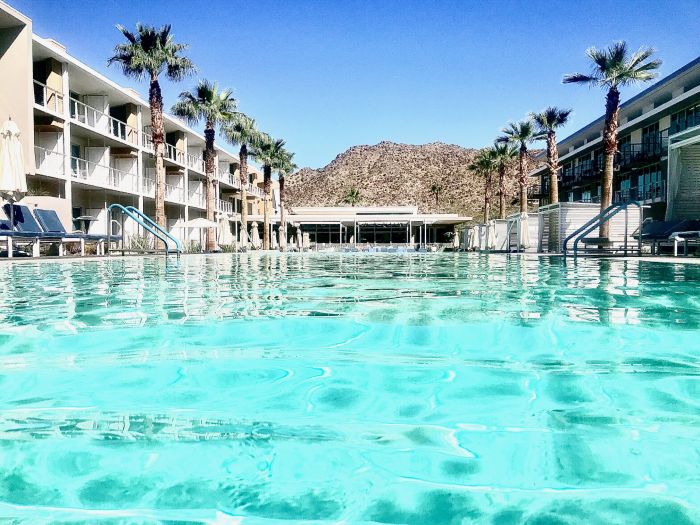 Jill Weinlein
On May 24, 1961, Paradise Valley officially became an incorporated town outside of Phoenix and Scottsdale, AZ. Surrounded by serene majestic desert scenery, the area offers one of the best qualities of life. Mostly a high-end residential community, the town's inhabitants continue to preserve the area's natural beauty and ensure every business makes a positive impact.
"Paradise Valley only has 9 resorts, while neighboring Scottsdale has 70 hotels." said Kristin Heggli, Director of Public Relations at Mountain Shadows Resort. "The iconic resort opened in 1959 and was a popular Hollywood hangout for sun, golf and relaxation." Sadly it closed in 2000 and later was bulldozed. The land was divided into three parcels and Westroc Collection (Valley Ho and Sanctuary Camelback Mountain) secured one of the parcels and rebuilt the resort with traces of the past. It doesn't look like the original mid-century modern Mountain Shadows, instead the developers built a beautiful modern desert oasis with hints of the past featuring artistic cinder block walls, the name of Heath 61' restaurant and a butterfly roof near the pool area.
Guests experience thoughtful hospitality, luxury modern guestrooms and one of the most beautiful desert views.
It's an ideal Spring Break drive for those who have canceled their air travel plans. According to Heggli, "Mountain Shadows upholds the highest standards of cleanliness."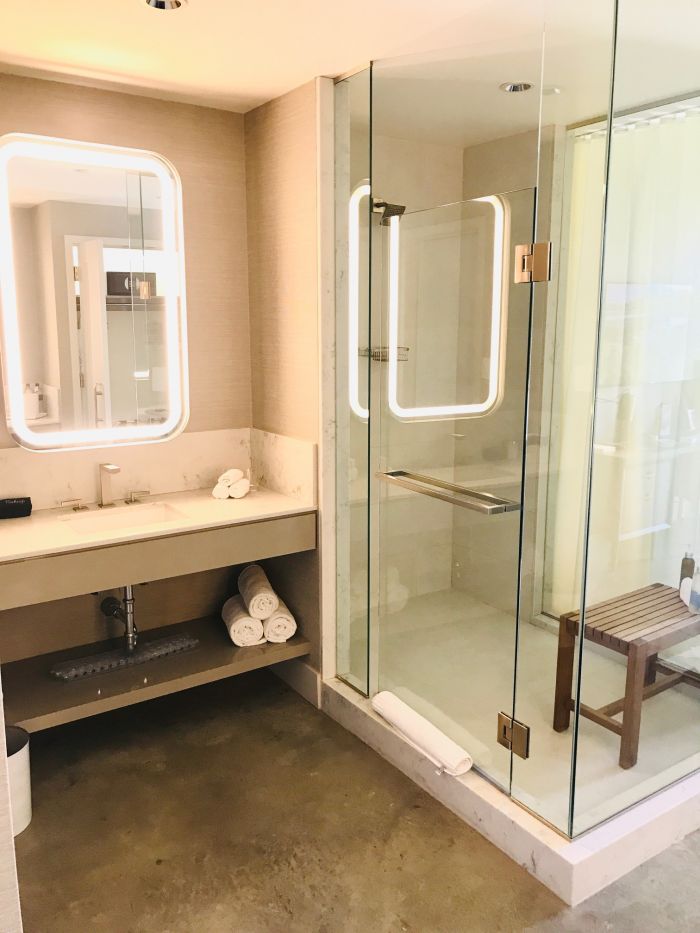 Jill Weinlein
Guests staying in Room 130 enjoy a modern, open and unique layout featuring an open bathroom. Concrete flooring, grasscloth wallpaper walls, privacy curtains and custom furnishings include a king size bed with luxury bedding. The closet offers two plush robes, two slippers and a personal laptop size safe. There is a built-in workspace, bar with a rolling cocktail cart, and a variety of gourmet snacks and beverages.
All the first floor guestrooms are light and bright due to soaring cathedral ceilings. Sliding glass doors lead out to a large outdoor patio with a lounge chair, table and two chairs.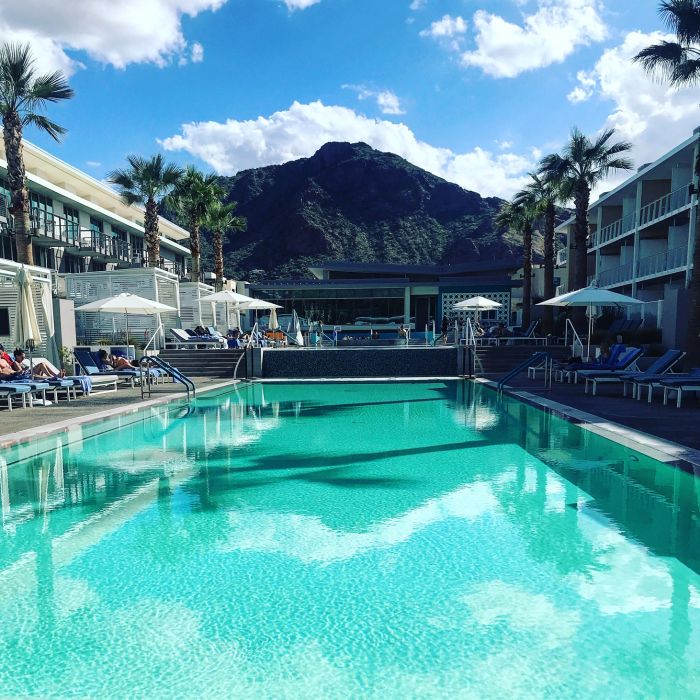 Jill Weinlein
The center of the resort features two 75-foot heated pools lined with towering palm trees. The pools are connected by a waterfall feature, and each side of the pools has comfortable lounge chairs and private cabanas for rent. Cabanas include plush lounge seating, a television, chaise lounges and bottle service.
The upper pool deck offers a large hot whirlpool and fitness center with picturesque views of Mummy Mountain.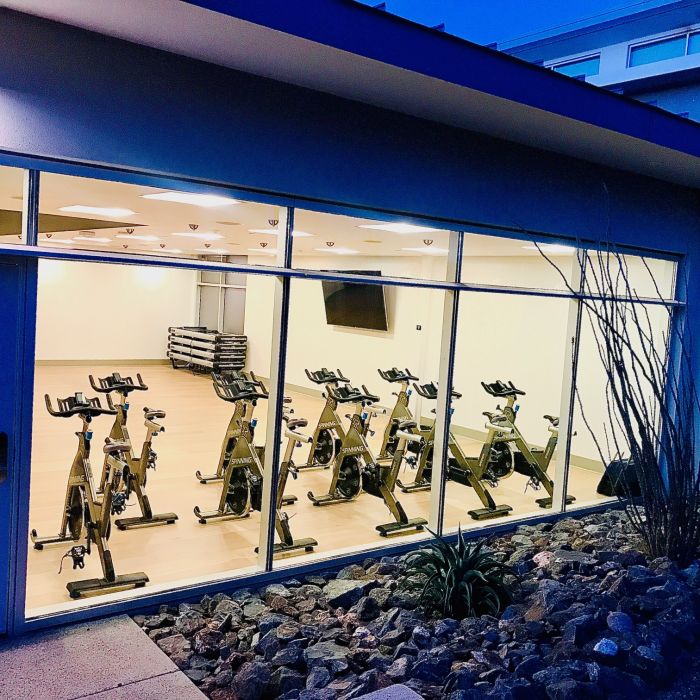 Jill Weinlein
The mid-century modern design fitness center with a butterfly roof offers a 4,000 square-foot building filled with equipment and classes to enhance wellness while on vacation. Besides free weights, kettlebells, bicycles and TRX suspension, there are a range of high-tech Precor machines.
Outdoor activities include a guided photography hike from one of the resort's fitness instructors. Guests hike and learn about the desert landscape while receiving a mini photography lesson.
There are two iconic mountains next to the resort offering trails and unparalleled views. The Cholla Trail offers a gradual ascent and hikes to the top of Piestewa Peak offer breathtaking views of the Valley and Sonoran Desert.
The resort's Tesla Model X courtesy car can take guests to nearby trailheads, so they don't have to worry about driving and parking while on vacation.
Jill Weinlein
A special package at Mountain Shadows Resort is their 'Birdies, Brews and Views' offering golfers the opportunity to sample craft beers while playing a round of golf on one of the 'Best Par-3 Courses in America' by Golf.com. This 18-hole course has been renovated from the original course built in 1961 by Architect Arthur Jack Snyder. The modern features offer challenging greens, slopes and views of the majestic Camelback Mountain. After beer tasting during your round of golf, enjoy a Birdie Club sandwich at Rusty's.
Other golf specials include a round of golf and your choice of two glasses of wine or beer, starting from $74 per person. For guests feeling a little rusty at golf, the resort offers a package that includes PING golf club rentals, a 30-minute lesson with our PGA golf pro, a meal with a beverage at Rusty's, a round of golf and a choice of a Mountain Shadows Resort Scottsdale golf hat, starting at $149.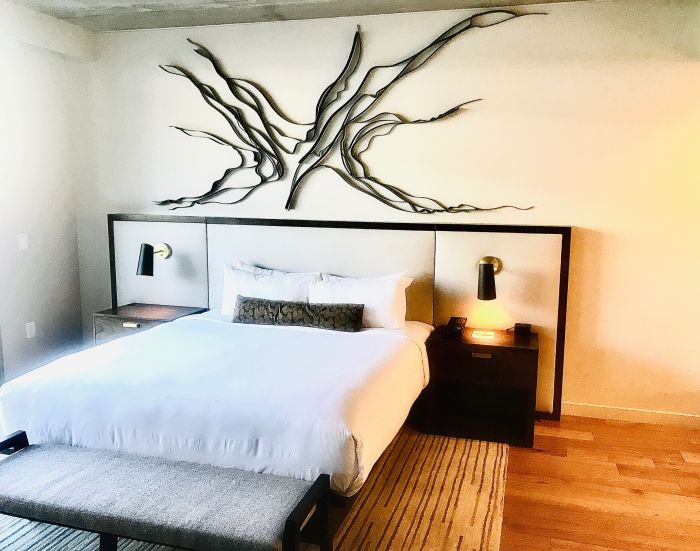 Jill Weinlein
Besides a luxe hotel, Mountain Shadows also offers a limited number of new studio, one, two and three bedroom luxury condominiums. Incorporated into the property, these are available for purchase starting at $800,000. Overlooking the pools and Camelback Mountains, according to Heggli, 'The Penthouse with a movie theatre and three bedrooms sold for $4.1 million.'
The wall-to-wall glass residences range from 1,000 to 3,370 sq. ft. Besides hardwood floors, the turn-key kitchen includes linens, granite and quartz countertops. There is a large wardrobe closet and grand bathroom featuring a glass shower and deep soaking tub. Furniture packages are available.
For those buyers purchasing a second home, there is a rental management program available with a revenue split.