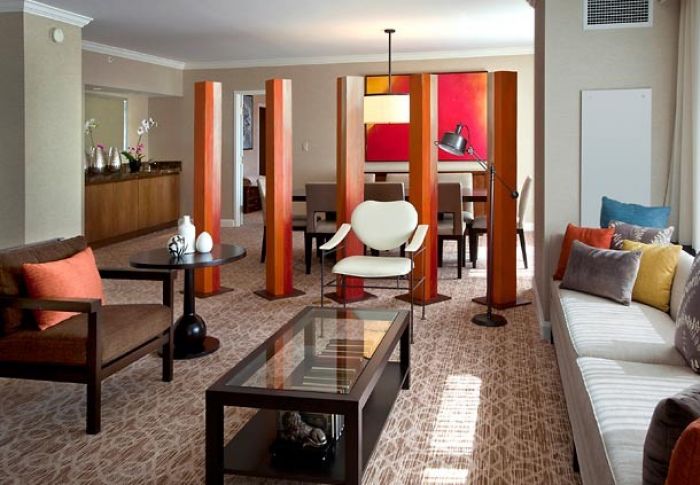 Courtesy of JW Marriott
Looking for the party of the year? The one that will knock your friends' socks off? Look no further than the offer at JW Marriott in Cherry Creek North. The New Year's Eve Private Party Package will have all you invite talking about it well into 2013, ringing in the new year in the luxurious Presidential Suite with views of Denver's fireworks shows across the skyline.
Priced at $3,000 (which breaks down to $750 per couple for the party of 8 people) the package includes the Presidential Suite as well as two King guest rooms on the same floor for the evening. Grey Goose Bottle Service and three bottles of high-end champagne will continue the celebratory atmosphere as your private party takes in the sweeping views of the Denver skyline, peppered with fireworks shows. Breakfast in the Concierge Lounge the next morning as well as a late checkout are also included, as well as valet parking for all four couples and Zaca all-natural patches to help recover from the several bottles of bubbly from the night before.
For a $500 per couple option, the JW Marriott Denver New Year's Eve Cherry Creek Style Package is another wonderful New Year's offering. The mountain-view rooms are a perfect way to watch the sun set on 2012 and enjoy a bottle of high-end champagne delivered to your room. Breakfast for two at Second Home Kitchen + Bar is included in the package, as well as valet and a late checkout on New Year's Day.
For a memorable New Year's celebration, JW Marriott in Cherry Creek North is the place to go. Whether booking the Presidential Suite or cozying up with your significant other in a mountain-view room, the walkable Cherry Creek North is an optimal New Year's hangout in this pristine Denver hotel. Visit www.jwmarriottdenver.com for reservations.