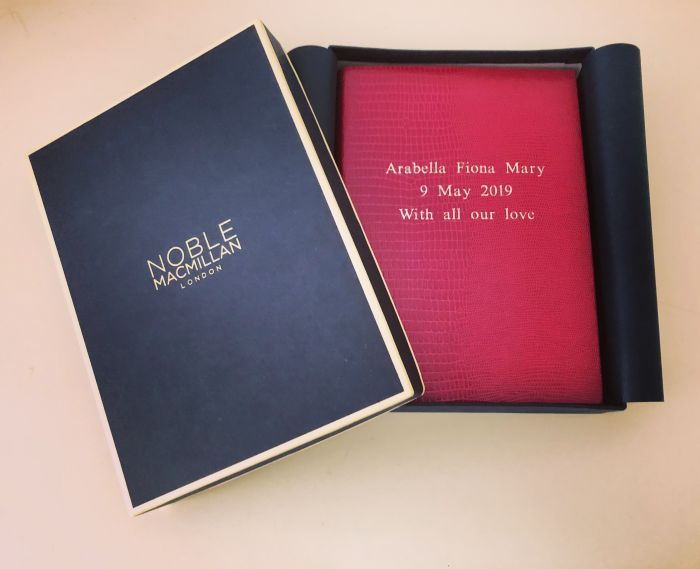 Elisabeth Rushton
One of my most treasured possessions from my childhood is my tatty baby book. It's nothing special to look at – just something my parents bought from WHSmith during the mid-eighties – but I still adore leafing through its pages and rediscovering the babyhood that I experienced, but of which I have virtually no recollection. When I had my own children, it was of immense importance to me that I create baby books that they could one day treasure for themselves.
My first daughter was born in 2017, and I purchased a baby book for her, which became a labour of love. It took me nearly two years to complete. To my dismay, the book began to fall apart as the spine was unable to cope with all of the photos that I had inserted.
With the imminent arrival of my second daughter in spring 2019, I determined to find a baby book that would not fall apart once I had finished it! My criteria were few, but specific; I wanted something bespoke, elegant, and also that was designed to hold the many photos with which I intended to fill it.
In my research I came across Noble Macmillan. The quintessentially British brand was started in the early 1980s by Tom Dodd Noble and Adam Macmillan, the grandson of former prime minister Harold Macmillan. Originally known for its leather photo frames and albums, the company now purveys a wide selection of games, accessories, stationery and other luxury gifts. The recent acquisition of 'Walter Newbury Binding', who have created beautiful books for over a century for politicians, royalty and film sets alike, means that the company's bespoke range is now even more extensive, and the turnaround time for bespoke items is remarkably rapid. The brand's emphasis is on old age craftsmanship, and it employs traditional skills including edge gilding, marbling, book binding and sewing to create its products.
I discovered that the shop premises, which remain in the original cobbled mews property that it started in, was just around the corner from my home in South Kensington, so I decided to pay a visit. As one enters through the door, the first thing one notices is the rich aroma of leather, closely followed by the glorious sea of colours created by our diaries, visitor's books and leather accessories. Look a little closer and one notices the high quality of the materials and the prices, which are eminently reasonable. I immediately found myself thinking about all of the friends and family members who'd love to pull the ribbon off a smart blue and cream box to discover a Noble Macmillan album, notebook, or travel wallet with their name or initials engraved on it. Books are hand-bound, thread sewn, and tooled with silver or gold leaf. Noble Macmillan uses the finest materials and craftsmen, whether it's in their workshop in Dagenham, bookbinders in London or in the Andalusian town of Ubrique – a place famed for the quality of its leather goods. The attention to detail is second to none.
I introduce myself to the delightful Molly St Johnston, who joined straight from university, having interned at the company during the holidays. She is passionate about Noble Macmillan, and her role within the company. As Molly observes; "we create albums, journals and books that hold a person's most precious thoughts and it's an honour for our job to do many of life's most important milestones justice". There is a very low staff turnover, she tells me (she has been there for five years already), and indeed Warren, the engraver, has worked for the brand for over 15 years. The longevity of job tenure speaks to the company's commitment to furthering the careers of its employees
Molly brings me the gorgeous pink Jubilee Baby Book that has been made especially for my new-born daughter, Arabella, presented in Noble Macmillan's signature blue and cream box. The company produces two baby books, which are identical in size and contents, but differ in outer material and price. The Jubilee Baby Book is £80, whereas the leather version retails for £110. Engraving on both is available for £5 for each character.
Molly explains that design is every bit as important as craftsmanship, and the team is young and forward-looking, so the range of leather accessories produced encompass both the conventional and contemporary in style, despite the fact that they are created in unashamedly traditional ways. Moreover, Noble Macmillan prides itself on combining old-fashioned courtesy with efficiency. If one is in a hurry, it is possible to personalise a present with a name, date, or message while the customer waits. For those unable to visit the London shop, quick delivery of goods is available instead.
Noble Macmillan's goal is to produce some of the most striking leather goods in the country, representing the best of British style without ever trying too hard. The shop is a true hidden gem in the heart of South Kensington. I urge you to pay a visit; you will be enchanted by what you find.
Noble Macmillan
9 Elvaston Mews
London SW7 5HY
020 7581 4178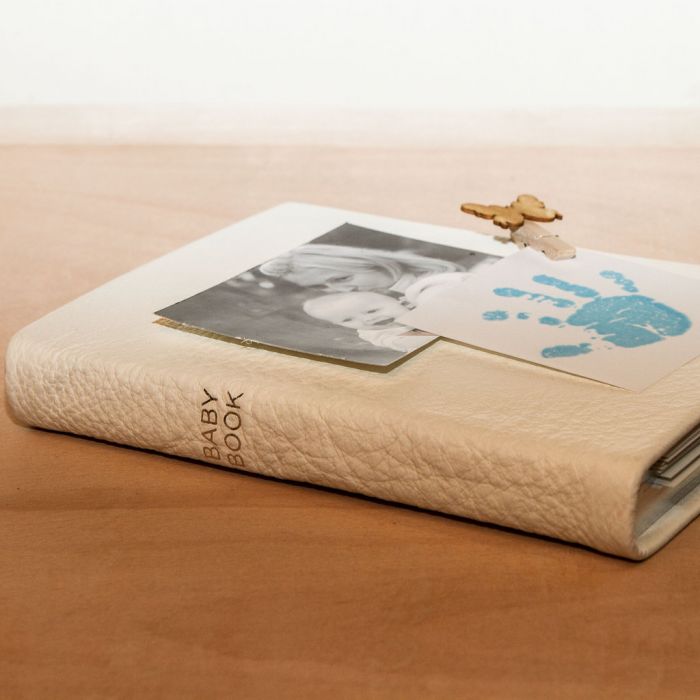 Jo McGivern
Noble Macmillan's leather Baby Book.