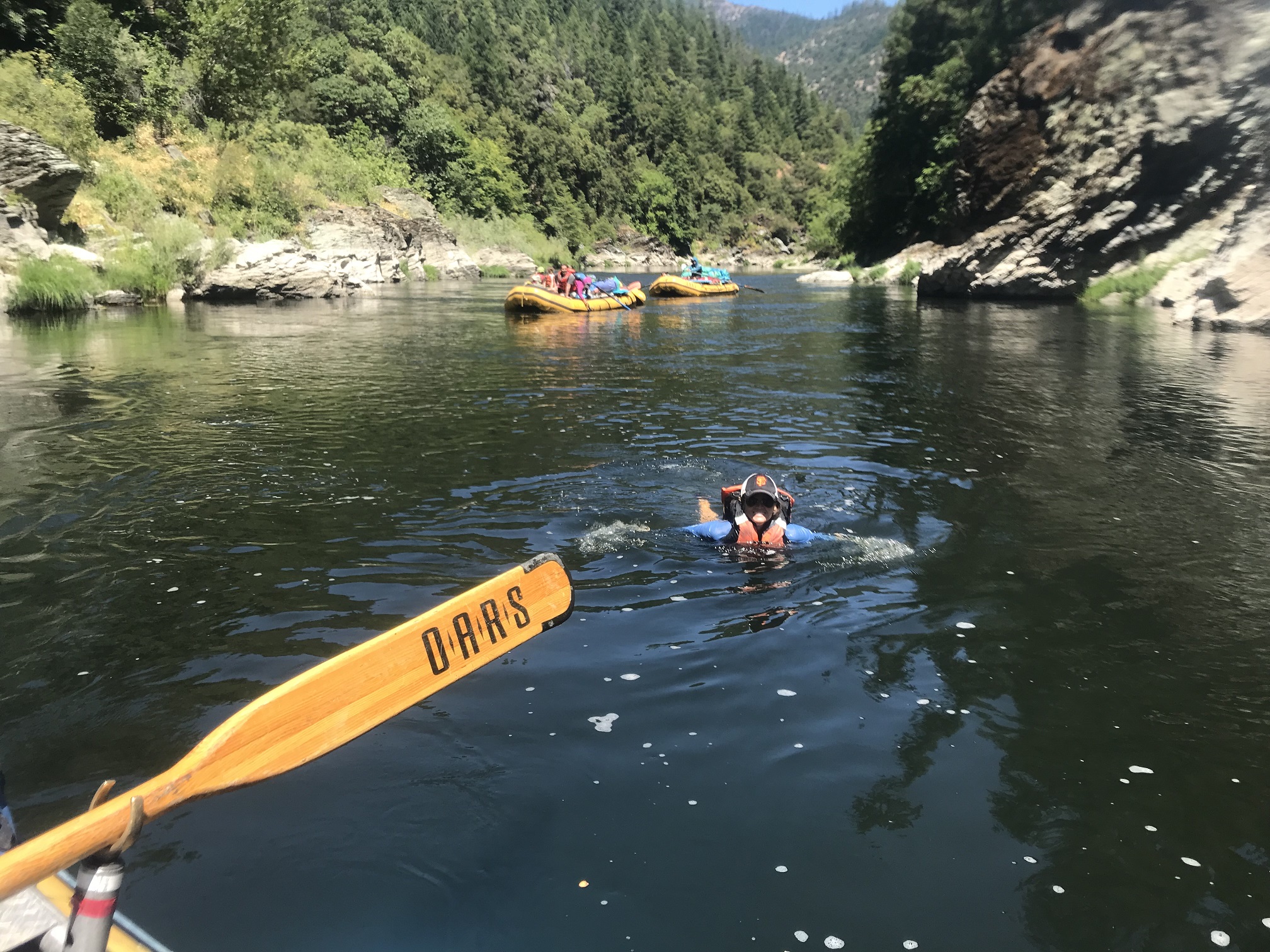 Cynthia Dial
Floating down the river seemed the peaceful finale to our two-night, three-day whitewater rafting trip in Northern California's Lower Klamath for myself, my daughter, Kathryn, and her son, 6-year-old Cassius, until our river guide, David, asked: "See that black head bobbing across the water? I think that's a bear."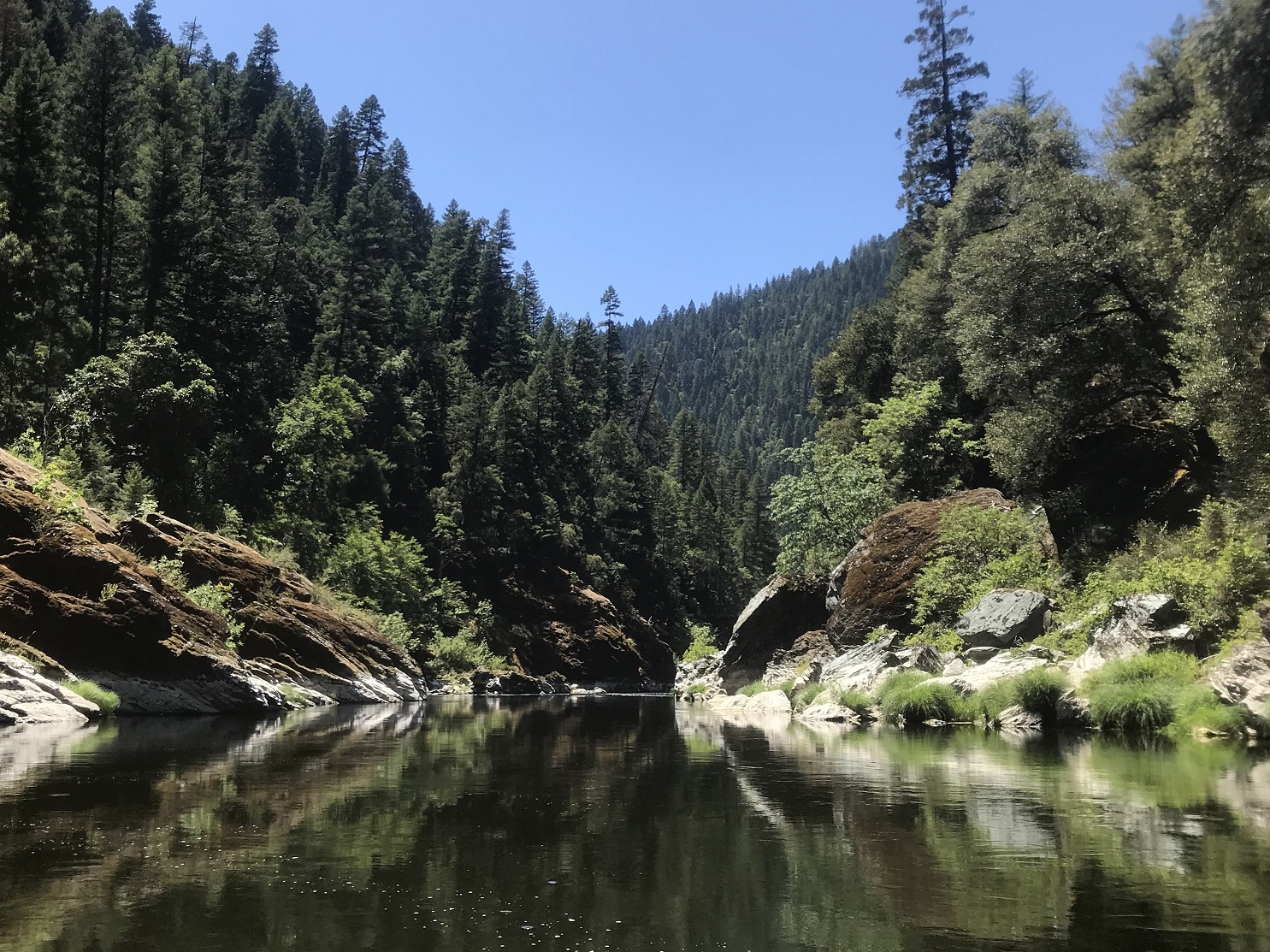 Cynthia Dial
In this case, background info is key to understanding the magnitude of this query. Since he was a little guy, Cassius has loved bears. He has a bear family of stuffed animals he puts to bed each night (one of whom was invited on this trip) and when asked what he wants to be when he grows up, the answer is consistently "bear protector."
Cynthia Dial
Thus far, we had seen deer bounding from the water and scrambling up the hillside, innumerable birds of prey flying to and from nests with their chicks' heads bobbing from within and fresh prints of assorted animals who visited during the night only steps from our tent. But no bears.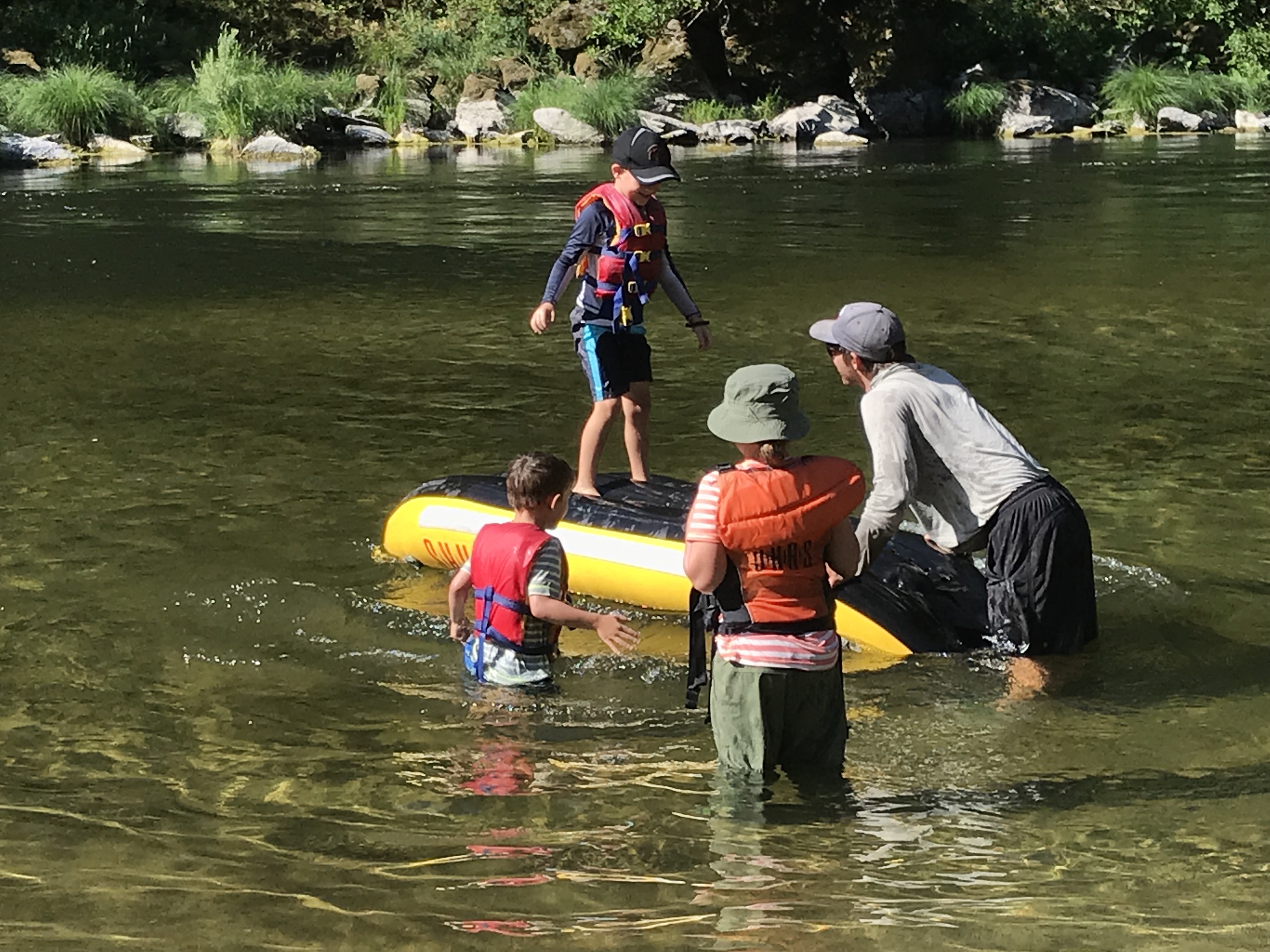 Cynthia Dial
This soon changed, however, for that "dark dot" was a bulky black bear sauntering from the river onto the shore and into the bushes beneath a towering tree – topped by a bald eagle. Less than an hour from our final take-out, this served as a beautiful bow on our OARS adventure cake. But let's backtrack to the beginning.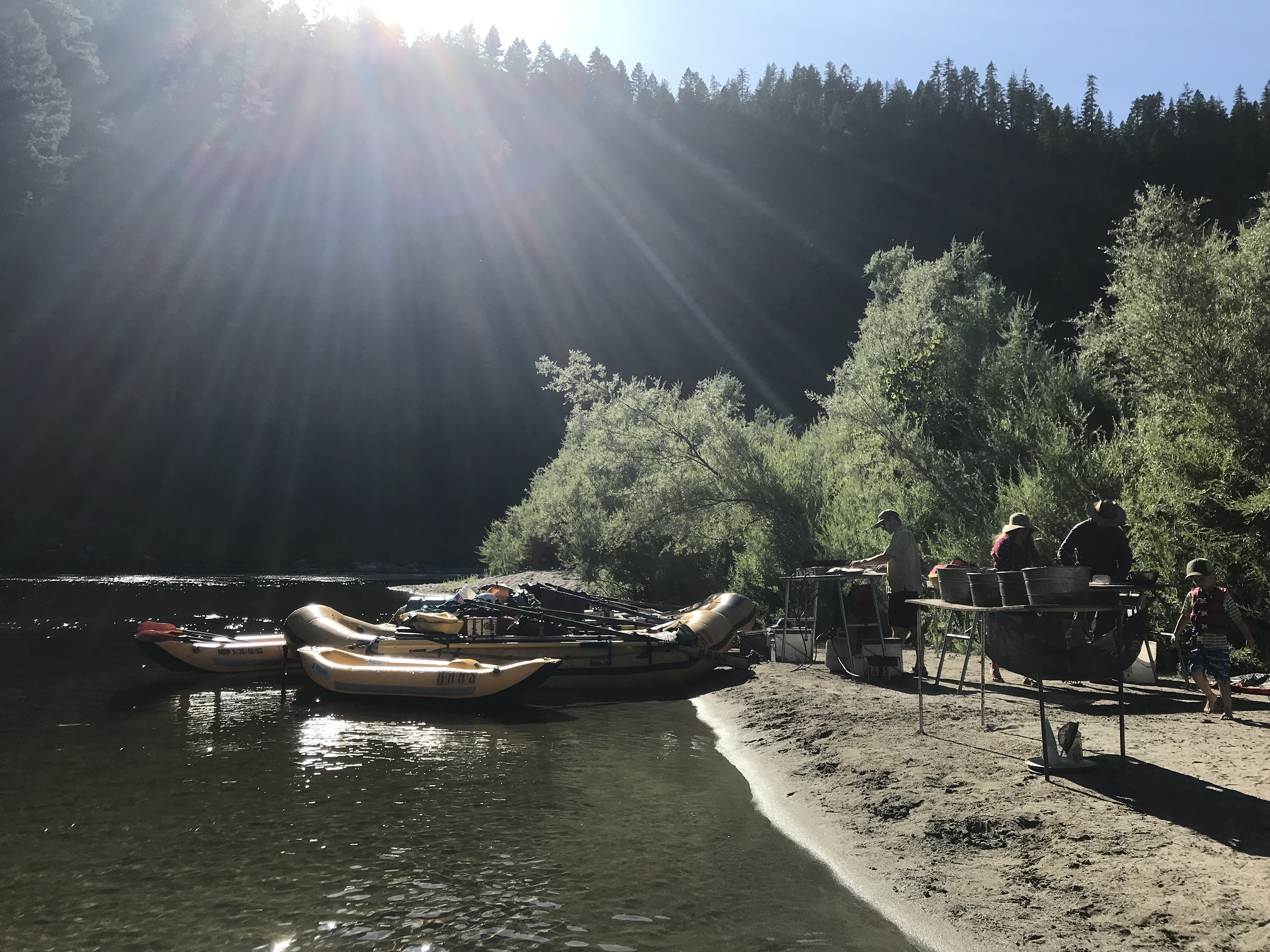 Cynthia Dial
Here's a bit of insight into our search for an activity with appeal to a trio of generations and a nod to the highlights of our three days on the river.
Day 1. Initially selected for its Class II experience that is interspersed with numerous rapids but is predominately along a warm, gently surging whitewater portion of California's second largest waterway, this OARS itinerary was tailormade for families with children four and older and rafting beginners (aka "me"). After meeting in the morning at Happy Camp (a tiny town about 70 miles west of Interstate 5 and just south of the Oregon border), we parked our cars, loaded our gear (a waterproof bag was available for our items) and climbed onto the shuttle to head about 18 miles upstream to put-in at Sluice Box.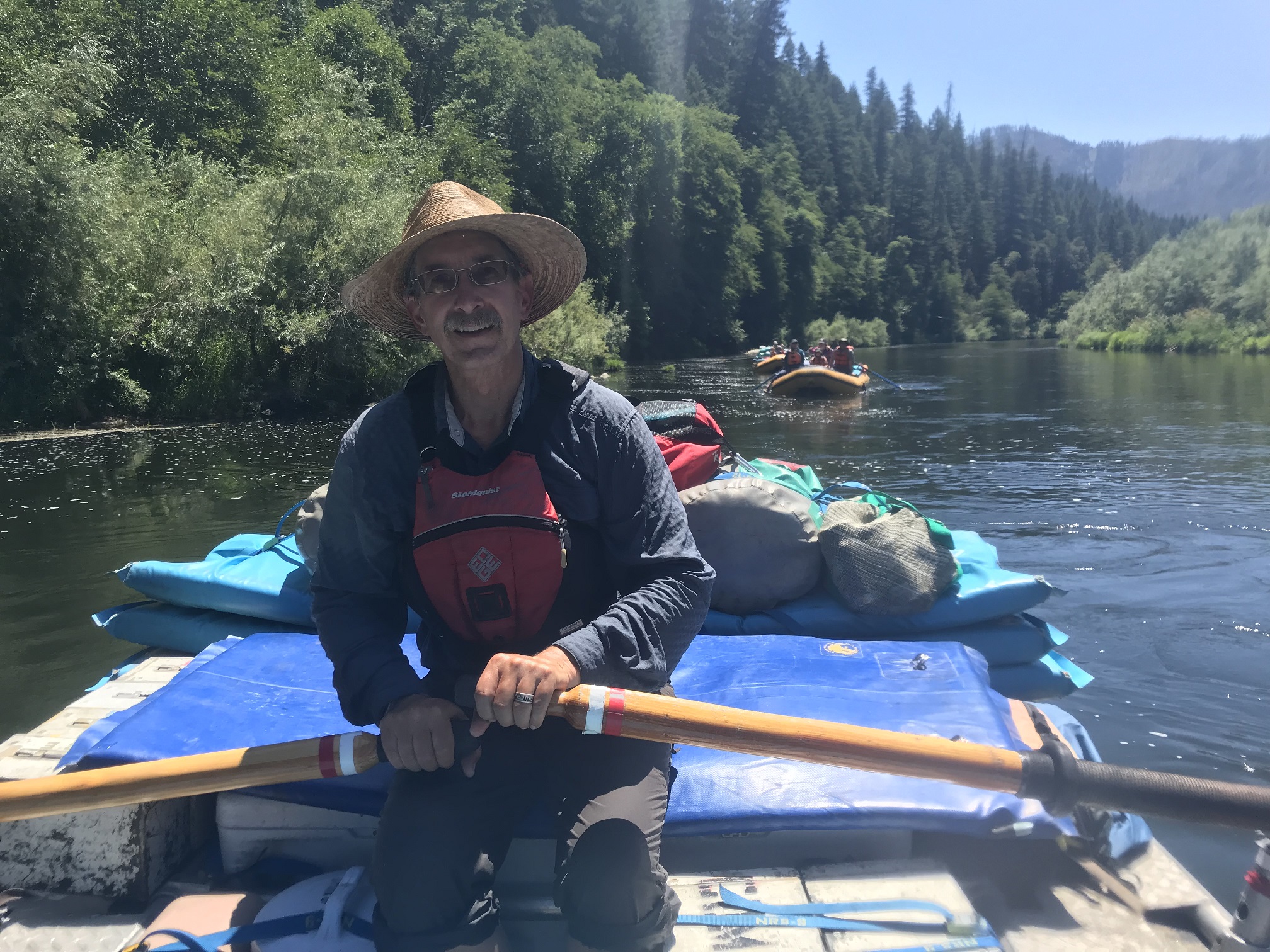 Cynthia Dial
In addition to our team of three, the players included Maggie and Mauricio Alonso with their children Elena (8 years old) and Lucas (5 years old), as well as the crew of David Dawson, lead rafting guide/5th grade teacher, Scout Sorcic, rafting guide/ski patroller/wilderness instructor and Casey Bateman, rafting guide/outdoor educator/teacher's aide. If the match-up of our guides' backgrounds with our group of two families including three children had been graded, it would have scored an A+. After displaying infinite patience during the safety tutorial, loading the three rafts with our gear and their equipment and attaching two inflatable kayaks, we were off. With our guides the sole pilots of this rafting expedition, our assignment was simple: sit back, relax and enjoy the scenery.
Cynthia Dial
Conversations are different on the water. There are no thoughts of rush hour or the cost to fill your car with fuel. It's simply such dialogue as: "When we round the next bend, look at the top of the tall tree located river right for an eagle's nest" and "See where the water begins to flow in a circular upstream direction? That's called an 'eddy.'" Our guides were in continual observation mode – reading the water, watching for obstacles and looking for the best down river route.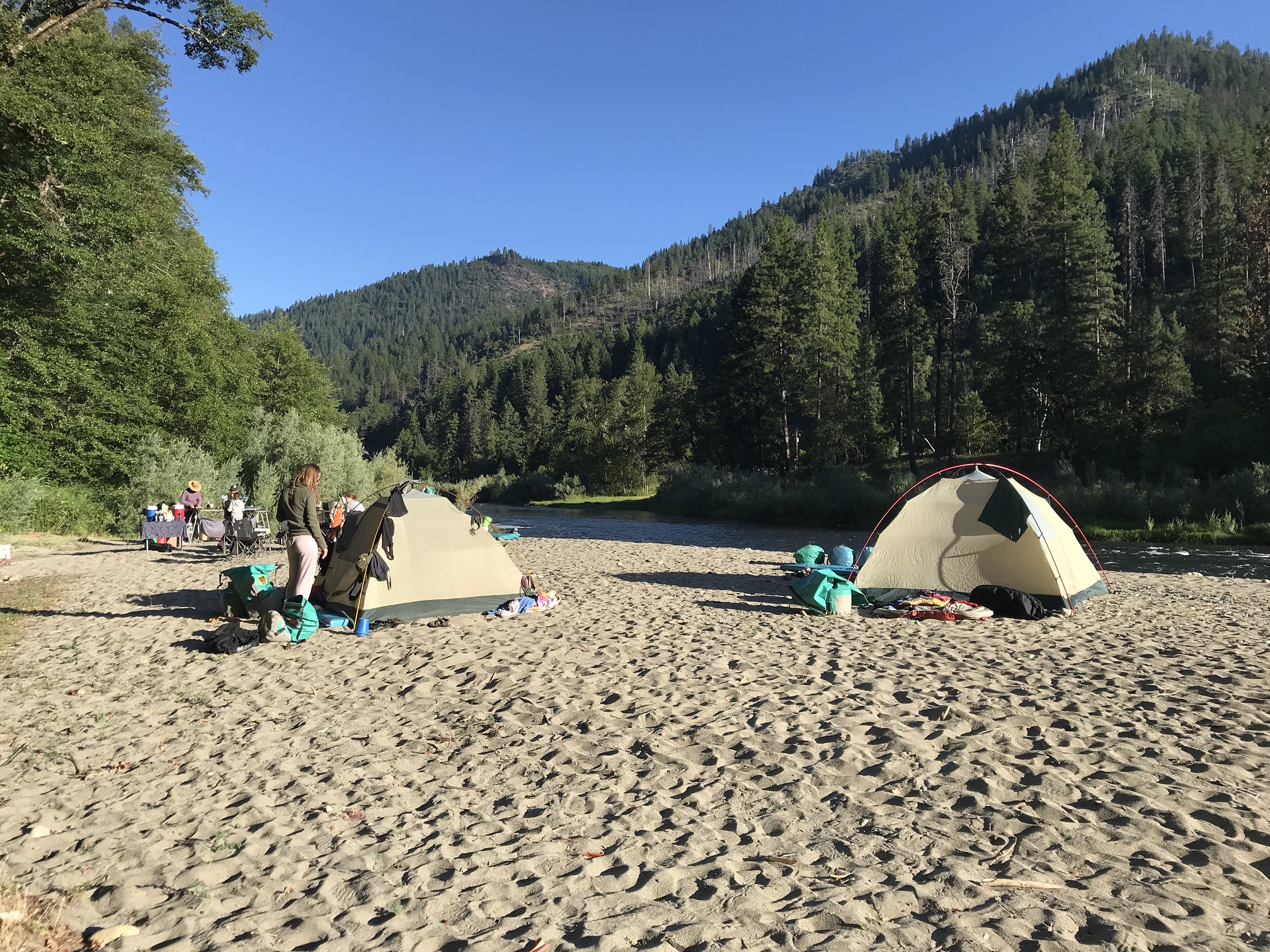 Cynthia Dial
As a non-camper/never-rafter, my concerns were more in the equipment arena. However, sleep kits could be rented (sleeping bag, foam pad, pillow, sheets, etc.), and if "easy" was my chosen descriptor after watching Casey demonstrate the tent set-up at the first night's camp, it was indeed easy.
Meals were delicious breaks, with hors d'oeuvres served before lunch and dinner. Lunches were spreads of cold cuts and cheeses, breads, pitas, veggies, hummus (with the option of peanut butter sandwiches for the kiddos, large and small), and always cookies. Dinners were more elaborate, like the first night's "surf and turf" offering. Consisting of salmon and steak, it ended with a chocolate fondue dessert served in a cut-out pineapple – all complemented by wine, beer, assorted beverages and as expected, good fun.
When we pulled into camp, the first order of business was for David to designate the campsite layout: "We'll set up the kitchen here, the seating area over there, you can pitch tents anywhere in this zone and the wash station/portable toilet area will be back there (always tidy, always private).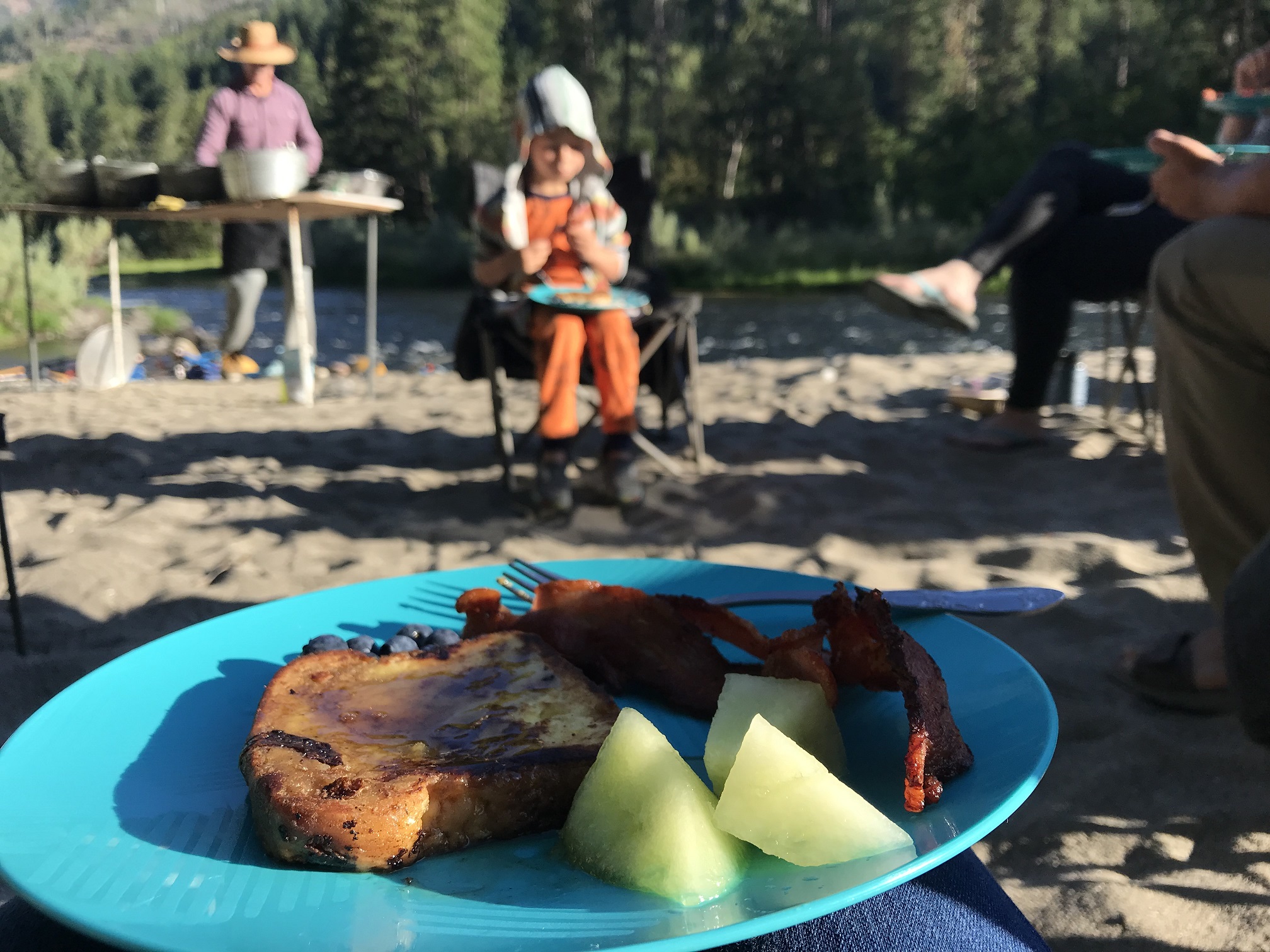 Cynthia Dial
Day 2. Waking leisurely to the smell of coffee (or tea), French toast and crisp, hot-off-the-grill bacon served as a silent and appetizing alarm clock. When serving the breakfast entree, Scout asked, "Do you prefer lemon-flavored or regular French toast? And don't forget the syrup – it's warm."
Otters Playpen, the biggest rapid of the trip, was first on the agenda. Here, the drill was to take a short hike to check out the water from land, allowing the guides to scout it before navigating it. Because it was a Class III-plus rapid, Cassius, Elena and Lucas were not allowed to go in the raft and watched at the overlook with whichever guides were not yet in the queue to travel it. This edict was with good reason as Otters Playpen was a challenge, exhilarating, but a definite challenge. As the first to go down it with David at the helm, we became penned next to the large mid-stream boulder – the obstacle in this course. "High side, high side, get to the right!" he instructed and once Kathryn and I transferred our weight, the raft corrected itself and we continued. An adrenaline-charged commencement to this day's journey, our fun continued with jumping from boulders into the river, leisurely swims, kayaking alongside the raft, water fights at lunchtime and at the day's end, sitting in a shallow portion of the river in camp chairs while unwinding with a beer or soda as the little boys entertained themselves by washing the rafts with river water again and again and again.
Camping, hiking and rafting veterans, Maggie and Mauricio, were pros and their assessment reflected this experience. While most appreciative of nature and the scenery, Mauricio shared the following while enjoying the evening's campfire: "I like the efficiency. They provide everything you want and need."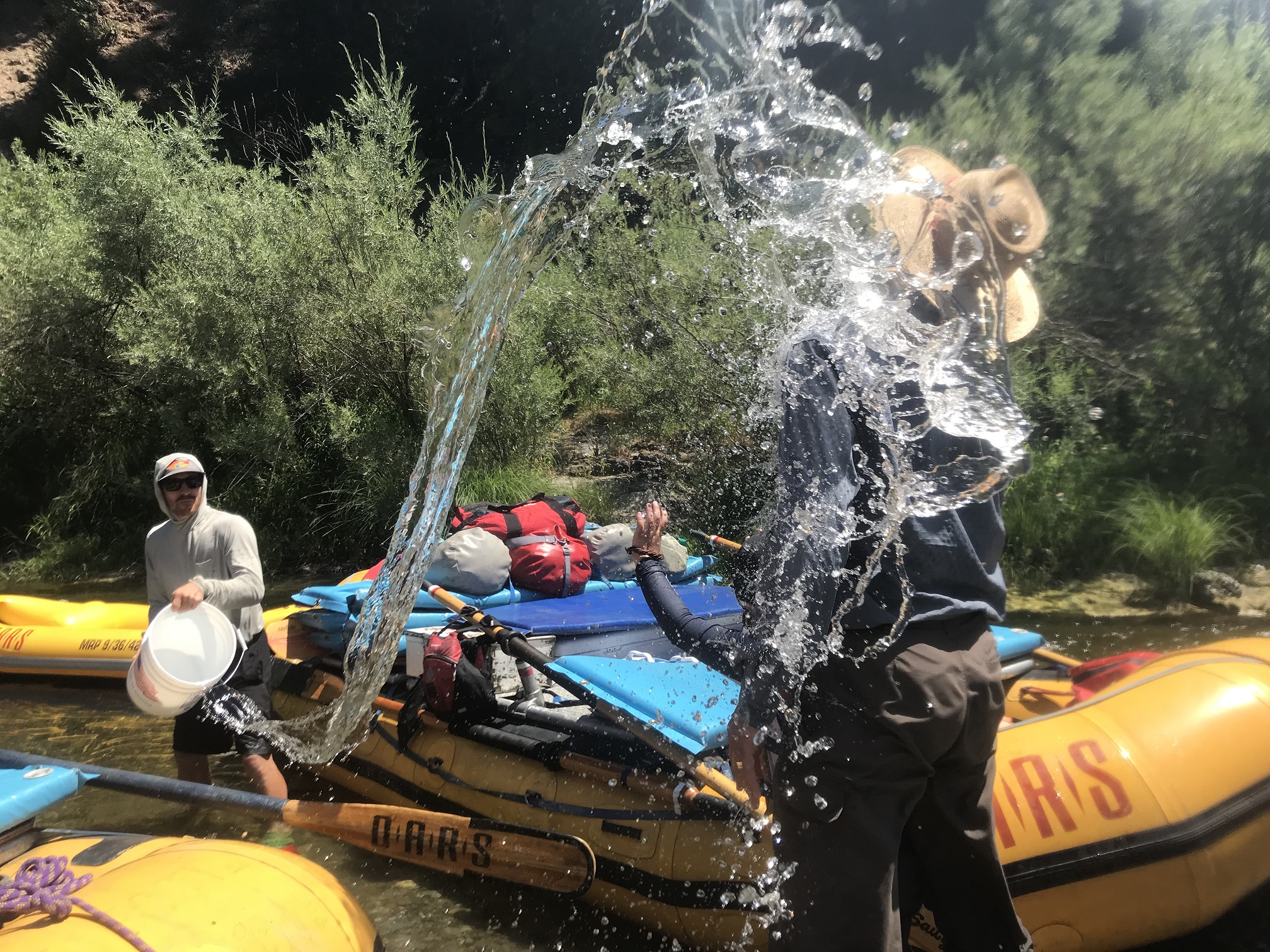 Cynthia Dial
Day 3. Waking to the sounds of the wilderness only underscored that the noises of civilization were hours, no longer days, away, but we maximized our time this final day which began with the gourmet treat of Eggs Benedict. As we gathered our gear and cleared the site, a couple in a raft passed, marking the second of only two water vessels seen since entering the river two days before (the other a small fishing boat). Soon we were once again floating downstream toward Happy Camp – our exit to reality – and to a surprising, crossing-the-river send-off.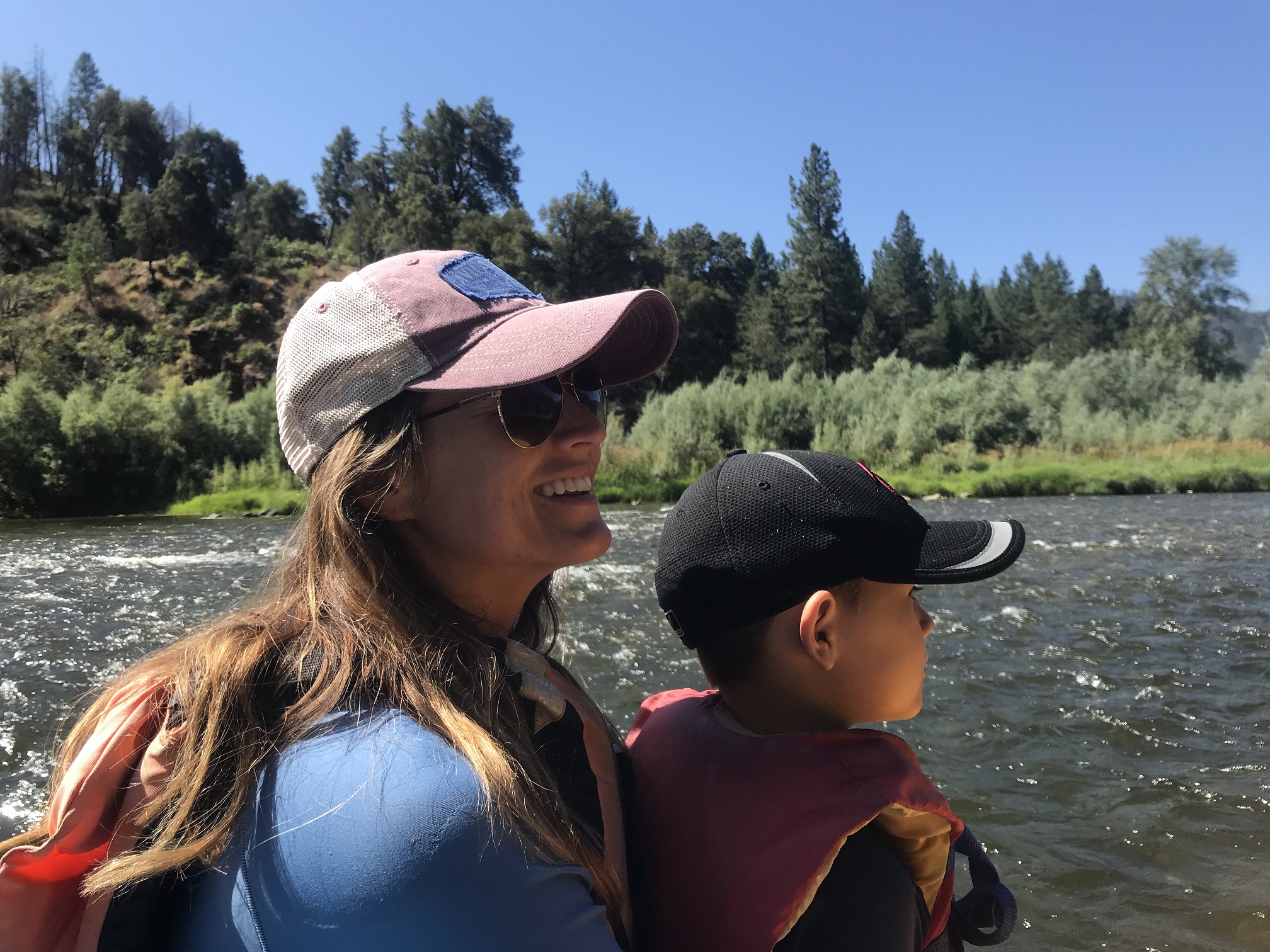 Cynthia Dial
So, two nights/three days, two kayaks/three rafts, two families/three guides and one bear later, the verdict for our catered camping adventure was official. While perhaps less about action and more about connections, it was indeed all about family.