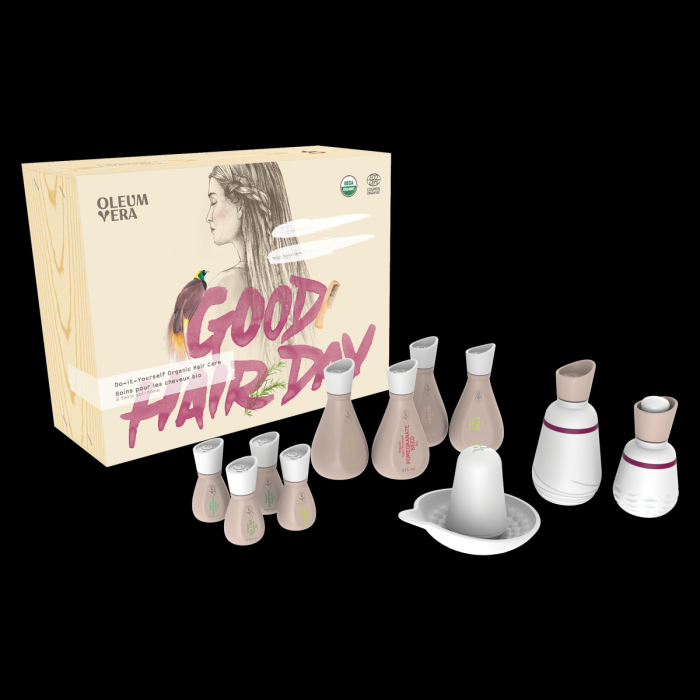 Photo Credit: MMTUM Inc.
New to the beauty scene is Oleum Vera, a fresh new line of "Do-It-Yourself" organic and sustainability-minded beauty kits that allow you to create a customized hair care regimen using pure, organic essential oils and plant-based oils in combination with fresh ingredients from your own pantry and fridge natural clays and organic butters.
With multiple recipes for hair masks, serum oil treatments and hair rinses, the company's DIY Organic Hair Care Kit can kick-start a natural hair care routine that'll have your mane looking and feeling marvelous in no time. This easy-to-use kit, which is suitable for all hair types, contains enough high quality, pure and unprocessed ingredients for six months' worth of daily hair care, plus it comes with an array of beautiful and reusable containers in which to store your custom creations. And, who says beauty has to be a chore? The recipes are very easy to follow and can be done lickety-split in just three minutes or less!
The philosophy of this new brand is to "provide women and men with the ingredients and the knowledge they need to re-appropriate their body care routine and tailor it to meet their own unique skin and hair needs." As the beauty industry relies more than ever on harmful chemicals, one-size- fits-all mass production and unsustainable sourcing, Oleum Vera hopes to be a breath of fresh air for increasingly knowledgeable consumers. "I believe many of us are now looking to get back to basics: a few carefully sourced, natural ingredients rather than a list of 20 unpronounceable ones," notes company Founder and CEO Jonathan Coutu.
With this in mind, the new brand is starting strong with a number of "home-cooked beauty" options, to include the versatile DIY Organic Hair Care Kit that yields three all-natural oil treatments, four hair masks and two hair rinses. While a booklet filled with customizable recipes and illustrated how-to's is shipped with the kit, the OleumVera.com Web site also has a recipe page where, currently, there are ten hair-related recipes available. This includes a Nourishing Beer & Honey Hair Rinse, Oil-Balancing Lemongrass Serum, Purifying Lemon Mask and a Dandruff Rescue Hair Rinse.
Actual Kit contents include multiple essential oils (Peppermint, Rosemary, Lemongrass and Tea Tree); several carrier and precious oils (Jojoba, Pomegranate Seed, Argan and Amla); and an array of accessories (Serum and Hair Rinse Vials, Mortar and Pestle, Funnel and Recipe Booklet).
"Everything's better when you make it from scratch," said Coutu. "We make it easy to create hair care products you can truly call your own. Everybody's different, and we want to honor that. The recipes we bring you are endlessly customizable to suit your specific hair type—whether thick, thin, straight or curly, oily or dry—and your body's unique set of needs overall. We want to take hair care out of the hands of the beauty industry and reclaim it for people who prefer an all-natural and highly adaptable beauty routine utilizing ingredients they can pronounce. All of our ingredients are handpicked for their natural healing, moisturizing and nourishing properties, and I'm proud to say that each kit we offer is certified 100% organic by ECOCERT and the USDA."
There's just something profoundly satisfying about using self-care products carefully curated with the environment in mind. It just stands to reason that taking good care of our bodies should go hand-in-hand with taking good care of the planet. With Oleum Vera, it seems every day can be a good hair day.