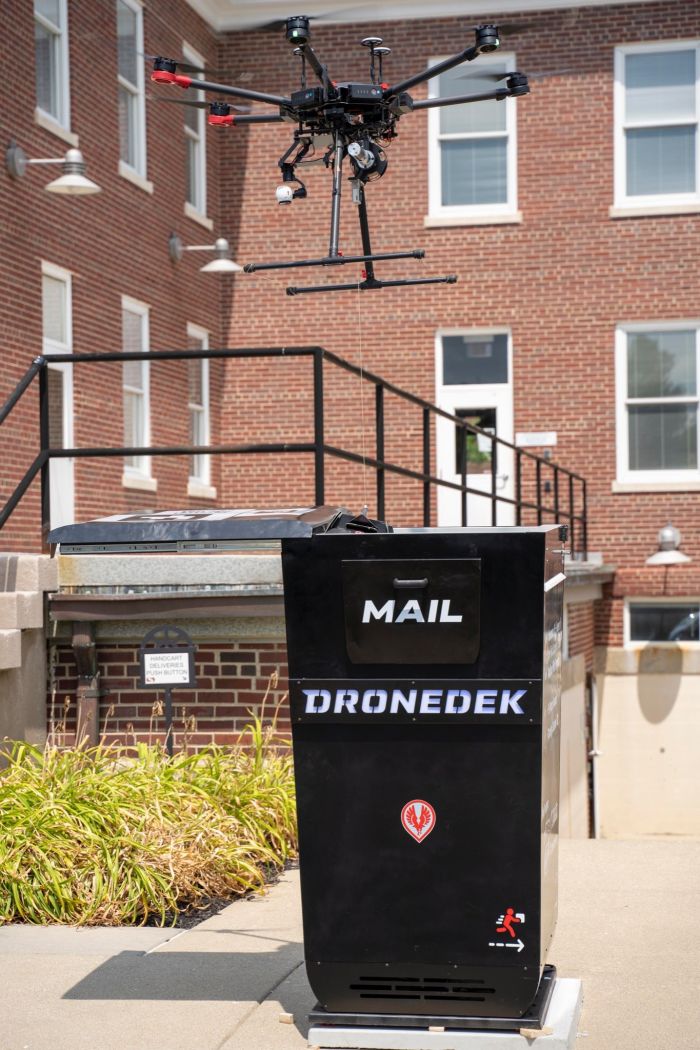 Photo courtesy of Dronedek
As we approach Earth Day on April 22, 2023, we are reminded of the urgent need to address climate change and its impact on our planet. A recent report from the United Nations highlights the critical issues we face and the actions required to help protect our environment. By limiting global warming to no more than 2.7 degrees Fahrenheit, the report says we will help avoid some potentially catastrophic events. One area people can count on sustainability being a continued focus is the delivery industry.
"The recent UN study should be an eye opener for everyone, and it should motivate us to look for ways of providing simple yet impactful solutions," says Dan O'Toole, founder, and chief executive officer of Dronedek. "Dronedek aims to be a part of the solution. We know that smart mailboxes can help save the planet, and we are proud to play our part in making a better world for everyone."
In addition to the UN report, Dronedek today released the findings from a third-party analysis conducted by the environmental engineering and consulting firm Keramida. The report focused on environmental and social benefits the company's smart mailboxes offer the world when paired with autonomous delivery services. Keramida studied how greenhouse gasses (GHGs), a leading cause of global warming, other emissions and vehicular traffic would be affected if just one percent of households worldwide used Dronedek mailboxes.
"The future environmental and social benefit of autonomous delivery depends on continued reduction in the carbon intensity of the electrical system, energy efficiency improvements in associated warehouses, and improvements in autonomous efficiency and capacity," said Albert Chung, Keramida's Senior Vice President, Sustainability and Climate Services Division. "This study demonstrates significant environmental and social benefits of autonomous vehicle delivery to Dronedek smart mailboxes."
Dronedek offers smart mailboxes as part of their Mailbox-as-a-Service (MaaS) platform, which allows people, drones and robots to make deliveries into a secure, climate-controlled receptacle. These smart mailboxes are only accessible by authorized users, an important part of preventing porch pirates from stealing packages. It also protects the items from weather-related damage, so people don't have to worry about their packages being in direct sunlight, getting rained on or even freezing.
Here are 6 ways that Dronedek smart mailboxes can help be a part of the environmental solution to combatting global warming, according to the Kermida report:
Reducing total annual GHGs of 1.7 billion kg in 2030 – about the amount 841,717 acres of forest can absorb in a year, which is roughly the size of Los Angeles, California.
Reducing GHGs by 682.01 kg for each home, which is an 89.12% reduction rate, comparable to the amount produced by driving an average gasoline-powered car for about 1,542 miles.
Reducing volatile organic compound (VOC) emissions by 0.46 kg for each household, roughly equivalent to 13,846 cars driving 12,000 miles per year.
Eliminating 192,287,726,032 driven miles from roads, about 770,317 trips around the equator or roughly the distance from Earth to the Moon and back.
Removing 16,769,379 vehicles from roads, roughly the number of vehicles registered in the state of Ohio in 2020 or about the population of the Netherlands.
Preventing 454,915 car crashes, about the population of Sacramento, Calif.
"This Keramida study demonstrates significant environmental and social benefits of autonomous vehicle delivery through reduced GHG and pollutant emissions, and reduced motor vehicle crashes," the report says. "It supports previous work cited in this report, demonstrating reduced GHG and pollutant emissions with autonomous vehicle delivery and provides insight into the additional safety benefits of drone delivery."
Below are 5 ways individuals and businesses can make an environmental difference this Earth Day, including:
Carpool whenever possible to save on the number of vehicles on the road and the resources being used.
Combine errands so that things are done all in one trip, rather than going out of the house or office multiple times. When you do need to go out, try to plan outings during lower traffic times, so that less time is spent idling in traffic.
Reduce that amount of plastic being used, because only a fraction of it gets recycled, and it takes a lot of resources to make. Plus, most plastics are not biodegradeable and a lot of discarded plastics end up in our oceans and rivers.
Make a goal to ensure your home and office is properly insulated so that heat and air conditioning isn't lost out the windows and tiny openings.
Conserve energy by turning off lights and unplugging electronics when not in use, switching to energy-efficient light bulbs, and by opening refrigerator and freezer doors for shorter times and less frequently.
Smart mailboxes are quickly gaining traction in medical operations and the business world, and in time, consumers will also be able to take advantage of this innovative technology. Dronedek's smart mailboxes provide a secure, convenient, and efficient location for the delivery of goods and supplies. By enabling real-time tracking and monitoring of expected packages, Dronedek enhances existing delivery systems and future-proofs for automated networks. As drone and robotic services continue to transform the logistics and supply chains, smart mailboxes are poised to play a critical role in reducing the industry's environmental impact while ensuring reliable and safe delivery of critical supplies.
Dubbed the "mailbox of the future," Dronedek's smart mailbox helps businesses and consumers send and receive their packages safer and more securely while providing improved user privacy. To-date, Dronedek has raised more than $8 million from roughly 4,700 investors on the road to bringing their smart mailboxes to the market. The company has announced several integrations and partnerships across its MaaS (Mailbox-as-a-Service) ecosystem, including drone provider Hush Aerospace and network provider Helium.
To see videos of Dronedek in action, visit Dronedek: The Next Generation Mailbox and New Dronedek Smart Mailbox. To learn more about Dronedek, visit the site: https://www.dronedek.com.