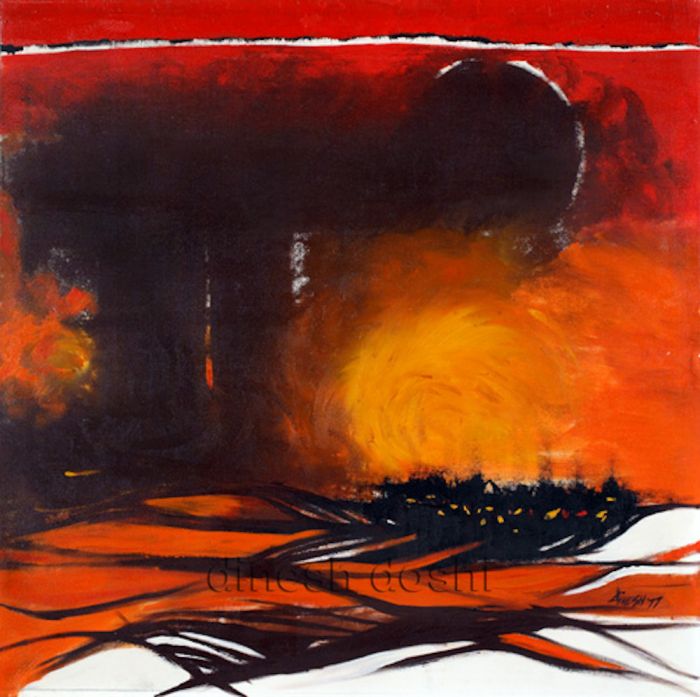 Photo Credit: New World by Dinesh Doshi
Born in Africa, Dinesh Doshi is an abstract artist of Indian origin, living and working in Long Island, New York. With a life of pivotal cultural shifts, Doshi's art became a way for him to tell the story of his life, which is one full of adventures and various cultural influences. His story takes form on canvas, in warm, vibrant hues and earth tones. One could see a youthful spirit in his work, and while each painting is a story of its own, they all come together as means of connecting Doshi to this world. The artist tells Justluxe how he came to appreciate art, where he could be headed next and why he makes what he makes.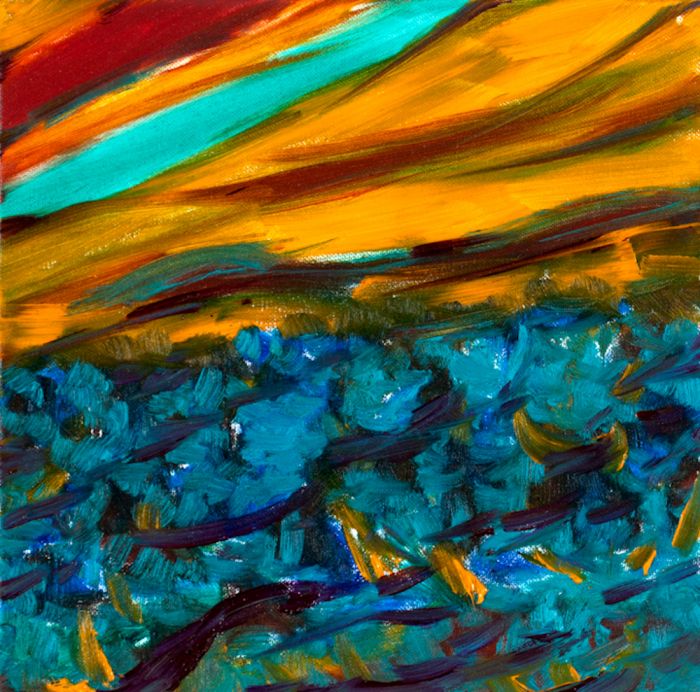 Photo Credit: Olive Grove by Dinesh Doshi
What initially drew you to art?
My mother did embroidery work back in Africa. I was inspired by my mother and her sense for color, composition and intricate techniques. From the age of five I had the desire to draw the faces of people from magazines in Africa. At the age of 12 I was sent to prep school in Mumbai and during that period my art teacher took notice of my interest in drawings and art. He gave me the direction and encouragement in art and from there my passion for mural painting grew.
You were born in Africa, lived in India, England and now the U.S. How do you think living in different cultures has informed your artwork?
Life in Africa was as simple as it could be, but the warmth of people and relationships were at the core of living. After moving to India, I slowly emerged from my coccoon in a new country with a new culture and new friends. Coming to America was an entirely new experience of exposure. I saw that equality, social freedom and praise for self-expression was emphasized here. From physical adaptation to learning new aspects of culture, I believe my art reflects this evolution in my life.
How would you describe your art?
My art is an evolving process of communication with my inner self, almost soul searching and reactionary to my existence with all my adventures, excitements, failures, heartaches, and lust for life.
Photo Credit: The Sperm by Dinesh Doshi
How would you say your art has changed over the years?
My art work has progressed from simple subjects, colors and stories to more complex compositions, subject matters with vibrant hues. The abstract nature of my paintings and this profound method of telling stories has become almost incomprehensible sometimes; even I can't fully grasp the extent of what's being explored, but it still gives me a great joy once it's completed.
Your first gallery show was in India, what was that experience like?
At the age of 21, it was the most challenging and most reassuring period of my being in art. I found myself carving a path as a painter and a person of achievements, especially after receiving great reviews & a sold out show. Identifying officially as a painter and making the commitment to pursue art for the rest of my life was liberating.
You also had an art exhibit in New York in 2013. What works did you show at the exhibit?
I exhibited my years of interpretations of life matters, emotional experiences, and my existence in complex compositions, fervent strokes and vibrant colors to reassure myself of the journey once taken at a young age.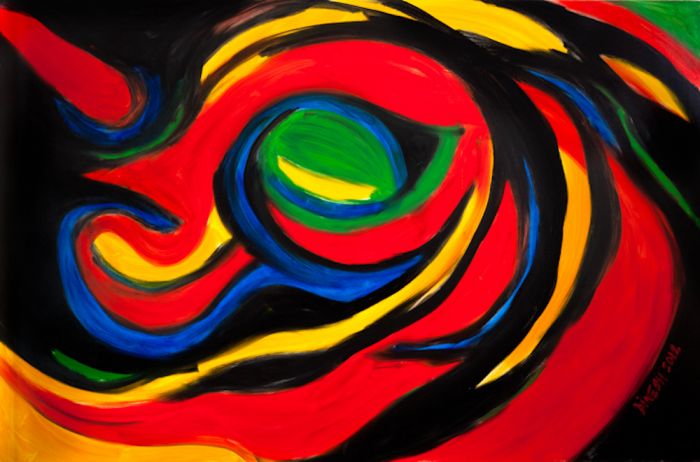 Photo Credit: Unicorn by Dinesh Doshi
What artists have most influenced you and your work?
I'm definitely influenced by the classics. Vincent Van Gogh, with his brush strokes and vibrant colors, Pablo Picasso and his desire to explore art in all forms. I'm inspired by Michelangelo as he combined the life of a painter with the life of an architect, and Leonardo da Vinci, with his incredible vision and skill for sketching and painting.
You've also worked as an architect. Do you feel your two careers have influenced one another?
Architecture is rigid by nature, while painting is fluid and expressive. Living amongst these differences has helped me to balance my life. With architecture, I have a defined role to play, while as a painter I have all the freedom to capture my interpretation of life and its journey on the canvas.
What are you currently working on? Are there any shows in the works?
I am on the same path of generating work on personal interpretations, experiences and lust. With art being my therapy and meditation, I'm seeking to learn more about myself with large and small canvases and new, bold subject matters. At this moment, there are no upcoming shows, but I would love to have people view my paintings and generate their own reflective response.
See more of his work at DineshDoshi.com