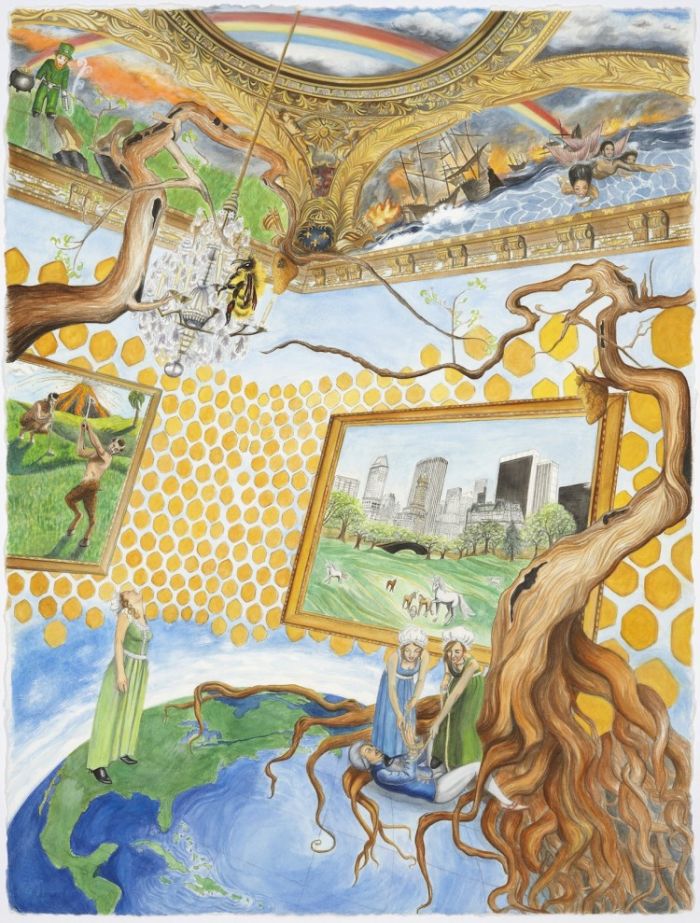 Jennifer Delilah
Brooklyn based painter Jennifer Delilah changes up her paints and mediums, but her dedication to challenging ideas of race, class, and gender remains a constant. Drawing inspiration from her childhood upbringing during the Civil Rights Movements, Delilah infuses humor and compassion into her work.
Jennifer Delilah began painting as a young child, instructed by her grandmother, but her career officially began in high school, when she chose to go to an art school in Dallas and learned the fundamentals. Now, Delilah primarily focuses on Magical Realism. According to Wikipedia, Professor Matthew Strecher defines Magical Realism as "what happens when a highly detailed, realistic setting is invaded by something too strange to believe."
Delilah explains, "I use architectural settings that appear to be possible, they seem at least at first glance as though they could actually exist, but the stories that are happening inside of those places definitely could not, at least not in a literal sense. The metaphorical worlds that I create through this approach carry the viewer into places that can be humorous and sometimes even a little frightening in what they reveal."
When asked to explain how her upbringing influences her work and how the Civil Rights Movement plays a role, Delilah says, "Ah, well, to begin that part of the tale we have to go back to before I was even born, to an event that colored my family's entire existence. My father was one of two Pathology residents on duty at Parkland Hospital on the day that John F. Kennedy was shot. It was a frightening experience that he rarely spoke of, but that silence around it created in me a curiosity and a need to invent a story that I could understand. It was made clear to me as a very young child that there was more to the story that simply could not be discussed, so it was left up to my imagination."
Now Delilah uses her imagination to fill in the gaps and create stream of consciousness narratives in her pieces. Her work has evolved from one off works to thematic collections, such as her Empire Series.
Delilah has an ongoing presence at the Pierogi Gallery in Williamsburg and has also shown frequently in New York and the San Francisco Bay Area. Although she does sell some works through her website at jenniferdelilah.com, she mainly sells to private collectors familiar with her work and through shows at galleries.
You can learn more about Jennifer Delilah, including upcoming events and shows, atwww.jenniferdelilah.comand on Twitter,https://twitter.com/jenniferdelilah.
Jennifer Delilah
Dance
Jennifer Delilah
Empire
Jennifer Delilah
Feast
Jennifer Delilah
The Hunt
Jennifer Delilah
The New York Cock Exchange
Jennifer Delilah
Unfamiliar Desire
Jennifer Delilah
Unfamiliar Idol
Jennifer Delilah
Water