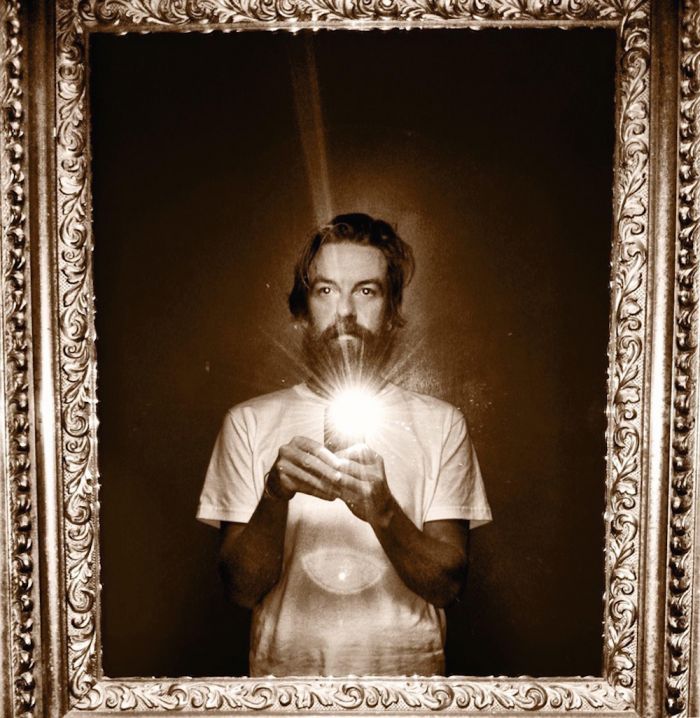 Photos Credit: Richard Lee Smith Jr.
Some of Richard Lee Smith Jr.'s earliest memories are of the sights and smells of paints. Since his formative years watching his grandmother put brush to canvas, Richard has developed his own painting techniques. Influenced by everyone from famous painters to his own family, Richard has been both a student of art and an artist for much of his life, traveling the world in his pursuit of painterly knowledge. In addition to his paintings, Richard is also a fine art photographer and uses the medium as another way to understand painting. Below, Richard tells JustLuxe about his way of looking at the world through a frame, as well as his personal health journey and its impact on his work.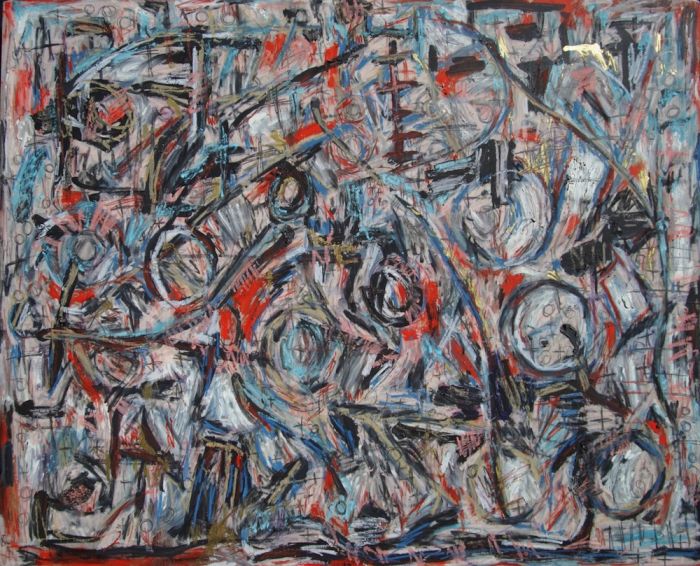 When did you start painting?
I started painting when I was fourteen. I wanted to go to this high school in Dallas called Booker T. Washington High School for the Performing and Visual Arts. It was a magnet school that very much interested me.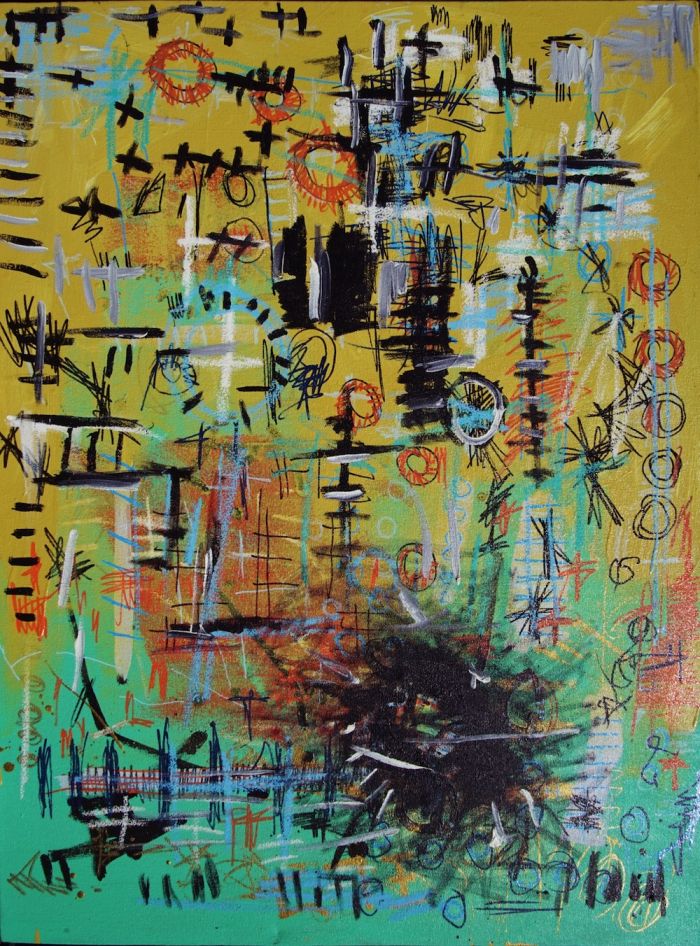 What drew you to painting as an art form?
My grandmother was a painter; I think that was a big part of it. I remember going into her studio, which was just an extra bedroom in her house full of painting supplies and smelled like oil paints. At Christmas she would come visit and she'd be sketching. I remember watching her draw and doodle, and my dad had her paintings hanging in our house. When I was doing my first painting she was there, guiding me. My parents had paintings and prints in their houses. I was always drawn to the paintings.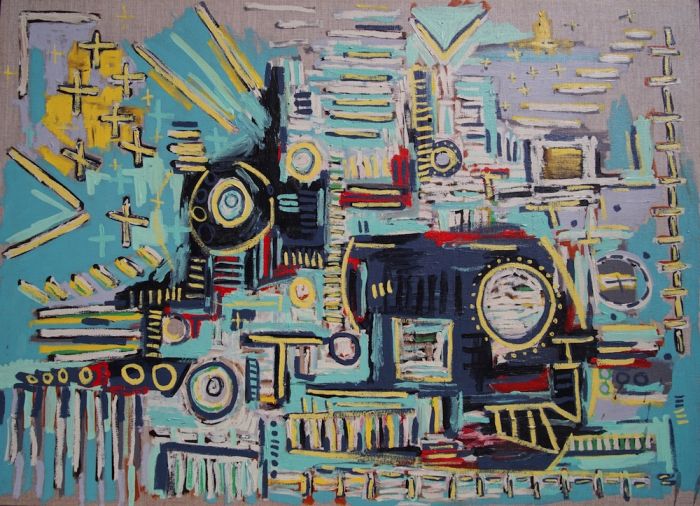 Which artists have most influenced you?
I would say the painters I connect with most are Van Gogh, Jackson Pollock, and Jean-Michelle Basquiat. You can see their influence in my work, but it was never intentional. It happened naturally.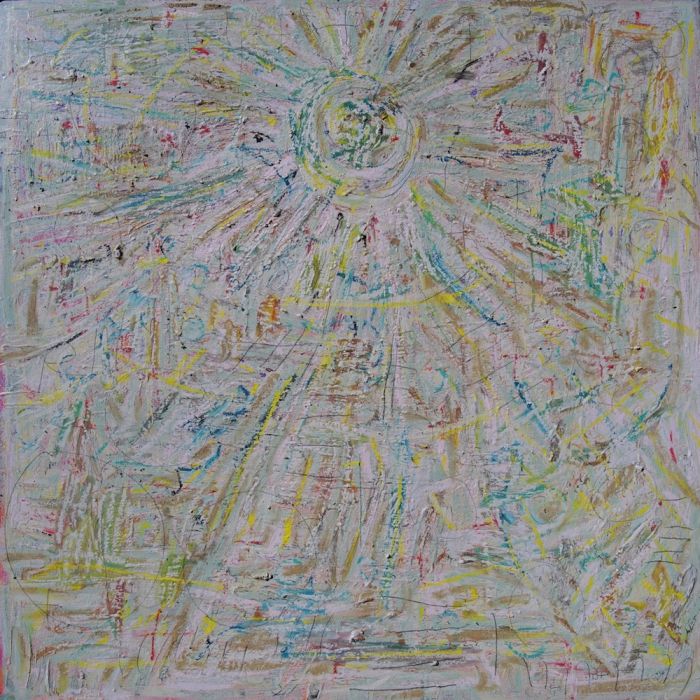 Do you feel like you art education influenced you?
Yes. I went to the San Francisco Art Institute. My teachers impacted me and my work in a big way, pushing me and guiding me to find what I was looking for, helping me get to a place where my paintings were honest and technically good.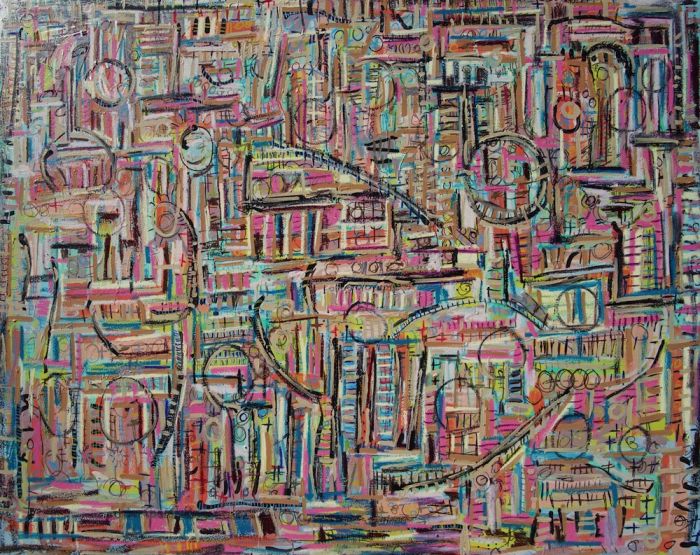 How would you describe your art?
I'm expressing myself through the paint and brush strokes, so I would say my paintings are expressionist. I feel they record my energy and what I'm feeling while I'm painting them. The juxtaposition of the colors creates a vibration that radiates out into the world.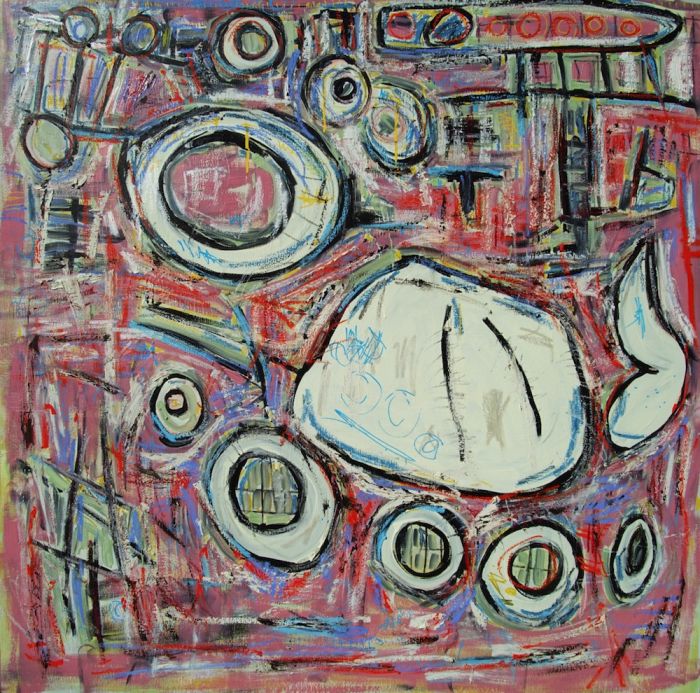 How do you think your style has changed throughout the years?
After I tapped into where my art comes from over twenty years ago, my "style" really hasn't changed much. There are variations that come and go, and maybe it's become more refined over the years, growing as I grow.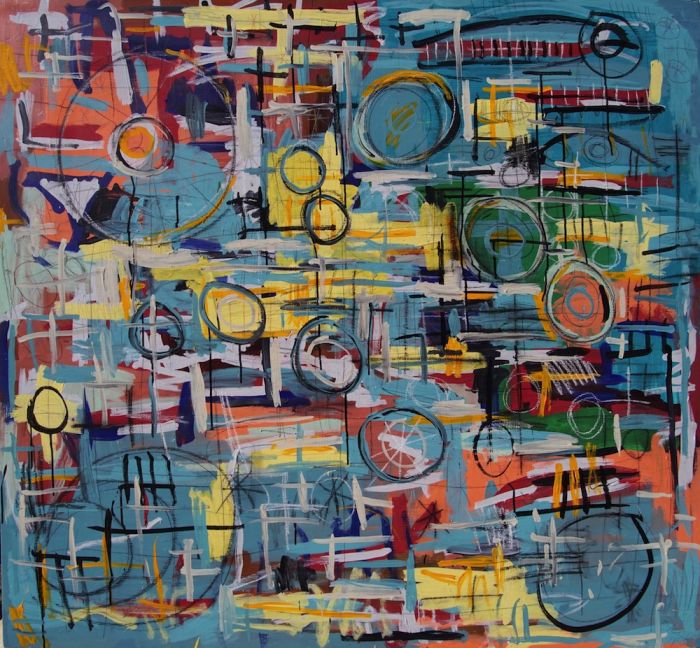 What life experiences do you feel most informed your art?
I grew up immersed in art, going to the Dallas Ballet, the opera, the symphony with my mom. Traveling when I was young to Mexico, Scandinavia, Russia, and all over Europe, more specifically visiting my brother in Paris, and walking around the Louvre, the Pompidou, and the Picasso museum as a teenager. I went on two African safaris, one with National Geographic photographer Jeff Foote, and another with local trackers where I learned how to track. Being in nature informed my art too, such as hunting and fishing wildlife with my dad throughout my childhood in Texas.  
When I was 23, I was diagnosed with cancer. That was a dramatic experience for me. It took me a few years to recover from the treatments and I started looking at why I got cancer. I started pursuing health, cleansing my body, and doing vision quests. I would say that whole experience was a blessing, in that it pushed me to pursue my dreams of making art full force. It showed me that health is so important to my happiness. My paintings now are a direct result of my health and happiness.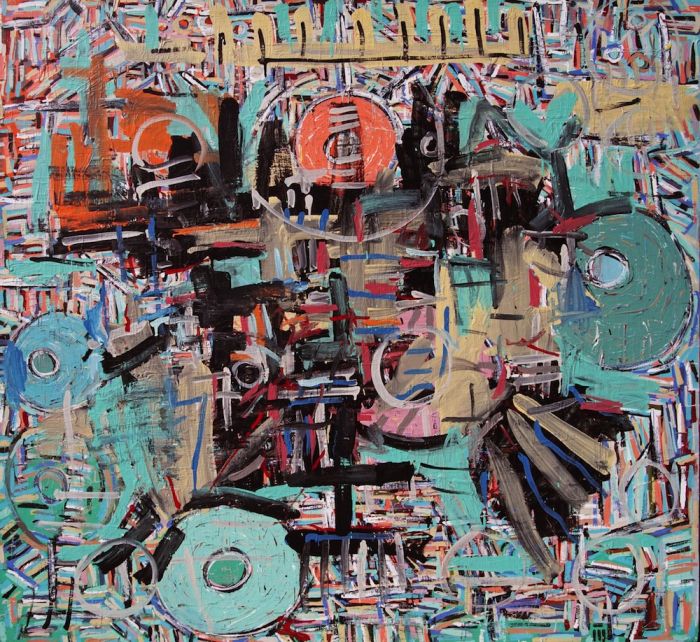 Where have you exhibited and are there any upcoming shows?
I've showed in Dallas and Los Angeles. Last summer I did a pop-up show in a hair salon here in Los Angeles. That was really fun. I'm working on another pop-up in an old barn in Topanga Canyon for my camera art.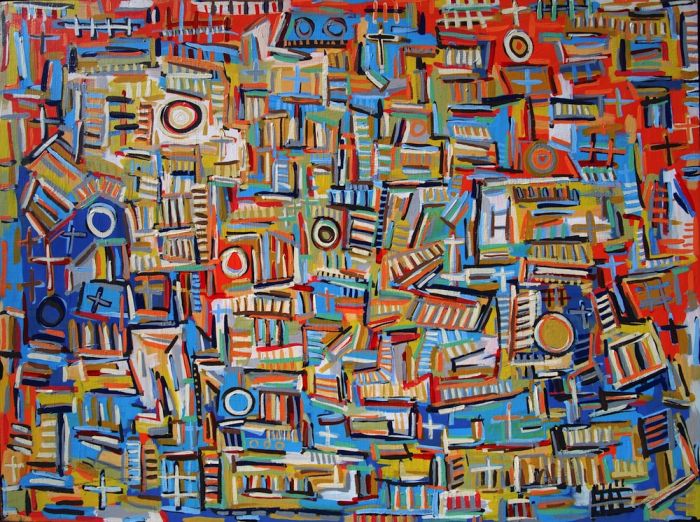 You're also a fine art photographer?  How would you compare and contrast the two art forms?
Yes, I also started shooting when I was fourteen. I love shooting. The camera records feelings and emotions just like my paintings. My approach to photography is influenced by my painting background. I only print one print once I've selected a photo. I frame them in one-of-a-kind found frames so that it becomes a unique art piece. I spend a lot of time out in nature shooting, which in return influences and inspires my paintings. In this process, I'm always creating.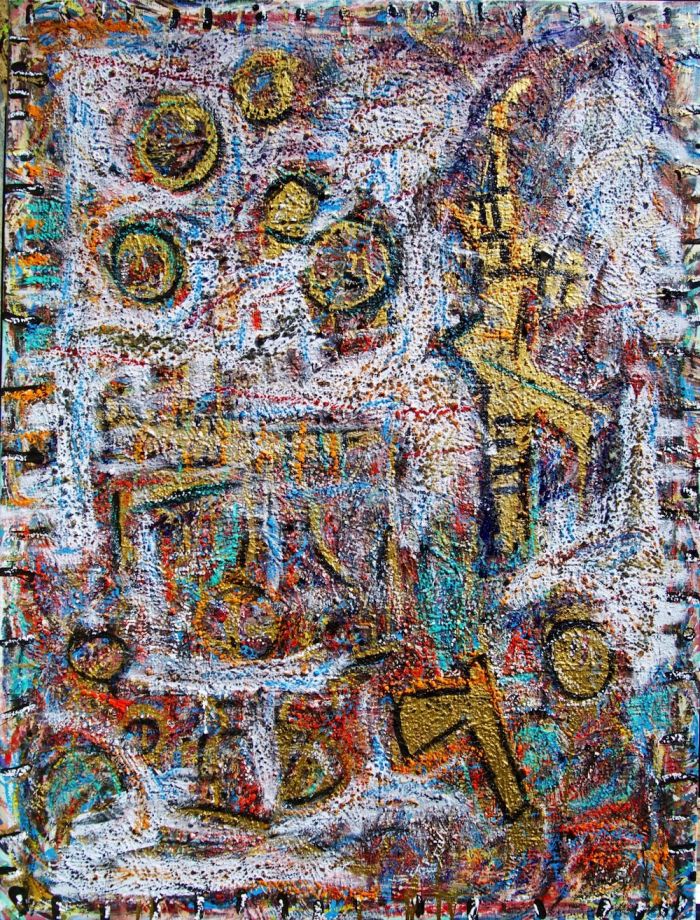 What works are you currently working on?
I'm working on a few large canvases right now, and pairing images with frames for the barn pop-up. You can see the rest of the works on my website.