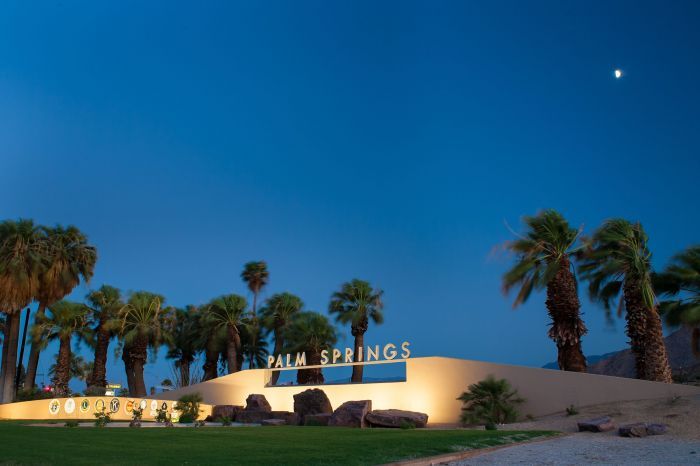 When you think luxury and glamour, Palm Springs is one of the first US destinations that springs to mind. It combines stunning architecture with a vibrant food scene and gorgeous surroundings - everything that you could need for a relaxing luxury getaway. To help you plan your next trip, we've gathered some recommendations on the best places to stay and eat in Palm Springs.
Getting there
Depending on where you're coming from, driving to Palm Springs is an option, as is the train. Amtrak's Sunset Limited and Texas Eagle lines both stop in Palm Springs, so if you enjoy train travel this can be a relaxing way to get there. Flying tends to be the most popular way to get to Palm Springs - Palm Springs International Airport (PSP) is the closest airport to the city, with flights from major cities across the United States and Canada.
Once you arrive at the airport, the simplest way to get around is to rent a car. Lots of rental companies like Budget operate out of Palm Springs and you can save on a rental with a Budget coupon code and use the savings to put towards a more luxurious hotel.
Choosing a Palm Springs hotel
Hotels wise you're spoilt for choice in Palm Springs. If you want a luxury spa resort with all the amenities then the Parker Palm Springs has just about everything you could need including several different pools, tennis courts, a fitness studio, and plenty more. It prides itself on being the height of luxury and we certainly wouldn't disagree.
If you want a more boutique hotel, check out the Saguaro Palm Springs. Originally built in the 1970s, it's had a major refurbishment and color is the name of the game - the hotel is painted in 14 different colors that match wildflowers native to California's Colorado Desert. Even the gardens have been designed so that when they're in bloom, everything matches the colors of the building.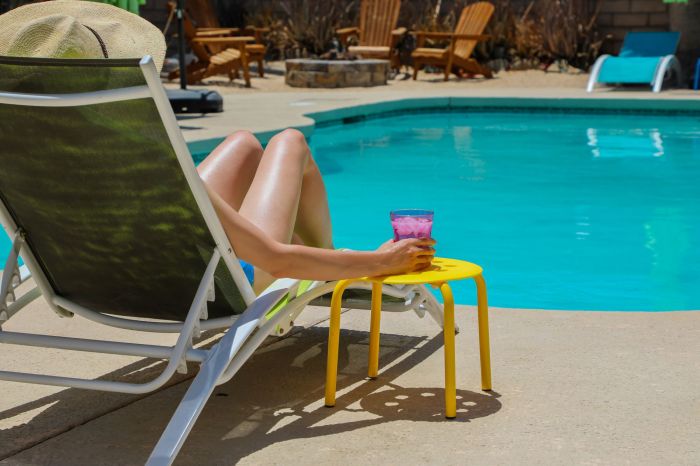 Where to eat in Palm Springs
Palm Springs is certainly not short of luxury dining options, so whether you're looking for a fancy 5-star brunch or a sophisticated evening meal then there should be something to suit you. Here are a few places you might want to try while you're there where the combination of great food and first-class service won't disappoint the luxury traveler.
The Pink Cabana
Located at the Sands Hotel & Spa, The Pink Cabana is a real treat, especially if you love the mid-century tennis club vibe. Think pink velvet, palm print walls and chic retro dining featuring Mediterranean cuisine with a Moroccan influence. The Pink Cabana offers weekday continental breakfast, lunch, and dinner plus a brunch menu at weekends. The Cabana Benedict with Dungeness crab is the ultimate for luxury brunch lovers.
Mr. Lyons
A classic steakhouse with a modern twist, Mr. Lyons is known for its elegant ambiance, top-notch service, and high-quality steaks, and seafood dishes. There's also a stylish cocktail lounge and a beautiful outdoor patio for sipping your drinks in style. If you've got the budget to splash out then try the signature Beef Wellington.
Workshop Kitchen + Bar
If you love eating in quirky or unusual venues then you'll love Workshop Kitchen + Bar as it's housed in a 1920s-built former movie theater. The innovative setting is matched by their approach to food, which is a modern farm-to-table style. Workshop Kitchen + Bar is a firm favorite with the locals as well as travelers.
Le Vallauris
A long-standing culinary institution in Palm Springs, Le Vallauris is part of the Soho House family so you know that you can rely on great service and luxurious surroundings. The food is French Mediterranean and diners eat in a romantic garden setting. It's a stunning place to eat for couples looking to gaze into each other's eyes under twinkling fairy lights.
Copley's on Palm Canyon
If you fancy food with a splash of Hollywood history, head out to Copley's on Palm Canyon, set in the former Cary Grant estate. Expect an elegant dining experience with a focus on fresh and locally sourced ingredients and gorgeous views from the charming patio area.
We hope this has given you plenty of culinary inspiration!