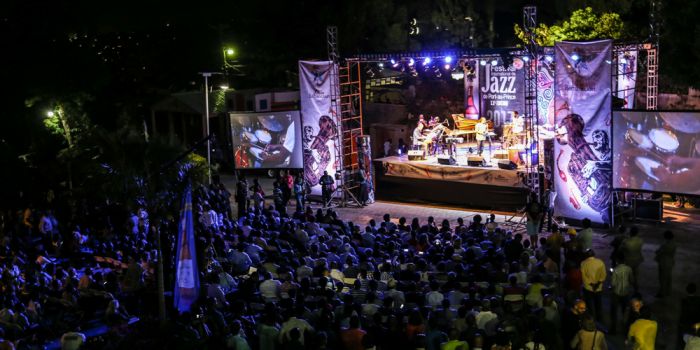 PAP Jazz Festival Haiti
Haiti is the second Western nation to achieve independence, and the first governed by former enslaved Africans. Each January, musicians, bands & vocalists from Europe, Latin America, the Middle East. the U.S. & Africa descend on Port-au-Prince, Haiti for the Port-au-Prince (PAP) Festival. In its fourteenth year and staged in conjunction with international sponsors by the Haiti Jazz Foundation, the fest has recently featured talent the likes of 2019 headliners Terence Blanchard and Joss Stone, and in 2020 will present popular Dee Dee Bridgewater. Unlike most jazz festivals, the PAP lasts a week, affording attendees the opportunity to enjoy workshops, university presentations, field trips, celebratory luncheons and dinners, and impromptu performances. During the day, many avail themselves of the museums, galleries, cuisine, resorts or majestic views of hilly Port-au-Prince. Sample traditional dinner fare at Quartier Latin or Cafe 36 in the Port-au-Prince main district of Petion-ville. Reserve a van for a city tour which includes the colorful homes of the Gingerbread district, art shops, the national museum (acronym MUPANAH), public park Champs de Mars, and street art. Either the Hotel KARIBE, or the Marriott in La Sirene makes an ideal base. The former has an atrium styled lobby with bar & restaurants, and a leisurely courtyard, the latter a huge, artsy lobby (also with a restaurant) and suites with picturesque views.
During your stay in Port-au-Prince, you will learn about local spiritual customs, meet Haitians raised in the U.S., hear spoken creole, and relax in its warm breezes. Because the capital is so mountainous, even floor levels of many establishments offer panoramic views. The festival audiences are interactive, as many performers encourage call-and-response or dance.The KARIBE and the Quisqueya University are the primary venues. Allow extra time for every commute, as much of the local traffic is congested or motorcycle. Have fun here, you'll never forget the experience.
Visit more Luxury Travel Destinations