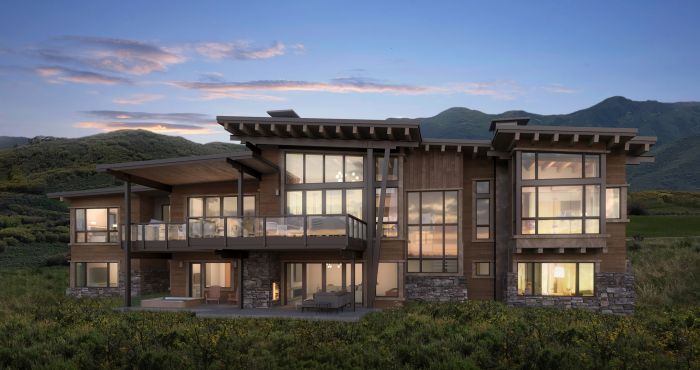 Talisker Club, Morningstar
Developer Storied Deer Valley, LLC Continues Community-Wide Reimagination Bringing New Amenities and New Homeownership Opportunities Across Empire Pass and Tuhaye Neighborhoods
Storied Deer Valley, LLC, owner and developer of Talisker Club, Park City's only private four-club community offered under one membership, announced today a record-setting year achieving more than $100 million in residential real estate sales in 2019. Since acquiring Talisker Club in 2018, Storied Deer Valley, LLC has invested more than $85 million toward a projected $390 million multi-year reimagination aimed at enriching and reinvigorating the prestigious club with new and expanded club amenities and offerings as well as new modern mountain-style residences.
"We have without a doubt had one of the more active years at Talisker Club as we work to redefine the experience and lifestyle for our valued members," said Mark Enderle, CEO of Storied Development, LLC. "The sales success that we experienced this past year is an affirmation of the direction we are heading and that our vision is being well received by our current members and future homeowners."
Within the Empire Pass neighborhood, construction is underway on the Residences at The Tower with 12 of the 14 luxury ski-in, ski-out condominium homes under contract. The new Residences at The Tower will be directly connected to the existing Tower Club, the only on-mountain private clubhouse in Deer Valley, where construction has also begun on the club's new fitness and Day Spa facilities and reimagined Wildstar Kids Club. Additionally, Moondshadow, a new intimate enclave of eight custom homesites listed from $2.65 million to $2.95 million, was recently released presenting a rare opportunity to build expansive estate-sized homes up to 7,750 square feet.
At Talisker Club's Tuhaye neighborhood, the new Moondance Family Park & Pavilion is home to a host of all-season family activities including a newly opened winter ice skating rink. New park amenities including volleyball courts, activity fields and fire pits are slated for completion in mid-2020, along with a custom-designed Kids Resort Pool at the Tuhaye Clubhouse.
Also at Tuhaye, an array of new real estate offerings were recently unveiled marking the first new home product at Talisker Club in over a decade. Among them is Whispering Hawk, boasting three- and four-bedroom cabin homes with open, airy floor plans listed from $2.1 million to $2.6 million; Moondance Homes situated along the new Moondance Family Park & Pavilion bringing four-bedroom homes from $2.45 million to $2.95 million offering sweeping views of the Mark O'Meara Signature golf course; and Morningstar Homes featuring a collection of five-bedroom custom residences offered in shared ownership with up to eight weeks of family use starting at $850,000 for a 1/6thshare.
This past summer, Storied Deer Valley, LLC also opened the newest Talisker Club venue, Courchevel – A Talisker Club Bistro, bringing a vibrant new gathering space to the city's famed Main Street made up of a fine dining restaurant, café-bakery, dessert bar and a members-only indoor-outdoor lounge.
For more information, please visit www.TaliskerClub.com or call (435) 333-3617.
About Talisker Club
Talisker Club is Park City's only four-club private community presenting an incomparable collection of mountain, Main Street, backcountry and country clubs. All highlighted by a distinct collection of venues including landmark ski-in/ski-out at the Tower Club at Empire Pass at Deer Valley and signature golf and family amenities at Tuhaye. Talisker Club is developed and managed through Storied Deer Valley, LLC – a Storied Development, LLC company. Custom Homesites from $257K-$2.9M ¦Custom New Homes & Residences from $1.5M -$9M ¦Cabin Homes from $2M-$2.9M www.TaliskerClub.com
About Storied Deer Valley, LLC
Storied Deer Valley, LLC is a company lead by Storied Development, LLC, a partnership of seasoned real estate executives, Mark Enderle and Mark Yarborough. The partners have a 30-year track record of success in the development, marketing, sales and operation of private club communities throughout the continental U.S., Hawaii, Caribbean, and Mexico. www.StoriedLiving.com