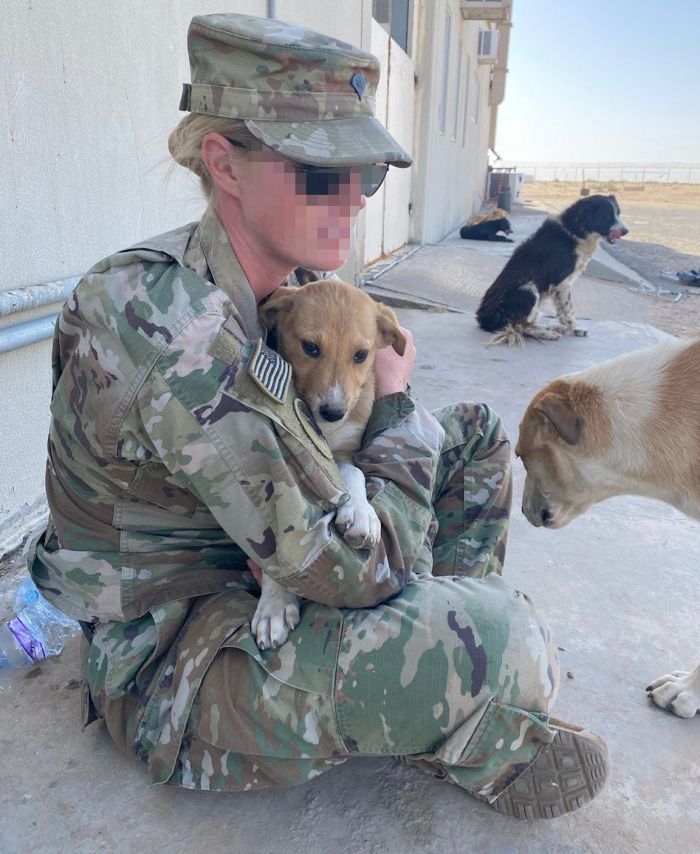 Photo courtesy of Paws of War
When soldiers stationed overseas bond with the dogs they find they can't bear the thought of leaving them behind. U.S. soldiers stationed in the Middle East found two families of dogs, which included six puppies. They nursed them to health, bonded with them, and couldn't imagine leaving them there most likely to die, when they deploy back to America. Paws of War successfully rescued the dogs back to the U.S., and now need help getting the dogs to their forever homes with the soldiers who saved them across the U.S.
"These are special dogs and we want to ensure that they get to the soldiers who rescued and bonded with them," explains Dereck Cartright, a disabled veteran who is the stateside logistics coordinator at Paws of War. "Doing so comes with a high cost, for these soldiers the joy of having these dogs safe is priceless. So we need the help of the public to ensure that this mission is seen through."
Paws of War was able to rescue these dogs from the Middle East, Just beating the July 14, 2021 deadline that was put in place by the Centers for Disease Control and Prevention (CDC). The CDC placed a temporary suspension that bans people from bringing dogs into the country from areas they consider to be high risk. The ban is now in place, preventing people from bringing in dogs from 113 countries around the world.
U.S. Army Soldiers, while serving overseas in the Middle East, rescued two litters of puppies, and their mothers. They were all suffering in the heat without food, water or shelter. The soldiers immediately made them shelters and brought them food and water. Spending time with the pups became the highlight of the soldier's days.
Changes at the base meant an end to the soldiers being able to care for the dogs, so they reached out to Paws of War to see what was possible. With the clock ticking, Paws of War was able to get the dogs to successfully pull off the mission. Now they are focused on getting each of the eight dogs to loving forever homes for the soldiers who saved and cared for them, which means transporting them to different states. Before they can do that, they also need to have them spayed and neutered and ensure they are all in good health.
The soldiers are looking forward to being reunited with the eight dogs, Oreo, Buddy, Cooper, Beans, Sam, Panda, Cheka and Frida. Having a companion animal that they rescued while on deployment will go a long way toward helping with their transition to being back home.
According to Michigan State University, having a companion animal is good for health and improving one's quality of life. They also report that having a companion animal can help those who are overcoming serious illnesses and conditions. Having a companion animal can help with grief, high blood pressure, post-traumatic stress disorder, stress, mood regulation, pain management, loneliness, depression, anxiety, and a variety of other conditions. Paws of War will be pairing these rescued dogs with veterans who need a companion animal.
"We have eight dogs that need veterinary treatment and to be transported to different states, which costs a lot to do," added Cartright. "We appreciate all the help we can get in being able to do this for the soldiers. Even the smallest donations will add up to help make it happen."
To get more information or make a donation, visit the site: https://pawsofwar.networkforgood.com/projects/135826-8-pups.
Paws of War runs several core programs serving veterans and first responders. The War Torn Pups & Cats program helps soldiers who have rescued a dog or cat overseas, bring them to safety where they are companion animals for the soldier. Paws of War also provides service dog training, free veterinary care, a companion animal adoption program for veterans and first responders, and an outreach program for homebound disabled veterans. Those who would like to learn more about supporting Paws of War and its mission can go online to: http://pawsofwar.org.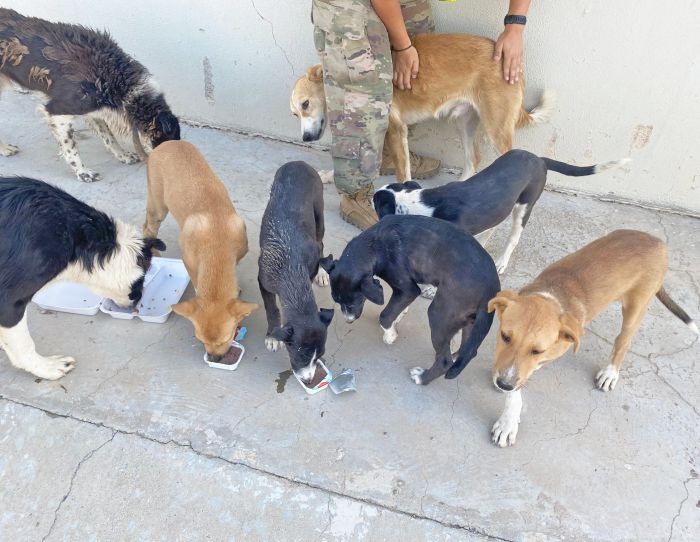 Photo courtesy of Paws of War