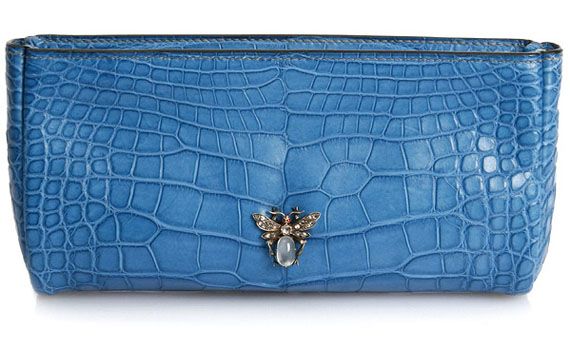 To all the ladies out there, who share my passion for luxury handbags, listen up, because there's a new designer on the rise who is poised to become the next Louis. Although still considered relatively new to the fashion scene, Peter Nitz has taken the luxury handbag industry by storm with his amazing collection of bespoke clutches.

With a background that includes stints at an auction house, and an apprenticeship for a former Hermès craftsman, Peter Nitz has developed a keen eye for luxury goods and has ultimately developed a unique ability to create timeless classics.

Peter has traveled the globe in pursuit of the finest exotic skins, linens and hardware and has even gone as far as scouring auction houses and private collections for one-of-a-kind vintage accents. The result of Peter's travels has led to an exclusive collection of clutches that are not only extraordinarily beautiful, but also extremely well-crafted and precisely refined.

Achieving such perfection is no small fete, and as such, Peter has invested a great deal of time and thought into the creative design process. After an initial design is conceived, and a pattern has been created, it usually takes more than one hand-sewn prototype before Peter finds the bag to his liking. Employing the traditional technique of saddle stitching, most of Peter's designs are considered bespoke pieces, as each exotic skin is unique in size and scale, adorned with rare antique jewelry.

Peter Nitz designs consist of two distinct, yet equally stunning collections. The Atelier collection takes on a more classic approach, and can be custom ordered depending on skin and color preferences. The Masterpiece collection combines design elements from both yesteryear and modern-day, featuring today's finest exotic skins embellished with exquisite antique jewelry. Each bag arrives in its own handmade, leather-covered drawered box with a customized handle made from the body material of the bag.

Sans-jeweled bags are reasonably priced from just $2,500, whereas those looking for a truly bespoke piece, crafted from only the finest leathers and jewels, can expect to pay anywhere from $9,000 to $20,000.