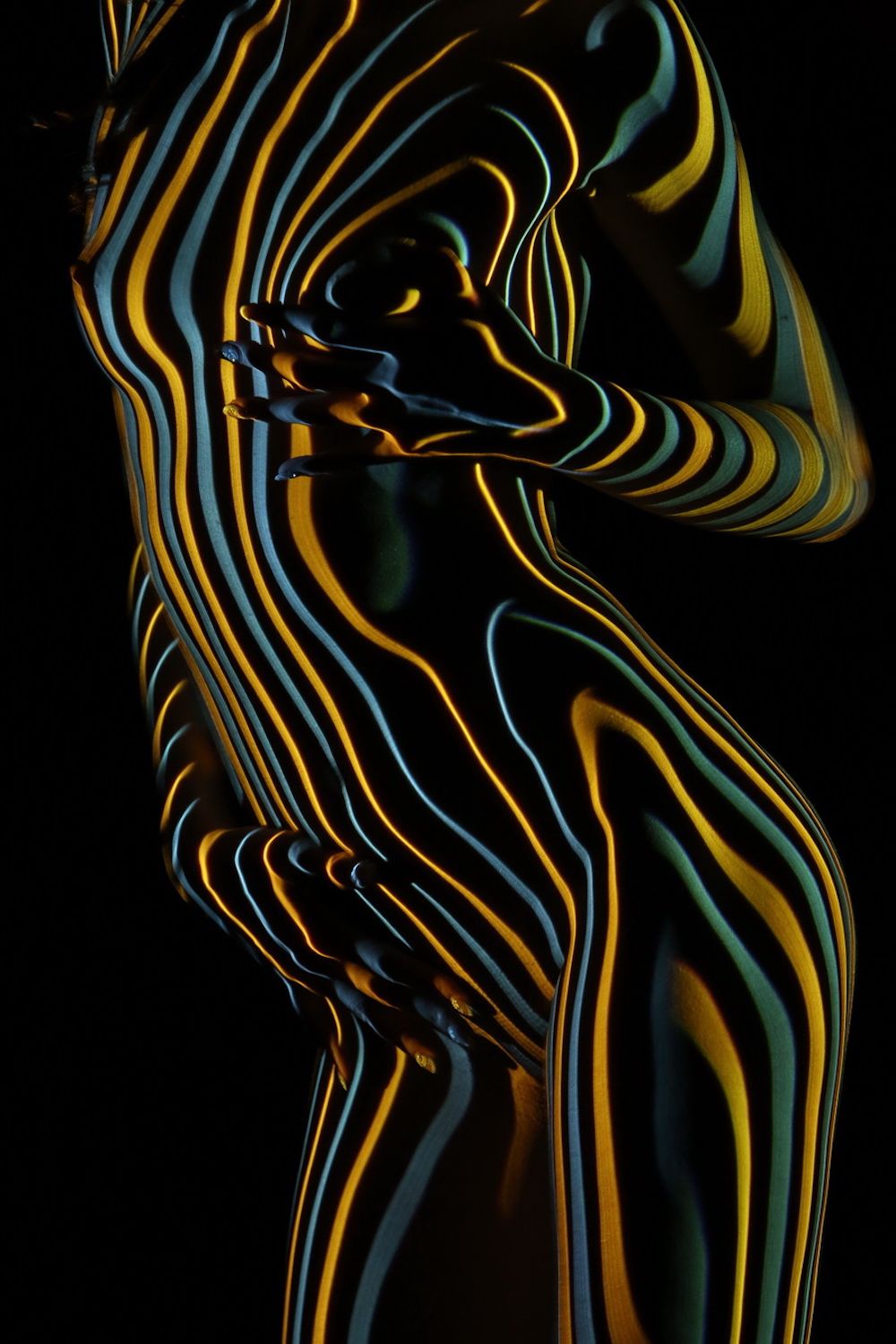 Photos Credit: Dani Olivier
In a day and age when anyone with a camera phone and a filter program has become a photographer, Dani Olivier has found a new way to take on the traditions of the art form without the modern emphasis on technology. Instead, the French photographer has combined the traditional methods of photography with his study of mathematics and combined it with innovative projection techniques to capture images that astound. His projections of light on women's bodies have also captured the attention of the elite Swiss watch making community. Dani is set to be the first photographer to show his work at Baselworld, an international event for the watch loving community. In partnership with Corum, luxury watchmaker, Dani's entrancing images of bodies and lines provide the face of watches. Dani took time out from prepping for the upcoming Baselworld event that began on March 17 to tell JustLuxe about his unique art.
When did you start your career as a photographer?
I have practiced photography since I was a teenager, and I learned darkroom development when I was studying mathematics in university. I started to work on projection of lights and abstract images on women's bodies about eight years ago. I understood that direction had a huge potential, and decided to start to explore it.
How would you describe your work?
I create light patterns and project them on women's bodies and then I try to capture the harmony created by the confluence of the two images: the woman's curves and the complex lights projected on them.
The images are taken on a black background with naked models because I want to avoid fashion, accessories, clothes or anything that could date the image. I don't retouch the originals.
Your images of abstract and psychedelic nudes are quite striking. Does this series of photos have a particular name?
The global project's name is "Abstract Nudes." For me, it is more than a series, it is the development of a complete technique to create images. I have been working on it for eight years. I regularly find new ideas with which to experiment.
Inside this global project, I have developed a different series, one of them based on the projection of lines, is called lineogram. When women create the actual design that is projected on her, I call it creagram. When the model is a moving dancer, I call it movogram.
What made you decide to shoot nudes and then rework the images in this way?
I actually don't rework the images all the effects are created at the time of the shooting, with projections of lights and movements. I decided to shoot nude to enter a long art tradition in the arts. But I wanted to do it in a very discreet and personal way. My lighting system hides more than it shows the idea is to reveal the lines and curves of the body, not details. My goal was not just to shoot beautiful images but also to develop a system of harmonies. To simultaneously not to show the woman's body, but to picture the emotions which exhale from it.
How do you create these works?
I create designs that I project on the models, modify the designs improve them until I reach a good image. Often I work with artists or dancers, graphic artists that can design their own images to be projected on themselves, and dancers that add movement and poses.
Do you have a specific image in mind when you start working on one of these photos, or does the process change the final image?
Before shooting, I usually prepare some new images to test. These new images are often the evolution of a previous test that I want to improve on. But sometimes, I work with completely new ideas and start over from the beginning and have no idea what I am going to discover.
Where has your work been shown?
These works have been shown in the Arles Photo Festival in France last summer, in Paris this past autumn, and in LA at PhotoLA in January 2016. The book 'Nus Corps Et Ames' published in 2015 presents most of my new works.
You're based in Paris. Europeans generally have a more accepting attitude towards nude images than Americans. Has there been a different reaction to your work in Europe and the U.S.?
People in the US were pretty enthusiastic at PhotoLA. My images don&rsquot show nudity or details, they are not shocking and can be viewed by almost any public. I display in my photos more the idea that a woman&rsquos body is beautiful, rather than nudity itself. My impression so far is that it fits the US views on art.
What would you say to those who feel your images are too graphic to be shown to the general public?
I will also have an exhibition from March 1 until the end of April at the Hotel Costes Gallerie in Paris. My next project in the USA will be an exhibition in New York in 2017, for which I am now trying to find the best gallery partner.
Where can people find your work?
Dani's collaboration watches with Corum are available for pre-order at http://corum.ch/en. His fine art will also be shown in a special exhibition within the tent, while his images provide a backdrop for the Corum spacious tent that will be showing at Baselworld.